I've always enjoyed taking passengers and sharing my passion for riding motorcycles. But when my young daughter, Kaia, started asking me to take her for rides, I would immediately dismiss the idea. It's one thing to accept the risk of injuring my own body, but to put my daughter at risk was unimaginable. I'd tell her that if she couldn't reach the footpegs, it was out of the question.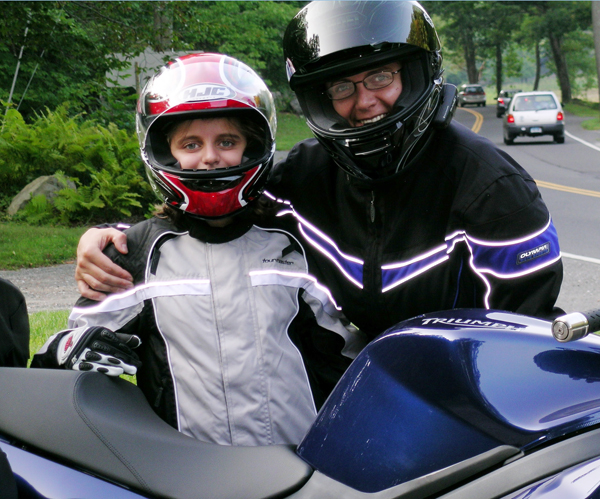 Well, that only lasted for so long.Kaia wouldsometimes visit me on the range where I teach motorcycle safety classes, and I was surprised at how she paid attention and picked up on the little things that even some of the adult students missed. She demonstrated a level of maturity normally found in kids quite a bit older, so I eventually began considering the idea of taking her out for some two-wheeled fun.
As with any passenger (or child), the rules had to be established. My first and most important rule is that quality gear needs to be worn at all times by anyone riding on my motorcycle. So in order for Kaia to be properly outfitted, we needed to go shopping. I'd settle for nothing less than the highest-quality helmet and jacket I could find. I'd also require gloves and boots, but those didn't have to be quite as technical as the gear I wear. I searched online to get a feeling of what was available. Most of the gear I found was made for kids' motocross, but I found a few manufacturers producing DOT-approved, full-face street helmets for youth. However, I found just one youth-sized textile jacket.
My helmet picks were from Scorpion, AFX and HJC, but I didn't want to order anything until Kaia could try it on. All of the Web searching in the world meant nothing compared to the trip we made to the local dealership. Unfortunately, inventory was pretty limited, but we got a good feeling of what kind of full-face helmet would work best for Kaia's 8-year-old head. While the fit on the largest HJC Youth helmet we could find was pretty tight, the shell was noticeably smaller than the adult extra-small that she could also fit into. I remembered how bulky and awkward helmets felt when I first started riding, so I figured the smaller shell was the way to go for the time being.
The CS-Y Hellion that Kaia chose sports layers of tribal and angelic graphics in red, black, white and metallic silver. The padding is plush enough, and the shield ratchets to five positions. You need a flathead screwdriver to remove the shield, but HJC provided an extra set of hardware. A chin vent and two top vents can be closed, and two rear exhaust vents are permanently open. Kaia needed some practice to learn how to use the D-rings to fasten the strap. She did complain about the position of the strap, which sat a little too far back toward her throat. I've worn helmets with that same problem and sympathize with how uncomfortable that can be. Like a good mom, I told her to just deal with it.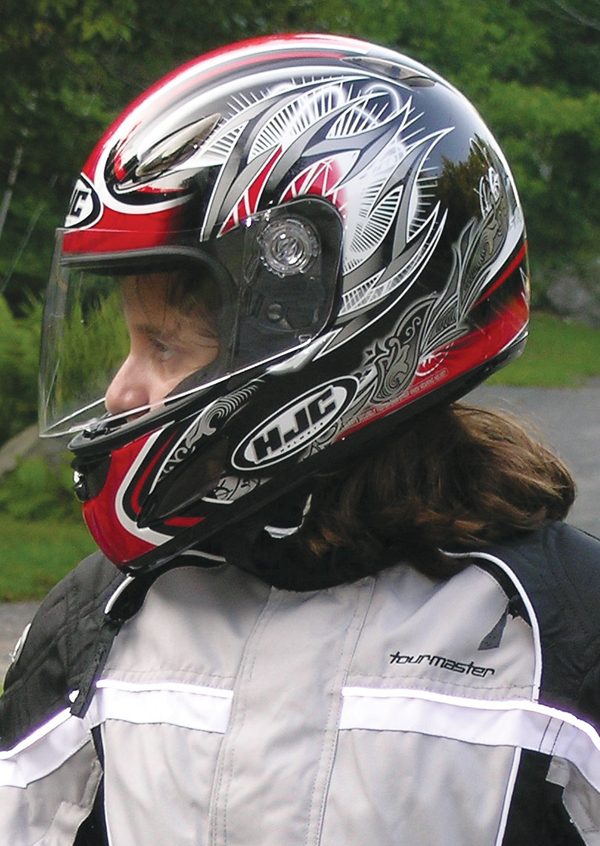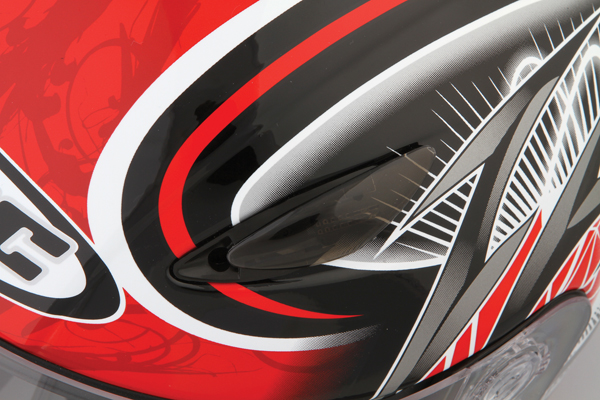 As for a jacket, as I mentioned earlier, I was shocked to find only one real full-featured touring jacket in a youth size. The Tour Master Jett 2 textile jacket is identical to the ones available for adults. I confidently ordered it in silver/black, knowing that this company makes quality jackets, as I have several in my own riding closet.
The 600-denier Carbolex waterproof and breathable shell comes with a full-size, zip-in quilted liner. Zippered vents near the front shoulder and sleeves and across the back provide some cooling when opened. Soft microfiber material on the collar and cuffs provide comfortable protection in just the right areas. Getting a good fit on the sleeve is accomplished with three snap positions on the bicep, a hook and loop take-up strap on the forearm, and cinching on the wrist. An adjustable belt finishes the fit at the bottom.
Besides protecting my daughter with a good fit, the Jett 2 comes with removable, CE-approved armor in the elbow and shoulder and a triple-density back pad. Reflective piping and panels are found throughout the front, back and sleeves for great low-light visibility. All things considered, the Jett 2 makes a good jacket for a rider or passenger of any age.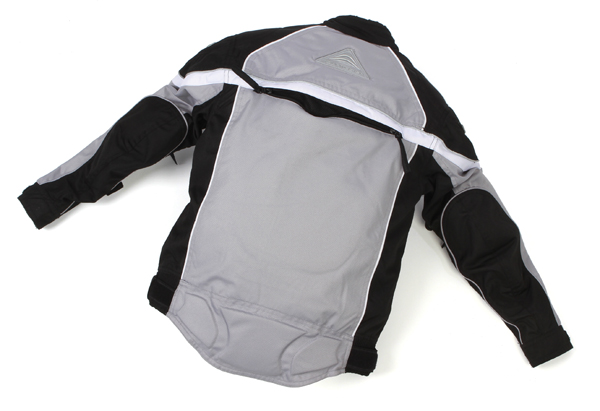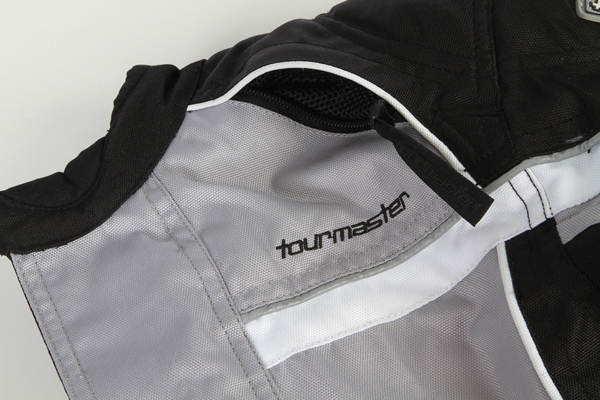 As luck would have it, I found a set of MX-style gloves to match the jacket. I decided that the Cortech DX glove would suffice for Kaia, as its soft, flexible material is comfortable and fits her hands well. I'll keep searching for gloves with more protective qualities, but for now, Kaia's happy with her coordinated outfit. And Mom is happy that her little girl is protected while sharing the love of two wheels.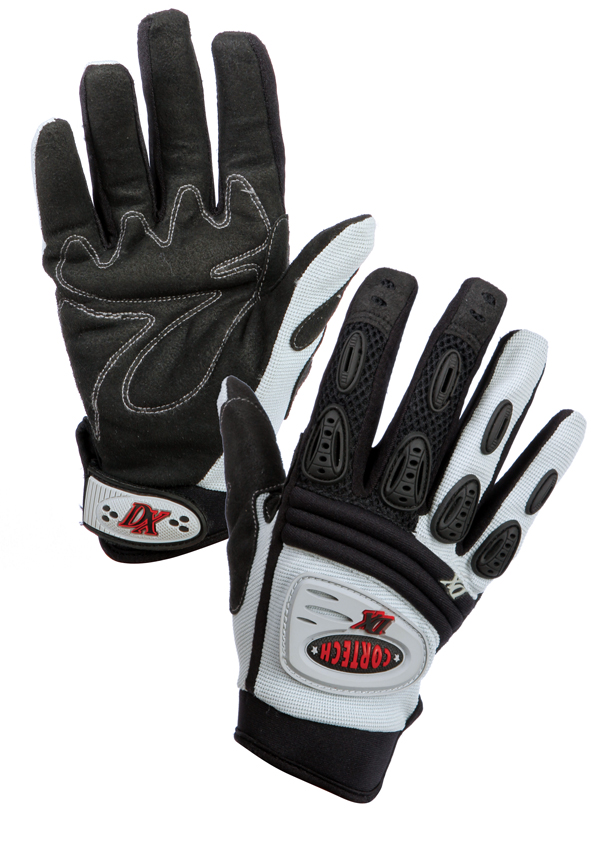 Kaia's Words
I first wanted to go for a ride when I was 5 years old, but I waited three years because my feet couldn't reach the pegs and I didn't have gear. Now that I'm 8 and my feet reach the pegs, my mom prepared me to ride by buying a helmet, jacket and gloves for me. My gear is really comfortable.
My first ride was amazing. I was nervous at the beginning, but I knew it would be fun. When my mom rode around curves, my stomach tickled. The gear makes me feel safe because if we crash, I will be protected. It makes me feel cool to wear all the gear and go riding because I feel like not every kid in the world gets to go riding on a motorcycle. My favorite part about riding is feeling the air blow through the vents in my helmet.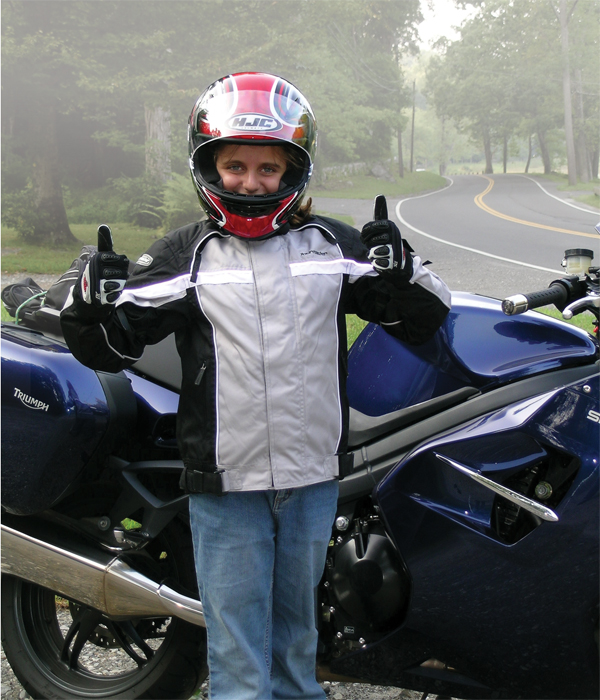 More Kid-Friendly Riding Products:
Iron Feet
Harley-Davidson is the only brand Ive found with street riding footwear in youth sizes. "Patches" is an engineer boot with fun H-D patches covering the 7.5-inch shaft. Ankle and cuff buckles give the boot a classic look kids will love. A full-length, cushioned sock lining provides comfort, while a YKK locking inside zipper makesgetting the boot on and off easy for the kiddies. The Patches boot is available in youth sizes 9-3 (whole sizes only). Check out Harley Davidson Footwears Web site at the bottom of the article for more children's styles.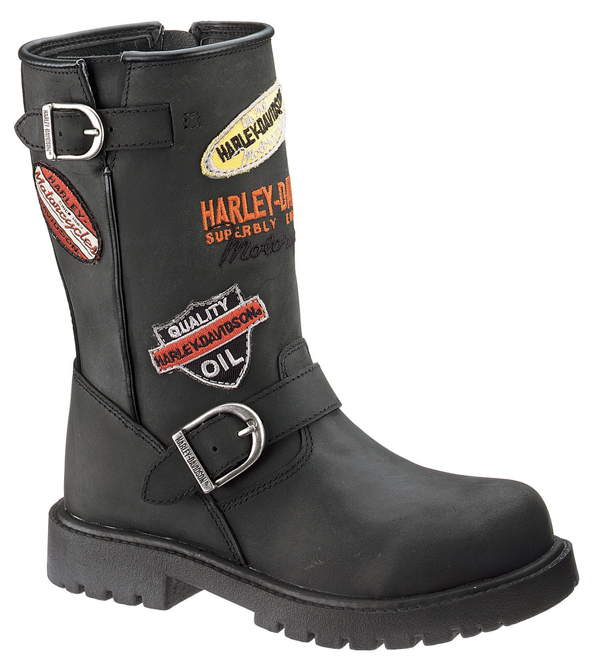 Stress Reducer
Considering the passenger setup of your bike is another important aspect of putting a child on the back of a motorcycle. I've decided that I'll take Kaia only on bikes that provide something behind her, like a top case or a backrest. If you've got a sissy bar on your ride, you may want to go a step further and try out these Love Handles from Enchantment Motor Sports. Giving a nervous passenger something that's solidly mounted to the bike to hang onto can be a real stress reducer for both of you. A relaxed passenger means less weight on your shoulders and a safer, more enjoyable ride.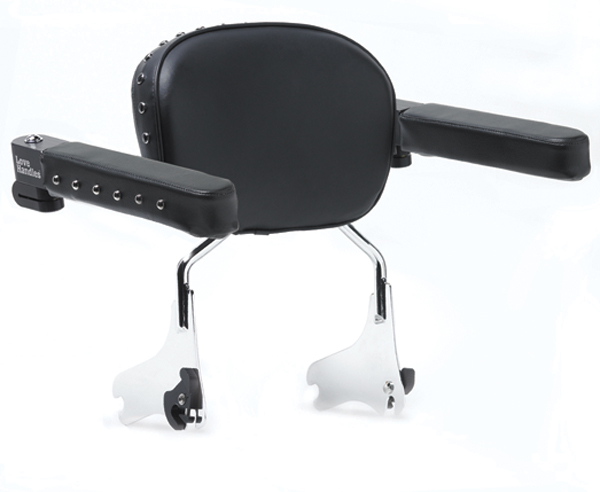 Product Information
HJC CS-Y Hellion Youth Helmet, $94.99
Tour Master Youth Jett 2 Jacket, $109.99
Harley-Davidson Footwear Patches Boot, $50
Love Handles, $329
GetLoveHandles.com
About the Author
Tricia Szulewski has maintained the woman rider's perspective in RoadBike magazine since 1999. As the magazine's art director and staff writer, Tricia feels incredibly fortunate to have a career combining both her passions—art and motorcycles. She is an MSF instructor and logs thousands of miles each year on anything that shows up in the company stable. You can find some of Tricia's bike reviews, adventures, product evaluations and more at RoadBikeMag.com.