At my motorcycle training site where I'm an instructor for basic riding skills, students often ask me if I think they should start off on a scooter. Sometimes riders are nervous about learning how to work a clutch, while others have anxiety about their ability to plant both feet on the ground. I respond by telling them it's their choice, and more often than not, the student completes the course on one of our 125cc "real" motorcycles and does just fine.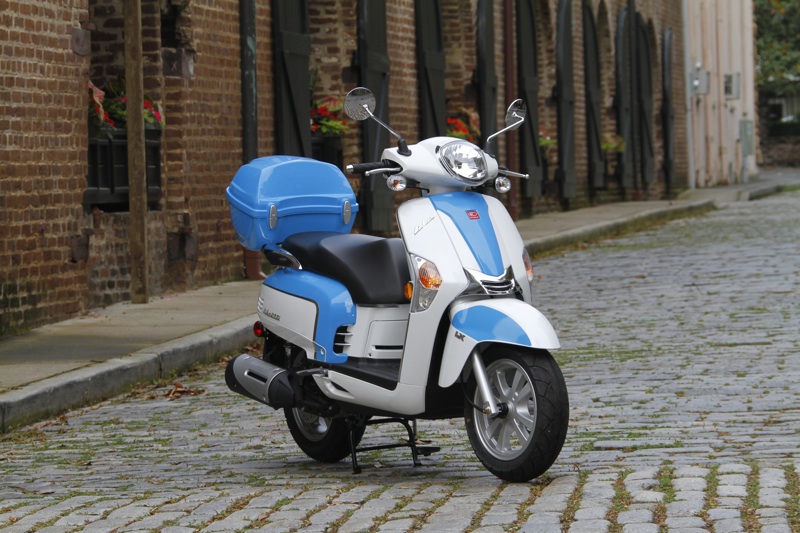 What I don't tell these students is that I have a bias for "real" motorcycles with normal-sized tires rather than those itty-bitty tires that look like they came off a kid's Big Wheel toy. I think the left-hand lever should be for shifting, not for braking. And most of all, I like motorcycles better because they go faster than scooters and because they can go on highways. At least that's what I used to think.
Kymco, a leading manufacturer of quality scooters and small displacement motorcycles, brought a sampling of its 2012-model lineup to Charleston, S.C., to give members of the motorcycle press a taste of what's new in the scooter department. Some of the scooters were fast—really fast—and some had big tires. One even came with an anti-lock breaking system (ABS).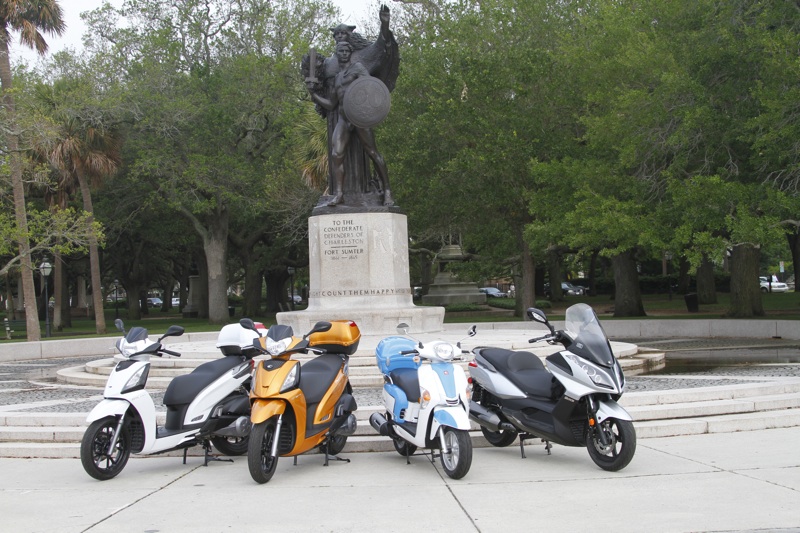 Kymco might be a new name to the U.S. motorcycle crowd, but the Taiwanese OEM (that stands for "original equipment manufacturer") has been around a long time—almost 50 years.I first test rode some of Kymcos scoots about five or six years ago at the Femmoto demo track ride event at the Las Vegas Motor Speedway (yes, we rode scooters in leathers and full-face helmets on a real racetrack), which was when my anti-scooter bias first began to change. My recent South Carolina trip reinforced what Id learned about scooters on the track in Las Vegas.
Some Background on Kymco
Thanks to a deluge of southern-style thunderstorms at the Kymco event in South Carolina, I learned a few new things about Kymco while waiting for the clouds to clear. Kymco is an acronym for Kwang Yang Motor Company, and it's been around since 1963. The company is the dominant scooter manufacturer in Taiwan and ranks in the top five of scooter makers internationally. In recent years, Kymco has collaborated with other big motorsports names,including heavy-hitters like Kawasaki and BMW,on engines and engine parts.
In 2000, Kymco USA began operating as a joint ownership between parent company Kwang Yang and STR, Inc., a corporation based in New Jersey.Kwang Yang became the sole owner of Kymco USA in April 2011 afterSTR sold its remaining shares in the company.Despite the ownership change, Kymco USA will continue to reside at its 80,000-square-foot facility in Spartanburg, S.C.
That brings us back to Charleston, just a couple hundred miles from Spartanburg, where my fellow motorcycle journalists and I sat by a window in the hotel with our helmets in hand. When the deluge subsided to a drizzle, we sprinted to the parking lot and grabbed scooters from the sampling of bikes in the parking lot.
The 2012 Kymco lineup includes five brand-new scooters and 18 models in total, including everything from 500cc maxi-scooters with ABS to basic 50cc two-strokes. I decided that as long as Mother Nature would allow me to, I would ride the new stuff.
All of the new Kymco models have automatic transmission, and the bikes and scooters that are bigger than 125cc are legal in all 50 states, even meeting the stringent requirements of the California Air Resource Board (CARB). I rode all but one of the five new scooters, including a Downtown 200i, two People GT models (the 300i and the 200i), and two Like LX models (the 200i and the 50). I also had a brief ride on Kymco's flagship Xciting 500 Ri ABS bike, a return from last year's lineup. Here are my initial impressions of the new models.
Downtown 200i
This new scooter is quite similar on paper to the Downtown 300i that Kymco unveiled in 2010. In fact, all of the specs are the same on paper except for the displacement—205cc instead of 299cc—and the price. The smaller Downtown 200i retails for $5,199, which is $500 less than the 300i.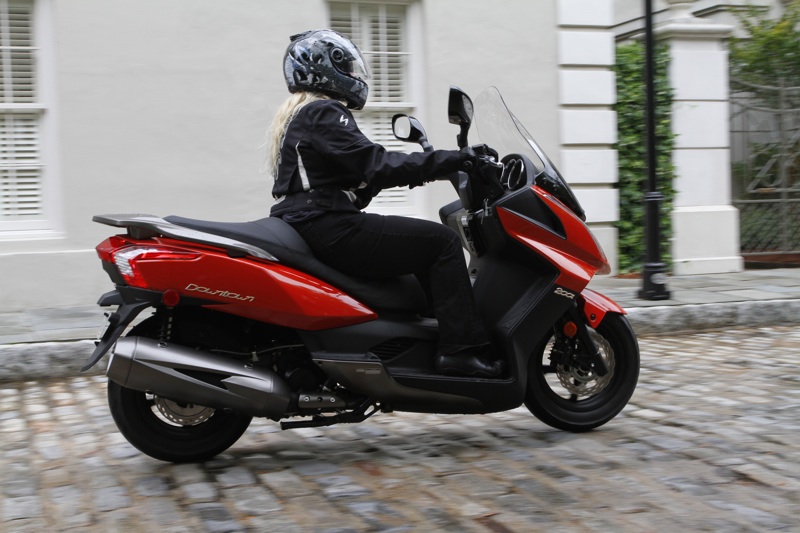 The Downtown 200i gets an estimated 69 miles per gallon from its 3.3-gallon tank. The 31.5-inch seat height made it easy for me to reach to the ground (I'm 5-foot-5) because, like most scooters, the Downtown has a narrow profile.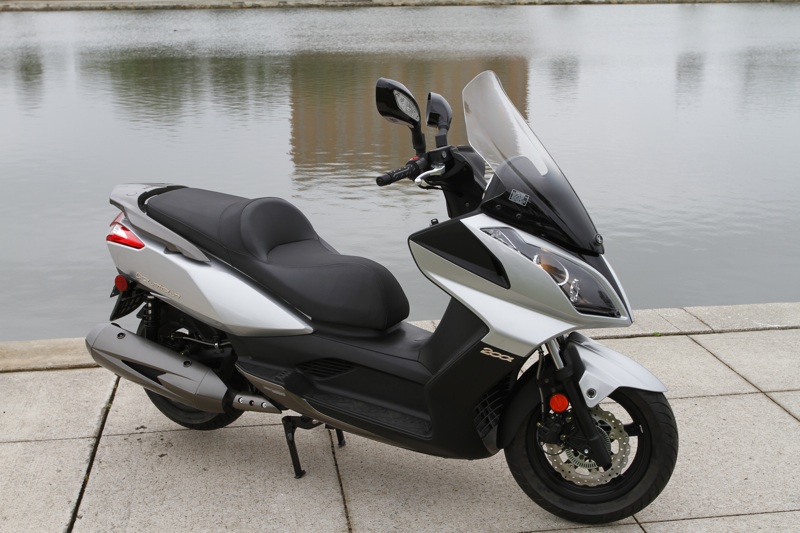 | | |
| --- | --- |
| The watertight underseat storage is generous, and a full-face helmet easily fits inside. | A convenient 12-volt charger for juicing up gadgets is located in the glove compartment, which is deep enough to fit a bottle of water and a hairbrush. |
The Downtown 200i is arguably the best-looking scooter in the group. It has sleek, modern lines with cool cat-eye-shaped headlamps. The aerodynamic windshield does a great job of blocking wind, and the floorboards have tons of corner clearance. Those floorboards are roomy and have two positions so you can ride "cruiser-style" with your feet up. The mirrors are huge and stable—great for seeing what's coming up from behind, a commuter's must.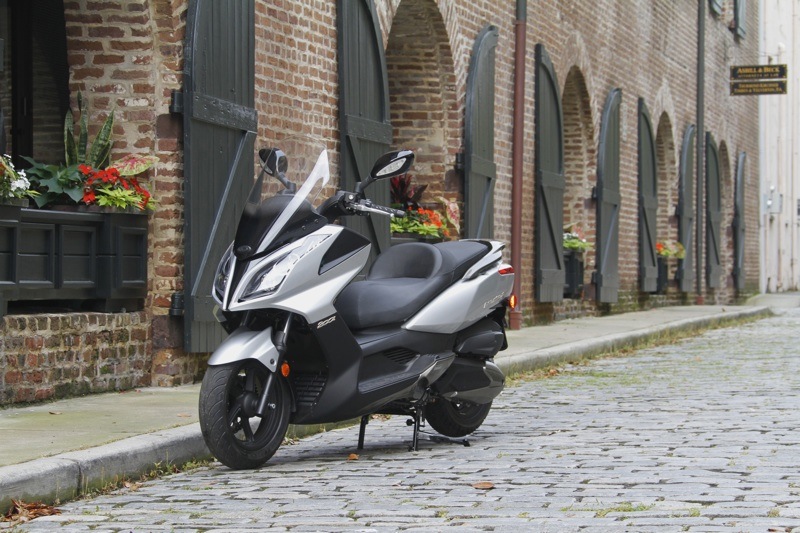 A telescoping fork did a decent job of soaking up the bumps, and it didn't get too upset, even on the cobblestone roads in Charleston's historic district. Its big exhaust is equipped with a heat shield that does a great job of protecting legs from excess heat.
The brakes include a single disc with a 3-piston caliper up front and a single disc clamped with a two-piston caliper in back. Together they do an efficient job of bringing the 367-pound scooter to a smooth, quick stop.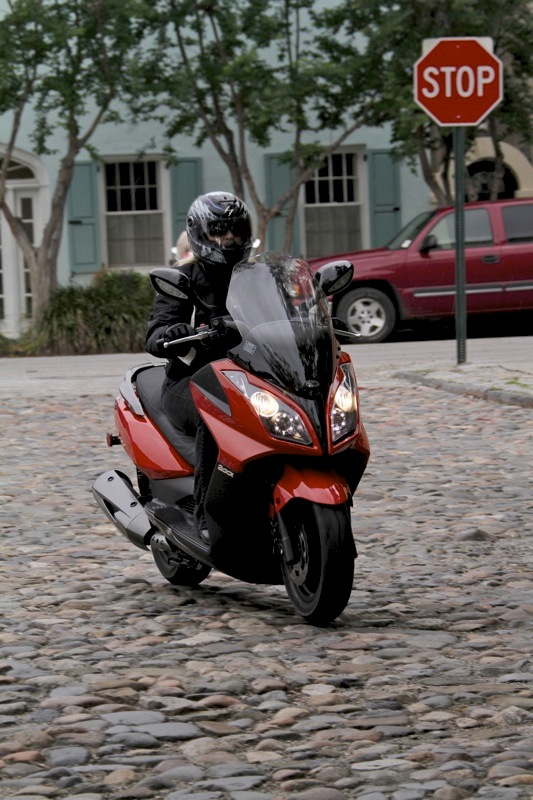 People GT 300i and People GT 200i
The two new People GTi scoots are updated versions of a 2007 model, the People S. Besides getting a sleeker, more modern makeover on the outside, Kymco has replaced the old-school carbureted motor with a new four-stroke, liquid-cooled engine with fuel-injection. There's a 200cc and a 300cc version, and both are peppy rides with plenty of get-up-and-go from first twist.
| | |
| --- | --- |
| The People 200i. Both it and the 300i can hit 70 to 80 mph easily without any ill-handling issues, so no worries about taking these puppies on the highway. | The People 300i. With their lovely 16-inch wheels—bigger than the wheels on nearly all other brands scooter models in this displacement—both People scooters would make solid commuter bikes. |
Both of these scoots have responsive disc brakes, adjustable dual shocks and plenty of storage. Despite the difference in displacement, both versions have the same claimed dry weight of 364 pounds.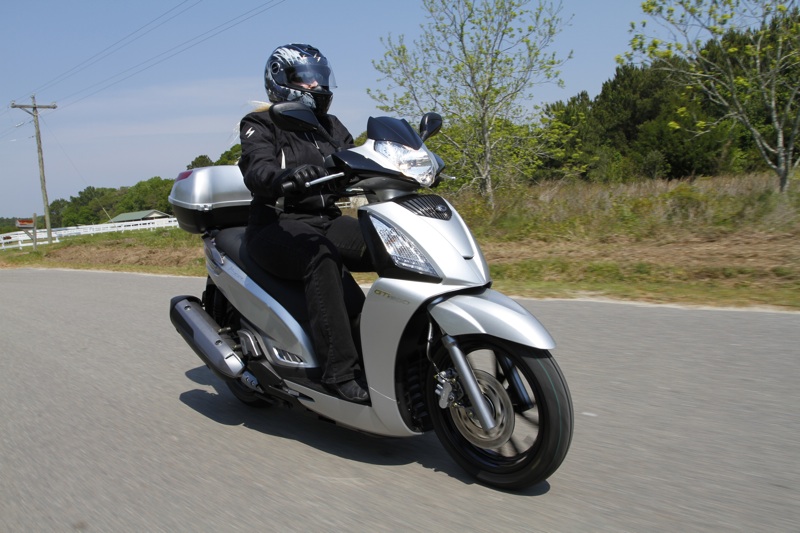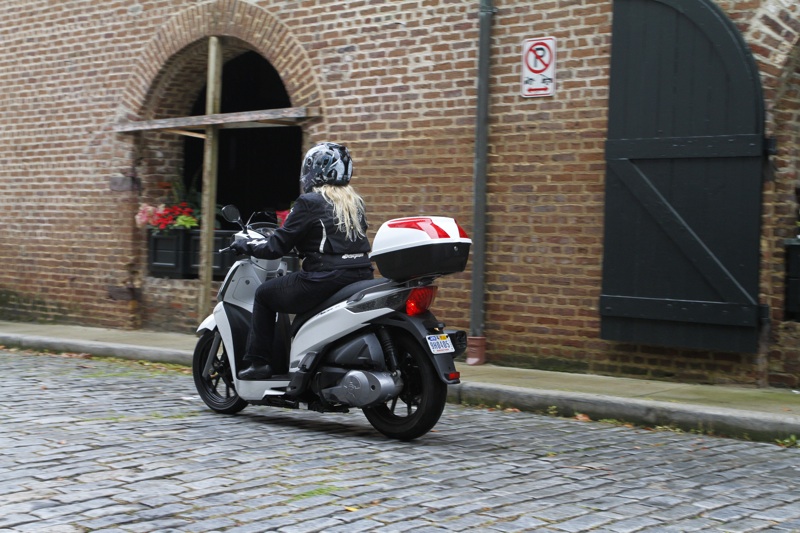 There are helmet hooks by the front of the seat, so I can see myself tucking my laptop in the top case and heading to work on this bike. The top case stayed watertight, even in South Carolina's waterfall-like rainstorms.
More storage space can be found under the locking seat, which is also where you fuel up the scoot. There's a small compartment in the leg shield for more stuff, like a map or a wallet. I got caught out in one of the storms on this bike and was pleased to discover that my wallet and phone stayed completely dry in this compartment, even though I had to pour water from my boots and wring out my gloves.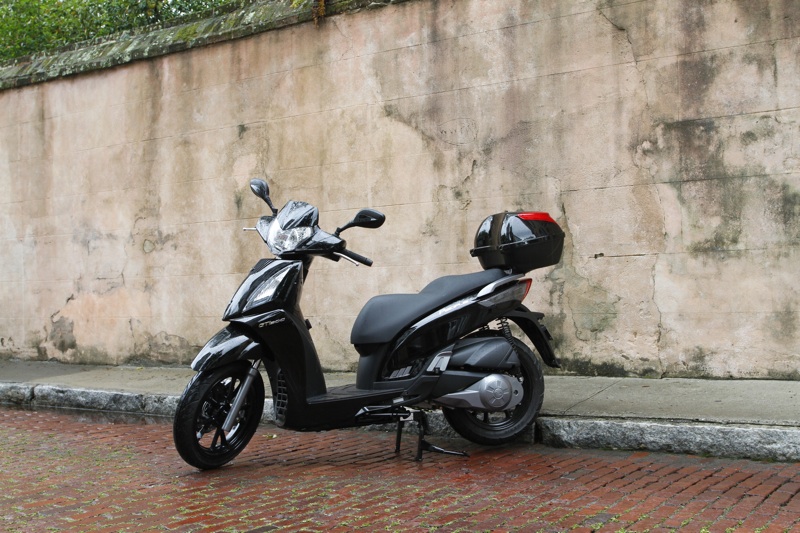 The front and rear lights are sleekly integrated into the body. There are big grab handles for a passenger, and the passenger's footrests are also roomy. These models have a little less room for the rider's feet, which tends to keep you sitting up straight in an alert position. Making tight turns takes a little getting used to because of this setup, but once you get the hang of it, the scooter will turn on a dime.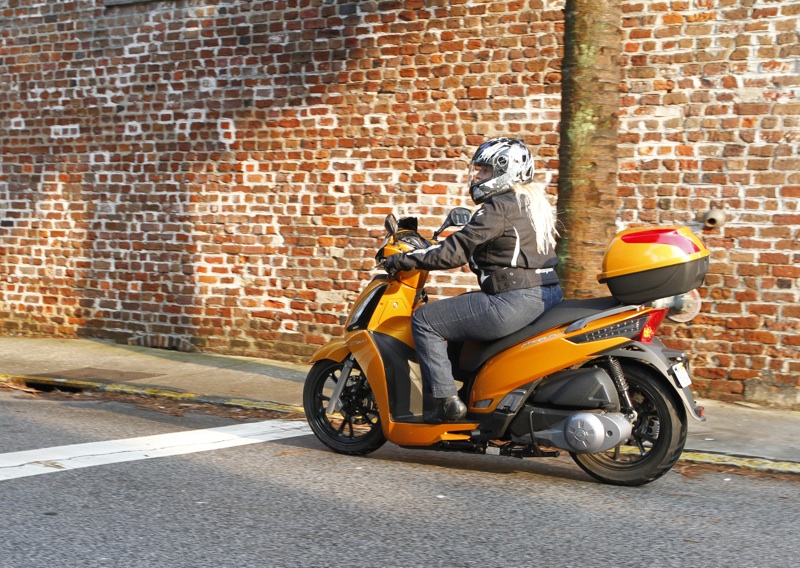 Because of the high seat height, I developed a habit of sliding off the seat at stops to get both feet planted, especially on the wet and slippery roads. This feature makes the People 300i a good pick for a taller rider.
The two People models are quite similar, but the 200i ended up being my favorite bike to ride in Charleston. It had the right combination of power on the throttle, crisp braking action, and easy steering (after a few awkward and embarrassing dog-paddling turns), and the tires stuck to the road in the slickest of conditions.
Like 200i LX and Like 50 LX
Out of the pair of new Likes, I was able to ride only the 200i LX because Kymco didn't bring the 50cc model. The Like we had on hand was a special treat and the best-looking one of the brood (OK, a tie with the Downtown 200i for best in show).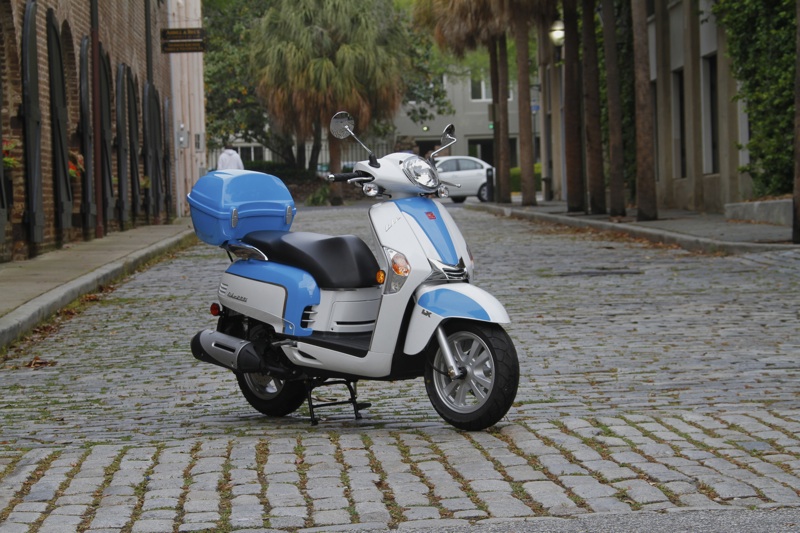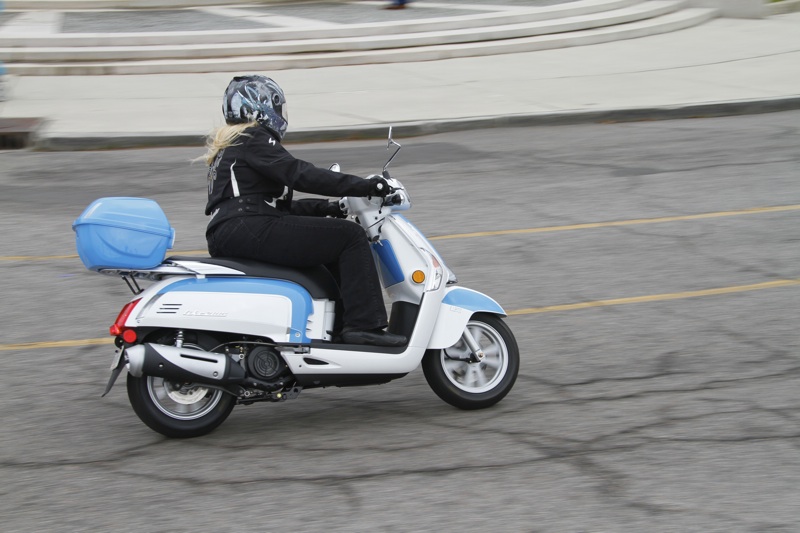 The Like 200i has typical scooter-sized 12-inch wheels. Despite being called a 200cc, it is actually a 163cc, so this is not the commuter's best choice for highway speeds. However, it's perfect for around-town and plain-old-fun scooter rides.
With a light 245-pound weight and super-responsive steering, this air-cooled bike is a total blast. It launches and stops quickly and is very easy to ride. It has a claimed 80 miles per gallon and a sweet MSRP of $2,699, so it's barely more than a splurge to add this to your garage.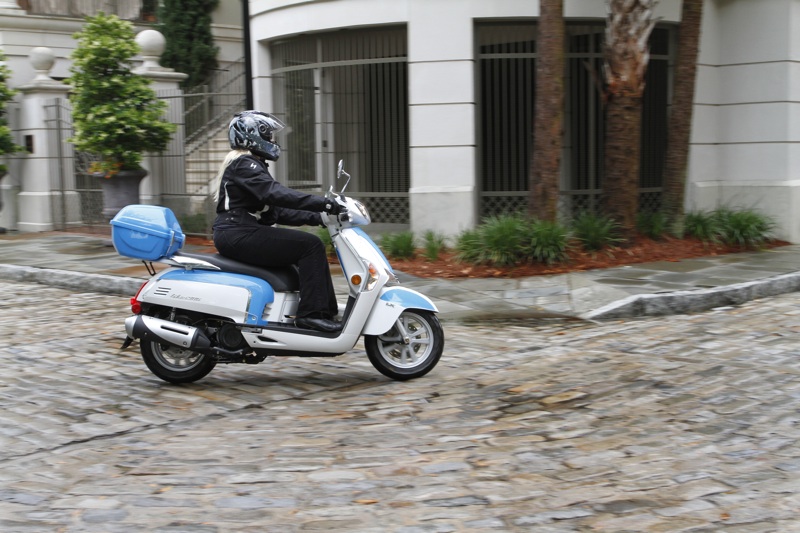 The Like 200i is the perfect scooter choice for crowded urban landscapes. It can practically turn on a manhole cover and has enough ground clearance for weather-beaten roads. It can be parked in the tiniest of nooks, and it has a big glowing-red taillight to make it visible.
XCITING 500 Ri ABS and the Rest
Kymco's Xciting 500 Ri ABS is not a new-for-2012 model; rather, it's a comeback from last year. If you want a fast scooter, this is the bike for you. Everything has trade-offs, so you lose a bit in fuel efficiency (still pretty nice at around 45 mpg) in exchange for more power. This big boy is a little slow on takeoff, but once you hit the sweet spot, this maxi-scooter can hold its own.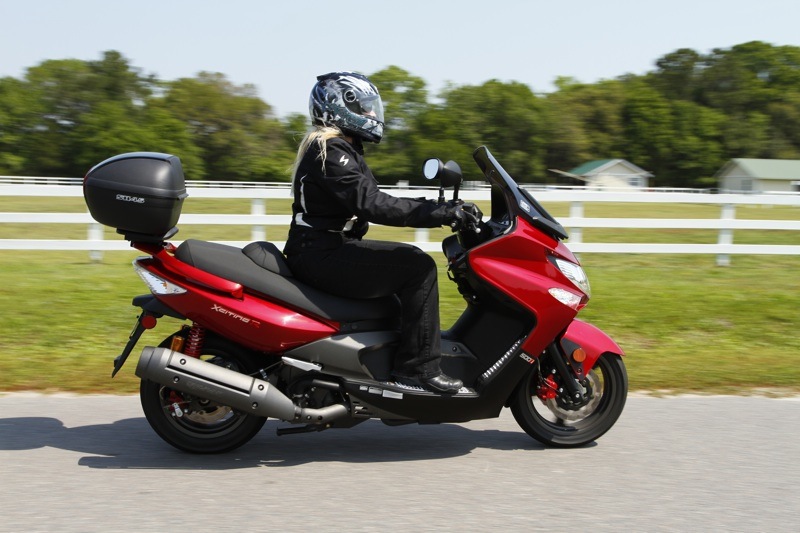 The Xciting's seat height, as with the People GT 300i, is taller in real life than what's on paper, and 5-foot-5 riders like me will not be able to flat-foot it. In exchange for a tall seat, you get loads of ground clearance in corners and an excellent cornering feel that's never floppy on the turn-in. I can picture a rider on this bike carving up canyons and annoying the supersport crowd by passing them on this step-through automatic bike while they're busy shifting gears.
Three more 2012 models are returning from the previous year's lineup. These bikes didn't make it to Charleston, but they are worth mentioning for their reduced prices for 2012. The Agility 125's price dropped $250 and is now $1,799, while the Agility 50's price tag dropped $300 to $1,399. The MSRP of the Like 200i dropped a whopping $800, for a total cost of $2,599.
It used to be easy to figure out what was a scooter and what was a motorcycle, but the dividing line between the two is getting blurry. No longer are scooters the slow machines ridden only by eclectic and uber-fashionable types. Instead, they are faster and offer better handling than ever before. They have evolved a great deal and are no longer the domain of the short-statured or nervous newbies. The new Kymco lineup has something for the commuter, for the twisty-road enthusiast, and for the person that just wants something plain fun to ride. Maybe it's time for some of us "real" motorcyclists to take a second look at scooters and let go of our fear of riding them.
Specs At A Glance: 2012 Kymco Downtown 200i Scooter
Displacement: 205cc
Seat Height: 30.5 inches
Dry Weight: 367 pounds
Fuel Capacity: 3.3 gallons (claimed 69 mpg)
Colors: White, Silver, Charcoal
Price: $5,199
Specs At A Glance: 2012 Kymco People GT 300i Scooter
Displacement: 298.9cc
Seat Height: 31.9 inches
Dry Weight: 364 pounds
Fuel Capacity: 2.4 gallons
Colors: Black, Silver, Gold
Price: $5,399
Specs At A Glance: 2012 Kymco People GT 200i Scooter
Displacement: 205cc
Seat Height: 31.9 inches
Dry Weight: 364 pounds
Fuel Capacity: 2.4 gallons
Colors: Black, Silver, White
Price: $4,899
Specs At A Glance: 2012 Kymco Like 200i LX
Displacement: 163cc
Seat Height: 30.5 inches
Dry Weight: 245 pounds
Fuel Capacity: 1.6 gallons
Colors: Blue/White
Price: $2,699
Specs At A Glance: 2012 Kymco Like 50 LX
Displacement: 49cc
Seat Height: 32.6 inches
Dry Weight: 220 pounds
Fuel Capacity: 1.8 gallons (claimed 73 mpg)
Colors: Blue/White
Price: $2,199
Specs At A Glance: 2012 Xciting 500Ri ABS
Displacement: 498.5cc
Seat Height: 30.5 inches
Dry Weight: 473 pounds
Fuel Capacity: 3.38 gallons
Colors: Red/White, Red/Pewter
Price: $6,799
Related Articles