Want to share your motorcycle or product review? Find out how.
It had been a long three-year motorcycle drought for me. Although I was blessed to be able to rent a Honda ST1300, a Shadow Aero and a Harley-Davidson on vacations over those three years, I missed riding my own steed and tried to miss it less by living vicariously through Women Riders Now contributor articles, having five different rider magazines sent to my house every month and attending motorcycle shows. I also read technical books like The Upper Half of the Motorcycle and adventure-laden books like Leanings, American Borders and Life is a Road, Ride it Hard!
Then I saw an advertisement for the Victory Vegas 8-Ball. What a work of art! It was my computer desktop photo at work and at home for months. Every time I sat on one at a show, it seemed to fit me perfectly.
Well, the glacier that is New York in the winter finally started to recede enough to schedule an April test drive. Yahoo! Just to get my butt back to riding was euphoric. The dealership in Dansville, N.Y., was the closest to my home, so I set up my test drive online. They confirmed they had a Vegas but not an 8-Ball. That's OK, I thought. Close enough. Upon my arrival, I braced myself for an interrogation about my experience (or lack thereof) or to see some uncertain body language from the manager because I'm a woman. Nothing of the sort! They simply made a copy of my drivers license and confidently handed me the keys to a sparkling new, bright-red, 6-speed 2011 Vegas. It was 106 cubic inches and 1700+cc of gorgeous beast!
Because I get lost very easily, my husband drove ahead on the test drive. I followed on the Vegas so I could fully concentrate on the bike instead of where I was going or, worse, how to get back. My first impression was, holy cow, this is a serious bike! You know how when youre riding along and slowly wiggle your hips a bit and the bike will gently steer side to side? Not this bike! I really had to push on the handlebars to make that happen. That front rake is serious, and with that fat rear tire pushing you through the curves, be ready to show it whos boss. There is a reason why sportbikes arent raked out.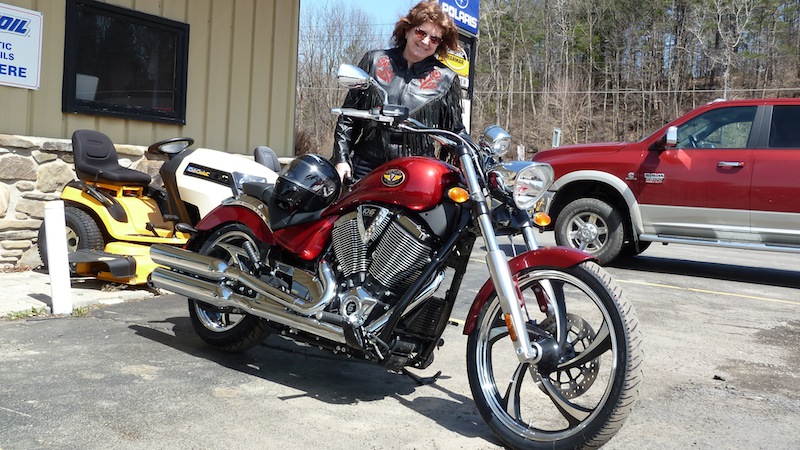 Power to spare, the Vegas will pass almost anything with ease. The exhaust and engine have a nice deep, pleasing tone. The bike is also geared very low. I don't know why all the reviews I read of the 2010 model bemoaned the lack of a sixth gear. I found it practically useless, as I was doing 70 mph in fourth gear and the engine wasnt even working hard.
The seat was comfortable and low. I'm 5-foot-7 and 165 pounds, and I could flat-foot it easily. On the Vegas, you're sitting in more of a "C" shape, and you sit well into the bike, not on it. Without a windscreen, your chest cups a lot of air. Hang on tight because this beast will cause your butt to slide off when you roll on the throttle. I also found myself scooting forward on the seat to relax my shoulders. Lets just say I never really found that "sweet spot."
Still smitten with the sexy looks of that piece of art, I sat down with the nice folks at the Victory dealership and talked numbers. A 2011 model decked out with a few accessories—windscreen, engine guard, hard lockable bags, and heated grips (hey, its frickin' cold here!)—would have us looking at $17,000. Ouch! My husband excused himself and made a phone call, then returned. He asked me to have an open mind, as he had another bike for me to test drive located nearby in Dansville. Why not?
My husband takes me to a little street quaintly named after Clara Barton. Then, coming into view is chrome. I mean, thats all I see at first. Then rivets, saddlebags, maroon and silver. Getting closer, I see floorboards and a heel/toe shifter. Sigh. Not really my thing. Im a little more of a sport/tourer type than that. The bike is a 2009 Kawasaki Vulcan 900 Classic LT with only 1,000 miles on it, still under warranty. Hmm.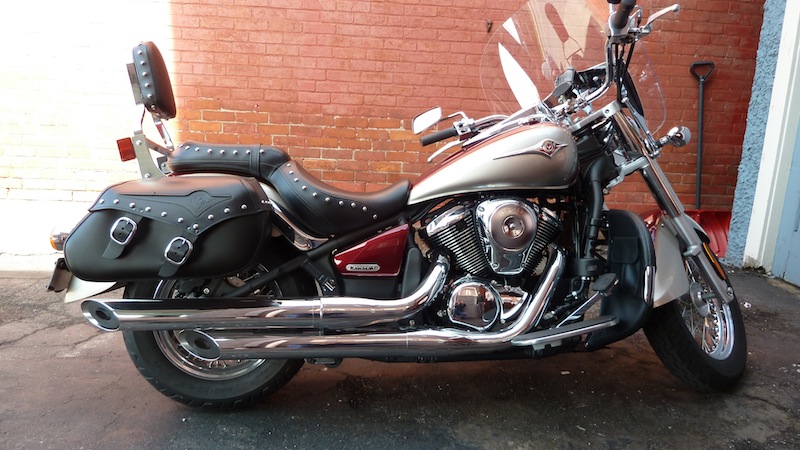 The owner lives right next door to his place of business, so he cant ride to work. He has a little daughter too small to ride with him, so he just doesnt ride anymore. He hands me the keys. Trying to keep an open mind and please my hubby, off I go. OK, I think, this is fun! Instead of feeling consciously incompetent as on the Victory, I am unconsciously competent and loving it! There is no "getting to know you" icebreaker. This bike is "flickable," and gearing is enjoyable with its satisfying soft clunk when engaged. Power? This is no dog. I love that lightheaded feeling when I roll on the throttle hard—downshift and I'm gone! I got off the bike laughing. I could not deny the confident, joyful feeling this bike gave me. I bought it on the spot. Compared to the Victory, its $10,000-smaller price tag didn't hurt either.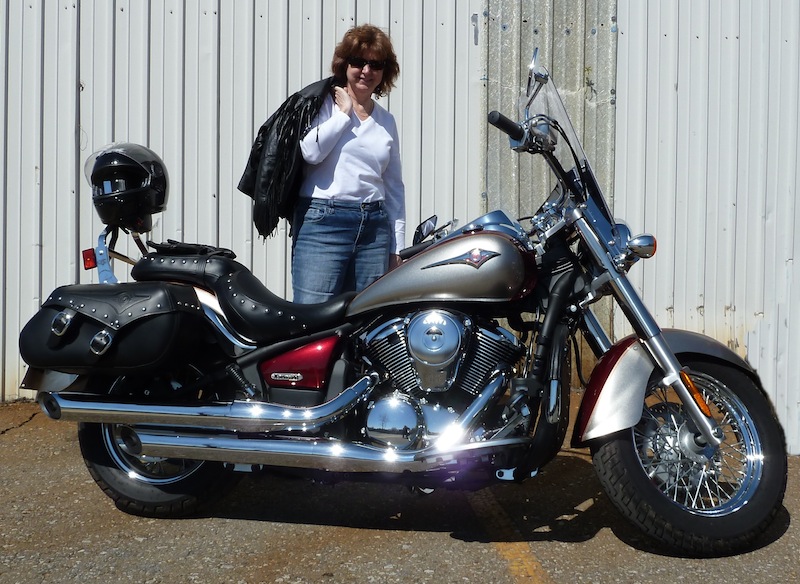 I still have some personalizing to do, and I'm still undecided about the floorboards and a few other things. But thats the great thing about making a motorcycle your own—accessories are all changeable, but how a bike makes you feel isn't.
When I look out in the garage, I'm happy and peaceful. The yearning has quieted. My Vulcan is sharing the garage with its stable mate, my husbands Honda Valkyrie. Now if we could just ride without getting frostbite, life would be perfect!
Want to share your motorcycle or product review?Find out how.