Hoka Hey Challenge
You#8217;ve probably heard of the Hoka Hey Challenge, a motorcycle endurance ride that has riders traveling 10,000 miles through 48 states and several Canadian provinces to win a $250,000 grand prize.WRN supporter RidersWraps, a division of DesignWraps Brands, is sponsoring two women, Louann #8220;LuLu#8221; Cunningham and Maggie Parslow of Lucas, Texas, on their mission to become the first female team to complete the Hoka Hey Motorcycle Challenge.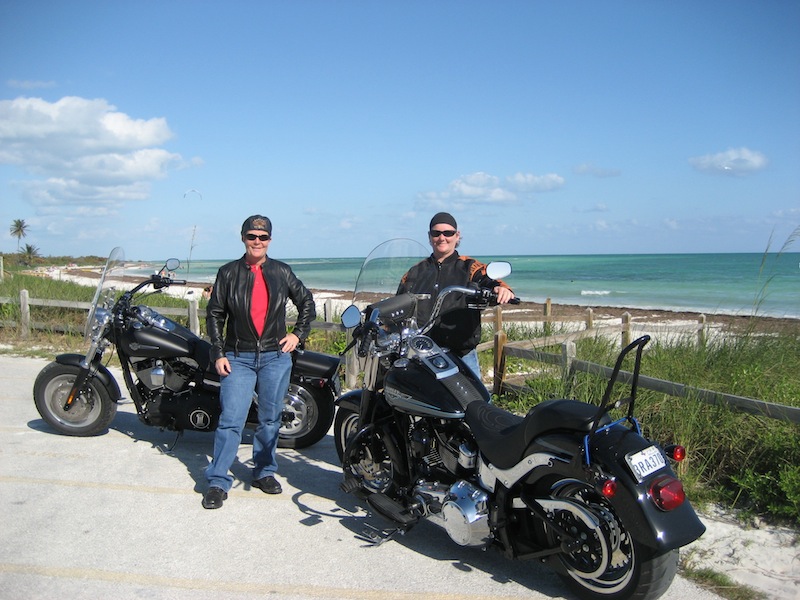 The Hoka Hey Motorcycle Challenge begins August 5 in Mesa, Ariz., and ends in Nova Scotia, Canada. The ride is open to all riders of Harley-Davidson motorcycles.Maggie and LuLu are active Harley Owners Group (H.O.G.) members with more than 325,000 combined certified miles and more than 30 years of combined riding experience. They are both accomplished Iron Butt Association members, so they have extensive mapping and routing experience. Neither has ever owned a GPS.
#8220;We are pleased to be invited to sponsor and excited to show our support to both of these strong women riders who put so much effort into training and are very committed to the sport of motorcycle riding,#8221; said Joan Krenning-Clarkson, founder of DesignWraps Brands. #8220;I believe we speak for all women when we say that we are proud of any women who take on a challenge of this magnitude, whether they ride their own motorcycles or join the challenge as a passenger.#8221;
In addition to the $250,000 grand prize, Harley-Davidson is providing more than $50,000 in prizes and will reward the first H.O.G. member to finish with a 2012 Harley-Davidson CVO Screamin#8217; Eagle Motorcycle. The first 25 participants to reach the finish will be recognized as winners and be eligible for monetary awards. For details and to monitor the events progress, visit
HokaHeyChallenge.com
.
Congratulations, Elena!
Hotshot sportbike racer Elena Myers celebrated the end of the AMA Pro SuperSport West Division Season a few weeks ago with a solid performance at Laguna Seca Raceway in Northern California. The 17-year-old Californian, a member of Team SuzukiScoopFans, captured a top-five finish in the race and also finished fifth place overall in the West Division.
Although Elena participated in the entire AMA Pro SuperSport schedule, she was competing officially only in the West Division. Elena missed two rounds early in the season due to an injury.
| | |
| --- | --- |
| Elena rides a Suzuki GSX-R600. | "Missing two races, it was hard to really be a contender in the championship, so I ended up fifth," said Elena. "Next year I want to go for the championship." |
David Uhl#8217;s Limited-Edition Sturgis Painting
Motorcycle artist David Uhl#8217;s signature Sturgis painting this year is a womanidlingon her motorcycle next to a male driver checking her out from his classic car. While I don#8217;t advocate this kind of riding#8212;no safety gear#8212;I think David once again did an incredible job of capturing the essence of a beautiful woman riding a custom motorcycle. She looks just like Cameron Diaz, don#8217;t you think?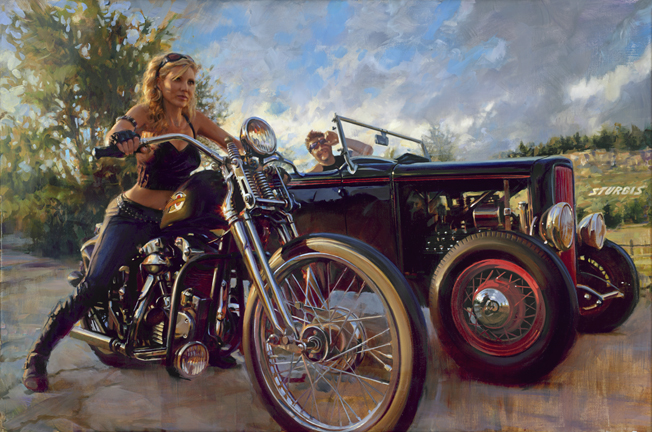 David sells as many gicl#233;es as he can during the rally, limiting the number to those ordered at Sturgis. In other words, this painting will not be available after the rally, which always makes the value jump immediately afterward. Interested? Visit UhlStudios.com to order.
Stevie Nicks Plays Sturgis
Finally, here#8217;s a last-minute booking for the Buffalo Chip#8217;s slate of concerts during the Sturgis Rally this week. Stevie Nicks will join actor Jeff Bridges onstage at the Chip on the evening of Thursday, Aug. 11. Wow, that ought to be an interesting combination! Two of my favorite performers#8212;you can bet I#8217;ll be there.