Want to share your story?
Click here
to find out how.
Challenging myself mentally and physically has always been important to me. Over the years, my interests have included barrel racing, golf, skydiving, triathlons and half marathons. While working full-time and raising my daughter as a single mother, I obtained my master's degree in health-care administration. I've just never believed in being a spectator in life.
In 2008 I began dating Pat, who became the love of my life, and he rides a2000Harley-Davidson Deuce. After a few trips sitting on the back of his bike, I realized being a spectator at riding was just as bad as being a spectator in any other sport. So I decided to buy my own motorcycle. After a few winter afternoons looking online at various Harleys, I decided to go sit on one at a dealership. Well, on January 3, 2009, at the age of nearly 47, I left the dealership an owner of a 2006 Harley-Davidson Dyna Low Rider.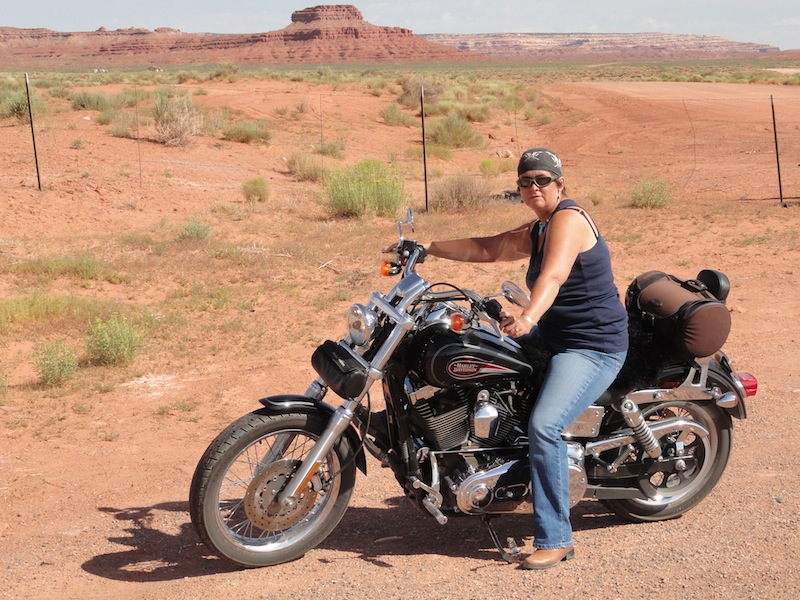 In my early 20s, I owned a 400cc Honda and then a 200cc scooter for a summer, but this had been my only experience riding a motorcycle. How hard could it be? I'd ridden bicycles at 45 mph downhill, whirled around barrels on a horse and could drive any stick shift thrown at me, so I knew I'd learn how. To be on the safe side, Pat had the dealership install an engine crash bar on my new bike. (He's learned to just smile and shake his head at me!)
As luck would have it, we had snow and more snow that winter, and I did not get a chance to ride my new toy until March. Safe rider classes for the spring were full, so Pat said he'd teach me. (First test of the new marriage!) I rode behind my husband on my new baby to a large parking lot. He got off and said, "Go for it!" Many, many attempts later, I successfully started, turned and stopped the bike in the parking lot. The next day, a Sunday afternoon with no traffic, I ventured onto the road. But the road means shifting! Yikes! Fortunately, the Low Rider has an rpm gauge, so I used the gauge to help me judge when to shift. However, looking down at the gauge means lowering your head, which can play havoc with your balance when you are first starting to ride.
Well, after many short 50-mph rides, corners at 25 mph and encouragement from a very patient husband, I was ready for a longer adventure. So we chose to ride to Sturgis. Told you I enjoy a challenge! My husband told me if I made it through some of the rides in the Black Hills without laying down the bike, I could take off my engine guard when we got back to Missouri. Of course I won the challenge, and my engine guard is now off. Sturgis was a wonderful trip, except for riding at 8 p.m. in the dark during a very cold downpour! But by the time you finish Main Street in Sturgis, you certainly know how to use the clutch and not kill it!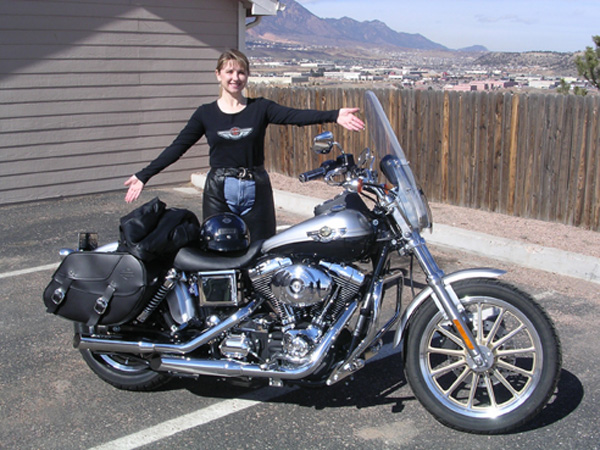 In summer 2010 we took what I call a "land formation" trip out west. Seven states and 4,200 miles later, I love my Dyna Low Rider even more. We are now one. I lean through corners, and I even dragged my boot heel the other day! Man, that was a proud moment for me. I can turn circles in gas stations, ride my clutch rather than brake when stopped on a hill, and beat Pat leaving from a red light. (Readers, please note Pat would never admit I beat him off the line!)
I absolutely love riding with the wind, sun and smells engulfing my every pore. I love to see more and more women riders on the roads, and I don't think any woman should be scared of the size of the bike or balancing it. Think of riding as balancing a baby on your hip while stirring supper and talking on the phone. Piece of cake—just believe in yourself!
Now, because I have the motorcycle riding challenge won, my challenge is to find daring riding clothes, posters and a paint job for my bike. You might have guessed I am not the "pink" type, and I actually love the HBO show "True Blood." I would love to create a clothing line for women bikers with a "vamp" theme and paint my bike this way as well. If another pink riding outfit comes out for women, I think I'll puke. As for those posters we always see featuring beautiful, young, scantily clad women, my question is, where the heck are the posters with hunks of young men on their bikes? Come on, ladies, let's demand equal rights from the makers of motorcycle posters. I'd love to have a paint job on my bike that would make a person think, "Wow, what kind of rebel rides this?" before seeing a middle-aged mother and nursing-home administrator, thickening in the middle, come out and hop on it. Just imagine!
So to women out there who keep wishing they had their own motorcycle, I say take the challenge—you only go around once! And if any of you are creative, contact me so we can start our very own "vamp" clothing line.
Editors Note: Thank you to Cindy for sharing her story, but I must go on record to say that Women Riders Now never advocates riding a motorcycle without getting properly trained through a motorcycle safety training class. I realize some people rode dirt bikes and smaller motorcycles when they were younger, but motorcycles today are different than they were 20 or 30 years ago. And trying to learn from a loved one can often be a lesson in frustration. Fortunately for Cindy, her husband was one of the patient ones. However, patient or not, people who learn from someone other than a certified instructor risk learning how to ride incorrectly and thus increase their chances of getting into an accident. Theyll also pick up the bad habits or incorrect riding techniques of the person who teaches them. Whenever possible, take the training class first—buy the motorcycle second.
Want to share your story?
Click here
to find out how.