When I started riding motorcycles in 1995, I was young, naive and didn't know anything about riding gear. So I went to Wilsons Leather in the mall and picked out the coolest-looking brown and black leather jacket with the longest fringe I ever saw. I knew it was big and heavy, but I loved that fringe and even had grandiose ideas of adding beads and braids to make it unique to my style. It wasn't long before I realized that it was a real drag carrying that 20-pound monkey on my back, no matter how cool I felt in it. My shoulders would literally ache after wearing my awesome jacket for more than half an hour.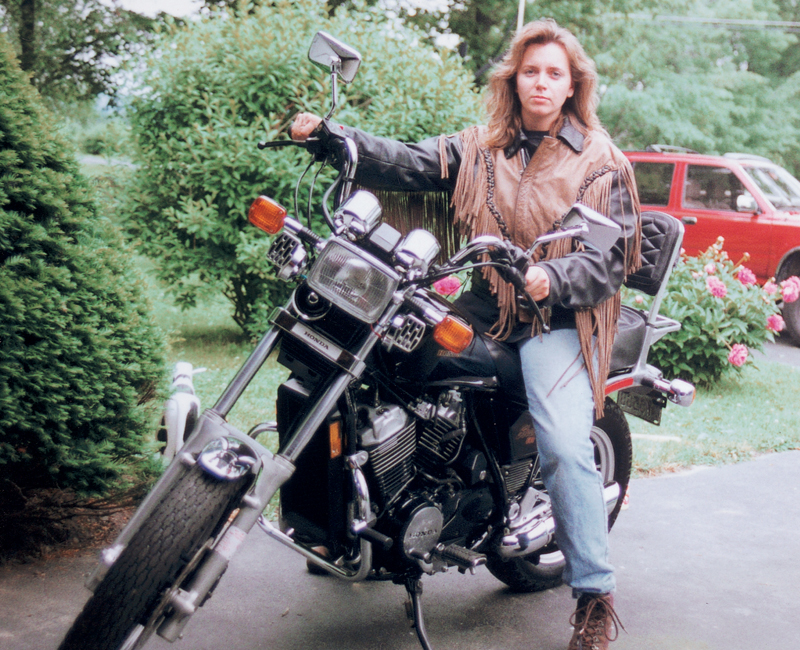 I had no choice but to wear that heavy jacket until my first trip to Americade, where, as a more educated rider, I purchased a Tour Master men's textile jacket. Real riding gear built for women didn't exist yet, so squeezing my curvy shape into a flat-chested men's jacket was normal procedure. But considering that the Tour Master jacket was lightweight, waterproof, had lots more protective qualities and was quite comfortable, the Wilson found the back of the closet and never reappeared. I didn't look very cool, but I had already realized that there is more to motorcycling than how you look.
Since then, I've added several other Tour Master textile jackets to my moto-closet—all in women's sizes, except for the one I got for my daughter, which is a youth size. My most recent acquisition, and favorite to date, is called the Motive. Designed specifically for women, the pink version's swirly flamed, stitched-pattern sleeves and reflective pink piping are tasteful with a feminine touch—just enough girlie bling for me.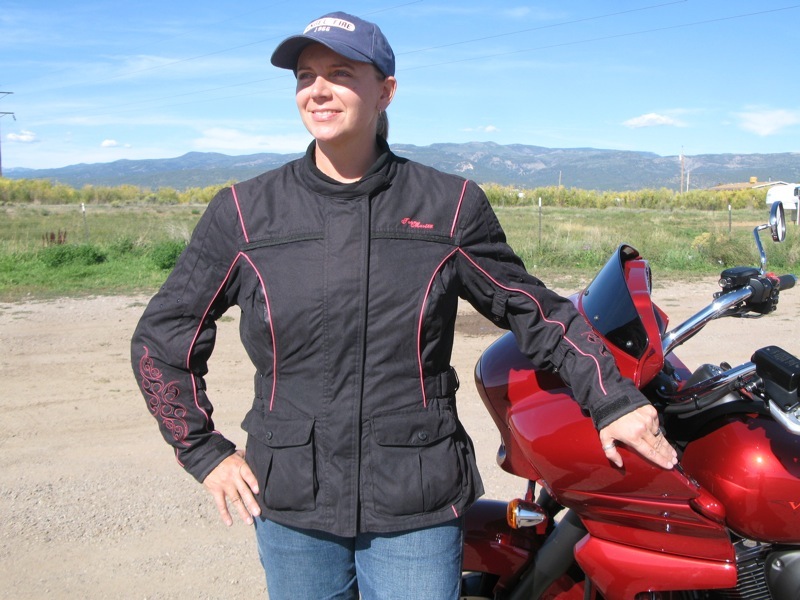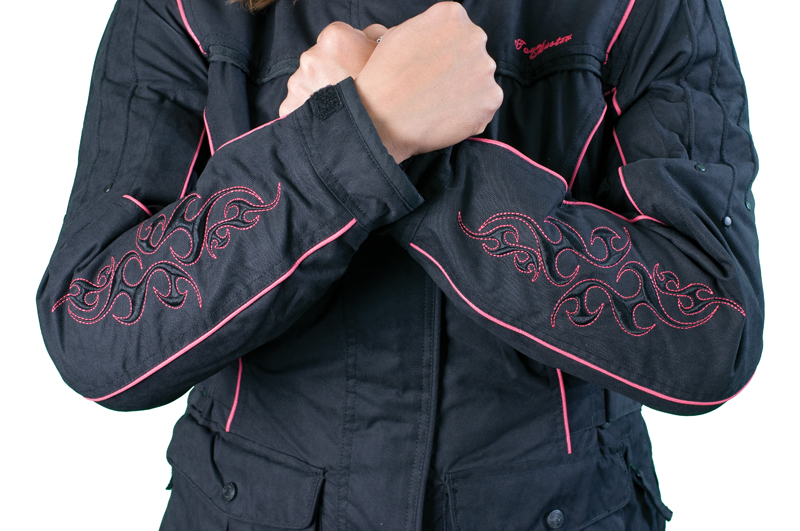 If you're not into pink, the all-black version of the jacket offers the same design but replaces the pink with dark gray.
Patterned to accommodate womanly curves, the three-quarter-length jacket shell is made from a 320-denier polyester/nylon blend that offers an oiled-cotton feel. The interesting texture is quieter and softer than most conventional textile jackets, yet the fabric is still waterproof and breathable.
The Motive is built with a waterproof Rainguard barrier that keeps you dry from the elements and perspiration. In a sprinkle, rainwater pools and runs right off the jacket. But get caught in a downpour or spend some time in a steady rain and the water does get absorbed into the nylon/polyester outer material. However, none of it makes it through the jacket to the liner, keeping you nice and dry.
A number of features combine to create the jacket's shapely fit. Two belts on either side of the waist connect to an elastic strip across the back that can be cinched and secured with Velcro. Zippered gussets under these belts offer extra give if you need it.
The sleeves offer two elastic tabs that pair to one of three snaps, depending on your arm width. Tightening these tabs keeps the elbow armor in place and prevents the sleeves from flapping when riding. The cuffs are tightened with Velcro and are finished with a soft microfiber edge on the sleeve. The same goes for the jacket's collar. These soft edges, among other thoughtful fit and function features (like the elastic waist belt and hip gussets), are aspects of a garment that should be noted when deciding what sets one jacket apart from another.
| | |
| --- | --- |
| The front vents have large zipper pulls that are easy to use with gloves on. Here, you can also see the adjustable arm snaps that cinch the sleeves tighter. | Lots of expandability is offered in the form of a Velcro waist belt and zippered hip gussets. |
Two large exterior bellows pockets offer plenty of room for keys, a wallet, sunglasses or any other miscellaneous stuff you need to stow in a pocket. The flaps stay closed with two small Velcro strips and a center button. Behind these pockets are zippered hand-warmer pockets. And in case that's not enough storage, there's a built-in zippered fanny pack in the lower rear portion of the Motive, plus a zippered, waterproof pocket located between the exterior and interior linings on the right chest.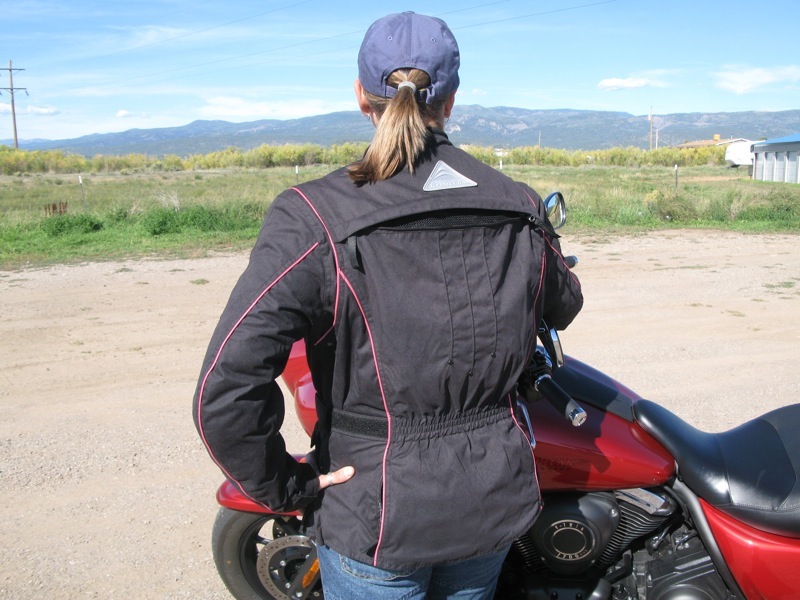 A heavy-duty, durable main zipper closure has a large, easy-to-grasp pull tab. One thing I like about the Motive zipper is that you can unzip it from the bottom, which allows extra give when you're in a sitting position. This prevents that "pot belly" look you can get from jackets that don't have this feature. Dual wind flaps encase the zipper and seal out the elements with a full-length hook-and-loop strip.
The Motive includes a full-sleeve quilted zip-out liner with polyfill insulation and extra pockets. I tend to take all my jacket liners out, put them aside and use my heated gear liner instead. But if you don't have heated gear, the quilted liner is a good thing to keep around for chilly days. One thing those of you with a drawer full of liners will appreciate is that the Motive is clearly labeled on both the shell and liner tags. This simple little detail means that you spend a lot less time trying to match the correct liner to its jacket.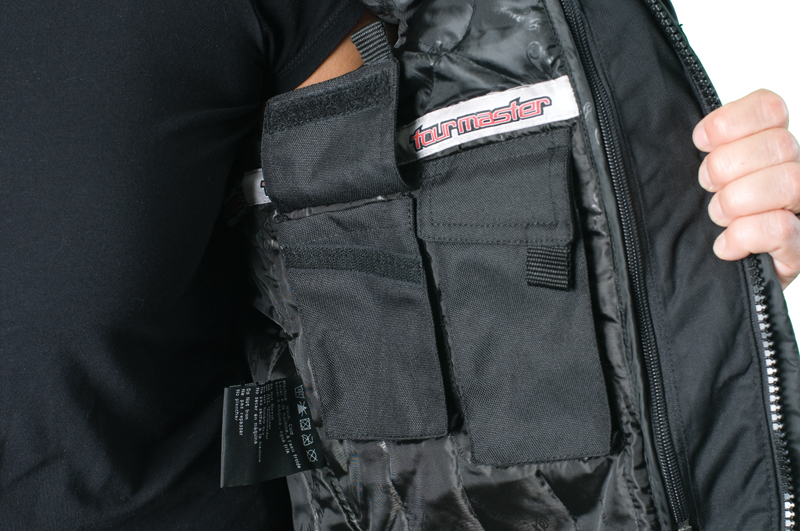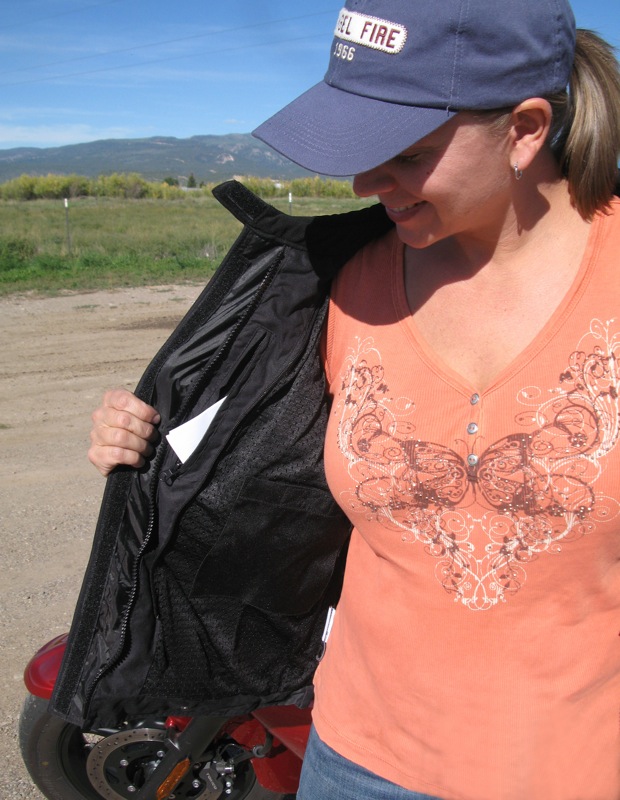 A built-in zippered pant connector seems to be the trend these days, and the Motive is equipped with one, but I don't know anyone who uses a zipper to attach pants for regular street riding.
CE-approved impact protectors live in the elbows and shoulders, and a triple-density foam pad protects your back. All are removable, but none are adjustable. I'd like to be able to adjust the elbow armor so it sits slightly higher in the sleeve, but nevertheless, the armor is big enough to do its job.
For warm-weather riding, the Motive has large chest vents—one on each side—and a full-length, horizontal rear vent that allows air to flow through it when opened. The zipper pulls are big enough to use easily with gloved hands, but the zippers sometimes get caught up in the mesh, requiring two hands to open or close them. On very hot days, I still choose my mesh jacket over the Motive, but if you're stuck traveling with just one jacket, the vents definitely help keep you from overheating.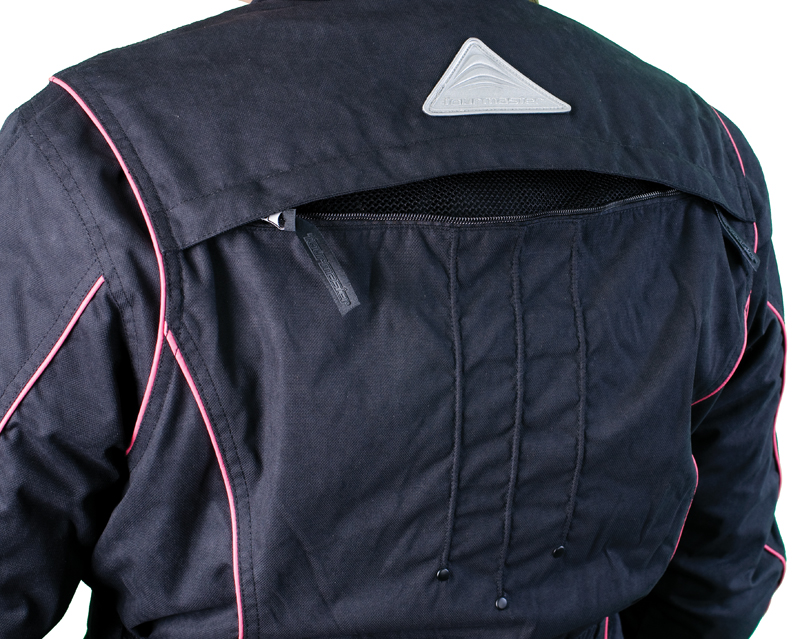 Tour Master is one of the few companies offering generous sizing for women, and those sizes tend to be true to size. Women's sizes range from XS (6) to Plus L (20). I ordered the size I normally wear, a 12 (or a large, in this case), and the Motive fit me perfectly. I'm quite busty, so I like how the jacket allows for that instead of smooshing me up there. On the other hand, WRN Editor Genevieve Schmitt, who is much smaller in frame and lighter in weight than I am, slipped her arms into a medium, the size she regularly wears in motorcycle jackets, and while the shoulders and arm length fit, the bust was way too big for her size A (pushing a B) bust measurement. She was swimming in it. When she tried one size smaller, the chest fit, but the arms were too short.
This left me with the conclusion that, while some jackets are made for tiny women like Genevieve and have us "larger" gals squeezing into them (if at all), Tour Master jackets are specifically cut for women with curves. Tour Master has been listening to women riders, and their jacket cuts and sizing reflect that.
If the honest sizing isn't something to hoot and holler about, the Motive's $180 price tag is affordable, especially considering all the incredible features packed into this versatile jacket. Visit TourMaster.com for more information and to find a dealer near you.
About the Author
Tricia Szulewski has maintained the woman rider's perspective in RoadBike magazine since 1999. As the magazine's art director and staff writer, Tricia feels incredibly fortunate to have a career combining both her passions—art and motorcycles. She is an MSF instructor and logs thousands of miles each year on anything that shows up in the company stable. You can find some of Tricia's bike reviews, adventures, product evaluations and more at RoadBikeMag.com.

Related Articles
Gear Guide for Big Girls: Textile Jackets and Pants
PRODUCT REVIEW: Tour Master Trinity Series 2 Ladies Jacket