Editor's Note: Want to organize and participate in a multi-day motorcycle tour with a large group, but don't know where to start? Chix on 66 organizer Karan Andrea shares how she made her dream of riding her vintage motorcycle on Route 66 go from a motorcycle tour with a friend to an epic all-women's group ride that is archived in the Harley-Davidson Museum!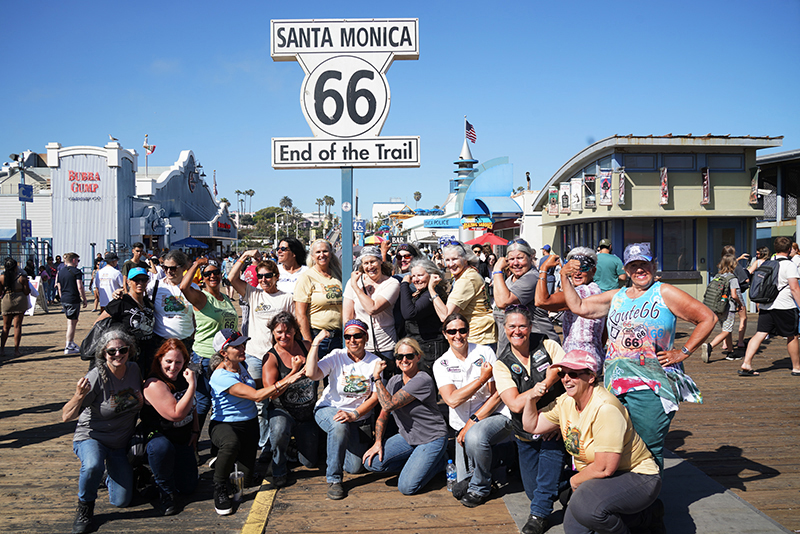 The AMCA Chix on 66 all women's motorcycle ride was hands down the most rewarding experience I have had thus far in motorcycling—probably in life. The commemorative tattoos I've gotten since the ride prompt questions from interested observers: Had you ever done anything like that before? No. Would you do it again? Oh h-e-double-hockey-sticks yeah! How did you pull off such an extraordinary ride? Read on.
What's a Party Without a Theme?
How do you get started? Having an overall theme is helpful in narrowing down choices from ride routes to logo artwork. Think of the multi-day event as more of an experience than just a ride. This valuable hint came courtesy of Jason Sims who runs the Cross Country Chase and the Motorcycle Cannonball. Jason sponsored the Chix ride, providing sweep support for us as he scouted the route for his next Chase.
What can you give the participants that they may not be able to do on their own? Maybe it's a private tour. Maybe it's access to something rarely available. You would be surprised at how open businesses and venues are to helping you if you just ask.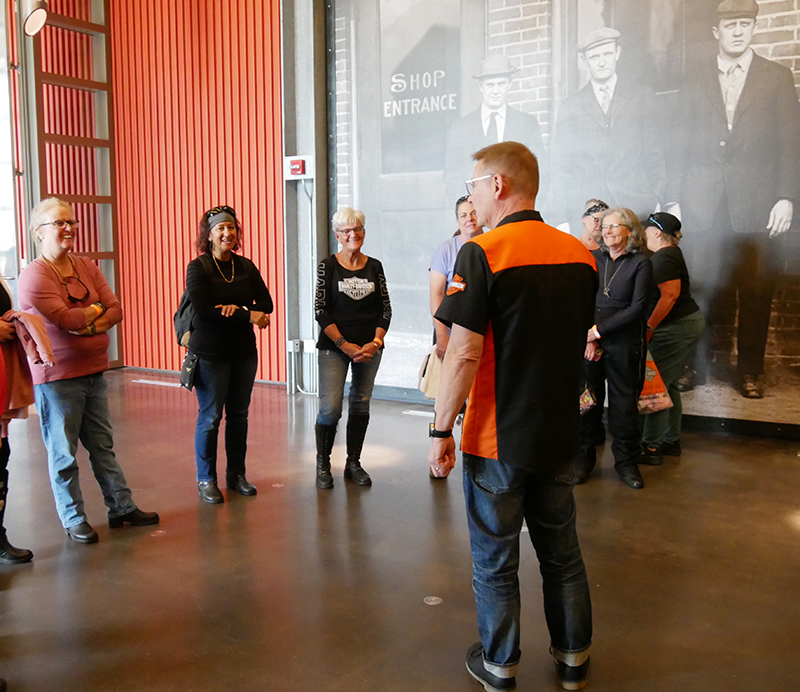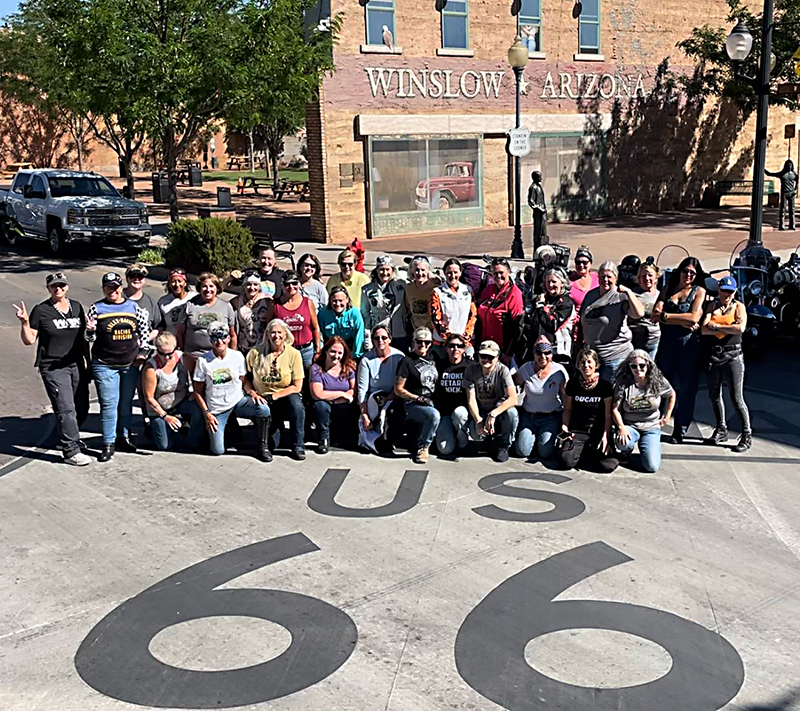 Jason also explained to me early on that the hardest part of running an event is managing the personalities involved. There are no truer words. Organizing and pulling off this event tested my patience, integrity, and my very being. Yet it's important to keep problems from surfacing to the riders.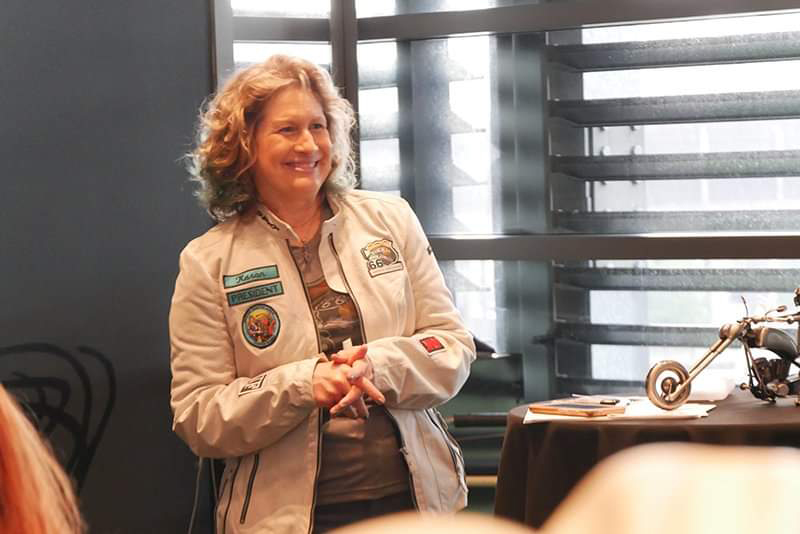 You Can't Be the Lone Ranger
While the Chix event was my idea, once it blossomed into an "event," a team of women were then recruited to plan it. I could never have pulled it off alone. Most of the credit for our success goes to this group of women. I believe there are two keys to success when working with a group. The first is to play to each person's strength. For example, don't ask a "numbers person" to write press releases.
It's not always easy to determine who might be good at what though. It's all about communication. Simply ask: is this something you would like to do? Does this suit your strengths? And hope that person will be honest in her response. Regardless, you must delegate and trust those people.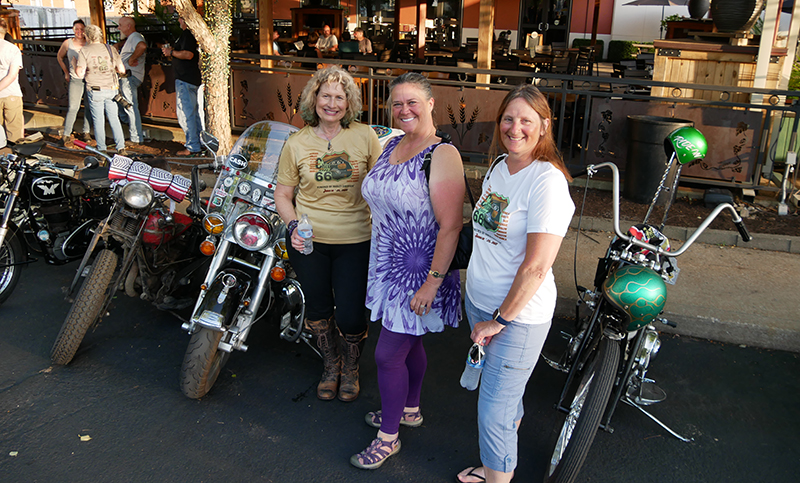 The second key is collaboration. Every time someone brought an idea to the planning committee, it became better through group discussion. If you give everyone a chance to contribute, you will end up all the better for it. Or you may realize through discussion that what seemed like a great idea wasn't, so you scrap it.
However, once you have made your decisions, hold tight. Quite often people have a way of not speaking out when given a chance, and months later they have all sorts of input. You are on deadlines. You must put this thing to bed because you are on to the next 10 things on your list. There isn't a lot of time for backtracking unless there is a very good reason to do so.
Which brings me to the next essential skill you need to cultivate. You must be able to roll with it. If you are putting a big riding event together you're probably a planner. You like order, schedules, and lists. This facet of your being will serve you well during the planning. However, think of the actual event as a live performance. You rehearse and rehearse. You work out all the details in a controlled environment. And then you "go live…"
"Going live" is essentially managing chaos. You must be comfortable being uncomfortable. You have to be okay knowing that anything could go sideways at any point. I pretty much lived somewhere between "Everything is gonna be fine," and "Oh my God, what now?" for 17 glorious, challenging, exhausting days.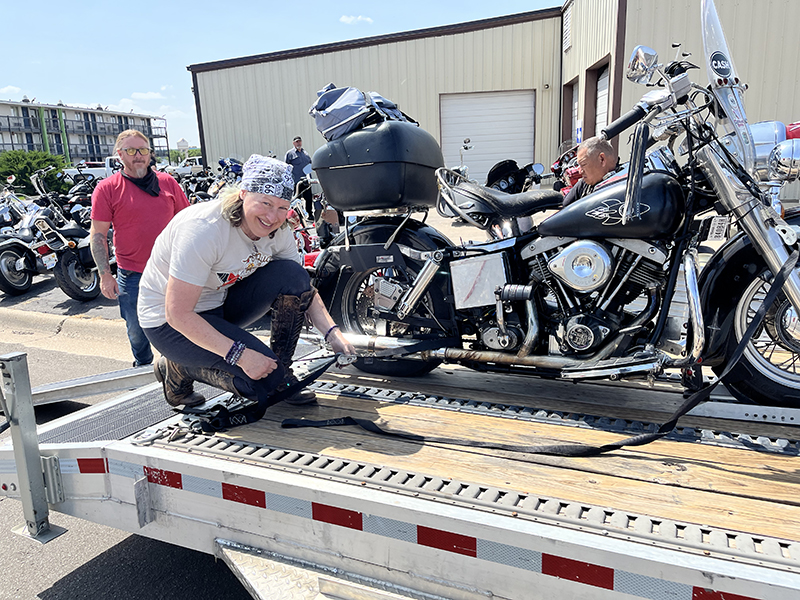 This all establishes the mindset. It's not always easy to set reasonable expectations of yourself, of others, or of your work. But it's essential that you do just that for your own sanity, for your team, and your participants. Remember, don't show the kitchen to the customers.
Planners like lists, right? I know I do. Each ride is slightly different, so if you are planning a motorcycle event, this will only be a jumping off point. I never claim to have all the answers. I only claim to have my answers. That said, here is a general list of things to consider:
Set your budget very early on based on estimates of all expenses you expect to incur. It's also good if you have one person always monitoring it and adding in unexpected costs. You will be charging a fee for the event, and you may secure financial sponsorships. Do your math carefully and allow at least 10%, but preferably 20% padding. Things come up.
Develop the route, scout it, determine how it will be communicated and shared with the participants, and mark gas stations at reasonable intervals.
Most hotels/motels will work with you on room blocks and discounted rates. Do NOT leave this to the last minute. As soon as you determine your dates, get somebody on this.
Sights, Events, Tours, Special Opportunities
These are what make your ride an "experience." Make these things count. Quality over quantity.
Have one or two people in charge of making sure everyone in the group leaves in the morning and returns in the evening.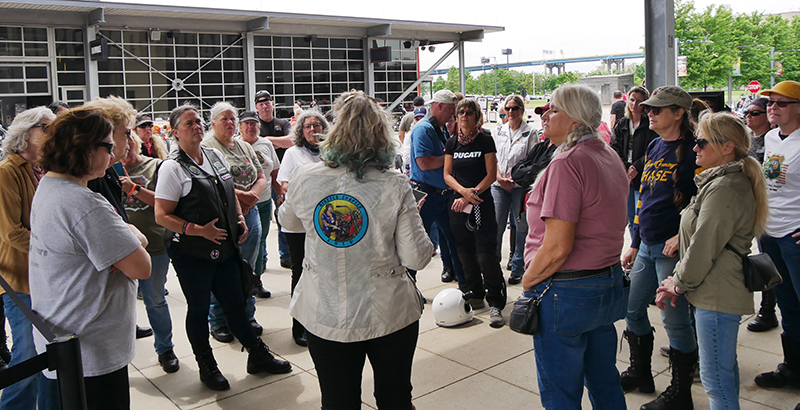 If you are going for sponsorships, you need a marketing deck, a hefty list of contacts, and you will write press releases to announce various accomplishments and milestones. Make sure you have access to someone experienced in this field to advise you. This can make or break your event.
Social Media/Website Platforms
Keep all platforms current and consistent with event information. Control your message. This is a critical part of sponsorship.
Not all sponsorships are monetary. You can get gear, swag, publicity, parts, garage time, discounted or free admission, and more. But make sure you keep your commitments to your sponsors.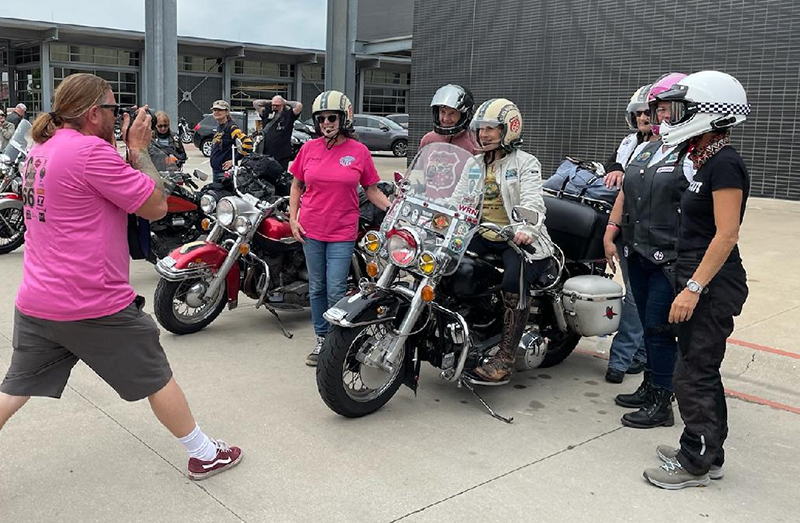 Have a professional graphic artist design your logo. Consider, too, that most tattoo artists are artists first and may have a fresh idea of what is eye-catching.
At minimum, offer an event t-shirt. If you can, work with a company who can do small runs or single orders so you don't have odd leftover sizes. Stickers, keychains, and other custom printed items that are small, light, and easy to being along are also nice.
Consider two major forms of safety: sweep vehicles for breakdowns and medical support. There are people who will travel with you to provide medical treatment for everything from heat exhaustion to actual motorcycle wrecks.
Editor's note: No matter what your dream ride might be, even if you put in all the work and dot all your i's, it might still be difficult to kick back and fully enjoy the ride like a participant. There's a lot of stress that comes along with the responsibility of organizing a large scale event or ride. Karan definitely had her moments of hitting that max stress meter during the Chix on 66 ride. It helps to have a "second in command" ready to take the reins for a while, so that you can destress while someone else leads.
The most important thing to check off that bucket list is to just have fun…so just do it! And send us your story and ideas to share, too.