For her first bike, Karen Reed wanted a new Honda Shadow Spirit 750. She had done her research, read the magazines and sought advice from motorcyclists she trusted—very important. The 750 seemed perfect.
A year later, she is still relieved that she bought the larger Shadow 1100 instead, even though it was used. With 17,000 miles now logged on her bike (it had only 7,500 miles on the odometer when she purchased it), Karen is happy with her purchase and sees no reason to shed it for something new or different. She says, "It's an excellent bike for me. I was very lucky."
Why did Karen change her mind? Why does she say she was lucky? Simply put, she met a conscientious salesperson who made sure Karen had the right first bike. He questioned her at length about her riding history (dirtbikes as a girl and 25 years on the back of her husband's Honda Valkyrie) and what kind of riding she expected to do (touring). "He took the time to listen," she recalls, "and he made me feel very comfortable." As a result, and because Karen was willing to listen and learn, her first bike is a long-term keeper.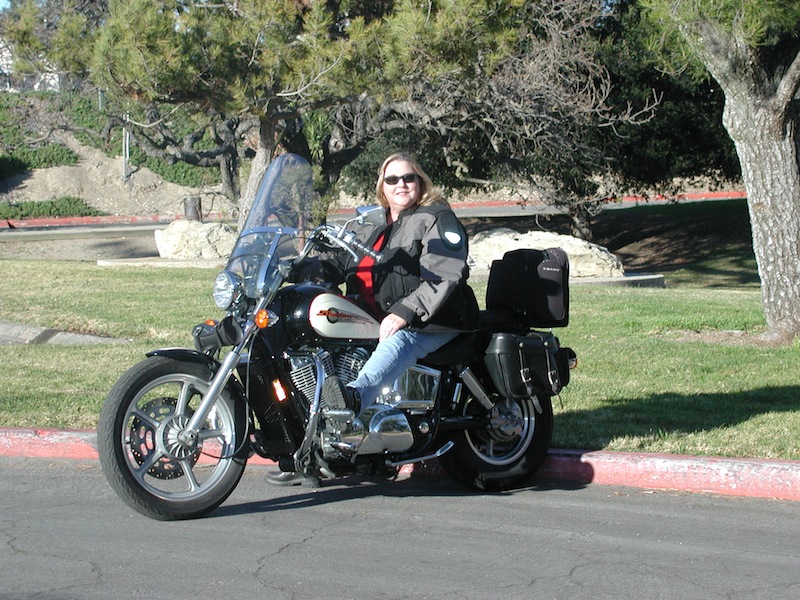 April Guerrero's and Jeanine Hutton's first-time-buyer experiences were slightly different. Unlike Karen, neither woman spent much time with a salesperson. However, like Karen, they did put a lot of thought into what kinds of motorcycles they wanted and researched their choices. As a result, they are quite happy with their new rides.
With no riding experience to speak of, April (at 5-foot-6) and Jeanine (at 5-foot-5) recognized their limitations as riders and bought accordingly. Knowing that her goal was to spend weekends canyon carving with friends, April chose a new Kawasaki EX500, a lightweight and popular workhorse of privateer racing. She explains, "When I get to the point where I've learned how to ride and want something bigger, Ill probably keep this bike for racing, so I chose one that would be easy to get parts for."
Jeanine wanted a bike that fit her and would keep her happy for a couple of years in those same canyons. She considered a few 500cc motorcycles but chose a new Suzuki SV650S because she thought it wouldn't be too intimidating to start on and that she wouldn't outgrow it.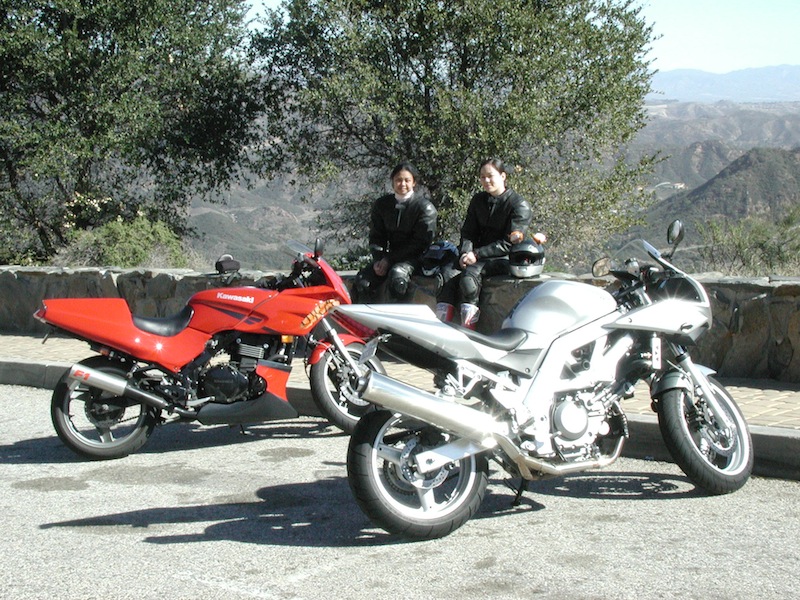 April and Jeanine both chose to buy new because they wanted the peace of mind and the manufacturer's warranty that come with new bikes. Jeanine also wanted a technical improvement, fuel injection, that was not available on earlier SV650 models. So they shopped around and then bought from the dealers who gave them the best prices. No brainer, right?
Well, as Robyn Smietan, a salesperson at BMW dealer Brown Motor Works in Pomona, Calif., warns all buyers, "Don't be so intent on saving money that you overlook customer service." The money you give to a trusted dealer with whom you have built a rapport will come back to you down the line. Reputable dealers appreciate customer loyalty.
Robyn's advice to first-time buyers is to buy used. After all, new bikes are expensive, they depreciate the minute they are out the door, and you may decide motorcycling is not for you. She says, "Buy a smallish used bike in the $2,000 to $3,000 range, on which you can easily get both feet on the ground." Once you decide that you enjoy riding and have gained the confidence to move on, it is easy to sell the bike—sometimes at a price close to what you paid for it.
When it comes to choosing that first bike, Robyn recommends you take a pencil and paper to different dealerships and sit on every motorcycle that looks inviting and write down the make and models of the bikes you like and that fit you. Then read reviews on those models. Go on the Internet and find where owners of "your" bike congregate, then start posting questions. You'll be amazed at how much information fellow enthusiasts are willing to give you. Some great places to start? Check out WRN's comprehensive
Motorcycle Reviews
section and the motorcycle discussions in the
WRN Forum
.
And what if you do decide on a used bike? Should you go to a dealer or buy from a private party? Some believe that the higher prices of dealer-owned used bikes are not worth the purchase, while others believe that the reconditioning a good dealer does on trade-ins make the higher prices worth it. Also, trade-in bikes at better shops were often originally sold by that dealer.
In Karens case, her bike had been sold by her salesman new and had recently returned to the shop as a trade-in. He knew the motorcycle's history and the shop had all the service records, so Karen felt comfortable buying a used bike. And, she says, it has required very little maintenance.
If you are buying a starter bike, as Robyn recommends, it might be cost effective to buy from a private party. Of course, take a trusted friend along—someone who knows what to look for in the way of defects—when you go to look at prospective buys. Is the bike leaking? Is it intact? Does the information on the frame match that on the title? Does the seller have the motorcycle's service records? Are the brakes, chains and tires excessively worn? In other words, are there any immediate, necessary repairs that will effectively increase the real price of the bike?
Lastly, what are the financing options on a new versus a used bike? Typically, interest rates on new bike loans are lower than those on used bikes, but you can find reasonable deals if you look, particularly through credit unions. Most manufacturers periodically offer special financing packages with low interest rates on their new models. Or you can do as Karen and Jeanine did and immediately roll over whatever loan you get onto a low- or no-interest credit card.
In the end, investigating your payment options on your first bike is just an extension of the research you need to do to determine what that first motorcycle will be. To get a ballpark price on a used motorcycle, check the
Kelly Blue Book
and
NADA
Web sites. As the three women mentioned in this article learned, all it takes to fully enjoy the thrill of motorcycling is some diligent homework and a willingness to ask questions of yourself and others. It's quite easy, actually—and so very worth it.
Buying Online
Ah, the Internet—that amazing place where anything you want is only a click away. So what about buying a motorcycle online?
Jeanine bought her new Suzuki via an Internet-only special run by a Southern California retailer, and she couldn't be happier. The ad had a low out-the-door price. She called them up and they asked, "What color?" A few days later, she went in, spent half an hour on paperwork and left with her new baby. Piece of cake.
Buying a used bike on the Internetis a different situation. The benefit to shopping online is that you get a much larger selection from which to choose. The downside is that you might not get to see the bike before you purchase it.
Things to know about online shopping:
Read the description closely. Are there pictures? Does the seller give a lot of information? Conscientious sellers go out of their way to give as many details as possible.
Get the seller's phone number via email and ask questions about the bike over the phone. If his or her answers do not pass the "gut-feeling test," walk away.
Never pay via personal check or wire transfer. Always pay through a secure funds transfer company, such as PayPal or SecurePay.
As with any motorcycle purchase, the key to buying online is just a matter of doing the proper research. The online auction site eBay has tips and advice for new buyers. Read them. And remember, if the deal looks too good to be true, it probably is.
Kate Edwards lives in Ventura, Calif., and has been riding for more than a decade. Her current motorcycle is a Suzuki SV650, which she bought used on eBay—a great experience, she says.

—————–
Related Articles