MSF instructor Susan Rzepka Orion answers a common reader question: What should you consider when buying your first motorcycle?
Buying a motorcycle is a lot like buying footwear.
Y
ou have to considerfit, form and function…
WRN Reader Vanjas Question:
Can you recommend a good motorcycle for a beginner? I have ridden on the back of bikes before, but I dont know what type of bike I should be looking into. I am 20 years old and have been absolutely dreaming about learning how to ride. I want to take lessons and own my own bike, but my family has many concerns and stereotypical opinions. I weigh 132 pounds, and I am 5-foot-8. I assume the weight of the bike is very important, too, but I dont know what to consider, so any advice is appreciated.
Susans Response:
This is one of the most commonly asked questions because selecting your first motorcycle is a big deal. There are a lot of factors to consider, and the decision-making process can seem especially confusing when youve never ridden a motorcycle before. However, if youre armed with the right information, you can make a selection and purchase with confidence.
Once you decide to buy a motorcycle, youll probably ask for advice from a friend or relative, or rely on the expertise of a salesperson. All the advice you get is fine—and youll probably learn a thing or two—but the opinions of others are no match for your own personal needs.
Buying a motorcycle is a lot like buying footwear. You have to consider the four Fs:fit, form, function, and finances.Boots, clogs and sandals may all serve the foot, but they do so in very distinct ways.
Fit: Size Matters!
Size does matter—yours and the motorcycles. Whats more important than your height and weight, however, is the length of your arms and legs. When you go to purchase a bike, make sure you know your inseam measurement, which is the length from your crotch to the ground. You should also be sure to try out different seat heights. Even with boots on, a rider with a 30-inch inseam will not fit comfortably on a bike with a 33-inch seat height.
Sit on as many motorcycles as you can to get a feel for the controls. With someone spotting you, check the fit of the bike.
Consider these questions:
Can you place both feet flat on the ground without straining?
Can you reach all the controls without overextending yourself? Or are you too restricted, too cramped in the riding position?
Can you turn the handlebars in both directions without overreaching?
Can your foot reach the brake pedal comfortably?
Can your hands reach and operate the brake and clutch levers without straining?
How does the comfort of the seat feel to you? While some seats and controls can be adjusted somewhat, you should feel comfortable with the way your bike feels.
Like footwear, a motorcycle needs to fit your body in order to work for you.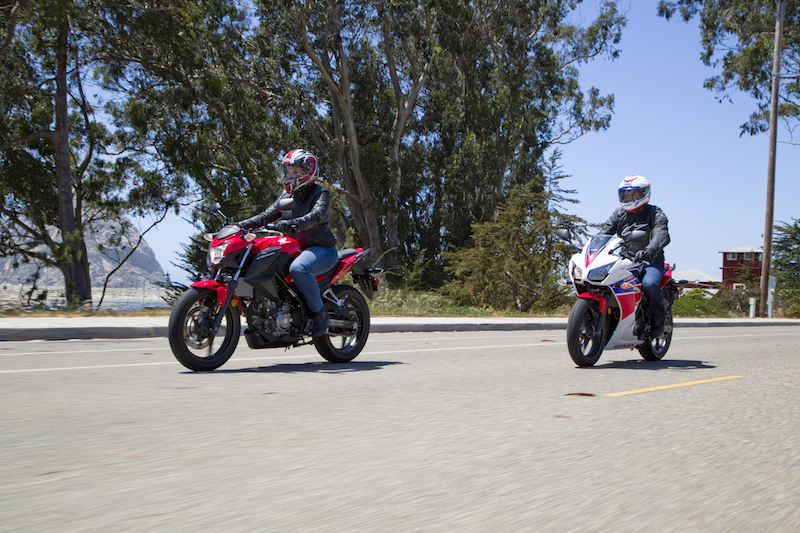 More things to consider with fit:
The weight of the bike.When you handle a bike, pay attention to how heavy it feels. Can you pull the bike off the sidestand without a struggle? If it feels too heavy for you, it probably

is

too heavy for you, and you dont need a whole lot of bike when youre first learning how to ride. My first bike was a Suzuki Savage 650, a single-cylinder machine that weighed only 350 pounds. It was a great bike to learn on, fit my small frame beautifully, and I rode it for five years before I felt I needed anything bigger. Larger, heavier bikes are not the best choice for beginners.
The size of the engine. Motorcycle engines are commonly referred to by their cubic centimeter (cc) displacement, or with late model motorcycles their cubic inches (ci)—and the higher the number the more power the engine has. Motorcycles with large engines—anything higher than 500cc—increase the chances that a new rider will have a steeper learning curve.

Meaning, If you learn on a motorcycle that has manageable power right from the start—at WRN we believe that is a motorcycle with 500cc or lower engine displacement—you have a better chance of your body and mind honing in on the basics of handling a motorcycle. There are a lot of elements for your body and mind to learn in order to ride a motorcycle effectively. Those elements include knowing how much to crank the throttle and when to shift gears, how to move your body in a turn, what to watch out for in front you, just to name a few. To make the learning curve easier its important to have a motorcycle whose size and power are within manageable ranges, one on which you can build your skills and confidence, before moving to a larger bike.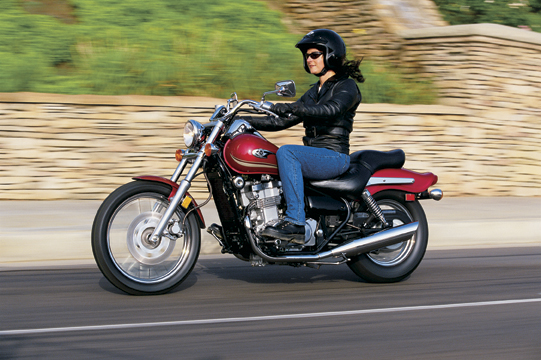 Form and Function
Know the different types of motorcycles—and by "types," I dont mean brands. There are cruisers, touring cruisers, sportbikes, sport touring, adventure touring, standards, dirtbikes and dual-sports. Each has a different purpose and look, and while this is where style and preference come into play, the key here is function.
Consider these questions:
What do you plan to do with the motorcycle?
Will you be puttering around the neighborhood? Commuting 50 miles a day on the highway? Taking long trips on the weekends?
Do you need cargo room? Will you be carrying stuff on your motorcycle?
Are you going to be riding on paved roads, dirt roads, or both? Im about to trade my Yamaha V Star 1100, a great and comfortable cruiser (also available in an entry-level 650), for a BMW F 650 GS, a light, nimble dual-sport that also happens to be a great beginner bike. Why? Im riding more on unpaved highways, and the V Star wasnt built for that function. You wouldnt wear sandals in the snow!
Take the time to research the different styles of motorcycles knowing that not each style has a beginner size version. For example, there are no beginner touring cruisers. You must first learn on a small cruiser, like a Honda Rebel, and then eventually build up to a larger cruiser, say a Harley-Davidson Low Rider, and then a touring cruiser, like a Harley-Davidson Street Glide.
Same scenario for an adventure touring motorcycle, that is a bike that has tires that allow it to ride on the pavement and on gravel. If that kind of riding interests you, youll want to learn on a small standard-style bike, like a Suzuki TU250, which is similar in seating position, and then work you way up to the adventure touring motorcycle you want.
Finances
As with any large purchase, money is an important factor when it comes to buying a motorcycle. What can you afford to invest in a first bike? Remember, your first motorcycle does not have to be the bike of your dreams. If you take the time to learn to ride right, youll probably move up to a different bike later on.
And because it's likely that your first bike will end up on the ground at least once (usually due to improper handling at very low speeds), you might want to consider buying a late-model used motorcycle. The first scratch won't hurt as much that way, and you won't beat yourself up over a drop if one occurs.
You wouldn't buy an expensive pair of hiking boots just to walk in the park. As far as motorcycles are concerned, if you buy a bike that's too big or too powerful for your beginner skill level, not only could you be wasting your money, you could also be risking your life. Choose wisely and ride right!
About the Author
Susan Rzepka Orion is a certified MSF RiderCoach and Rider's Edge Instructor who loves to ride, write, and help others who want to do the same. You can find her on the road on her Yamaha V Star 1100 Custom.
—————–
Looking for more information about picking a starter motorcycles? Return to the Choosing Your First Motorcycle section of the WRN Beginner's Guide.