Racer Gloves is one of the few companies making womens specific glove styles cut to fit the smaller hand of women riders. Weve featured the companys styles before on WRN. Just released are two new styles, one womens specific for riders who want hard core protection; and a unisex style thats lightweight and designed for adventure riding.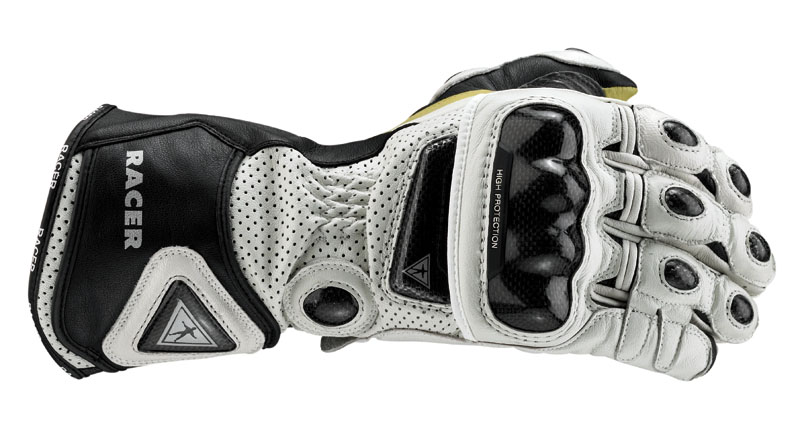 The Women's High Racer Glove is based on the very popular mens High Racer Glove, but in a womens specific pattern. The Womens High Racer glove features a Kangaroo leather palm, carbon fiber palm sliders, along with carbon fiber knuckle, finger, and wrist protectors. Vented in fingers and wrist as well. With an outstanding fit and virtually no break-in, this is a glove you won't want to take off! Sizes M–XL.
| | |
| --- | --- |
| This is the Rally glove in white/orange color combo. Also comes in white/red, and white/green. | The Rally Glove from Racer is unisex and retails for $79.99. Shown is the black/white color combination. |
The Rally is a lightweight mesh and leather motorcycle glove designed for adventure riders, but street riders love it too because it provides nice warm weather protection. A mesh upper with a knuckle protector allows for abundant airflow, while the goatskin palm provides abrasion protection should a "dirt nap" or "pavement inspection" be encountered. Index finger and thumb have the addition of Touch Tec material for use with touch screen devices. Sizes S–3XL.
Visit RacerGlovesUSA.com for more information and to order online.
Related Articles
Why Motorcycle Gloves are so Misunderstood
Review: Gloves for Cold and Warm Weather Riding
All Gloves Reviews on WRN