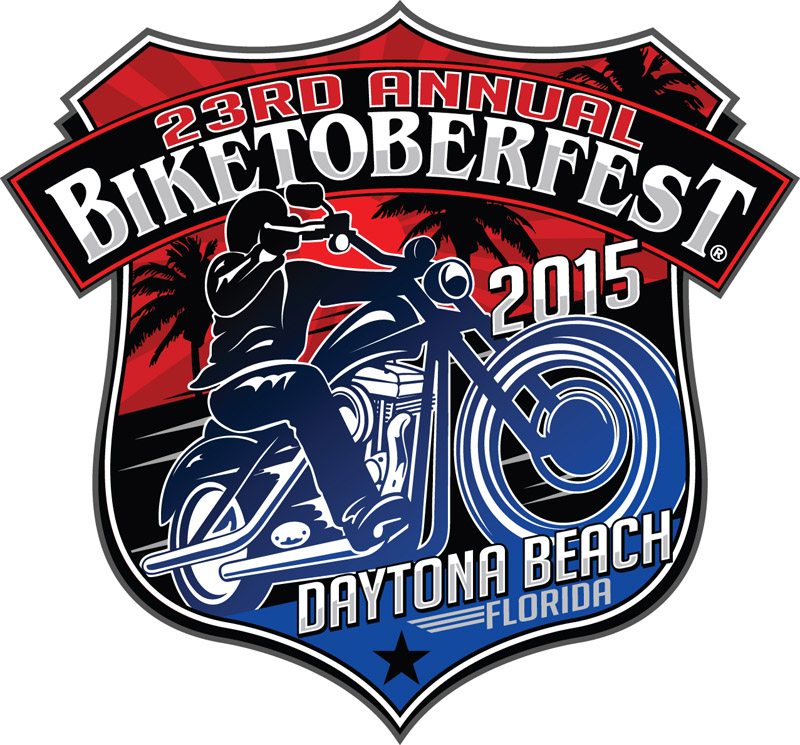 Daytonas annual fall rally, Biketoberfest, gives motorcyclists a chance to extend the summer rally season by being held in October, when Florida starts to experience its best temperatures. Cooler weather and less crowds than Marchs Bike Week, Sturgis and Laconia rallies, are big draws for riders to head to Biketoberfest.
Held this year on October 15 – 18, more than 100,000 motorcycle enthusiasts and casual observers will attend the 23rd Annual Biketoberfest motorcycle rally and festival. Sponsors Amsoil, Geico and Sweet Ride Wine will a have strong presence throughout the four-day event in which attendees soak up the sun and live music, visit iconic watering holes, and eat at some of the area's trendy new restaurants.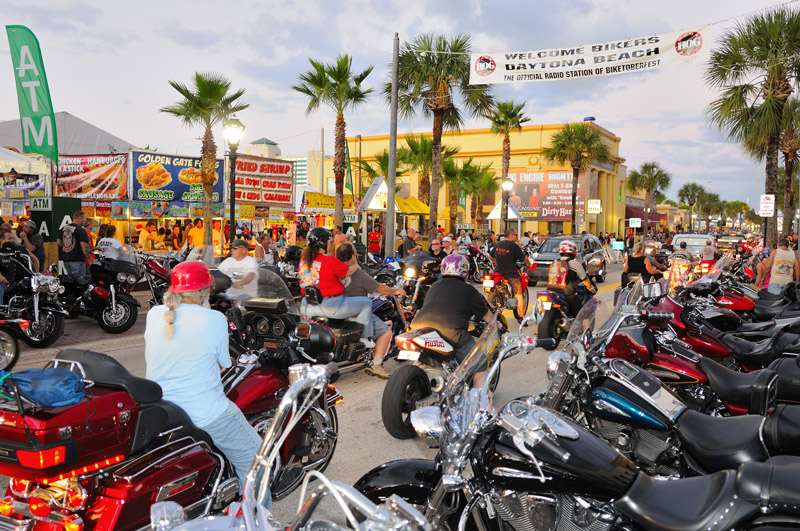 As for the roar, fans will watch the pros compete in Daytona International Speedway's world-famous motorcycle races, and they'll also get a sneak peek at the Speedway's $400 million "re-imagining" project.
Multiple locations throughout the Daytona Beach area — including Main Street, Riverfront Park and Mary McLeod Bethune Boulevard — will host events, with plenty of music, foods and vendors.
What's new?
Lively Main Street has just added Sunsetters Riverfront Bar and Grill to its mix. Located on the banks of the scenic Intracoastal Waterway, the location is already a locals' fave.
If you love all things Florida — and who doesn't? — don't miss the new Cici and Hyatt Brown Museum of Art, the largest collection of art depicting Florida scenes. Next door, check out the Museum of Arts amp; Sciences' new planetarium, with its laser light and music shows.
Love music?
Four solid days of live music in dozens of indoor and outdoor venues will celebrate the cooler riding weather and energetic fall vibe. Enjoy a free concert by Jackyl October 17 in the Coca Cola Pavilion at Bruce Rossmeyer's Destination Daytona. Home of Daytona Harley-Davidson, this motorcycle mecca features a 109,000-square-foot showroom, an impressive selection of retail and specialty shops, restaurants and bars.
We've Got Your Blues
Start your Daytona Beach getaway a few days early and enjoy the ever-popular Daytona Blues Fest, a Southeast Tourism Society Top 20 award winner. This year's Oct. 9 – 11 event at historic Jackie Robinson Ballpark is the perfect way to kick off your Biketoberfest experience, with artists including Janiva Magness and Eddie Cotton, Jr.

Who wore it best?
People watching is always a popular attraction at Biketoberfest. Attendees come from all over the world, and with dozens of event venues scattered throughout the area, there are plenty of places to go, plenty of people to meet and more photo opps than your smart phone can store.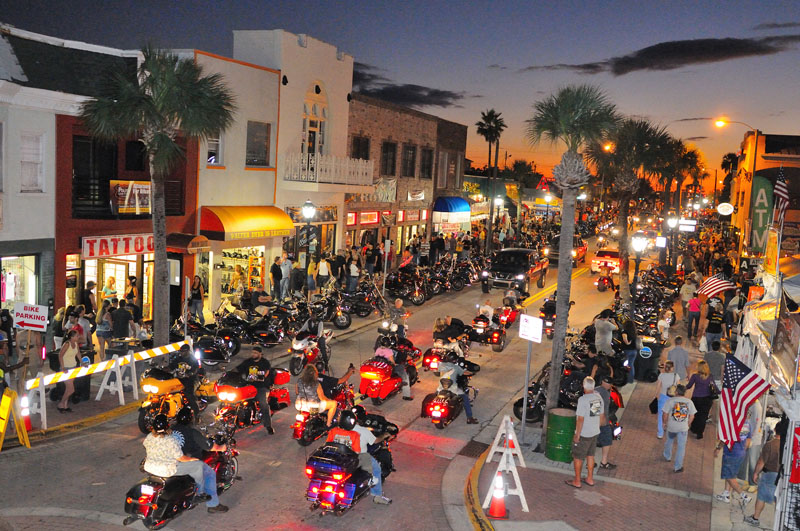 Growing the Fun
Biketoberfest is exceeding expectations, both in social media fans and attendees. Digital marketing efforts have helped increase the event's fan base amongst both younger riders and
women
. Over the past year, the event has seen its Facebook fans increase from 87,000 to more than 103,000, reinforcing event organizers' strategy of retaining and enriching current markets while cultivating and growing new markets.
The Perfectly Placed Event
Bikers who attended Sturgis' 75th rally in August are well on their way to achieving the Triple Crown of motorcycle rallies. With
Daytona Beach Bike Week's 75th
coming up March 4-13, Biketoberfest makes for the perfect middle stop, for a truly historical motorcycle rally season. Plus, it's the pivotal event for Daytona Beach's Festival Capital of Florida fall round-up.
Biketoberfest.org
is the official site for this year's event. The Biketoberfest site is mobile friendly and includes a social pitstop to help riders connect and get revved up with other riders on Facebook and Twitter.
Related Articles
Daytona Bike Weeks Big Marketing Push to Women
Biketoberfest: the Softer Side of Daytona