Riding In The Zone
There is little that can match the sublime sensation of riding down a peaceful backroad completely in tune with your motorcycle and the surroundings, or the exhilaration that comes from slicing skillfully through a series of challenging corners on a long descent. These moments are what good riding is all about and what every rider hopes to experience.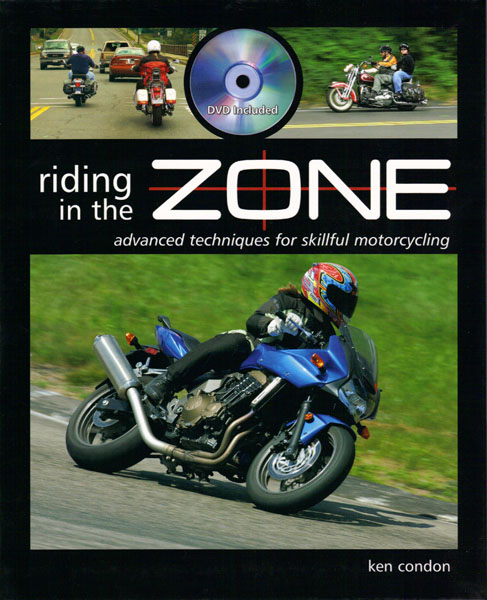 "Riding In The Zone," a new book written by motojournalist and motorcycle instructor Ken Condon and just published by Whitehorse Press, explains the techniques that can help any rider cruiser, sportbike, etc. find that magical state of being "in the groove" or "in the zone." A motorcyclist for more than three decades, Ken Condon is best known to the motorcycling world as the current author of the monthly Proficient Motorcycling and Street Strategies columns for Motorcycle Consumer News. He is also the chief instructor for Tonys Track Days and is an experienced Motorcycle Foundation instructor.
Condon identifies the many factors that help you enter "the zone" with detailed diagrams and extensive full-color photographs and illustrations in 141 pages. Condon addresses each one individually, from the development of awareness and mental skills to complete physical control of your motorcycle. At the end of each chapter are drills designed to transform the books ideas and concepts into advanced riding skills that are natural and intuitive. A companion DVD is included with the book to demonstrate these concepts and techniques. It shows how to perform each practice drill so the lessons may be applied quickly and easily to actual street riding.
"Riding In The Zone" is published by Whitehorse Press and can be ordered at Whitehorsepress.com. It retails for $29.95.
The Essential Guide To Dual Sport Motorcycling
Whether youre getting ready for an afternoon off-road ride, a weekend trip on nearby back country trails, or an adventure riding vacation in some far-off land, "The Essential Guide to Dual Sport Motorcycling" helps motorcycling enthusiasts get the most out of this popular sport. Seasoned rider Carl Adams lays out all you need to buy, ride, and enjoy the worlds most versatile motorcycles.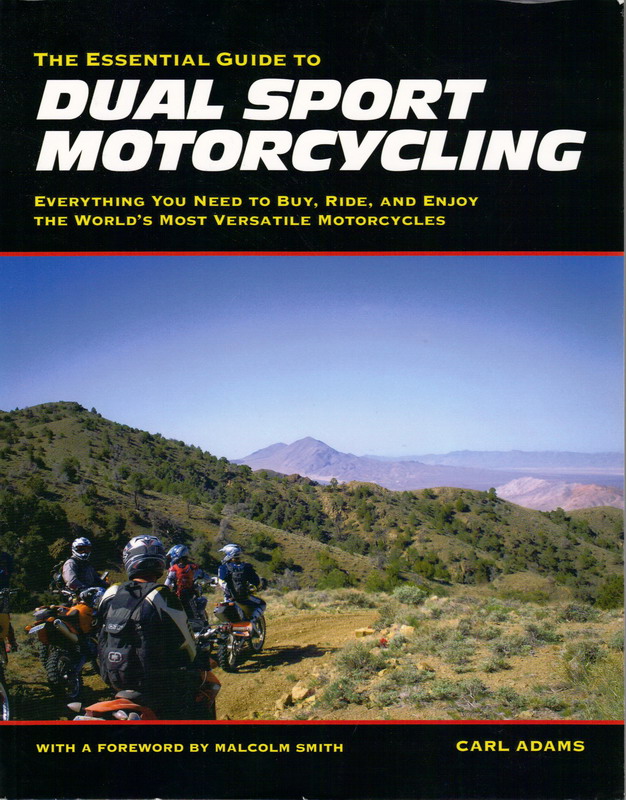 Dual sport riding riding a motorcycle designed for both street and trails is gaining in popularity as street riders look to add some new excitement and expand their two-wheeled horizons. WRN Editor Genevieve Schmitt is one such street rider whos doing just that this summer when she embarks on a dual sport ride for charity.
Organized into four sections, the book covers motorcycle selection, setup, riding skills, and specialized activities such as exploring remote areas, organized rides, and touring. Several chapters include exercises designed to improve your riding technique and impart new skills. More than 250 full-color photographs on 191 pages illustrate a broader perspective of the dual sport experience, whatever your riding level.
New riders will benefit from the clear explanations of dual sport gear, accessories, and techniques, while experienced riders coming to dual sport from a street riding background will find chapters covering advanced dirt riding skills, GPS navigation, and preparing for multi-day trips.
"The Essential Guide to Dual Sport Motorcycling" is published by Whitehorse Press and can be ordered at Whitehorsepress.com. It retails for $24.95.
Related Articles:
Read more ways to become a better rider in WRNs Riding Right Section