BMW, the German motorcycle maker, is banking that success in the U.S. motorcycle market now and in the future requires grabbing hold of newcomers and not letting go. It defines many newcomers as women, older or returning riders, and often, the vertically challenged.
To reach this group, of which Im a prime member (shortish and oldish), BMW is offering a 650 single-cylinder dual-sport called G 650 GS for 2009. Its a smaller, easy-to-handle motorcycle with a low seat height and plenty of zip at a reasonable price. The companys goal is to lure newcomers into buying it and hope theyll trade up to more powerful BMW models (apparently a high percentage do, within 18 months of purchase).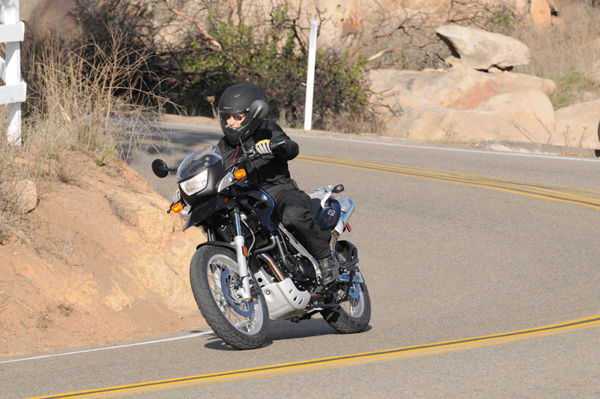 The G 650 GS is actually an update of the former F 650 (often called the Funduro), which was discontinued in 2007. (Since then, a new twin-cylinder Beemer has been christened the BMW F 650). I was invited to test the G 650 GS on switchback and country roads around Palomar Mountain near San Diego. Since I had once owned an F 650, I was excited to visit with this new version of my old friend and see how it compared.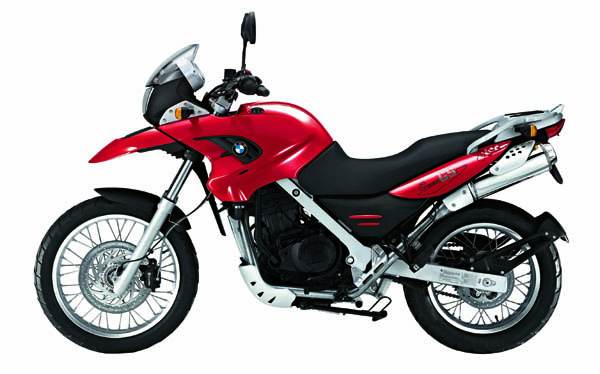 Taking sharp turns that fold over themselves up and down the mountain, I found that the G 650 GS handles exceptionally well making it fun to ride and easy to control. At rush hour around San Diego, motorcyclists must stay up with normal traffic speeds on the highways which often exceed 80 mph or risk certain death. The G 650 GS held its own and even had extra reserve power for passing giving me confidence and a feeling of safety as darkness fell.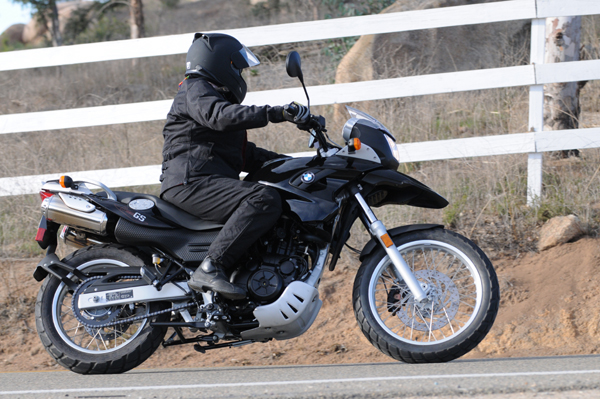 As a 5-foot 6-inch rider, I like the low seat height of 30.7 inches (low for a dual-sport) which allows me to sit astride the bike flat-footed and with my knees bent. Since heated grips and anti-lock braking systems two must-haves in my book come standard, you dont have to pay extra or dink around with getting aftermarket parts installed later on. The three-position clutch lever is nice for those with smaller hands. You can adjust the setting to bring the lever to the hand grip.
While the G 650 GS is excellent on pavement, it also fills a void in the dual-sport market. Dual-sport bikes are designed for pavement and dirt road riding. But most 650cc dual-sports have 35-inch or higher seats that shut out many women, shorter riders or late entrants from this fun sub-segment of motorcycling. My demo bike had a standard suspension and standard seat height of 30.7 inches, good news for riders like me who didnt hurtle down back roads on tall motorcycles as tykes, learning to slide half off the seat to get a foot down so the dang thing didnt tip over when stopping.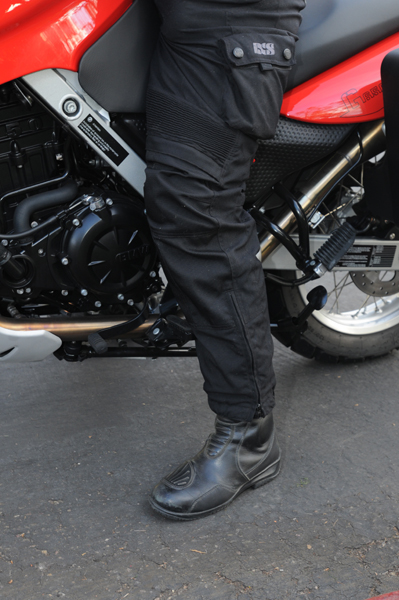 You can even order this BMW with a low suspension system that reduces seat height to 29.5 inches, which is no doubt the lowest seat height ever offered in the dual-sport segment. (Not to be confusing, but for those who want a little more height, a taller seat can be ordered as an accessory through BMW dealers.)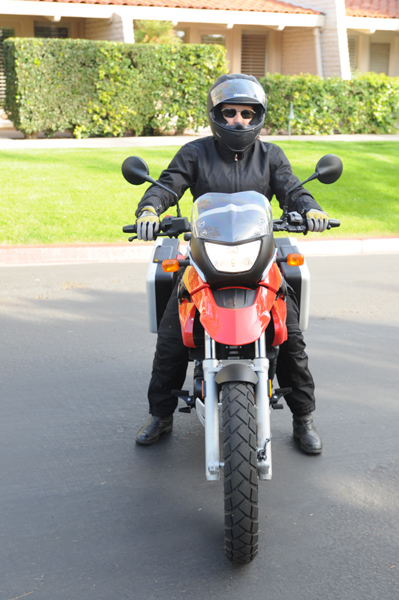 Not that much has changed in the design and manufacture of the 2009 G 650 GS from earlier versions, except that its engine is made at the Loncin Engine Co. in China, while the chassis is made in Berlin, where the bikes are assembled. The 652cc liquid cooled motor has an output of 53 horsepower at 7,000 rpm and a maximum torque of 44 foot pounds at 5,250 rpm. BMW insists that the China-made engines will be trouble-free due to the application of strict German manufacturing standards in China.
This Beemer offers the same wide handlebar width, upright seating position and a low center of gravity due to the location of the gas tank under the seat as earlier versions.
Due to a fluid (wet multi-plate) clutch and control lever, I found it easy to shift through the five gears. The 650 has considerable torque-y power at the low end, and while first gear has a relatively short range, second has enough oomph to take riders around tight switchback turns and up the next incline. When shifting from first into second gear, I was caught off guard a few times when the bike slipped into neutral and stayed there. Applying some extra foot pressure solved this problem.
A standard feature on this Beemer is the ABS system, which helps riders remain in control while braking by preventing the wheels from locking. On this model, new technology allows the ABS to maintain a precise level of brake pressure by continuously controlling the inlet valves through an analog sensor versus being either on or off with digital. What mattered to me is that the brakes provided quick and smooth stopping power without shudders or pulling during my one-day outing. The ABS can be deactivated for off-road riding. In this case, a red flashing light shows the rider that ABS has been disengaged.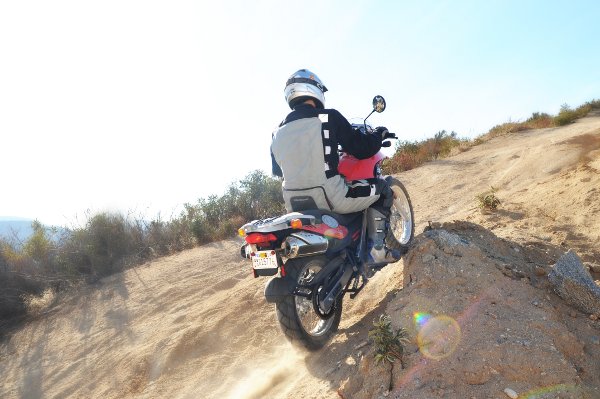 The bike handled smoothly thanks to a consistent output of power from the fuel injection system, as well as the sturdy 19-inch front wheel and 17-inch rear wheel. Both are spoked to provide extra control when riding off-road. The G 650 GS also offers a three-way adjustable clutch lever (great for smaller hands) and broader footrests with rubber sleeves which can be removed for the more active off-road riding.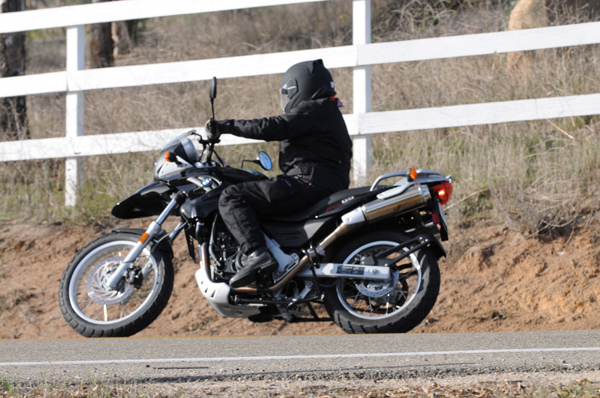 Temperatures were nippy at times during this December ride and the two-setting heated handlebar grips were a welcome comfort. I would have liked the protection of a windshield or a higher wind deflector, not just the 2 inches of curved plexi-glass over the gauges. Another quibble is the lack of a dashboard gas gauge to show the level in the four-gallon tank. With todays advanced technology, that doesnt seem too much to ask for.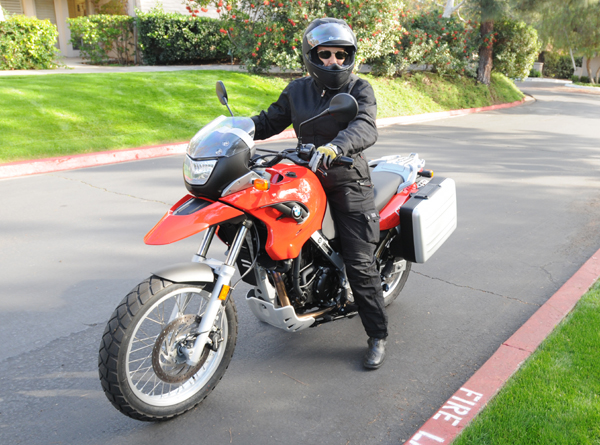 Riding the 2009 version of BMWs single-cylinder 650 was much like riding my Funduro only a whole lot better. If I had owned this model, I probably wouldnt have sold it.
Specs at a Glance: 2009 BMW G 650 GS
Displacement: 652cc
Seat Height: 30.7 inches
Fuel Capacity: 4 gallons
Weight: 431 pounds
MSRP: $7,670
WRN Recommendation
The BMW G 650 GS is an affordable entry-level motorcycle thats most suitable for newcomers, the "vertically challenged" and experienced riders who want to downsize to a smaller and lighter bike. Its the lowest and most luxurious dual-sport in the 650cc category allowing riders the freedom to zip off on dirt roads theyve always wanted to explore.
Related Articles
MOTORCYCLE REVIEW: 2007 BMW G 650 X Series
Riding Right: Choosing Your First Motorcycle