Pams New Bike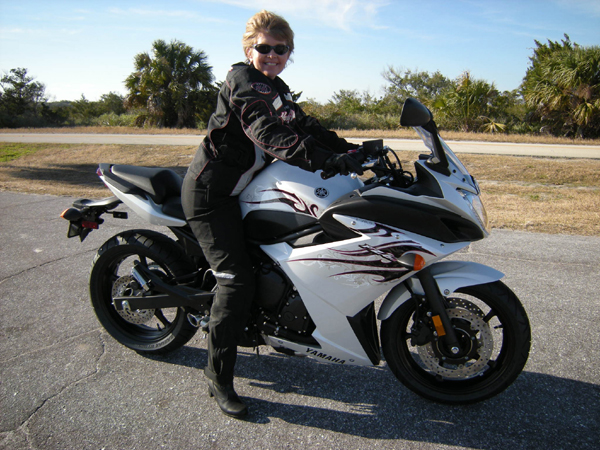 WRN contributor Pam Collins traded in her 5-year-old Kawasaki ZZR600 for a brand new 2009 Kawasaki FZ6R thats pearl white. The FZ6R is an all-new design and Pams going to do a bike review for us as Kawasaki is pitching the motorcycle as favorable bike for confident beginners who want to start on sport oriented motorcycle. The FZ6R sits more upright and is easier on the wrists and back for riders who dont like the crouch position of a full sportbike.
Ban on Youth OHV Motorcycles and ATVs: How you can help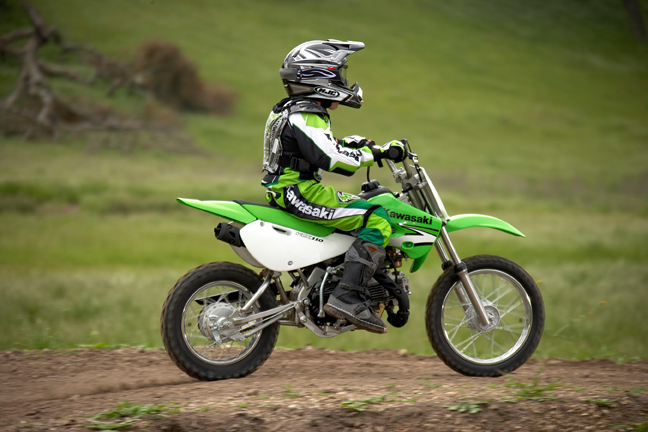 As you may have heard by now, the Consumer Product Safety Improvement Act of 2008 (CPSIA) has effectively banned the sale of youth off-highway vehicles (OHVs) as of Feb. 10, 2009. The CPSC says that lead contained in some parts of the machine like in the frame and in the battery could be harmful to children. My esteemed colleague at Dealernews magazine, Joe Delmont, commented in his blog that its only dangerous if the child licks the battery or frame #8211; alluding to the ridiculousness of the new rule.
The AMA and other motorcycle groups are working hard to reverse this as it leaves thousands of dealers stuck with inventory they cant sell now #8211;- and consumers no longer able to buy dirtbikes and ATVs designed for kids under age 12. The AMA is issuing a repeated call for action to help reverse the potentially devastating effect this could have on the sport of OHV recreation. The AMA is asking for our help to spread the word to our fellow riders, club members, racers and fans to encourage them to get involved.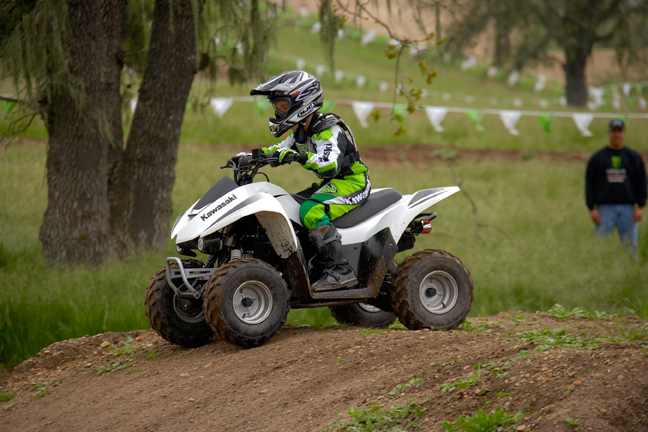 While this move could cripple the future of the sport, it does appear that there may be relief for the use of motorcycles purchased prior to Feb. 10. The Congressional Research Service (CRS) has compiled a list of prohibited acts in the CPSIA. Neither riding a previously purchased motorcycle nor promoting a race that includes those motorcycles is included on that list. Download the CRS list here.
Still, immediate attention is needed to end this ban on the sale and manufacture of youth model OHVs. In addition to the efforts the AMA is putting in on Capitol Hill, all motorcyclists need to help fight this measure. Click here to learn all that you can do to help. This link has helpful info, sample letters, and links on whom to contact.
Incredible Deal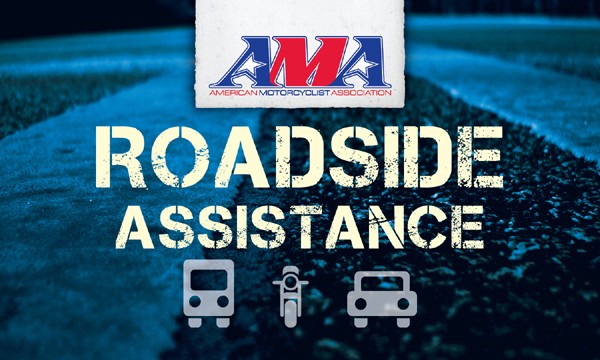 If you missed the big new member announcement by the AMA, you should take notice. Its the deal of the year, I think. The AMA is now including in its annual membership fee of $39 free roadside assistance for you and your family members for all your vehicles including not only your motorcycle of course, but your car, motorhome and trailer. Sounds too good to be true? Well it is true and its a great offer. You just have to sign up to be a member of the AMA and be sure to check that you want to auto-renew online. It#8217;s pretty simple. You can read more about it in our story on the WRN home page.
The AMA wants to build its membership and knows this is one way to do it as most every motorcyclist likes the assurance of having a roadside assistance plan and not paying a lot for it. In the past, the AMAs roadside assistance program, MoTow, cost extra. Now, its built right into the low cost of membership. No additional fees to pay. If you think Im pushing this because I have a vested interest (the AMA is advertising the benefit at the top of WRN), the only interest I have is telling you about an incredible deal thats worth every penny. As a member youll receive a ton of benefits and discounts on thing like hotels, campgrounds, and more as well as the AMAs new and improved magazine, American Motorcyclist. By the way, this is the same group organizing the Women amp; Motorcycling Conference in August.
A Tour for the Adventurous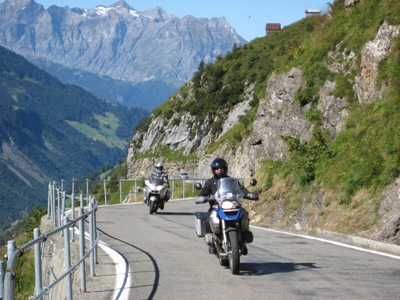 Edelweiss Bike Travel started offering motorcycle tours all over the world 28 years ago, starting with its signature tour of the Austrian Alps. Now the company is proposing a completely different approach calling it "Scouting he Alps Extreme," which really means ride the passes, rest on top.
Werner Wachter, the founder and owner of Edelweiss, is an enthusiast and loves to ride these mountain passes just outside his door in Mieming near Innsbruck in Austria. He says, "In the last 28 years we saw areas, routes, and mountain huts where we wanted to go, but didnt dare go because of riding and lodging conditions we thought were too tough for our customers from around the world. There are riders who have toured with us over the last 28 years, who saw those bigger challenges while on a High Alpine Tour with us just the same as we did. Well, here we go! We have designed a Scouting Tour that meets all these longings: tough riding, long days, challenging roads, riding up to the top and spending the nights in mountain chalets above the tree line where the view is unobstructed to the glaciers, the pastures and the moon and the stars."
Sounds incredible. Can I go? Edelweiss is offering two tours: June 13-21 or June 11-22, 2009. For more info, visit Edelweissbike.com/scoutingtours or call 800.507.4459 in the U.S.
Victorys New 5-Year Warranty Offer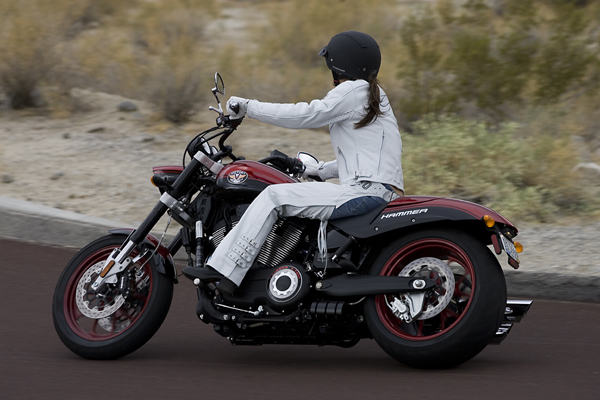 Victory Motorcycles is offering the motorcycle industrys only full-line, five-year limited warranty and its available on all new Victory Motorcycles through its national dealer network. Thats quite a deal. Harley and most other manufacturers offer only a two-year warranty. Victorys offer is valid only in the United States and Canada, and does not apply to prior purchases. For more information, visit your local Victory Motorcycle dealer or log on to VictoryMotorcycles.com.
Posted 2/16/09
Riding and Raising Money for a Good Cause: I Need Your Help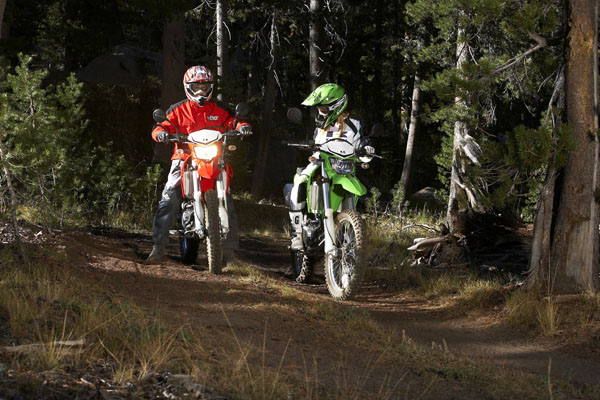 I have signed on to be part of a fundraising ride called Adventure for the Cures through a spectacular organization the Womens Motorcyclist Foundation. So much of WRN inspires new riders and those thinking of riding to push through the barriers holding them back from taking the next step in motorcycling. Well, Im going to push through and expand my own horizons in motorcycling by taking part in a 7-day dual sport ride mostly all off-road on trails riding from Rapid City, South Dakota, to Keystone, Colorado, arriving in time for the AMA Women and Motorcycling conference starting on August 19. Well most likely be riding Kawasaki dual sport bikes like the ones in the photo at right.
WMF organized this ride to raise awareness of two things: first dual sporting. Its the next best thing to riding on the street. As a 20-year street rider, Ive been aching to try something new on two wheels. Dual sport seems like the perfect opportunity to combine my love of the outdoors and motorcycling. When the 12 women on the ride arrive in Keystone (were calling ourselves the dirty dozen because well be camping the whole way) were planning on talking about our experience in a seminar about the topic.
Second, were raising awareness and funds for research into cancers that affect women through the Gynocologic Cancer Foundation. Ive wanted to combine my love of motorcycling with a charity for a long time now. This ride seems like the perfect way to do it. I'm proud to help raise money for this fine organization.
How you can help
I have to raise a $2,000 to participate in this ride and need your help to do so. I'm asking you, a WRN reader, to help me take part in this ride by contributing to my ride. Visit this link to contribute online and learn more about what I'm doing: http://www.firstgiving.com/genevieveschmitt
I plan to do several stories on WRN about the ride afterwards so you can read and learn more about I set out to accomplish.
Observations on the Dealer Show in Indy
I just returned from Indianapolis where I made the rounds checking out all the new motorcycle related gear and accessories at the biggest powersports trade show in the industry. I have a lot to report over the next few weeks highlighting what I saw that is of interest to you, the WRN reader. Most of the big apparel companies were there showcasing their 2009 styles that are so new they are not even on the companys' Web sites yet. Lots of great stuff to report like Fieldsheer is now making women jackets up to size 24 starting with its 2009 styles. More details to come in my Indy wrap up story posting next week.
The trend in women's jackets and motorcycling gear for 2009 downplays pink, a color that splashed onto the motorcycling scene when women's gear hit big in 2005. Pink dominated the Indy show that year. While pink is still a popular color, the trend this year is more subdued colors like gray and black with splashes of pink, if at all. Nothing earth shattering by way of any cool accessories. At the Cincinnati V-Twin Expo, I did see a gadget turns a floorboard into a shifter on one side and a brake on the other side eliminating the need for the shifter peg and brake pedal. I'll feature that in our Apparel & Gear Reviews section in the coming weeks in a gadget wrap up story.
Attendance by vendors and dealers was noticeably down this year. In the past, the vendor area took up the second floor of the convention center and the hallways of some of the neighboring hotels connected to it. This year, just the first floor was occupied and many companies were absent.
The talk among dealers and vendors at both the V-Twin Expo in Cincinnati last weekend and at Dealer Expo is that consumers may not be spending the big bucks buying a bike, but what they are buying is accessories to upgrade their existing motorcycle. So instead of buying that touring bike they've been eyeing, they'lll instead splurge on a good set of motorcycle luggage and a good quality windshield to outfit their existing cruiser for long distance riding.
Women riders is a hot demographic segment and many dealers and manufacturers are looking to reach out to this market if they have not already. The economy is such that businesses are looking at current marketing strategies and using this downturn to tap into areas there were considered fringe or experimental like women. I'm seeing more interest by companies wanting to advertise on WRN. The thinking is that women will always buy; it's just part of their nature. Hey, even when money's tight, I still need my retail therapy, even if it's to buy an accessory like a belt to dress up an outfit I've become bored with. The same goes with motorcycling.
Two hot powersports markets are trikes and scooters (scooter sales are up 41 percent in 2008 over the previous year; and trike manufacturers can't make the vehicles fast enough). There was lots of interest in our two new online magazines, TrikeRidersNow.com, and ScooterRidersNow.com,. I would like to have seen more trike and scooter companies at Indy like Piaggio and its Vespa and Aprilia brands – they were all noticeabley absent. I guess the thinking is that since they're doing so well there's no need to spend the money setting an expensive vendor booth to market to dealers.
That's a quick glance of the state of the industry at the two most influential and biggest trade shows in our industry. Feel free to email me at gschmitt@womenridersnow.com you'd like further information our would like to learn more about what I observed.
Posted 2/9/09
V-Twin Expo Observations and a Busy February
I just returned from the V-Twin Expo in Cincinnati this past weekend where I got a good sense of how dealers and aftermarket manufacturers are feeling about the recession. The general consensus is that the downtrend is not as bad as it seems. Custom bike builders – the ones who are still around – may not be building new bikes, but they're keeping busy with repair work and custom upgrades. Along those lines, people may not be buying new bikes, but what is selling are aftermarket accessories as people look for inexpensive ways to customize or upgrade their existing motorcycle.
I met with a lot of aftermarket manufacturers of some cool new products that I want to share with you, but this Thursday I'm headed to Indianapolis for the big dealer show there this weekend where I'll be browsing the aisles looking for new and exciting products to share with you. I'm also promoting my two new Web sites, TrikeRidersNow.com and ScooterRidersNow.com. When I return and have time to come up for air, I'll be doing a series of articles in our Apparel & Gear Reviews on all the new products I discovered at both trade show.
Two weeks after Indianapolis I'm headed to Daytona Bike Week to test ride bikes, scooter and trikes for our three sites. Busy, busy, busy. I've got my trusty assistant, Laura McCarthy, holding down the fort while I'm away, but with my laptop by my side, I'm never far away from WRN, TRN and SRN. Here's the news of the week.
Aprilia Launches Unique Twist on Traditional Demo Rides in Daytona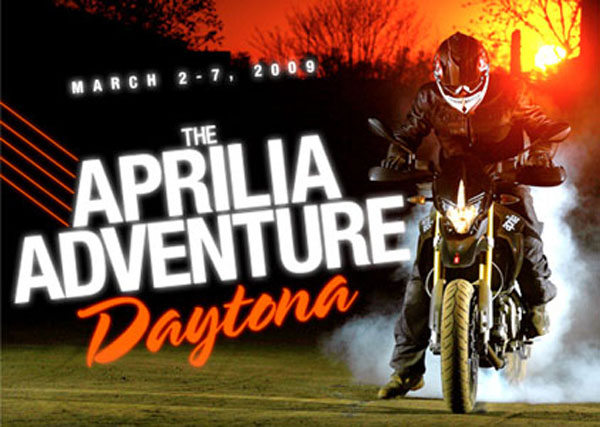 Speaking of Daytona Bike Week, Aprilia USA is introducing a new way for consumers to experience Aprilia motorcycles. Starting with the 2009 Daytona Bike Week, March 2 – 7, the company is offering its new Aprilia Adventure riding experience to riders who want more than a 10 minute demo ride. "A traditional 10-minute, right-hand-turn only demo ride just doesn't provide enough seat time for someone to understand the attributes that really differentiate Aprilia motorcycles," says Rick Panettieri, brand manager, Aprilia USA. "Aprilia's innovative technology, such as the multi-shift-mode sport transmission on the 850 Mana or the tri-map ride-by-wire system of our 750 Shiver and Dorsoduro doesn't just look impressive on a spec sheet – it really delivers a unique riding experience. Our new version of the demo ride will give riders more time to fully appreciate Aprilia technology." Aprilia Adventure Daytona is open to licensed riders with proper riding gear for $20 per person.
Each hour-and-a-half Aprilia Adventure Daytona ride will be customized to take advantage of the best local and regional riding routes. Along the way, riders can sample and swap new 2009 models such as the all-new Aprilia Dorsoduro 750 as well as long-time favorites, such as the award-winning Tuono and RSV 1000 R. Registration for the ride is exclusively on-site at each event, with sessions available during Daytona Bike Week from 9 a.m. to 5 p.m. daily. Interested enthusiasts are invited to visit the Aprilia Adventure Daytona registration area at the Aprilia Factory Demo Truck, in front of Daytona International Speedway. Way to go Aprilia for thinking outside the box. I'd pay 20 bucks for a ride like that. For the latest information on Aprilia products and events, visit ApriliaUSA.com.
New Update On WRN Conference Updates Page


Now that registration is available for the AMA Women & Motorcycling Conference, many of you have been asking just what's going on at the conference, what seminars will there be. WRN has the list of seminars now posted on the Conference Updates page. This information is only available on WRN at this time. The AMA does not want to publish the list until it has its formal titles and descriptions nailed down. We don't care about formality. We want to give you a heads up as to what is being planned at this time.
May is Women Riders Month
Harley-Davidson is declaring May women riders month and is planning a month-long schedule of activities to promote the sport of riding to women across America. Look for the full story on Friday's Top Stories Home Page on WRN.