Scorpion burst onto the scene a few years ago with a line of helmets splashed with edgy graphics and an attitude to match. Last year, the company started making womens riding gear with lots of sass and pizzazz, part of its Scorpion EXO clothing line. I tested the leather Elektra jacket and Haley pants chosen because they looked sexy on the model and they were touted as functional and protective. (Click here to see me in action on the V Star 950 wearing the outfit.) For years women riders have been complaining that nobody makes feminine riding gear thats protective. I wondered, "Can this Scorpion outfit be functional and help your sexy quotient?"
| | |
| --- | --- |
| Here I am in the Elektra jacket and Haley pants after a day test riding Star Motorcycles V Star 950. | Here#39;s my friend Debbie Gould, who rides a Harley-Davidson Road King Motor Trike. I had her model the outfit#39;s finer features. |
First thing I noticed about the jacket was its weight. Its made of heavy 1.1mm drum dyed cowhide leather that feels broken in right off the rack. Even without the liner zipped in, the jacket kept me warm on cool riding days. The full-length liner, while thin, is nice to have as an extra layer of warmth when you need it.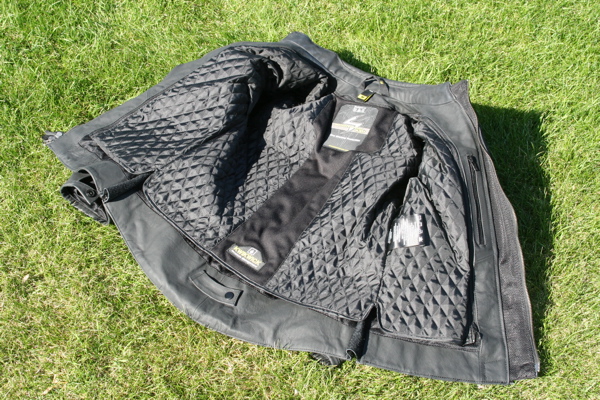 Theres a lot going on with this fitted jacket as with any functional garment. Lets start with fit. Scorpion offers a generous sizing range from XS to XL and 1W to 3W—thats a dress size 24 with a bust of 52.
I normally wear a size medium in a motorcycle jacket because of my long arms. I find that womens jacket fitment is a funky thing. Usually arms will fit, but bust area is too loose for me in a medium. A small may fit in the bust, but then the shoulder area is tight and arms are short. In a size large, women tell me that the bust area usually fits, but the arms are too long.
The way to fix this fitment problem is to provide ways to expand the jacket through expansion panels, waist zippers, etc. Scorpion got it right, at least for me with the size medium Elektra. It fit me right off the rack thanks the different ways to adjust the fit. For the waist on this "just below the waist" jacket, a short zipper on either side can be unzipped to accommodate wide hips. The arms are pre-curved which makes them fit better (no loose leather in the elbows) when leaning into the handlebars.
More Fit Adjustments

| | |
| --- | --- |
| This thick mesh panel in the front is called the "KoolVent." It runs parallel to the main zipper and can be zipped to expose it or not. It expands the front of the jacket about an inch while increasing airflow on extremely hot days. | This leather lace on both sides of the jacket is a style element that#39;s also functional. It can be tightened or loosen to adjust for fit. You can also see the rear vent opened here. |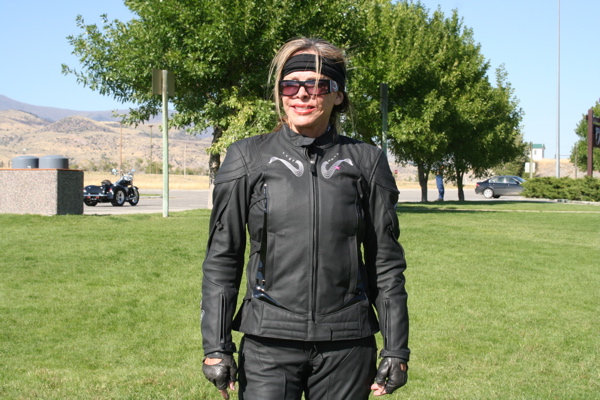 Hook and loop fasteners (Velcro) at the neck and at the bottom of the zipper secures those areas. Actually, the neck felt a smidge tight and I have a skinny neck. A zipper and snap at each wrist secure the un-gusseted wrist areas.
Because this leather is thick, its nice to have some vents when it gets stuffy. There are two vertical ones on the back and one on each arm, plus theres that mesh panel in the front zipper. I did notice a difference when I opened these up. There are two small zippered hand pockets on the front and a generous vertical zippered pocked inside that is not lost when removing the liner.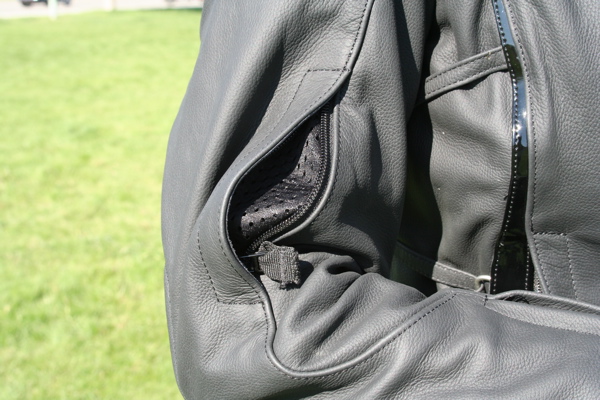 Stiff CE-approved armor is fitted into the shoulders and elbows. It is removable if you dont like it. Having them in definitely makes the jacket tighter with a more restrictive fit, but its not as bad as some jackets Ive worn where you can barely move with them in. You sacrifice a bit of comfort when wearing armor, but its worth it if you appreciate how armor adds an extra layer of protection in an accident.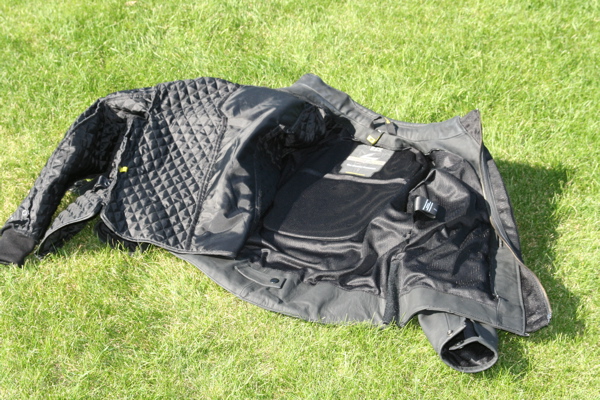 The Elektra jacket comes in three colors, plain black, white and black, and black with pink graphics the one I tested. Im not really a pink person so Im not sure why I opted for this, but at the time I thought it looked fun and sassy so I went for it. I get bored with plain black. A unique style element Ive never seen on a motorcycle jacket is the patent leather panels on the front and back of the Elektra. Definitely sets this jacket apart from the rest.
| | |
| --- | --- |
| Debbie shows off the stitched and rhinestone graphics. It reads Scorpion on the left arm with a flower design on the right. | The flower graphic pattern on the back has the words Scorpion Motorcycle Technologies artfully woven in. |
The Haley Pants
Lets talk about sizing first because when I find a company making the perfect leather pant, youll hear about it. I think leather pants look hot on a woman rider and theyre more versatile than chaps. I wear leggings or pantyhose underneath leather pants, which gets me through the coldest of rides much warmer than chaps over denim jeans.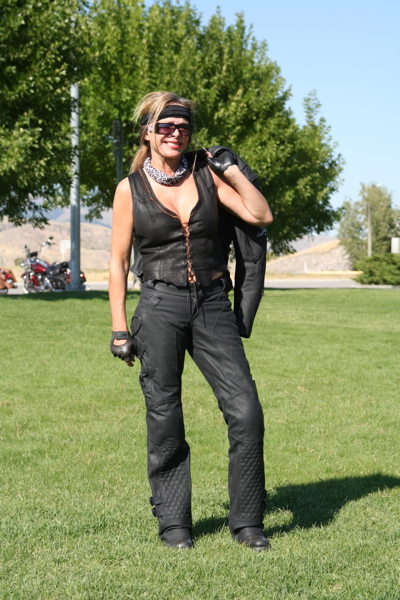 I was excited when I saw the Haley pants because theyre cut like the jeans style I like, low-waist, slim fitting, boot cut, yet theyre made of that same thick durable leather as the jacket and come with a mesh liner throughout, and protective armor in the knees and hip areas. Often protection goes out door to achieve a sexy jean look with leather riding pants as they are usually made of thin soft supple leather with no armor or liner.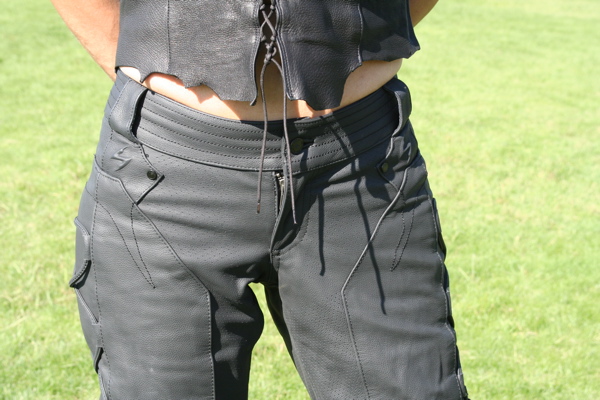 While Scorpion hit a home run with style, sizing was finicky for me. I ordered a small (waist 29-30, inseam 32), but they were a smidge tight in the waist (which is usually not the case as motorcycle pants are always so loose in the waist for me). I tried the medium (waist 31-32), but they were too big so I removed the armor in the small and squeezed myself into them hoping the leather would give, which it did. The seams are heavy duty stitched in critical areas like the crotch. I squatted to stretch out the pants (like you do with jeans after they come out of the dryer), and the seams stayed in tact. For the most part, I think Scorpion has the sizing down though.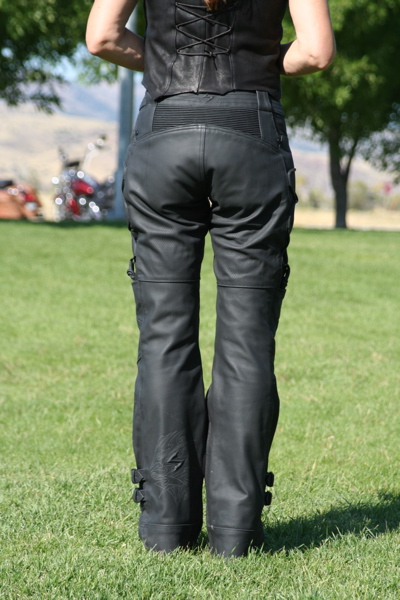 | | |
| --- | --- |
| Laces run up the side of each pant leg to loosen or tighten for fit. You must remember to stow the loose ends in a flap by the side of each knee. Knees have leather reinforcement. | Laces with loose ends exposed. I think these pants could do without the laces because they were more style than function. The mesh panels inside the leg and on the hip are a plus for keeping cool. |
| Stylish but subtle graphics adorn the back of just the left ankle area. | Buckles on either side of ankles let you tighten, but the tightest setting doesn#39;t cinch much, so these are more for style. |
Whew! Theres so much going on with these pants and jacket, I couldnt just breeze through this review. I commend Scorpion for making a sexy and stylish outfit thats highly protective, too. The company is definitely on to something. I was surprised to see "Made in China" on the labels as these leathers and workmanship are very high-end. I would expect nothing less from a company headed up by Eric Anderson, the president of Scorpion. Eric sets very high standards and really knows his customers. I think the garments are worth the higher price tag because the quality is so good.
The Electra jacket runs $329.95 to $379.95, size XS to XL, 1W to 3W. And the Haley pants are $269.95, size XS to XL (waist 35-36, inseam 34). The pants come in black that I tested, and black and white to match the black and white Elektra jacket.
Cleo Glove
I also tested the womens Cleo Gloves from Scorpion. Theyre a very comfortable mesh leather glove with pre-curved fingers and hard impact reinforcement on the knuckles. The soft liner inside ensures black dye wont get on your hands when sweating (or getting wet from rain); it also prevents any annoying chaffing from seams.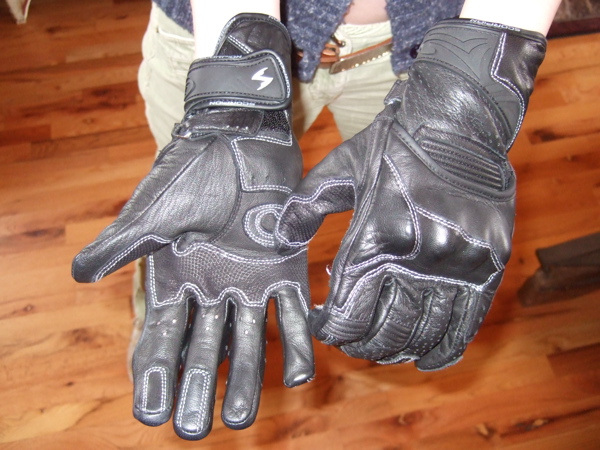 The Cleo Gloves are $69.95, size XS to XL. I wore an XL, the size I usually wear in a womens glove and they fit me just right.
Visit ScorpionUSA.com for more information, to find a dealer, or to order online.
Related Stories
Product News: Helmets From Scorpion
Hot Gear from the 2008 Dealer Expo