I know, I know, Ive ragged on how bad the Laughlin River Run in Laughlin, Nev., has gotten in the past few years. And even when it was in its heyday, a gambling town in the middle of the desert is at the bottom of my bucket list for places to be. But the rally does fall in the spring, after weve been cooped up all winter just chomping at the bit to get out and ride. OK, OK, I know winter in Los Angeles only consists of a couple of months where it rains intermittently and is cloudy and in the 60s instead of the 80s, but to us L.A.-liens, thats winter. And it seems long! So year after year, by the time April rolls around we are all darn excited to get on our bikes and roll out to the River Run. I am never really sure why I go. What is there for a girl who doesn't drink, smoke, gamble, or do drugs, to do in a row of casinos in the middle of nowhere?
Well, this year I had lots of girlfriends join in for the fun. WomenRidersNow.com editor and my best buddy Genevieve Schmitt came with me for the first time in many years. She flew to L.A., and got a press bike from Harley-Davidson, a 2009 Heritage Softail Deluxe, and the two of us had a beautiful, lonesome ride out together on Thursday. There werent many bikers out riding yet, and we were in no hurry to get there so we just took our own sweet time. We dined at the fine Subway sandwich establishment in Barstow, stopped along the road to take scenic pictures, and got back into the sync of riding together after so many years of living apart from each other. She and I havent done a road trip together since gosh the 90s!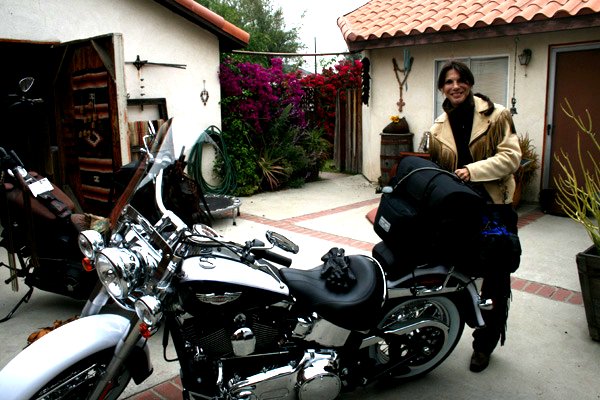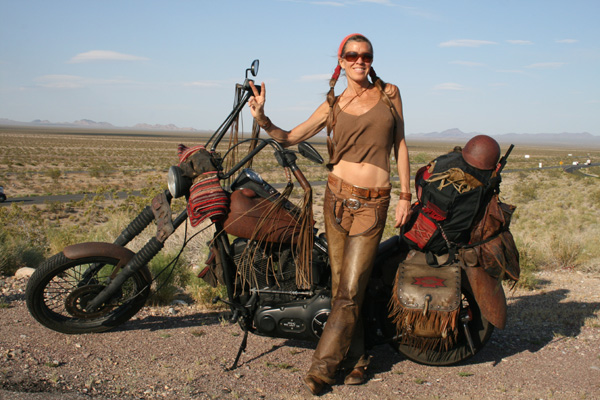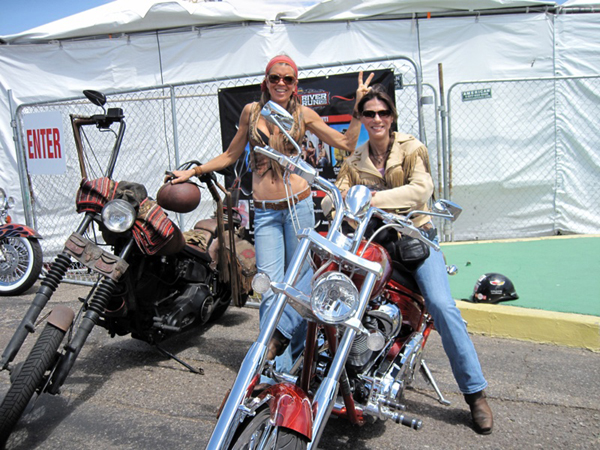 We stayed at our favorite hotel in Laughlin, the Golden Nugget, which is always problem free. The secure parking area for the bikes at the Nugget takes the worry out of leaving our bike unattended for periods of time. There are actually attendants watching the secured bike area 24 hours a day, and after going there so many years, the ladies know me and remember my bike so they take good care of us. We had perfect weather the entire weekend, and spent time with old friends from years gone by, and met a whole slew of new people as well.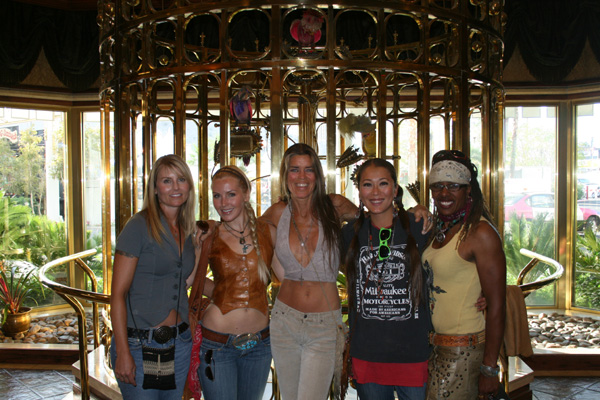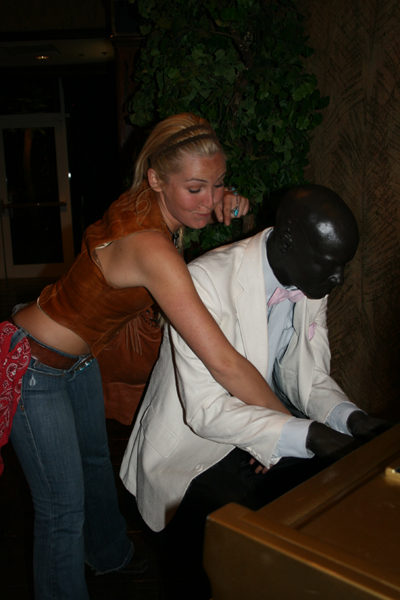 We spent a good large of time riding as Genevieve had another press bike waiting for her to test ride in Laughlin, this one from Big Dog Motorcycles, and she had to give the motorcycle some road time. So a group of us did the token ride to the old ghost town of Oatman. My riding partner in crime, Gevin Fax, stays in a friends vacant house in Oatman every year so we visited with her and the 50 wild donkeys that hover around town hoping and waiting for handouts of carrots available in every store there for $1 a bag. The streets of Oatman are always packed with Laughlin rally goers, and this year was no exception. I ate a cherry slushy and a hot pretzel, and then we headed home the back way out of Oatman.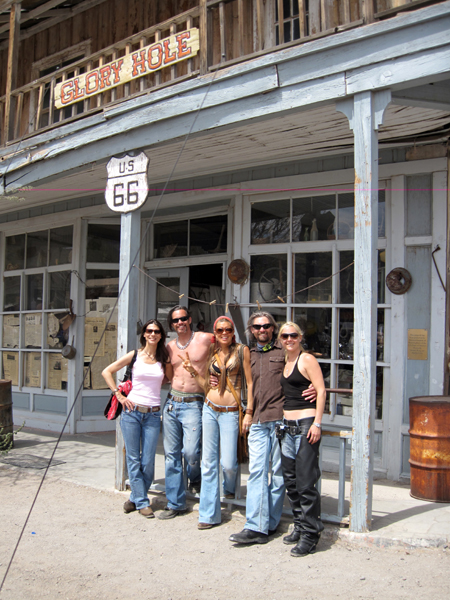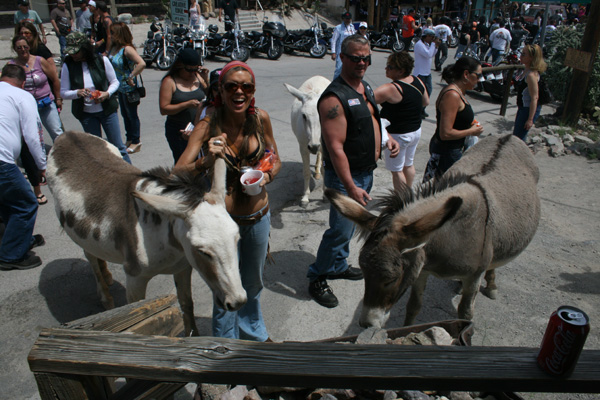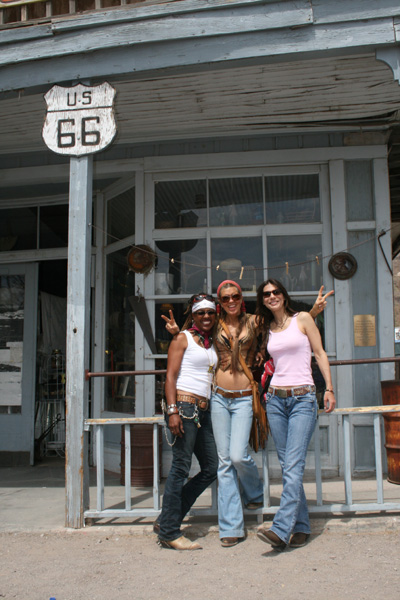 Its been years since I have ridden down the backside of Oatman, and I forgot just how beautiful that road is. We flew through the hairpin turns, and took time to enjoy the vistas and take group pictures. It was a warm, windy, and visually delicious afternoon!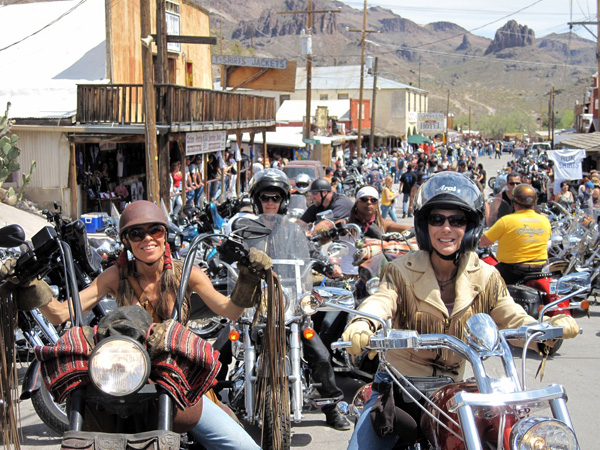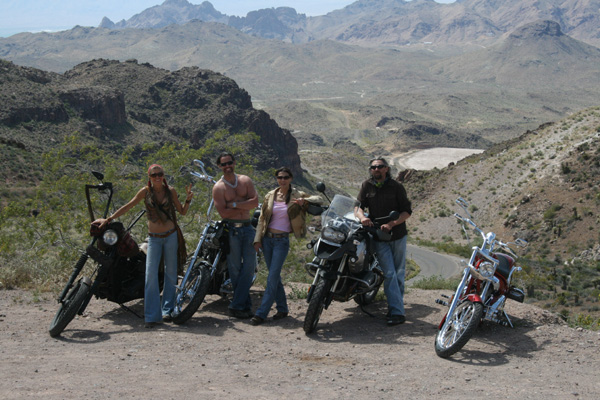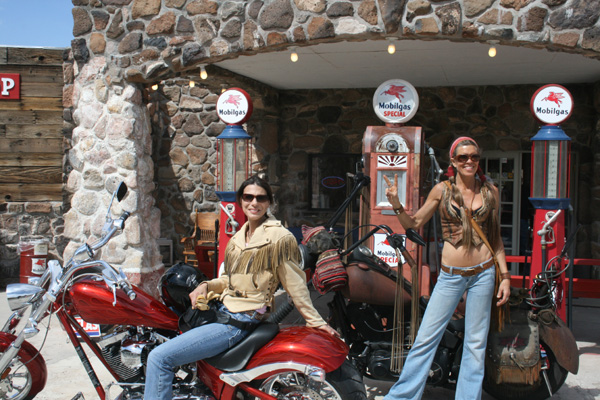 We didnt spend as much time at the vendors as usual on account of the fact that no one has a dime to spend this year. Qian and Cherish rode in on Saturday, and we did shop for a few necessities, but gone are mine and Qians days of power shopping our way around the world. Waaaaaaaaaaaaa!
Instead we worked out in the mornings at the hotel gym, and laid poolside in the afternoons. In the late day we walked around the vendor areas, mostly just to people-watch and visit with old friends. We rode the ferry on the nearby Colorado River, a more scenic and less tiring way to get from hotel to hotel, and feasted on a different buffet every night. This year we agreed Harrahs has the best buffet.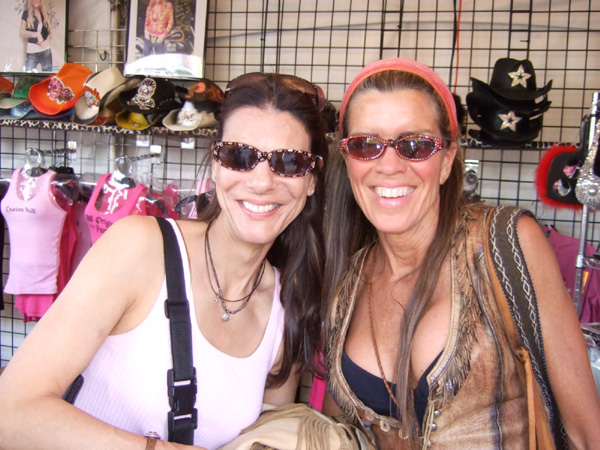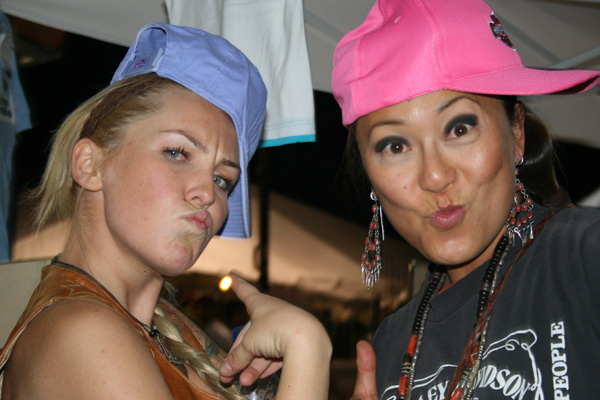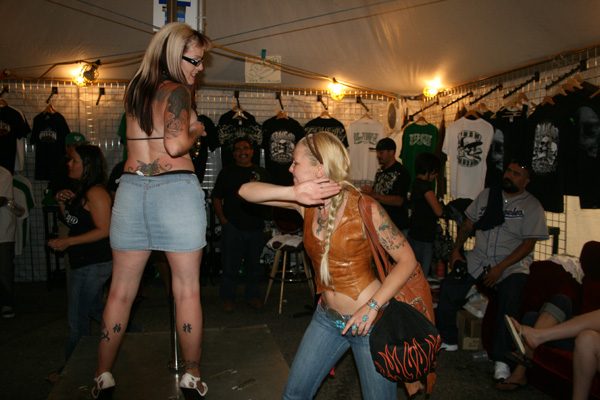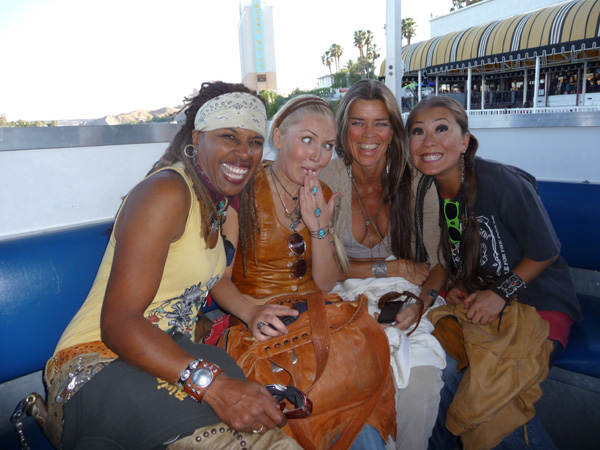 We roamed the casinos and listened to music until our feet couldnt stand being in our high-heeled cowboy boots any longer! We even found an all girl band to dance the nights away to. They rocked old 1970s cover songs from Kiss and Aerosmith; they were great entertainers as well as singers. It was actually a super fun rally as it was mostly about friends, and laughing, and riding, which is exactly as it should be.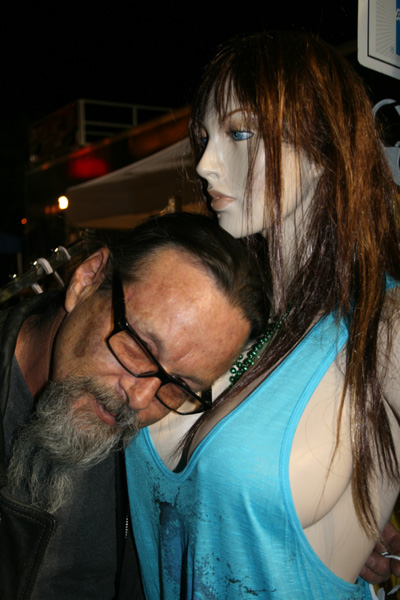 Like many rallies this year, attendance was down. Colors (guys wearing club vests, i.e. motorcycle gangs) are still not welcome in the casinos because of the famous gang shoot out years ago at Harrahs, so they were practically invisible at the rally this year. And Im sure the vendors were feeling the obvious lack of money in circulation. Very few bike builders were set up.
The good news for riders is that rooms were available and rates were down, and law enforcement seems to have lightened up. What was once a pretty wild and chaotic event seemed to go off with little madness. Perhaps that seems a little less exciting, but Im getting too old for some of that drama like the year Qian and I were arrested for J-walking! Or when Genevieve and I were stuck in lock down in our hotel room because the Hells Angels and the Mongols had played Bonnie and Clyde the night before in the lobby downstairs in that famous shoot out. I didnt even see any arrests this year. We had no break downs, break ups, or melt downs just good old fashioned girlfriend fun. I did run into my "Cheeky Chaps" girlfriends at the Aquarius Bar, and they seem to spice up the party no matter where it is.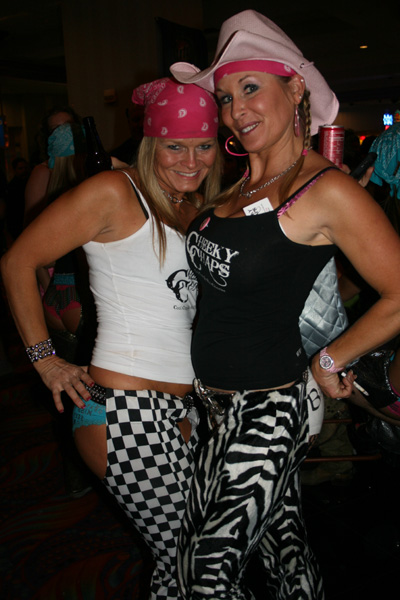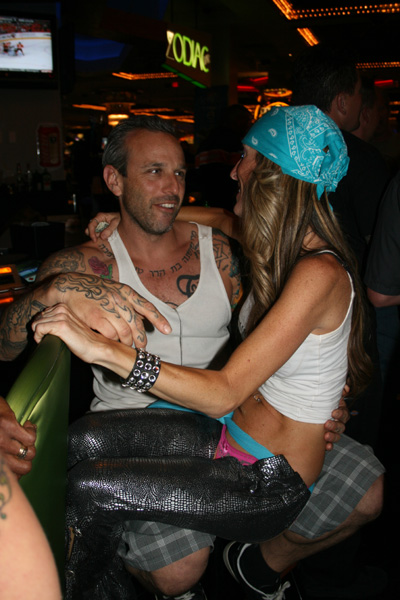 We all got up early and rode home in a group together, and for the first time ever we beat the traffic. Our group split off at Victorville with Gevin, Cherish and Qian going one way while Genevieve and I cruised down our last stretch on Highway 138 stopping to poke in and out of every antique store, trading post, and fruit stand. It was just like old times, and we got home just in time for the sun to set. I still love riding with just my girlfriends!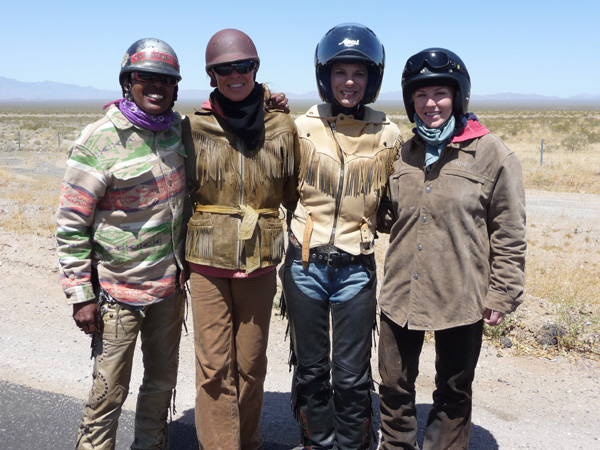 A lot of elements of riding, rallies, and of the industry has changed over the years, but what hasnt changed is that feeling you get when you are riding with your best pal and you are both in the zone. You blow past a cool old antique store out in the middle of nowhere and you both slow down to look at each other. With a smile, you simultaneously U-turn back around and go see what old leather junk you can buy and bungee somewhere to your already packed bike.
Its a great lifestyle, isnt it? Sharing the sky and the wind and the road with your friends. A lazy day or weekend just being a part of the landscape, and being one with all that surrounds you. Sometimes we get so caught up in life, our busy lives, and our crazy routines where we try to keep up, do better, do more, and be more and then we get out on a quiet road and surround ourselves with silence. And at least for that brief period of time, just being being you, being alive, being nowhere is enough.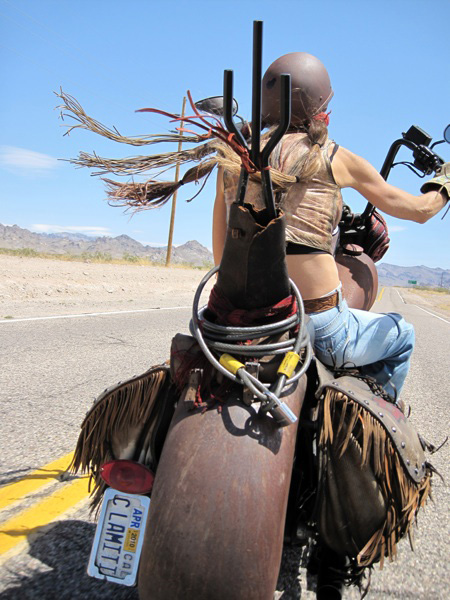 Sturgis Ride
I know I have people to connect with about our upcoming Sturgis ride plans. I am refining the details, and promise to be in touch in the days to come with everyone who has shown interest. Its going to be an awesome summer on the backroads!
As always, ride wild, ride free, and stay safe!
To read more about Betsy, visit her Web site, BetsyHuelskamp.com.