There are lots of companies out there making doo-rags and other headwraps for motorcyclists to keep hair "contained" while riding a motorcycle. The latest one to get our attention is Thats A Wrap!. We became interested because not only are there lots of great styles to choose from, but the company incorporates CoolMax brand of wicking material into its designs, as well as Mynx sunblock fabrics which raise the bar in your typical motorcycling head gear. Plus, there are great designs women riders will love, more than just skulls and crossbones.
| | | |
| --- | --- | --- |
| The headwrap in "bad danna-red" color. | That#39;s A Wrap! offers an equal number of men#39;s products. | The "Skulls on Fire" pattern is one of the unisex styles offered by That#39;s A Wrap! |
CoolMax wicks away sweat, dries three times faster than cotton and actually reduces the skin temperature. The Hi-Tech performance headwear product line also includes several styles crafted from Mynx. Mynx is a special technology embedded into the fabric that acts like a sunblock with a SPF 50+. And A.M.Y., an anti-microbial fabric that inhibits the growth of odor causing bacteria provides freshness and comfort.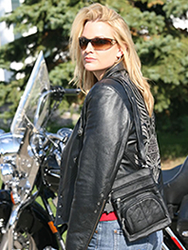 Thats A Wrap! offers more than just doo-rags; youll find helmet liners, caps, cadet caps, beanies, balaclavas, bandannas all for your head and neck. Then there are leather goods like fannie packs, and leather slings and purses, and magnetic tank bags.
Thats A Wrap!s president and founder is Valerie Hirsch, an avid motorcycle enthusiast who combined her passion for the riding lifestyle with her extensive background in fashion and design when she formed the company in 2002. She realized a need for a higher quality product that could withstand the demands of the biker lifestyle with more professional sewing and finishing standards. Thats Valerie pictured wearing the red headwrap above, and cute black dragonfly patterned headwrap to the right.
Thats a Wrap! manufactures its products in the United States, and has grown in national recognition as the preferred vendor to more than 450 Harley-Davidson dealerships. Thats A Wrap! products are also available at independent bike shops including Yamaha, Honda, ArlenNess, Cycle Gear and Renegade Classics. Now, the company is making all of its styles available for ordering online.
Thats a Wrap! headwraps start at $10.99. For more information or to order, visit TAWGear.com or call 608.327.2200.