At first, I thought this product was silly when I was asked to review it, but after installing it (which is relatively easy) and using it, I love it, especially when its freezing out, and you just want to roll right into the garage.
F2P Technologies makes a secure, easy way to activate your garage door opener from the seat of your motorcycle. Rather than carrying a bulky remote, F2P Technologies has a system that includes a transmitter that's powered by your bike's battery through the headlight wiring. The receiver either replaces your existing garage door wall switch, or can be piggybacked to work in conjunction with it. Once installed, two flicks of the high-beam switch delivers a radio frequency to the receiver that opens the garage door.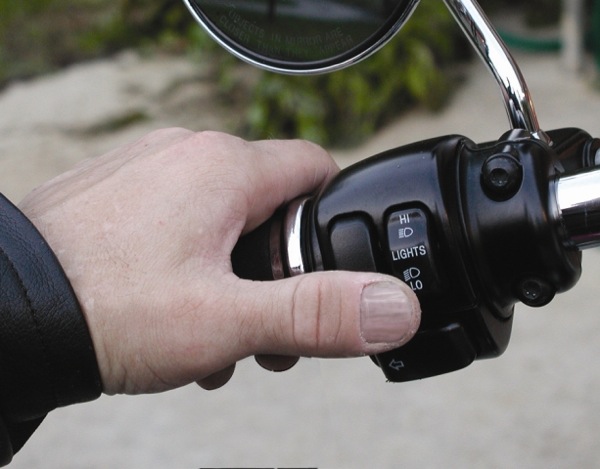 The F2P system uses digitally encrypted rolling code technology that emits a secure signal, with a limitless number of coding combinations thwarting break-in attempts. Additional transmitters can be installed in other vehicles and programmed to work with one receiver. The small, waterproof transmitter can be secured inside your motorcycle's headlight shell, under the fairing, or in another hidden location on the bike. Make sure to choose a location away from moving parts and excessive heat.
Heres a quick glance at how easy it is to install the receiver on your motorcycle
This is just a guide. Please refer to the instructions that come with the product.
| | |
| --- | --- |
| Step 1. Attach "jumper wires" to the F2P receiver if you plan to retain your existing remote. | Step 2. Then wire the F2P receiver to the original garage door receiver. |
| Step 4. And pop the receiver unit onto the backing plate. | Step 3. Mount the backing plate nearby. |
| Step 5. Insert one of the headlight wires into the Posi-Tap body supplied, and tighten. | Step 6. Insert one of the exposed transmitter wires into the end of the Posi-Tap body and tighten the cap. |
The Flash2Pass System For Motorcycles is available from F2PTechnologies.com for $79.95. You can also call 540.942.3500.
About the Author
Tricia Szulewski has maintained the woman riders perspective in RoadBike magazine for the past 10 years. She became a certified MSF instructor in 2008, and logs thousands of miles each year on anything that shows up in the company stable. You can find some of Trishs bike reviews, adventures, product evaluations, and more at RoadBikeMag.com.