My friends thought I was crazy when I told them I was going to ride a scooter to Las Vegas to attend my first scooter rally. "That will take forever!" and "You wont be able to take any stuff with you!" and "Youll get blown all over the road!" they said. Honda proves them all wrong with the Silver Wing rightfully touting it as a touring machine that just happens to be a scooter.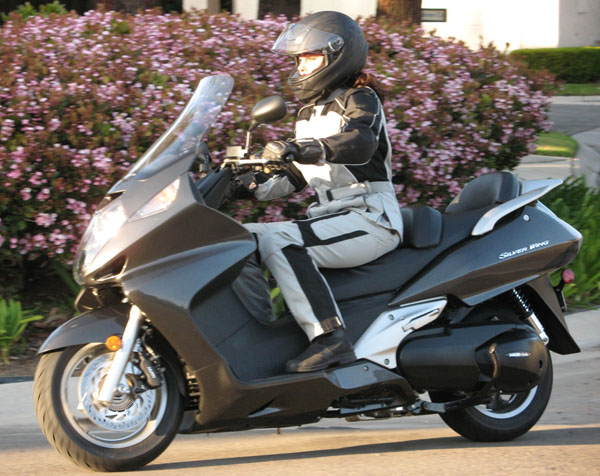 When I first picked up the Silver Wing, I took it on a glorious sunny jaunt through the oceanside scenery of Palos Verdes, California. I was immediately impressed with how light and nimble the Silver Wing felt through the rolling twisties. At a standstill the scoot looks big; and thinking about the 582cc parallel-twin automatic engine hidden in the bodywork, one might expect the 540-pound machine to handle heavily, especially in low-speed technical sections or around town. The Silver Wing turns out to be a fantastic all-around ride, accelerating aggressively off stoplights, yet still sailing nimbly through the curves. Thanks to Hondas V-Matic continuously variable transmission (CVT), the automatic shifting is so smooth you never feel the scooter transitioning between gears. Just twist the throttle and glide smoothly up to the speed limit.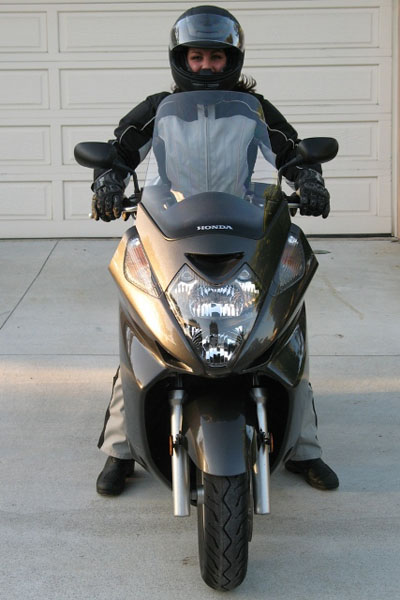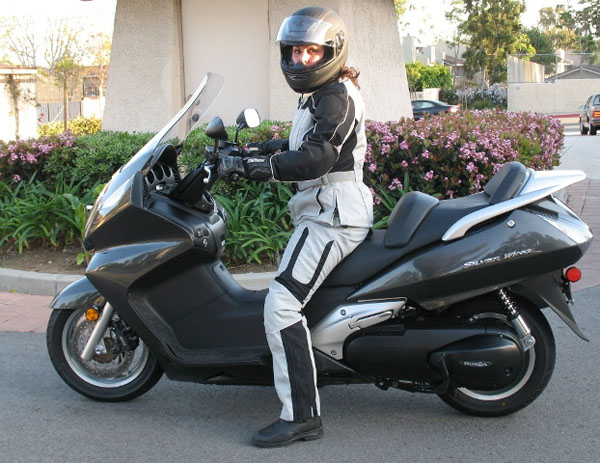 Although the sun was out in full force in the city, the coast was socked in with cloudy mist not exactly optimum weather for riding in mesh summer gear. The Honda folks had easily rigged up the Silver Wing with an electric vest jack which came in handy later. For this short jaunt I didnt need it because the wind tunnel designed windshield and the large front fairing provided ample coverage to keep me warm.
Once I got home I faced the task of packing five days worth of Vegas luggage for travel on a scooter. This was no simple task for someone who loves to travel with as many shoes as possible, but again, the Silver Wing was up to the challenge. With ample under-seat storage (55 liters!), a generous passenger seat and some extra storage spaces in the dash, I was able to pack more than I could have carried on had I flown to Vegas. I was even able to take extra luxuries like four pairs of shoes, my electric vest (just in case), a bottle of wine, a hair dryer, my laptop, water and snacks for the road.
A feature that a passenger will appreciate is the adjustable backrest that can be moved to one of five different positions over a 2-inch range.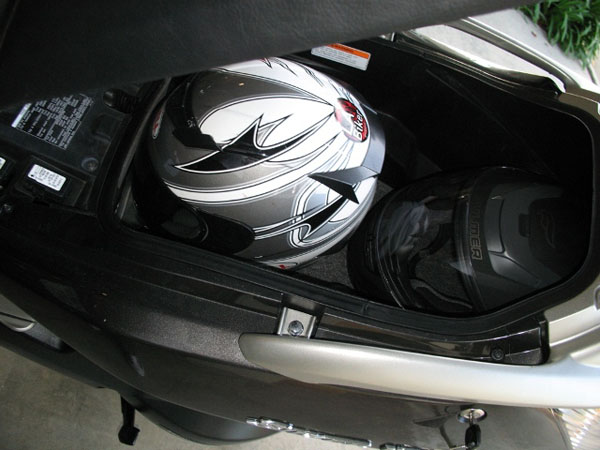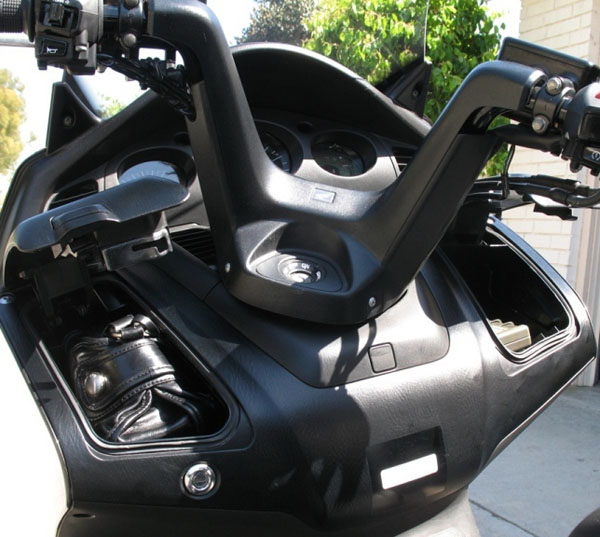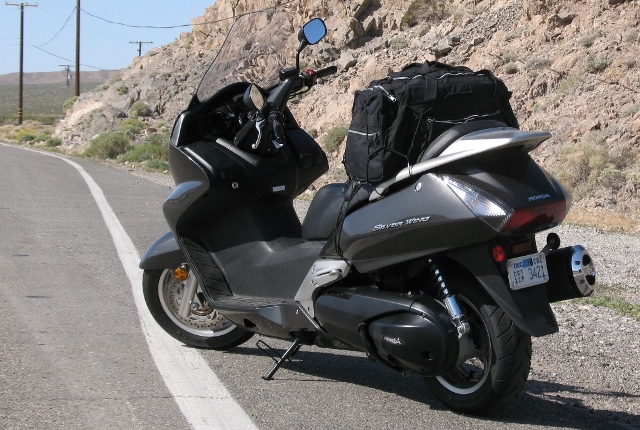 I will admit, even I had some doubts about riding a scooter all the way to Vegas. I mean 300 miles is nothing to sneeze at if you cant go the speed limit and are uncomfortable or wind-blown the whole way. But as I set out in perfect weather conditions and hit the freeway, I knew it was going to be a very comfortable ride. The Silver Wing was plush and with an indicated top speed of 120, the scooter handled freeway speeds with ease. I often found myself accelerating so quickly (and smoothly thanks to the V-Matic automatic transmission) that Id be riding over the speed limit. No matter, the Silver Wings combined braking system, which distributes braking force between the front and rear wheels, smoothes out even the most abrupt braking situations when you find yourself going just a bit too fast. I did get a rush when I passed a corvette on my scooter. Honda offers an ABS option that adds $500 to the price.
| | |
| --- | --- |
| Sarah was able to ride in many positions on her 300-mile ride, from the "metropolitan" stance in this photo with knees bent at a 90-degree angle. to… | …this position, the "chopper" stance with legs forward a bit. |
| She could even stretch out her legs all the way. The ability to change leg positions and scoot around in the large saddle made for an extremely comfortable ride. | Much of the time Sarah rode like this, one leg bent, one leg straight out. It was most comfortable for her. |
The ride back home wasnt quite so glamorous. With 60 mile-an-hour desert winds and a near-freezing wind chill, I was worried about the things my friends warned me about before I took the trip. I plugged in my electric vest, threw on my rain suit for wind protection and hit the road. Sixty mile-per-hour winds are a little freaky even if youre in a car, so it wasnt the most pleasant ride home. However, the Silver Wing felt solid and required little extra handling to keep it from blowing around in my lane. I stopped about every 100 miles to warm up and calm my nerves although the Silver Wing didnt demand refueling until well over 150 miles.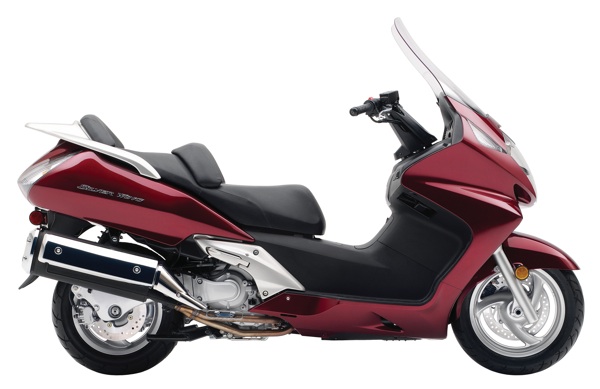 Finally past the worst of the dramatic desert conditions, I stretched out, twisted the throttle and eased into more scootin bliss. Once I arrived home I dumped my luggage and did a quick run to the grocery store. The Silver Wing more than proved itself as a comfortable, reliable long-haul touring machine. Then it did a quick change as the perfect around-town shopping alternative to a car. It can scoot and it can tour; talk about a perfect combination.
Specs at a Glance: 2009 Honda Silver Wing
Engine Type: 582cc liquid-cooled four-stroke parallel-twin
Seat Height: 29.7 inches
Fuel Capacity: 4.2 gallons, including 0.9-gallon reserve
Weight: 540 pounds; 551 pounds w/ABS
New color for 09: Candy Dark Red
MSRP: Starts at $8,499 (ABS option adds $500)
WRN Recommendation:
The Honda Silver Wing is a sleek and fun all-in-one scooter. Riders will enjoy its convenient comfort for anything from a quick scoot around town to a long highway adventure. In addition to plenty of storage, 150-plus miles between fill-ups, and do-it-all versatility, the $8,499 price tag is a fair price. We recommend this for beginning motorcyclists ready to trade up to a bigger ride, but who dont want to deal with shifting. Even veteran motorcyclists can appreciate the ease of handling and ample storage. As for scooter enthusiasts, those looking for a solid touring scooter will love the Silver Wing.
About the Author
Sarah Schilke is an avid street and dirt motorcyclist who is newly pursuing her interest in scooters. She runs her own marketing consulting agency, Motoniche.com, is a lifetime AMA member and is the first woman to be elected to the Board of Directors of the Motorcycle Industry Council.
Related Articles
MOTORCYCLE REVIEW: Suzuki Burgman 400