American Suzuki Motor Corp. is aiming its Burgman 400 motor scooter squarely at the womens market with a sporty new 2007. One sales brochure for the Burgman features a woman riding the 400, whereas a man is sitting on its beefier cousin, the Burgman 650.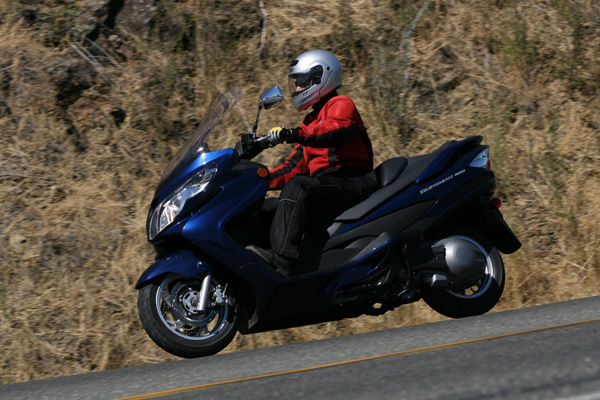 This 2007 model has sleeker lines that are meant to appeal to a woman. Plus, a cleaner burning, more powerful engine than the 2006 model make this new Burgman a solid option for commuting. High gas prices make everyone think seriously about other options for transportation.
Many women would like to ride a motorcycle but hold off because theyre intimidated by shifting or the size and weight of a bike. The Burgman eliminates the shifting issue and is relatively light at 439 pounds without fluids. It offers the horsepower necessary for touring and a comfortable ride. In the U.S., 24 percent of Burgman 400 owners are women, a larger share than the 12 percent of Suzuki motorcycle owners who are women, the company reports.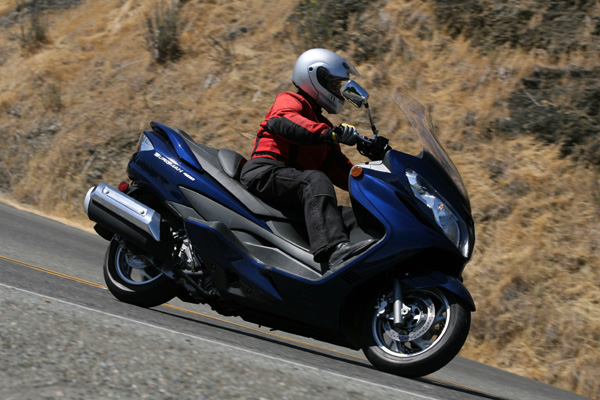 "Burgman" is a German word that roughly translates to "suburban man." This name apparently works in Europe where the Burgman is selling well, but it seems odd for a scooter targeting U.S. women. Still, I found a lot to like about the 400. One nice feature is the low seat height, another issue for women riders who often have shorter legs than men and cant find bikes that allow them to put their feet flat on the ground when stopped.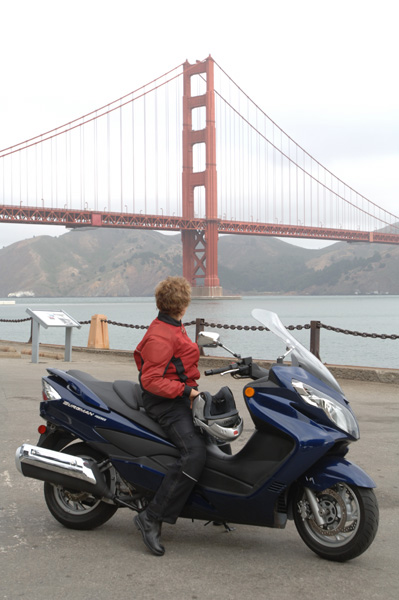 For someone who likes to ride and shop, like me, the large lockable storage area under the seat is practical. Its been enlarged to 62 liters, which is more than 14 dry gallons. You can get a better picture of how much space this is by imagining it holding two full-face helmets (or a lot of junk from yard sales!).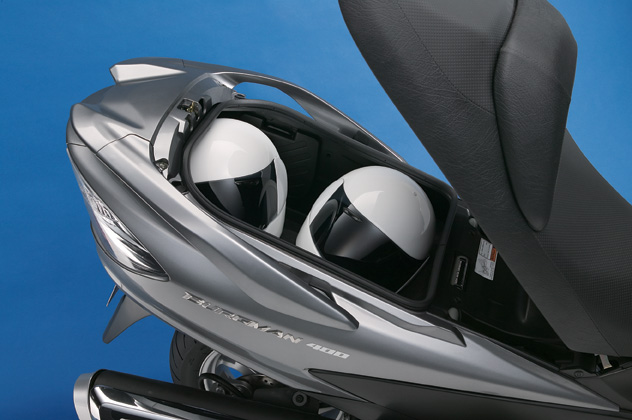 The lockable storage compartment under the "dashboard" was a handy place for my wallet and camera, plus there are two smaller compartments in front of the rider for gloves, sunglasses or other small items (these dont lock). The designers also included a power outlet in the dash area for charging mobile phones.
Test riding the Burgman was a learning experience for me because I had never ridden a scooter before. Not only was I judging this particular machine, but I was assessing whether I would enjoy riding a large motor scooter enough to buy one. After I got used to not having to shift gears to get going, as I do on a motorcycle, I was able to enjoy myself.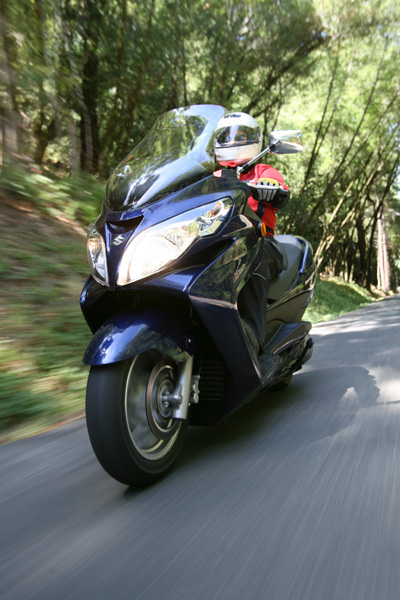 At nearly 90 inches long, the Burgman is substantial enough to hold its own in traffic. Its seat cushion seemed plush compared to those on some of the bikes I ride. I like its sporty front end, which is a lot like a motorcycles.
The 400s motor is a single cylinder four-stroke with fuel injection providing for a very smooth ride. One reason Suzuki has increased the engine size to 400ccs (from the 385ccs on the 2006 model) is to give the bike more oomph at all speeds. The engineers also took other steps to boost power, such as giving it a dual overhead cam versus a single. As for emissions, the new Burgman 400 meets tighter 2008 U.S. regulations.
Scooters arent expected to be as quick off the starting block as a motorcycle because they have automatic versus standard transmissions. With that in mind, 400 was somewhat sluggish when starting from a full stop but after gaining speed, it accelerates quickly to pass or stay up with freeway traffic. The 400 also takes curves nicely at moderate speeds.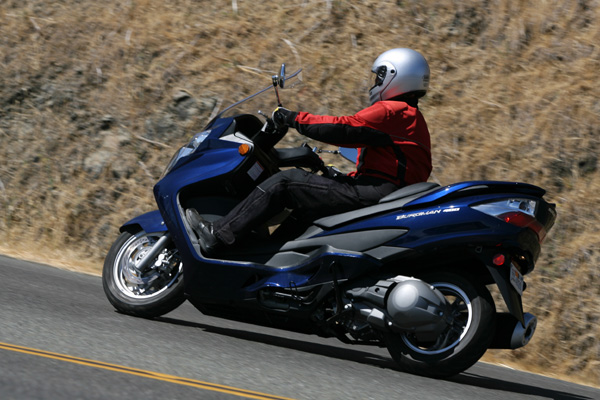 My test ride included taking the Burgman up and down San Franciscos hills, where it performed more like a car than a motorcycle after stopping on an incline. Unlike on a motorcycle, which requires you to find the friction zone quickly to accelerate (while hoping you dont roll backwards), you just let go of the brake, engage the throttle, and youre moving.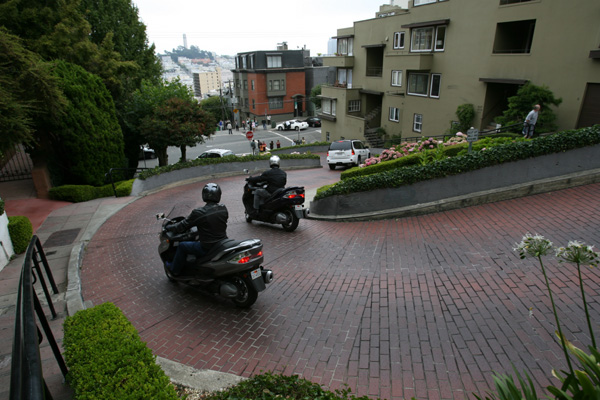 The Burgman also has another car-like feature a parking brake to use when parked on hills so it doesnt roll. Motorcycles dont have parking brakes because when parked on an incline, theyre typically left in gear, which keeps the wheels from turning.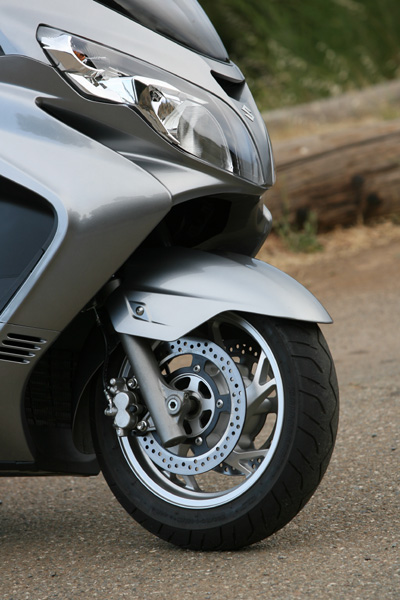 The larger front wheel received an additional brake rotor for increased stopping power. I found the dual disks to be more than reliable and stopped me where I wanted. Although Suzuki touts its link-type mono shock suspension system, I still felt jarred by bumps in the road. Im sure it was because the rear shock was set at the factory setting that of a rider much heavier than me. The single rear shock has a 7-way adjustible spring preload Next time I ride a Burgman, Ill loosen the shocks preload a bit to suit my light weight.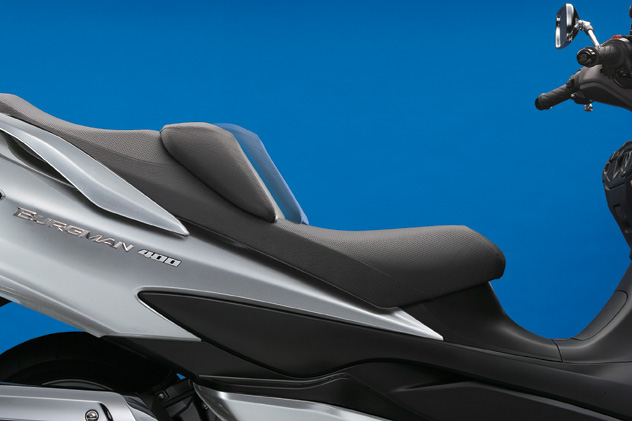 As for fuel consumption, I averaged 57.5 miles-per-gallon after 82 miles. This information came from the fuel consumption indicator on the instrument panel, which also includes an odometer, two trip meters and a clock. I became fascinated by this digital indicator and began riding conservatively to raise my mpg average as high as I could.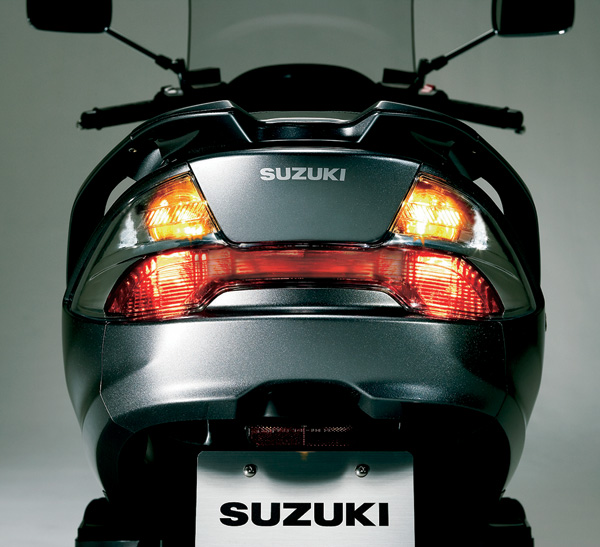 My biggest complaint is the curved front windshield. The top of it was parallel with my eyes causing me to alternate between looking over or under the top edge. It is not adjustable, so I couldnt change its height. More disconcerting is that when looking through the windshield, the curved molded plastic created a "bi-focal" effect making me see nonexistent bumps in the road. I would probably change the windshield if I owned a 400.
The Burgman fills a niche in the two-wheel market, and I enjoyed riding it. But the test ride showed me that when on two wheels, I prefer the connection to the road I get from shifting gears. However, those skittish about dealing with a clutch, or those who want a scooter that can handle all conditions will find the Burgman an ideal choice. Visit Suzuki.com.
Specs at a Glance
Suzuki Burgman 400
Displacement: 400cc
Seat height: 28 inches
Fuel Capacity: 3.6 gallons
Weight: 439 pounds dry
Colors: Candy Indy Blue, Metallic Grey
MSRP: $5,899
WRN Recommendation:
The Burgman 400 is easy and pleasurable to ride and has enough power to hold its own with traffic on busy highways. Due to its fuel economy, its an excellent commuter option. The MSRP of $5,899 is a reasonable price for a machine this size and with gas prices being an issue, youd recoup some of that from gas savings. The 400 also makes sense for riders who want to enjoy the open road on two wheels without having to deal with a tall, heavy bike or shifting.
To read a short review of the Burgman by a WRN reader who owns one, click here.