Screamin Eagle Dyna
Like the Screamin Eagle Springer, the 2007 Screamin Eagle Dyna has color-matched components in three exclusive color combinations. It also features a rollback front fender (a fender that exposes more of the front tire) and new covered rear shocks (shocks are usually exposed on a Dyna). "You can crank the covers so you can adjust the pre-load on the fly while youre on the road," said Greg Falkner, CVO Team Manager for the Dyna. "We concentrated on pro-street styling and performance."
The Dyna has a drag-style one-piece internally wired handlebar, a tachometer and 4-inch speedometer with indicator icons. "The Knurled footpegs, shift peg, etc. tell you its a true custom," added Falkner. Knurled is the name of a new collection of accessories from Harley-Davidson that come standard on this custom Dyna.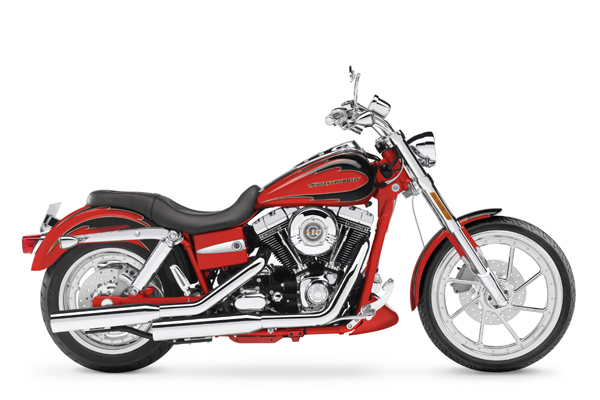 The 2007 model is based on the FXD Dyna Super Glide platform and has staggered shorty dual exhausts and straight-cut mufflers with full-length covers. The increased torque of the new engine was evident and the brakes did an adequate job of stopping me. I particularly liked the integrated risers on the handlebars and gauge mount above the riser.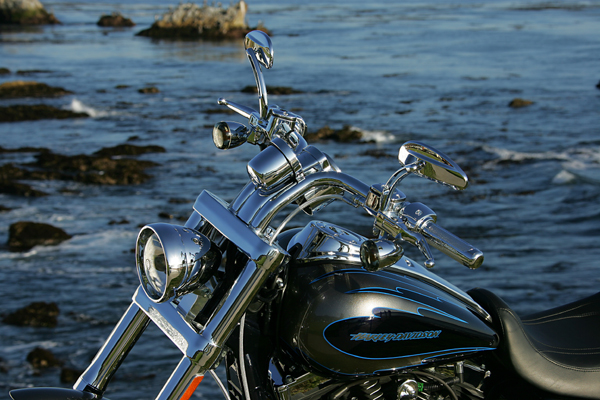 In order to reach the forward controls I had to sit forward on the fuel tank, so I wasnt able to try out the one-piece, two-up custom contoured seat adequately enough or go faster than 30 mph. However, you can easily change the ergonomics by installing mid-mount controls one of the many options available in Harleys 896-page catalog or online at Harley-Davidson.com.
The Specs Women Care About
2007 Harley-Davidson Screamin Eagle Dyna
Displacement: 1800cc
Seat Height: 26.1 inches
Fuel Capacity: 5 gallons
Dry Weight: 668 pounds
Colors: Inferno Red/Desert Black, Silver Rush/Midnight Black, Twilight Blue/Granite with Ice Blue Pearl
Price: $24,995, limited edition production of 2,400
2007 Screamin Eagle Ultra Classic Electra Glide
This is the second year in a row Harley put the big dresser through its CVO assembly line. "Its all about the rider and the passenger," said Randy Riley, the CVO Team Manager. Changes for 2007 include cast aluminum 9-spoke wheels, a taller windshield with matching air deflectors, and the "Ironside Collection" footboards for the rider and passenger.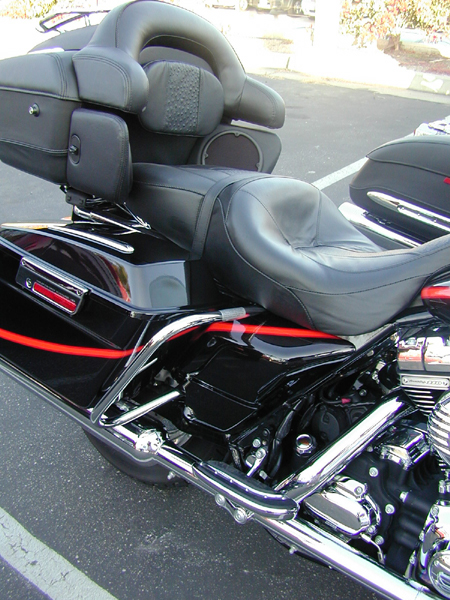 New features include a power-lock Tour-Pack and saddlebag system controlled by a button located on the bike. Engineers relocated the intercom plug to the speaker pod and added an advanced audio system with XM radio and an integrated GPS navigation system.
The bike felt a lot lighter than it looked. It weighs nearly 860 pounds! The brakes were good and the bike didnt feel top-heavy, despite its size and weight. At speeds over 50 mph I felt a slight shimmy in the front end possibly caused by the strong crosswind catching the large bat-wing fairing. It could also have been caused by an under inflated front tire on the test bike. It was reported to Harleys service techicians upon return the bike, but unfortunately I didnt get another chance to ride it.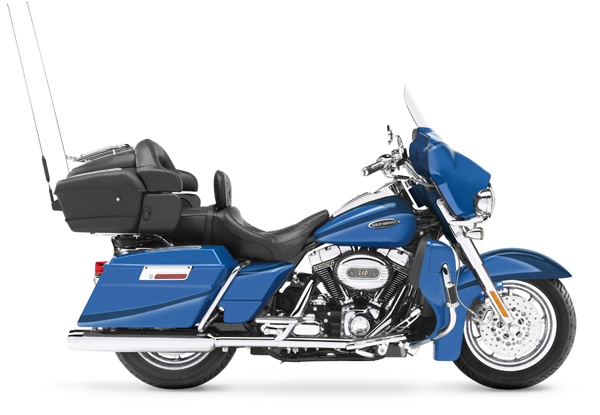 Harley-Davidson representatives said this is the year for the BIG motor, BIG color, lots of chrome and more accommodations for passenger and rider. With custom leather dual controlled heated seats with adjustable backrests and many other features they werent kidding.
Specs at a Glance
2007 Harley-Davidson Screamin Eagle Ultra Classic Electra Glide
Displacement: 1800cc
Seat Height: 28.1 inches
Fuel Capacity: 5 gallons
Dry Weight: 859 pounds
Colors: Black Ice/Electric Orange, Light Candy Cherry/ Black Ice, Lightning Blue Pearl/Midnight Pearl
Price: $33,495, limited edition production of 4,100
WRN Recommendation
The 2007 CVO line is for the rider who wants something different not only in looks but also in performance. The increased engine torque and reduced vibration keep the look and feel that Harley-Davidson is known for. The average rider with good throttle control and balance should have no problem riding any of these bikes. Shorter riders may need to choose mid-mount controls for the Dyna and might not like looking through the windshield of the Ultra (as opposed to above it), but these are easy modifications. The large size of the Road King and Ultra should not discourage riders who have limited strength and/or size as long as they can handle the horsepower.
Visit Harley-Davidson.com.
Diane Ortiz is an MSF instructor and is opening her own motorcycle school in New York soon. She is also a freelance journalist after spending 25 years as a journalist with New Yorks Newsday newspaper.
Related Articles
MOTORCYCLE REVIEW: Harley-Davidsons Top-of-the-Line Customs, Part One