Do you have a unique style and long for something different in a motorcycle? Maybe youve dreamed of having a custom bike made just for you. Harley-Davidson may have the answer with its Custom Vehicle Operations (CVO) line for 2007. CVO is a division of The Motor Company that develops custom limited edition versions of its various models.
In 2007, the models going through the CVO assembly line were the Softail Springer, Dyna, Road King and Ultra Classic Electra Glide. With exclusive features including a new Twin Cam 110 engine design, 6-speed transmission, accessories and custom paint, the bike you choose can be as individual as you are.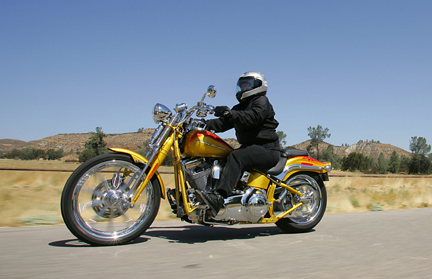 The 2007 Screamin Eagle Softail Springer
This bike was my first choice for a test ride. Its shimmering color-matched Canyon Copper yellow body and hand-painted red tribal graphics called to the inner me. Since Im 5 feet 2.5 inches with a 28-inch inseam, the extremely low seat height of 24.7 inches and easy-to-reach controls were appealing. The 110 cubic-inch (1800cc) V-Twin engine rumbled to life easily thanks to fuel injection, and the increased torque was very obvious at the first blip of the throttle.
After negotiating some local streets, I shot up the highway entrance ramp around 40 mph in third gear at 3,000 rpm. A quick shift to 4th gear brought me to highway speed in seconds. It felt effortless, smooth and very manageable. Even 6th gear had enough power leftover for passing, and the five-gallon gas tank is enough to get you there.
Accessories for the Screamin' Eagle Softail Springer include Harleys new Centerline collection of grips, rider and passenger footpegs, shifter and brake pedal pad. Youd have to buy these as an aftermarket accessory for a non-CVO bike. There are new custom handlebars, risers, clamps, mini-tachometer and a tri-bar LED taillight.
The unique paint scheme covers the frame, swingarm, rigid front fork, triple clamp, oil tank, seat post, exhaust bracket and frame inserts. All the new CVOs have a flush mounted gas cap that opens with a slight press and twist. The matching flush-mounted LED fuel gauge is invisible when the bike is off adding to the sleek look. Included in this long list of custom accessories that come standard on a CVO bike is Harley-Davidsons new Smart Security System, an alarm that engages and disengages by the key fob holders proximity to the bike. No need to press a button on the key fob to activate the alarm system.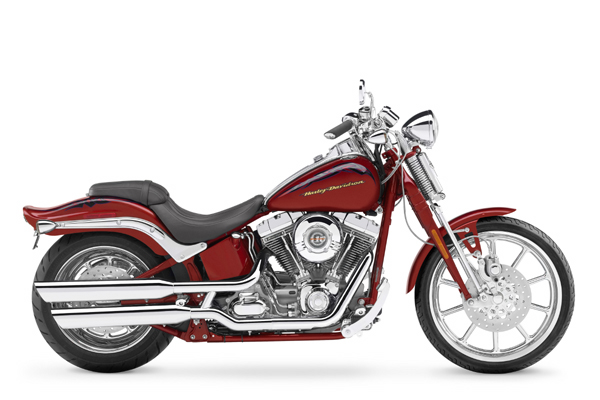 The Specs Women Care About
2007 Harley-Davidson Screamin Eagle Softail Springer
Displacement: 1800cc
Seat Height: 24.7 inches
Fuel Capacity: 5 gallons
Dry Weight: 694 pounds
Colors: Canyon Copper/Candy Red, Abyss Blue/ Blue Pearl, Amarillo Gold/ Candy Tangerine
Price: $24,995, limited edition production of 2,500
2007 Screamin Eagle Road King
When my husband and I travel we often rent motorcycles, usually a Harley-Davidson. My first choice would usually be the smallest bike offered because I thought the larger, heavier models would be too difficult for a woman my size to handle. Not anymore! After riding the 2007 Screamin Eagle Road King, Im heading straight for the big boys now.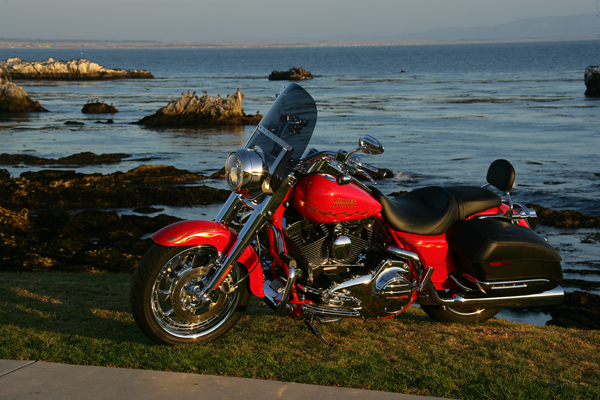 The Screamin Eagle Road King returning to the CVO line after a four-year hiatus, hugs the highway with its 130mm 18-inch front and 170mm 17-inch rear tires. "We took a lot of input from our customers and thats why we did it again," said Ken Lussow, Senior CVO Team Manager.
On a recent test ride, I found the Road King to be well-balanced and well-behaved, taking the tight 15-mph curves with ease without any engine lugging, even when I was in the wrong gear. The Twin Cam 110 high-performance engine and increased torque at lower rpm complement the air-adjustable rear suspension for a smooth vibration-free ride. This model also features a high-performance clutch with hydraulic actuation (makes for smooth and easy clutch effort) and an extended-reach billet brake lever that makes it, well, easy to reach.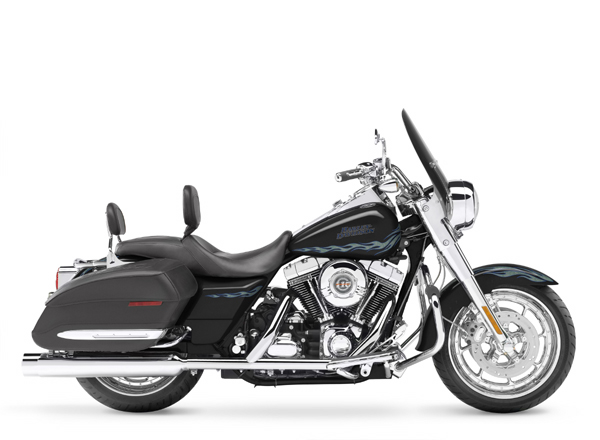 The custom chrome accessories and leather saddlebags with matching seat (and backrests!) and flame leather inserts that match the paint theme add to the custom look. A detachable dark-tinted wind deflector and cruise control are standard. Heated handgrips are available as an option.
Smooth and steady, this machine is a gentle giant and is fun to ride. If youre looking for a powerful touring bike with a custom look, the 2007 Screamin Eagle Road King will be hard to beat.
Specs at a Glance
2007 Harley-Davidson Screamin Eagle Road King
Displacement: 1800cc
Seat Height: 26.3 inches
Fuel Capacity: 5 gallons
Dry Weight: 754 pounds
Colors: Black Ice with Pewter Leaf Graphics, Candy Cobalt with Pale Gold Leaf Graphics, Razor Red with Burnt Gold Leaf Graphics
Price: $28,495, limited edition production of 3,500
Visit Harley-Davidson.com.
Related Articles
Harley-Davidsons Top-of-the-Line Customs, Part Two