Land speed racer Valerie Thompson set a national record when she ran the Salt Shaker, the worlds fastest Panhead, 141.4 mph at the 3rd annual International Motorcycle Speed Trials by BUB held September 3-7 at the Bonneville Salt Flats in Utah.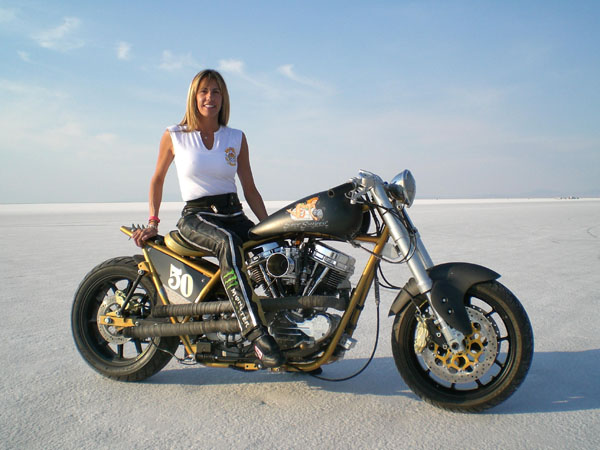 Valerie rode a motorcycle sponsored Damp;D Performance Enterprises and built by Bikernet.com when she set the AMA record in the 2000cc V-twin pushrod class. "We couldnt have done it without Damp;D," said Keith Ball, owner of Bikernet.com. "Dave Rash, President of Damp;D Performance Enterprises, consulted with Berry Wardlaw of Accurate Engineering, our 120-inch Panhead engine builder, on the design and flow of the heads to come up with the best possible formula."
To support Bikernet.com and the 5 Ball Racing team, Damp;D Performance Exhaust produced a stepped pipe design that starts out at 1 3/4 inch and increases to 1 7/8 to 2 inches and flares into a 2 1/8-inch pipe diameter. The design of the land speed racing pipe was integral to the performance of the Panhead high performance engine. It provided the most efficient way to extract expended gases out of the combustion chamber and move fuel into it.
The Salt Shaker racebike is a John Reed designed, Custom Chrome Sport Bike chassis, powered by a Barry Wardlaws Accurate Engineering 120-inch Panhead engine, Damp;D Performance Exhaust LSR pipes, Baker 6-speed transmission and BDL belt drive. The worlds first and fastest Panhead sportbike was constructed by Keith Ball and John VanTrump in the Bikernet Headquarters.
Keith is already hard at work reconstructing the Salt Shaker to be even faster. "We want an open chassis Panhead to slip through the traps at over 200 mph," Keith said.
Valarie is a full-time drag racer competing in the AHDRA racing circuit in the Screamin Eagle V-Rod Destroyer class. You can read more about her at VTRacegirl.com.