Harley-Davidsons high end limited edition Custom Vehicle Operations (CVO) motorcycles consist of four models. Below is my review of the Screamin Eagle Dyna and the Screamin Eagle Ultra Classic Electra Glide. Click here to read our review of the Screamin Eagle Softail Springer and Screamin Eagle Road King.
Screamin Eagle Dyna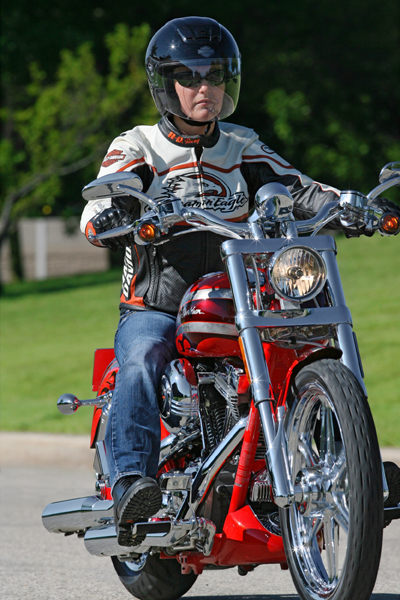 The Dyna family of motorcycles is very popular among women with the Dyna Low Rider being a favorite because of its ultra low seat height of 25 inches. The Screamin Eagle (SE) Dyna is the custom and powerful version of this model family. Riding it felt a lot like the new Fat Bob, which Ive yet to review on this site. That review is forthcoming.
I was surprised my 30-inch inseamed legs had to really stretch to reach the foot controls. Even with a new "reduced reach" custom seat, I had to lean far forward to both the handlebars and foot controls to reach them. Im 5 feet 5.6 inches by the way. Because of this uncomfortable stretch, the SE Dyna is not my favorite CVO bike. I have to be able to reach the controls confortably for me to enjoy the ride. Seat height is 26.5 inch, a tad higher than the SE Road King.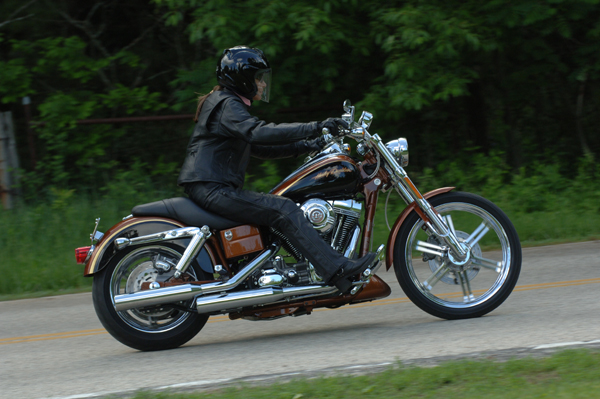 What I really like about the SE Dyna is the styling. The bike just shines from all the chrome and beautiful paint scheme. Subtle custom touches like covered adjustable rear shocks (as opposed to the exposed rear shocks on the regular Dynas), lowered and inverted front forks, slotted six-spoke wheels, slotted six spoke brake rotors and sprocket wheel all add to the custom nature of the SE Dyna.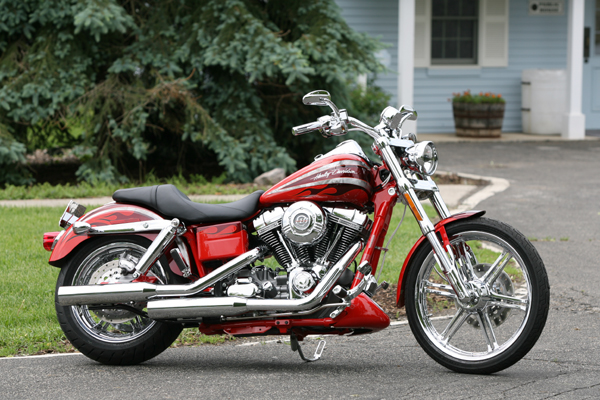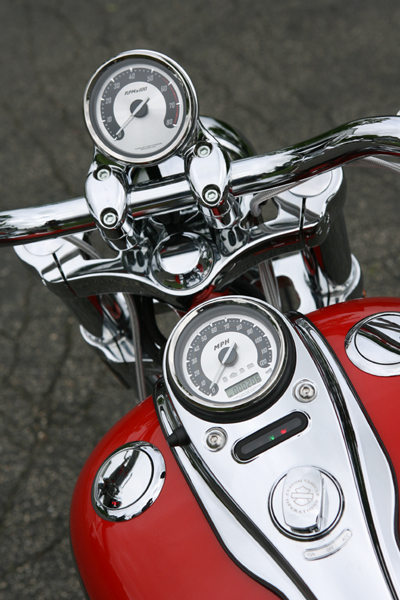 Like all the CVO bikes, the SE Dyna is powered by a 110 cubic inch motor with a 6-speed transmission that features a sixth gear "Cruise Drive" as Harley calls its overdrive. This lowers cruising rpm in top gear. Approximately 2,600 of the SE Dynas are being produced at a retail price of $24,995.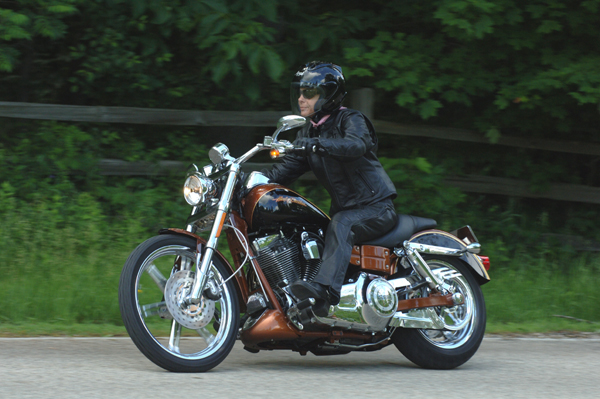 Screamin Eagle Ultra Classic Electra Glide
If you ever wondered what model is the most expensive Harley-Davidson, the SE Ultra Classic Electra Glide is it at $34,995. Its The Motor Companys most luxurious model dripping with custom and creature comforts galore. Its also the most popular CVO bike, thats why its back for a third year, and 4,150 of these are being produced, the most of any 2008 CVO bike.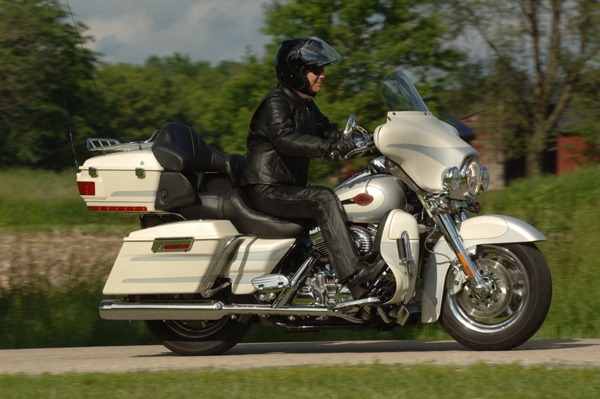 Like the SE Road King, the Ultra Classic has the larger made-for-touring six-gallon fuel tank (up from five gallons) all touring models now boast. I honestly dont know many people who can ride until the entire six gallons needs refueling. Most people, including myself, need to stop way before that to stretch, empty the bladder, or fill the stomach.
ABS braking is standard on the Ultra as it is on the SE Road King. ABS, by the way, is now an available option on all 2008 Harley-Davidson touring and VRSC models. The SE Ultra also features high performance Brembo brakes, as does the Road King. Both CVO bikes also feature an electronic throttle. This is big news for 2008 touring CVO bikes. Instead of throttle cables controlling the fuel injection, an electronic sensor now sends messages to the fuel injectors telling them what the throttle hand is doing so it can react accordingly. The electronic throttle system is better than traditional cables when working with the electronic cruise control that is now standard equipment on both CVO bikes. Plus, the throttle wires are now hidden inside the handlebars, a plus for those who think wires and cables clutter up a bike.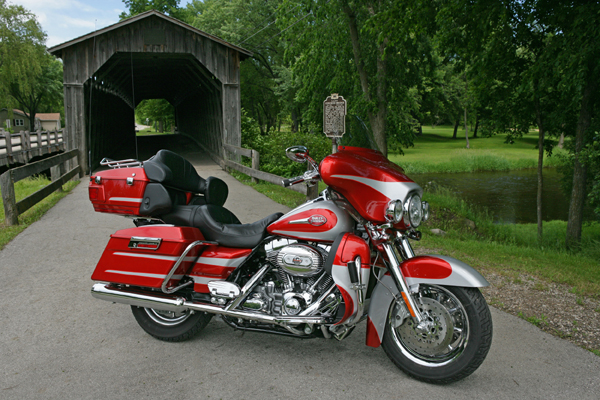 The Ultra offers premium amenities such as a powerful 40-watt CD/AM/FM/WB(weather band)/MP3 Harman-Kardon audio system. A CB and intercom unit are also part of the package. Passenger audio controls are a new feature, so is the XM radio and GPS navigation system. Wow!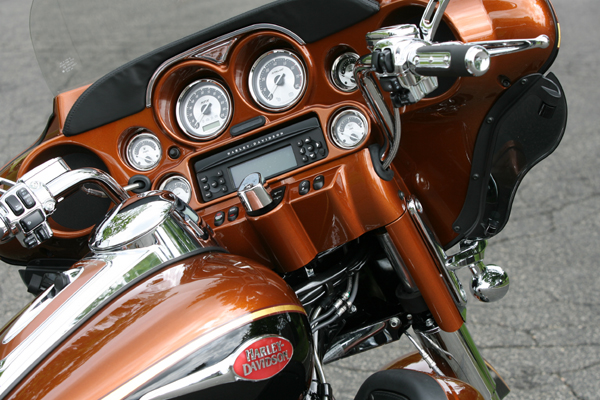 I test rode this bike for a short while. Its a lot of motorcycle for a smaller-sized person like me. Ive ridden a Harley-Davdison Ultra Classic Electra Glide on a 4,000-mile road trip once. I found it was a lot of bike then, too. You either like and need a big bike with lots of storage and goodies, or you dont. If youre going to do a ton of two-up touring, I say spring for Ultra CVO bike because it truly is luxury defined on two wheels.
Related Articles
Motorcycles to Splurge On