Harley-Davidson female enthusiasts are encouraged to enter for a chance to win a spot on the Harley-Davidson Womens Day Ride, held March 4, 2008. Theyll get to join Karen Davidson, great-granddaughter of one of the Companys founders, as well as the six Get Down to Daytona contest winners on the last leg of their ride into Daytona.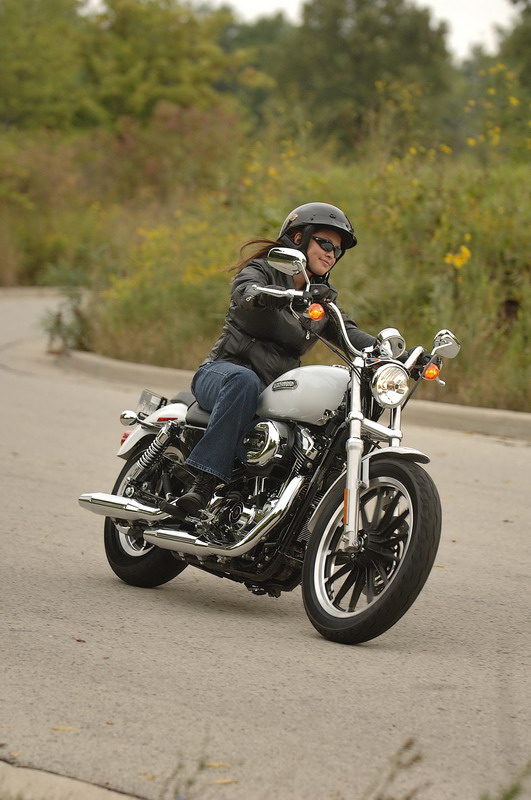 To enter, women riders should go to Harley-Davidson.com/womensride by Jan. 23 and fill out a short entry form. There is no purchase necessary, but women are encouraged to raise money for the Muscular Dystrophy Association (MDA) Summer Camps (a small donation of $25 or more is greatly appreciated). Women riders must ride a Harley-Davidson or Buell motorcycle and must be in Daytona on the morning of March 4.
On Jan. 25, 80 women will be randomly chosen to participate in the ride. Each rider will receive a 2008 MDA Pin, a special flag with MDA and H-D logo for their bike, and be entered in a special MDA drawing for a Harley-Davidson womens jacket. The top three fundraisers will also receive a special gift.
Daytona Bike Week Womens Activities
Tuesday, March 4, is Harley-Davidson Womens Day at the Ocean Center. The Womens Day Ride will arrive at the Ocean Center at approximately 10 a.m. Upon arrival, Karen Davidson will introduce the six winners of the Get Down to Daytona contest. Interactive seminars will be given throughout the day on how to pick up a motorcycle, customization and MotorClothes. More details will be announced in the next few weeks.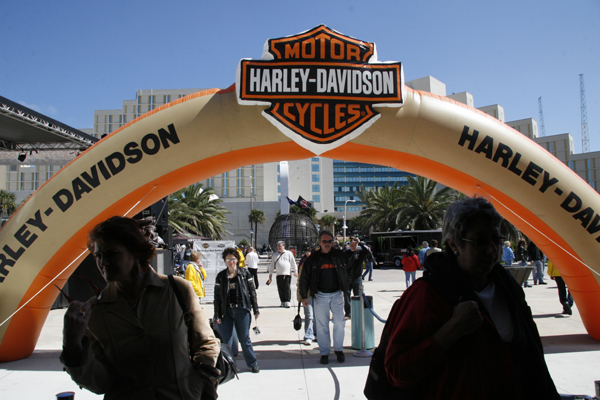 At the Daytona International Speedway Wednesday, March 5, from 4:30 p.m. – 6 p.m., there will be women-only demo rides on select 2008 Harley-Davidson and Buell motorcycles. Demos are free, but riders will need to bring a helmet (full-face helmet and long pants for Buell demos) and a valid motorcycle license. Each woman who takes a demo ride during that time will be automatically entered into a drawing for a womens helmet. Men who come along with the women who participate in this special demo time will have the opportunity to attend a customization seminar and Qamp;A session with a Harley-Davidson factory technician.
All week at the Ocean Center, March 2-8 from 10 a.m. – 5 p.m., women can visit the Harley-Davidson Interactive Womens Area featuring giveaways and prizes, motorcycle information, and a historical and informational womens display.
About the Get Down to Daytona Contest
The six winners in the Harley-Davidson Get Down to Daytona contest were announced Dec. 12, 2007, and were chosen from more than 200 women who submitted videos about their motorcycle mentor. Each winner will receive an expense paid road trip for two from Atlanta to Daytona Bike Week 08 alongside Karen Davidson, great-granddaughter of one of the Companys founders, as well as a three nights stay in Daytona.
The six winners are: Carol Dicicco from Chalfont, Pa.; Tonya Lamia from Rockford, Ill.; Kimberly Ryon from Harford, Pa.; Shelli Strand from Birch Run, Mich.; Jennifer Thorne from Mt. Pleasant, Pa.; and Teresa Weston from Hermitage, Tenn.
For more information and to watch the six winners videos, visit Harley-Davidson.com/womensride. Check the site llater this month for full profiles on each woman, as well as in March for coverage from their anxiously awaited trip to Daytona Bike Week 08.