The middleweights—the 750, 850 and 900cc bikes—are a popular class of motorcycle among women riders who prefer sport touring. In 2008, Aprilia introduced the Mana 850 to the United States, and women have been interested in this sport tourer ever since.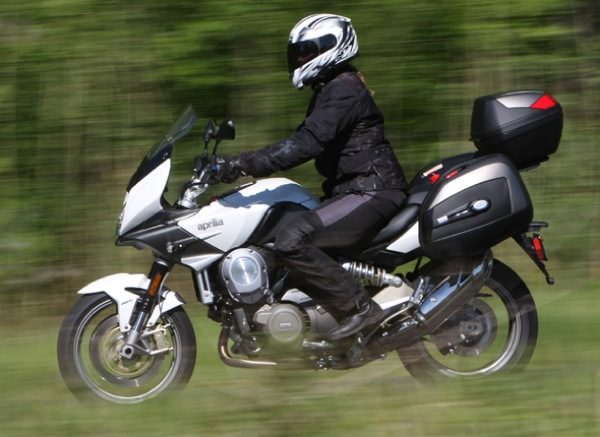 In 2010 Aprilia added a half fairing and made some suspension adjustments to the Mana 850 ABS and slapped a "GT" (for Gran Turismo) on its name. For 2011, other than addition of red to the color offerings, there were no technical adjustments or upgrades made to the model. I had the opportunity to test a 2010 Gran Turismo on a good long tour. A true touring motorcycle needs more cargo capacity than the built-in helmet compartment on the Mana, so we acquired the new GT fitted with the company's optional top and side cases.
The bike arrived just a few weeks before my ride to the Women Riders' Congress and Festival in Huntsville, Ontario, Canada, last summer. While I'd immensely enjoyed a few hundred back-road miles on the bike, I wasn't exactly sure how I'd feel after riding roughly 1,400 miles from Connecticut to Canada and back. But honoring my duty to my readers, I knew I had no choice but to put the Mana GT through a real-world tour test.
The Italian motorcycle is powered by a liquid-cooled, 839cc, 90-degree V-twin sporting a continually variable transmission (CVT). CVT basically means no manual shifting. Like the CVT in my Nissan automobile, shifts are so smooth that you barely feel them. This type of transmission may seem as if it takes the fun out of motorcycling, but al contrario, it actually adds an extra challenge to the sporty motorcycle.
The Mana's seven-ratio sequential transmission has manual or automatic modes, which are determined by the rider. In fully automatic mode, there is Touring, Sport and Rain drive mapping. According to the type of riding you choose, each map changes the rpm through each gear ratio. So, yes, you can choose this mode and never have to worry about which gear you need to be in.
If you're looking for a more traditional ride, set it on manual mode and shift using either your left thumb on the paddle-shifter or your left foot on the pedal. There's no clutch lever, because there's no clutch. And there's no need to roll off the throttle to shift, either. This setup actually makes for some seriously quick shifts, which creates that challenging ride I mentioned. I found the paddle-shifting quite satisfying when I was fully focused on having a quick, sporty ride. But during most of my time on the Mana GT, the tranny was set to auto touring mode. I found this map offered the best all-around ride for most riding situations.
| | |
| --- | --- |
| The silver button is the shifter in manual mode. | You change the gear mode with a labeled button on the right handgrip. |
No matter what mode you choose, you can always downshift manually, which is handy for making passes or for when you need an immediate rpm boost. However, a handful of throttle works just as well. In manual mode, the bike will downshift to first gear if you forget to, so you won't have any embarrassing stalls at stoplights. A handbrake lever is supplied because the bike will roll in first gear as if it's in neutral, even when it's parked. So it's a good idea to get into the habit of always using that brake.
Although this bike has a CVT transmission, make no mistake about it—this is no scooter. Besides the sporty design and 75 horses, Aprilia used quality components on all the Manas. A 34mm, inverted front fork accommodates 4.7 inches of front-wheel travel, while the steel tube trellis frame with single-piece aluminum swingarm makes up the chassis. Two 320mm stainless-steel floating discs with four-piston radial calipers provide exceptional front braking, while a single piston biting a 260mm disc stops the rear. The GT is also equipped with the latest generation, two-channel Continental ABS system, as is the Mana 850 ABS. You won't find 17-inch aluminum-alloy wheels with sport-rated tubeless skins on any scooter.
While the GT's front suspension received some tweaks to create what Aprilia believes is the optimal setup for the new, faired Mana, it sports a single shock with adjustable spring preload and rebound damping just like its predecessors. However, the GT's monoshock has a knob located on the outside, so adjustments can be made on the fly without having to find a spanner wrench.
Let's Go Touring
I had more than enough room in the top case and saddlebags for five days' worth of clothes and gear. But because they are optional accessories that also fit the Mana and Mana ABS, the saddlebags had one key while the top case was keyed by another. Add these to the ignition key, and you've got three keys to keep track of. While this may not bother some riders, I prefer one key that does it all. But the large, rigid side cases were easy to remove and carry to my hotel room.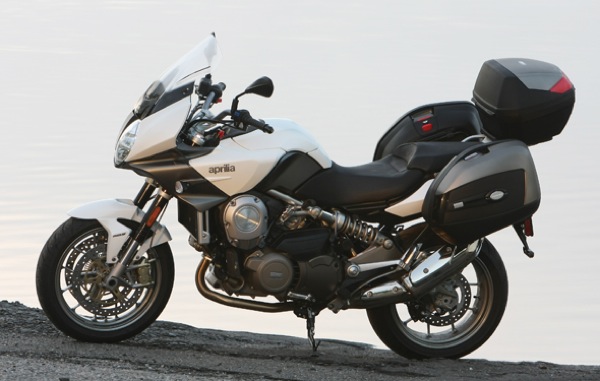 Loading the cases was also easy, and I especially liked the thick, secure elastic straps that worked well at holding in the contents. You know these bags are watertight when you feel the air whoosh out as the vacuum seals them shut. I was a soggy sap during my entire 14-hour ride home through off-and-on rain, but everything in the luggage stayed nice and dry.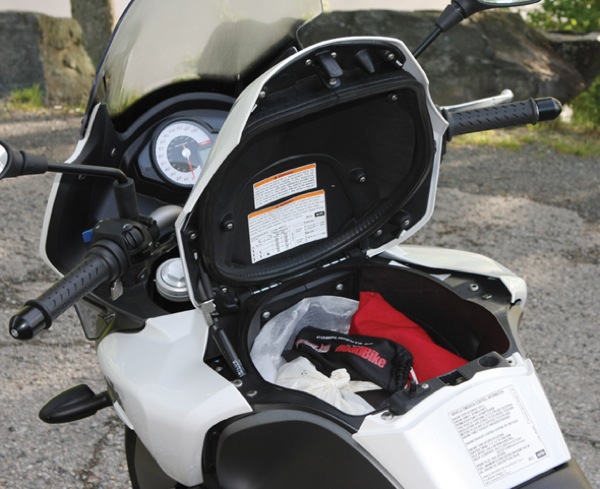 The compartment where you'd expect to find the fuel tank is big enough to hold a full-face helmet and includes a soft lining that won't scratch the helmet. It stows a toolkit and has a 12-volt charging outlet with a cell phone holder, but I used the outlet to power a portable tire inflator and to keep my iPod charged. Because the outside of this compartment is plastic, there's no way to mount a magnetic tankbag or map holder to it, so I ended up taping my baggie-covered maps and directions to it. But stowing my camera, toll money and extra maps inside the locked, watertight compartment was as handy as, and more secure than, using a tankbag.
| | |
| --- | --- |
| The helmet compartment has an interior light that comes on with the lid up and the key in. Also shown is the charger outlet. | The GTs unique half fairing wraps around the distinctive round headlight found on all the Manas. |
The windshield is adjustable only by about an inch, and you need a screwdriver to loosen the two screws and then have to lift or push the shield to the desired position before tightening the screws again. Throughout my trip, I kept thinking about how I ought to change the height just to test other positions, but I'd either forget or push aside the idea of digging out the toolkit at rest stops. The shield was set somewhere in the middle, and it worked just fine for me. I didn't have to look through it but could comfortably crouch behind it for a change of position or to get out of the rain for a bit. The fairing kept the wind from hitting me squarely in the chest, instead routing the air up and around my body.
The upright seating position and wide tubular handlebars add to the Mana's touring comfort level. But the seat pushed me farther forward than I wanted, and the pegs felt too high after long hours in the saddle. I also noted that the vibration to my hands, feet and rear was more than I'd like. Stretching at regular breaks was necessary in order to rejuvenate my joints and muscles. At about 135 miles, I'd start looking for gas stations so I could take a break and gas up at the same stop. That was well before the low fuel light came on, but my body never made it to see that light. Considering I was averaging about 46 mpg, I could've gone another 60 miles before I would have had to stop for fuel.
The Cost of Touring
Our Mana 850 GT ABS came equipped with luggage. Here's the rundown of what each item will cost you:
Mana City 35 Top Box: $140.38
Mana Luggage Rack (carries the top box): $196.56
"Like Silver" Lid for Top Box: $101.06
Mana Side Cases: $730.22
Mana Side Case Racks: $247.12
Total: $1,415.34
No matter what the road conditions, the Mana provided a fun, comfortable ride. I also appreciated having an upfront storage compartment, while the auto transmission made it quick and easy to make a lot of picture stops. I didn't need to find neutral or dig my camera out of a bag; I just pulled over, popped open the lid, grabbed my shot and off I went.
With the addition of the optional luggage, the Mana 850 GT ABS makes a great touring bike so long as you don't need lots of leg-stretching room or full windshield coverage. What I like most about it is that you don't have to sacrifice the sporty ride for the touring haul. With this machine, you get the best of both worlds all in one great bike.
Specs At A Glance: 2010/2011 Aprilia Mana GT ABS
Displacement: 839cc
Seat Height: 32.5 inches (lower seat option available)
Weight: 447 pounds
Fuel Capacity: 4.23 gallons
Colors: 2010: Competition Black, Glam White, Blue Planet, Red Ibis; 2011: Glam White, Competition Black
Price: 2010: $10,599; 2011: $10,999
Warranty: 2 years
WRN Recommendation
If sport touring or sportbike riding is more to your liking than riding a cruiser, the Mana is ideal as a first motorcycle after your beginner/learner bike. The middleweight power range offers plenty of power but is not a monster that will get away from you. It's a relatively light package, and combined with the automatic transmission, this is one easy motorcycle to ride. Trouble is, you may get used to it and never want to go back to a clutch/shift motorcycle.
About the Author
Tricia Szulewski has maintained the woman rider's perspective in RoadBike magazine since 1999. As the magazine's art director and staff writer, Tricia feels incredibly fortunate to have a career combining both her passions—art and motorcycles. She is an MSF instructor and logs thousands of miles each year on anything that shows up in the company stable. You can find some of Tricia's bike reviews, adventures, product evaluations and more at RoadBikeMag.com.