Still have a few (or a lot) of items to check off your holiday shopping list? Dont despair. Here are some perfect gifts for the motorcycle-loving loved ones in your life. And with most of these items coming in at less than $50, you wont even have to break the bank. So go ahead and get shopping.
Throttle Up With Family and Friends
The American Throttle motorcycle trivia board game is a great reason to gather around with your biker (and non-biker) friends. To play, put your money into the pot and pick one of 15 different motorcycle game pieces. Pick up your first poker card, then grab your favorite drink and roll the die. The first one to finish crossing the country wins half the pot, and the lucky player with the best poker hand wins the other half.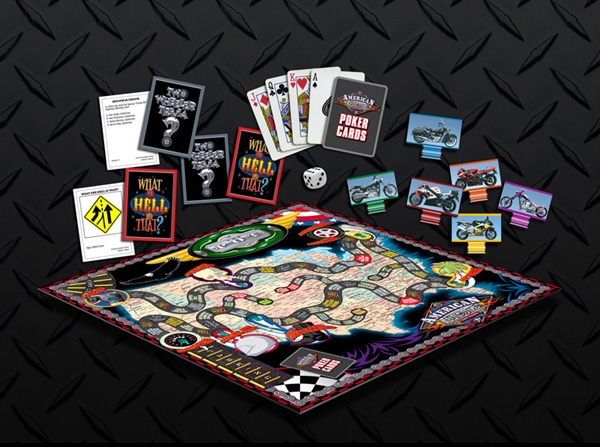 Even non-bikers can play this game, so it makes for great entertainment at parties and small gatherings. Available for $44.95 from AmericanThrottle.com.
Sparkle and Shine, Harley Style

Celebrate the season in two-wheeled style. All three of these great gifts from Harley-Davidson can be had for $45 or less. First up, the new Oil Can Party Lights ($35) are a great way to celebrate your hobby. Even when its time to take the holiday decorations down, the lights can add cheer to your garage or shop year-round.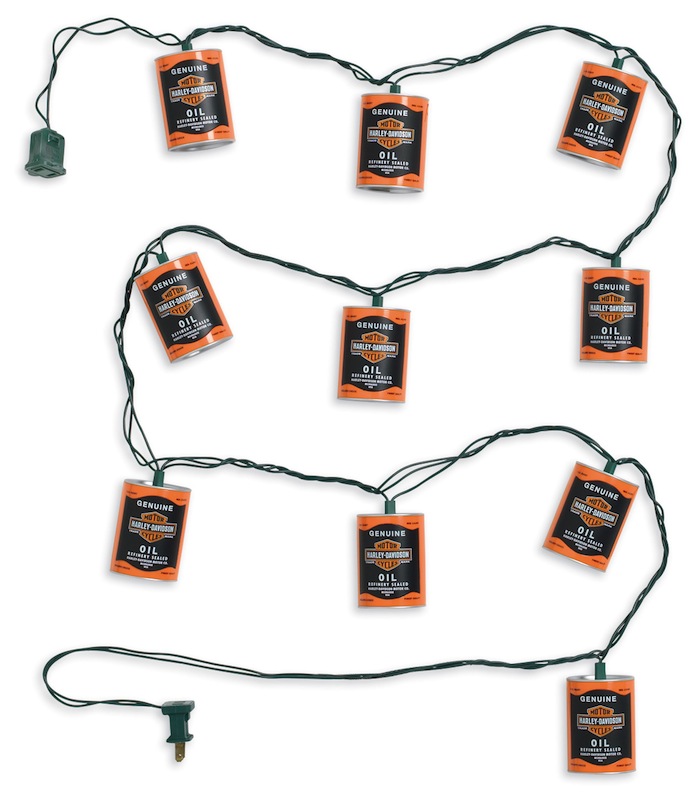 Or if you want to give some bling to a special woman in your life—rider or not—the new Key and Heart Necklace ($45) combines a crystal stone Bar amp; Shield logo metal key accented with packed crystal stones in the shape of a heart. The matching Key and Heart Earrings ($25) combine dazzling crystal stones with solid brass plating and silver palladium. Like the necklace, the earrings are nickel-free, tarnish-resistant and hypoallergenic. The understated key and heart detail falls two inches, making them pretty but understated.
Harley-Davidsons Key and Heart Earrings come packaged in a custom gift box.

The Key and Heart Necklace measures 20 inches
and has a branded lobster clasp that allows for the
length to be adjusted.
All three gifts (and more) are available at your local Harley-Davidson dealer. To find a dealer near you, visit Harley-Davidson.com.
A Portable Resting Spot for Helmets or Tank Bags
Here's a practical solution for riders tired of setting their helmets on dirty bathroom floors (or leaving them out unattended at the mercy of thieves). The Moto-Hanger is a portable hook that lets you hang your helmet or tank bag on a table, countertop or other flat surface. Lightweight and foldable, the Moto-Hanger is strong enough to hang most of your light riding gear (up to 15 pounds) and small enough to carry in your pocket.
The Moto-Hanger is made of durable zinc alloy thats lead- and nickel-free. It comes in the little disc you see on the left and folds out to the hook shape seen on the right.
Each Moto-Hanger includes a black velvet storage pouch and a rugged gift box, making it a great gift for any rider wanting to add to their arsenal of practical accessories. Pick one up from
MotorcycleGadgets.com
for $12.95.
Fine Art for Motorcycles

Even some of the best-looking motorcycles would do well with a little personalization, and when it comes to custom paint jobs, you have to see this motorcycle art from InFerno Airbrush. Based in central Florida, this one-woman shop is owned by Fern Gadd, who personally designs and paints the artwork on each bike.

Fern works primarily with women riders, frequently using genuine Swarovski crystals and other jewels in the paint to create beautiful results like those shown here.
Fern offers a truly personalized design service for motorcyclists, giving each customer an active role in the process. After discussing with the customer her vision, Fern then creates a sketch or digital rendering to show what the paint scheme will look like on the bike. Revisions are then made until the customer has realized the true, one-of-a-kind design she envisioned.For more information and pricing (and lots more pictures), visit InfernoAirbrush.com.
New Fragrance for "Highway Harlots"
When a new fragrance is created by a woman who believes in "keeping her femininity in one hand and her welding torch in the other," you know it's made for women riders. Highway Harlot is the new fragrance from Athena "Chickie" Ransom, a custom builder known for her choppers and handmade custom parts. Made from all-natural ingredients, Highway Harlot lets you sport your soft side with a bit of an edge, with undertones that are described as "subtle yet powerfully romantic."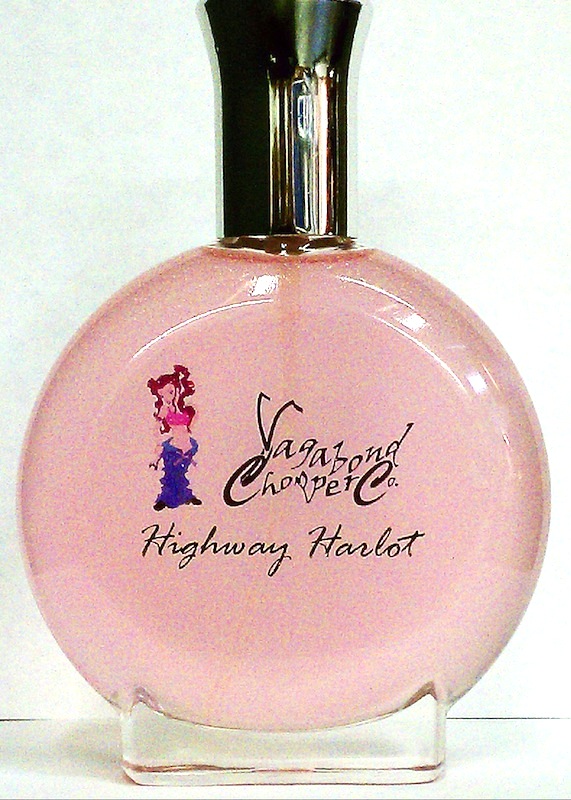 With a retail price of $39.95 per 3.4-ounce bottle, this would make a great gift for friends, mothers, sisters, or any woman in your life—rider or not. To order, visit VagabondChoppers.com, email info@vagabondchoppers.com or call 954.360.0075.
Gloves to Sport On and Off the Bike

Give the gift of warmth this winter with gloves that keep hands toasty on and off the road. With pre-curved fingers, padded palms and Tricot lining, Harley-Davidson's women's leather Pink Label Full-Finger Gloves can be used for both riding and casual wear. Best of all, these versatile gloves are priced at $55, and a portion of the proceeds goes toward supporting the Breast Cancer Network of Strength.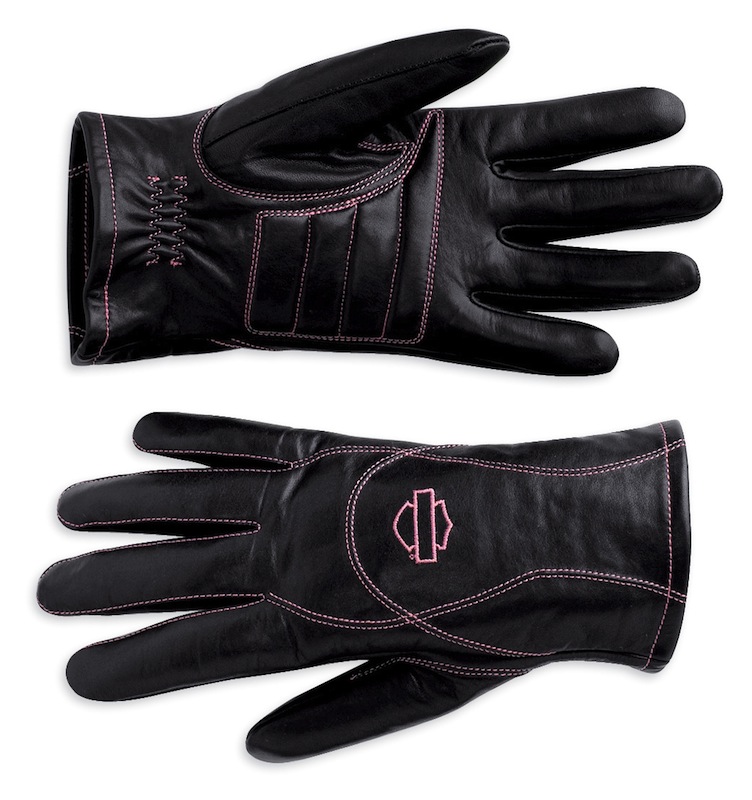 Find the Pink Label Full-Finger Visit Harley-Davidson.com to find a dealer near you.
Stop Burning Rubber (Literally)
Here's a gift idea that helps riders address a pesky problem we don't always think too much about. Heel Guards are an easy-to-install add-on for motorcycles that help riders stop burning the rubber on their boots (and ruining their bikes' exhaust). Installation takes only minutes, and the sleek design of the guards lets the rider operate all pedal functions easily and comfortably while protecting the exhaust from black scuff marks. The straight and turndown style allows full use of the footboard, while the turnout style serves as a heel rest and protects the rider's heel from burning on the exhaust.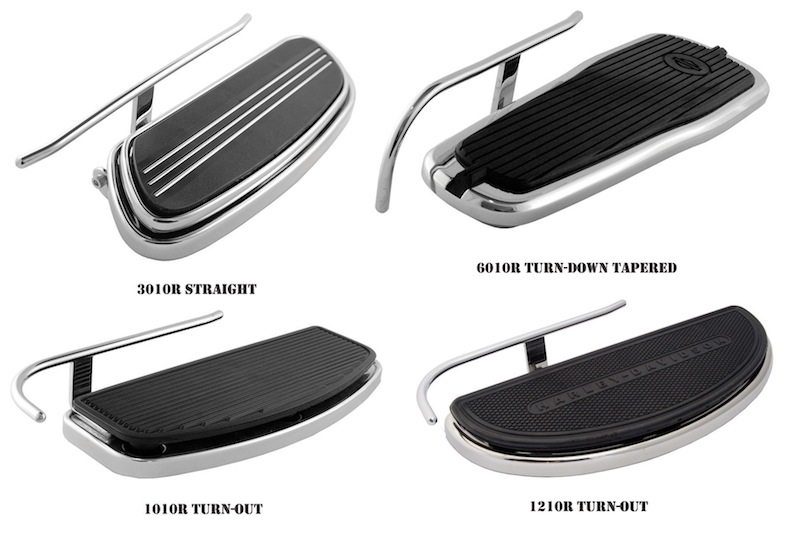 Heel Guards are available for $69.95 each, with free shipping in the continental United States. For more information and to order, visit HeelGuard.com.
Related Articles