Want to be notified by email when I post something new in my blog? Then sign up for our weekly WRN e-Newsletter. It gets delivered to your inbox every Monday morning letting you know Ive updated my blog, as well as alerting you to other new articles, reviews, and stories posted on WRN. Click here to be directed to our e-Newsletter sign up page.
Female Mechanic Sues Dealership
Ill admit Im behind the eight-ball with this news – its a month old, but I figured its worth letting you all know about since I believe its a first of its kind in case you havent heard of it. A trained mechanic named Bowen Dean is suing Dudley Perkins Harley-Davidson in San Francisco for passing her over for a mechanics job. According to the San Francisco Chronicle, Dean trained for one year to work as an entry level lot technician in 2005 for Dudley Perkins. She was then re-assigned to clerical duties for the 94-year-old dealership while two less qualified male mechanics were hired to work on bikes. Dean filed a complaint against the dealership alleging discrimination in 2006; she was fired two month later. Earlier this month, The Equal Employment Opportunity Commission filed a lawsuit against the dealership saying it violated federal law against gender discrimination by assigning Dean to a desk job in San Francisco rather than letting her work as a mechanic and then subsequently firing her when she filed a complaint. Dean is seeking compensation for lost wages and reinstatement of her job.
Triumph Announces Pretty Cool Financing Deal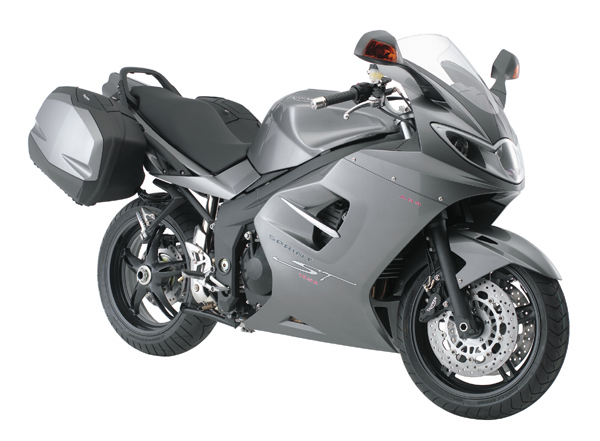 In light of the crazy finance crisis, Triumph is managing to come up with an incredible finance offer: no down payment and financing as low as 3.9 percent on new, previously unregistered 2008 and prior year Sprint STs (shown at right), Sprint ST ABS, Tiger 1050 and Tiger 1050 ABS models, or $800 on Triumph accessories or clothing now through December 31, 2008. Triumph is touting these popular touring models as way to enjoy an unobstructed view of the fall colors or a fuel efficient alternative for daily commuting. Visit TriumphMotorcycles.com for more information.
POSTED 10/26/08
Biker Alley Update: Rain Speaks
For those who subscribed to Biker Alley and are wondering what happened when the 8-year-old bi-monthly magazine suddenly stop publishing this summer, well, publisher Rain Nietzhold finally issues a statement in a letter to her subscribers that she shared with Helmet Hair Magazine. Click here to read it.
POSTED 10/22/08
Sara Liberte Immortalized on Canvas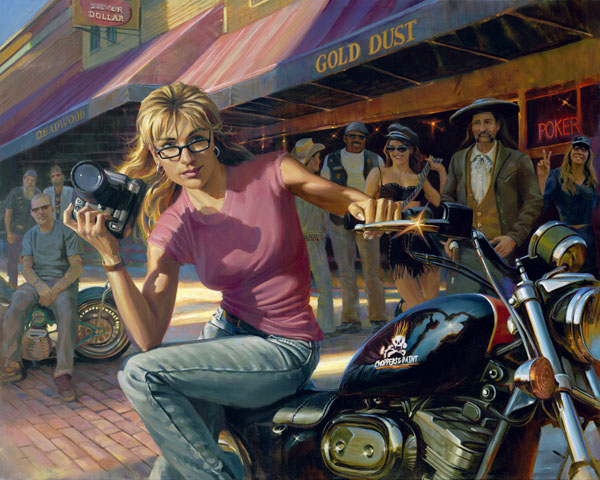 Two of my favorite people in motorcycling collaborated on a project thats just incredible. If youve been reading my articles over the years, you know Im a big fan of artist David Uhls work. I recently purchased two of his motorcycle paintings. Well, David just released his latest painting, its called The Shooter and it took a year to create. It features photographer/bike mechanic Sara Liberte, a contributor to WRNs Know Your Motorcycle section, graced by the morning sun, ready to go to work shooting the Sturgis rally in Deadwood, South Dakota. Click on the image to make it larger.
I called Sara today to congratulate her on the painting. She told she was humbled by it. "The first time he told me was going to do this, I was like no way," she shared with me. David caught Sara shooting photos in Deadwood in 2007 and a painting popped in his head. During the 2008 rally, Sara actually sat for David while he was in front of the Gold Dust Casino this year finishing up the piece. When Sara first saw the painting she told me she said, Oh my gosh, thats me. She said its weird to see yourself in a painting.
The cool thing about this painting is that David asked Sara who she would like in the background. She chose three inspirational people in her life: bike builder Johnny Chop seated behind her on a motorcycle; motorcycle artist David Mann (the bearded guy on the left next to her camera); and Wall of Death rider Samantha Morgan (far right). David chose to add in Wild Bill Hickock, a legendary figure around Deadwood. Im sure you can figure out where he is. The original painting will stay in the Gold Dust Casino so the next time youre in Deadwood, stop by and check it out. A limited edition canvas print release is available for purchase through Uhl Studios. Contact Greg Rhodes at 303.948.1088 or by email at greg@uhlstudios.com.
Posted 10/20/08
Riding the New V Star 950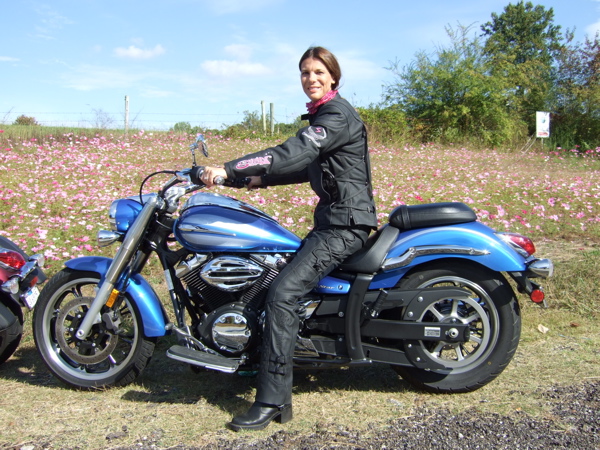 I havent blogged all last week because I was in the mountains of north Georgia testing the new V Star 950. Here is a sneek peak at some of the photos taken of me on the bike. At right, Im showing how the 26.3-inch seat height accommodates me and my 30-inch inseam. Click on the photo to make it larger. I will be writing my review in the coming weeks, but before then I can share with you that Star Motorcycles has a winner here with this all-new V Star. While its being touted as an entry level bike, be careful ladies. I wouldnt recommend it as entry level for most women. Star means entry level for men because appears to be on the small side for most men. The men on my test ride made comments about how they felt like they were overpowering the bike. In that regard, it would make a good starter machine for beginner men. While the bike fit me like a glove, it is not a beginner bike for women fresh out of MSF school who are still feeling a skittish about handling a motorcycle. Ill expand more on this in my forthcoming review. Be sure to sign up for the WRN e-Newsletter to be alerted when my review of the V Star 950 posts.
Online Customizing Contest Launches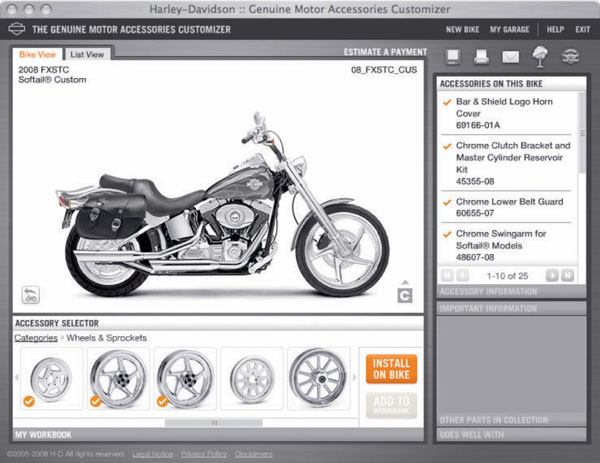 Harley just launched yet another contest, the prize this time is a new Harley-Davidson motorcycle – the one you customize online. All you have to do is go online, enter the "Build It and Win It Sweepstakes" and then design the motorcycle of your choice for a chance to win that motorcycle. The sweepstakes utilizes The Customizer (Harley-Davidson.com/customizer), an interactive web tool on a mini-site attached to harley-davidson.com that allows contestants to build a virtual dream bike based on 2009 Harley-Davidson models. On The Customizer, visitors can choose any 2009 Harley-Davidson model and then select from dozens of custom options, including Color Shop custom paint sets, Screamin Eagle performance components, hand and foot controls, custom front end parts and decorative collections, and add and remove them on a virtual motorcycle. As the bike is created, each new component appears on a picture of the virtual motorcycle, so a contestant can see exactly what the finished custom Harley-Davidson will look like. This dream bike can then be saved in a personal profile "Garage," along with a convenient, printable list of each component with its part number and retail price.
Contestants can enter the "Build It and Win It Sweepstakes" by following these steps: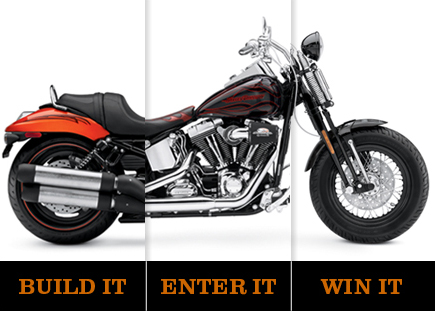 1. Go to Harley-Davidson.com/customizer and click on "Launch theCustomizer."
2. Create a profile and log-in to a personal profile "Garage."
3. Choose a 2009 Harley-Davidson model, and then select a stock or pre-customized bike.
4. Choose the Genuine Motor Accessories to add to that bike.
5. When the motorcycle is saved in a personal profile "Garage," the contestant is automatically be entered into the motorcycle sweepstakes.
At the close of the sweepstakes, Nov. 6 at 5 p.m. ET, a Harley-Davidson Motor Company representative will randomly select one virtual custom bike that has been entered into a personal profile Garage. The person who created the profile will be awarded the 2009 Harley-Davidson motorcycle that was created on-line, complete with all selected accessories. The winner will be notified via email.
POSTED 10/11/08
Owner of Roar Motorcycles is Finalist
in Martha Stewart Competition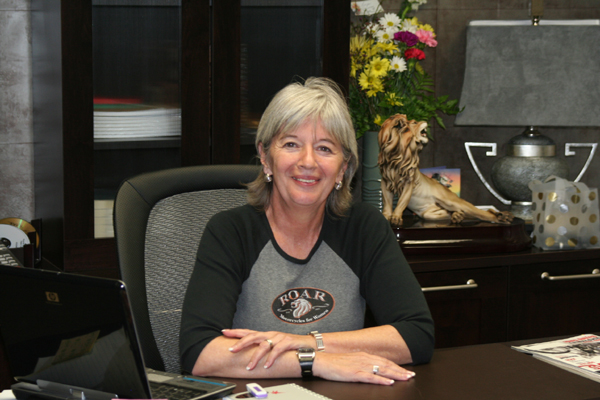 Congratulations to Kathleen Steele Tolleson, owner of Roar Motorcycles, a shop for women in Daytona Beach, (profiled on WRN at this link) who's been named a finalist in Martha Stewart Dreamers Into Doers contest. Hooray that a female motorcycling business owner is getting national recognition. Kathleen needs our help to win through an online voting process. Click here and vote for Kathleen. You can read all about her and her shop in WRN's Feature Articles by clicking here.
$200 Discount Offer on Vanson Leathers
Vanson Leathers is offering $200 off on a brand new set of racing leathers until January 31, 2009. The company is know for its high quality riding and racing leathers. Vanson does custom orders. When you visit the home page of Vanson's Web site, you'll also find a deal for a free upgrade on a set of armors with the purchase a Vanson armor compatible jacket. Not sure why the company is running these deals, but they're worth looking into. Visit VansonLeathers.com.
POSTED 10/9/08
Interesting Partnership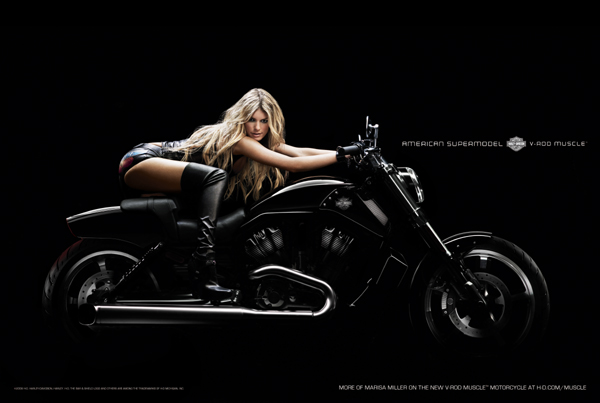 We are all about women and motorcycling here — so I couldn't pass this one up. Harley recently hired a new chief marketing officer who's doing some innovative things that are outside the box for the traditionally minded Harley-Davidson (like the pairing with the Milwaukee Brewers posted in my blog dated 9/26/09). The latest is the Motor Company's pairing of model Marisa Miller (Sports Illustrated's swimsuit issue and Victoria's Secret model) with the new 2009 V-Rod Muscle in an innovative marketing campaign to introduce the latest addition to Harley-Davidson's high-performance line of V-Rod motorcycles. "The V-Rod Muscle stands out in a crowd of copies and generic motorcycle profiles," said Mark-Hans Richer, senior vice president and chief marketing officer for Harley-Davidson. "It stretches the very definition of what it means to be a Harley-Davidson motorcycle."
According to a press release issued by Harley, partnering with model Marisa Miller is a perfect match. The V-Rod Muscle's sculpted body and commanding physique complement Miller, who not only represents classic American beauty, but also strength and athleticism. Miller is best known for gracing the cover of many prominent publications, but she also represents the return of the great American Supermodel. Miller grew up around motorcycles in California and has a strong appreciation for Harley-Davidson. "To represent such an iconic American brand is incredible," said Miller. "I have grown up watching my dad and uncle ride Harleys. It's amazing to circle back at this point in my career, and work with a brand I have so much respect for."
I have mixed feelings on Harley's pairing with Marisa. I'm not quite sure it will sell the Muscle. Will it? I just don't get that whole "let's drape a babe on a bike to sell the bike" mentality. Hey, I'm all for sexy, beautiful bodies. Marisa is a babe. I think she's one of the coolest models out there because of her down to earth appeal. If you've seen a Victoria's Secret catalog you've seen her. I just don't see how it sells bikes. I guess the thinking is the bike looks cooler with her on it, or will attract more eyes to it with her on it. I can understand that thinking. Harley wants to draw people to the Muscle who otherwise wouldn't be attracted to it or care to be. It will be interesting to see how the whole campaign plays out and if it's successful. All I can say is that this photo shoot must have cost a fortune. The lighting is amazing.
Something To Share
I get these emails every once in awhile alerting me to some academic articles on motorcycling that are quite interesting. I thought I'd share it with you. Visit http://ijms.nova.edu for the lastest articles from the International Journal of Motorcycle Studies. TheFall 2008 issue takes you back to the 1970s, to one apparently seminal year in motorcycle culture, to be precise: Errol Veith discusses the first serious Australian biker film Stone, while Adrien Litton revisits (and revisits and revisits) Robert Pirsig's book Zen and the Art of Motorcycle Maintenance — both introduced in 1974. In addition, this issue features reviews of Mobility without Mayhem, the Mammoth Book of Bikers and Hell Ride.
POSTED 10/6/08
New Kawasaki Touring Bike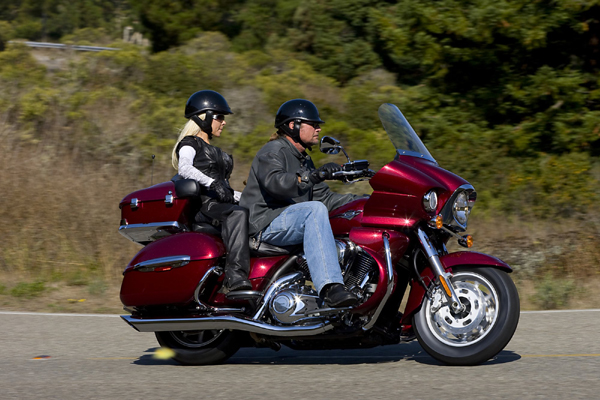 'Tis the season for new motorcycles to be unveiled by the motorcycle makers. Kawasaki, the only manufacturer to not have a modern, full dressed touring motorcycle in its lineup (the Voyager XII was dropped in 2003) is debuting for 2009 the Vulcan Voyager 1700, Kawasaki's first full-dress V-Twin touring motorcycle. This flagship Voyager is loaded with the latest technology including Kawasaki's first fully Electronic Throttle Valve system that combined with the fuel injection offers smooth, natural engine response.
A sophisticated new braking system called Kawasaki Advanced Coactive Braking Technology (K-ACT) enables riders to execute controlled, balanced braking. Available on the ABS equipped Voyager, the new system is designed to complement the rider's braking inputs, and utilizes control valves to distribute the ideal amount of brake force for maximum stopping performance. The six-speed transmission features overdrive fifth and sixth gears. Creature comforts include cruise control, a multi-function instrumentation with an audio system compatible with iPod, MP3 players and other systems.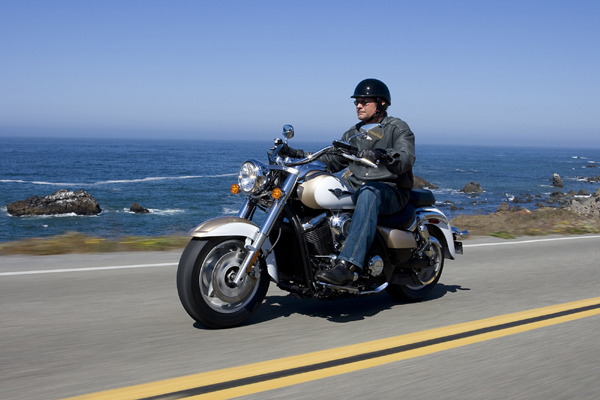 In addition to the Voyager, the new Vulcan 1700 Classic, Classic LT (soft bags and a windshield), and Nomad (hard sided bags) hits the market. It features a new frame and new engine making it technologically advanced over its cousin, the Vulcan 1600 and 1600 Nomad still in the line up. The Vulcan 1500 is also still in the line up. It will be interesting to see next year which Vulcan gets dropped now with the 1700 as part of the family. To read more about the new Vulcans, visit Kawasaki.com.



Limited Edition Ridley You've Got to See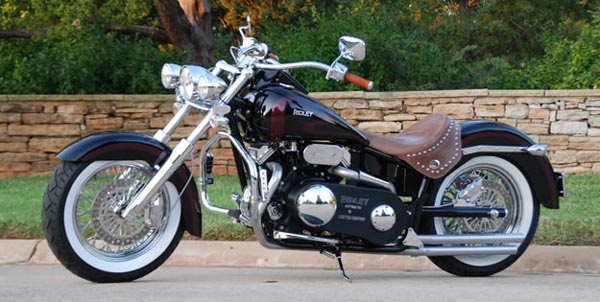 I'm a big fan of Ridley motorcycles because of their big bike looks and sound yet they're full automatic. No one knows you're riding a clutch-less motorcycle. The first model to be introduced for 2009 is the '09 Auto-Glide Limited Edition. For the past several years, Clay Ridley, founder of Ridley Motorcycle Company, has personally designed one model that includes many features not found on other production models. This year's Limited model is similarly styled to previous years with the signature "R" accent on the tank and newly added fender accents in black cherry. To help accent the paint, Ridley has included a bomber brown leather seat and brown "slim fit" hand grips.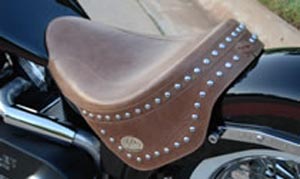 The tank mounted dash is a self calibrating speedometer and tachometer with odometer and resettable trip meter. Below the instrument cluster is an LED fuel gauge and battery volt meter. Both right and left fuel caps are still accessible for filling the individual, but joined 4.2 gallon stretched tanks. Included on the Limited are chrome driving lights, beachbar handlebars, a chrome roadbar with highway pegs, front and center mounted chrome horn, chrome and rubber floorboards, LED turn signals, 60 spoke chrome rims, and white wall tires. MSRP is $21,900. Visit RidleyMotorcycle.com, and to read our review of a Ridley, click here.
Be sure to click on the archives link at the bottom and at the top of this page to read last month's blog.
Who is Genevieve? Visit the WRN Our Founder link to find out more.