If you ride a Harley-Davidson touring or Softail model that has a front brake pedal with a rubber pad, you may have experienced your foot slipping on the rubber when the rubber gets wet, muddy or greasy, or when it wears over time. Well, the folks at The Robson Company have come up with another great idea to solve the problem of your foot slipping off the brake pedal. Its called the Knurlly Pad.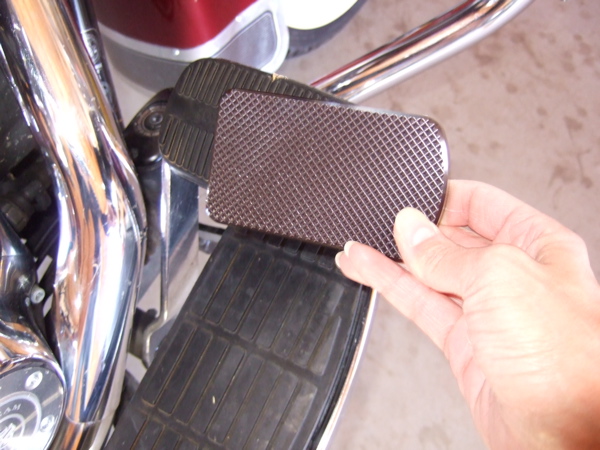 The Knurlly Pad is a metal brake pad with knurls pressed into it so your foot wont slip off. The pad is made of aircraft grade billet aluminum etched with a deep diamond cut so your boot cant slide off. The pad replaces stock rubber and chrome pads. The Knurlly Pad comes in black anondize finish (shown – $49.94) or a chrome ($64.95) finish. You pay additional shipping and handling. The pad comes with a replacement bolt and washers. Its easy to install yourself. Great idea! Visit RobsonCo.com or call 814.774.2775.
While were at it… theres one more product from those inventive Robson folks that replaces rusty washers on your highway pegs, riders pegs, and passenger pegs that they say "makes your chrome look like crap." If you experience this you know what they mean. Their product called "D-Washers" are made of a high quality polymer that is resistant to chemicals and replaces those rusty washers. The black polymer product is self-lubricating so it keeps a constant resistance on your pegs. Simple solution that costs only $3. Take a look at their Web site (RobsonCo.com) for photos and more details. You might want to order those, too. And take a look at another of their "problem solver" products in the Related Articles below.
Related Articles
Product News: Review of Thumbnail Extension