Falling temperatures can put the chill on the journey for some motorcycle riders. One way to extend your riding season is by wearing heated gear. But pants, vests, jackets and gloves that heat by hooking into your motorcycles battery can be cumbersome with all the wires. As a result, some riders have not "bought into" the whole heated gear concept.
We were excited when a new type of heated clothing came across our desk. Rather than having to rely on the power from the motorcycles battery, this heated clothing uses power from a small lithium battery to keep the gear warm using no wires.
These products include the same features found in heated gloves and vests weve seen in years past, only they are powered by a rechargeable lithium battery, negating the use of a plug. Both the gloves and the vest come with a charger; but the batteries are sold separately. Here are more details.
Womens Specific Battery Operated Gloves
Hands and fingers can get cold faster than other parts of the body on a motorcycle. To help keep those extremities warmer in the cold, Harley-Davidson has come out with new heated gloves that use Gerbings Microwire heating technology utilizing a patented process employing micro-sized stainless steel fibers that are intertwined and encased in a Teflon coating. The Microwire is then woven into a heating matrix that is placed in the glove. The heating matrix is covered with 100 percent genuine leather. This system provides consistent heat coverage to the entire length of each finger, including the thumb as well as the back of the hand.
The heated gloves are powered by a 7 volt rechargeable lithium battery. The battery pocket is built into the gauntlet cuff with a neoprene cinch-pull to seal out the elements. The womens battery operated gloves (part number 98349-09VW) are available for $170, and the battery charger for the 7 volt lithium battery (P/N 98548-09V) is $40. Each glove requires its own battery.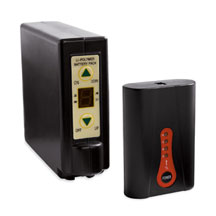 Battery Operated Vest
We like the idea of battery operated heated clothing that we thought wed share information on the heated vest even though its not womens specific. The Harley-Davidson battery operated vest is made of 60 denier ripstop nylon, has two front inset zipper pockets, and high-density heating pads in neck and body for even heat distribution. The vest includes a plug at the waist that attaches to a 12 volt DC or 12 volt rechargeable lithium battery and an additional garment. An on/off switch regulates heat during the ride. It also includes all wires and instructions, but does not include the battery.
While the vest is listed under mens clothing, we think it would look fine on a woman especially since youll probably be wearing it under a jacket. The battery operated vest (P/N 98355-09VM) costs $195, while the battery pack (P/N 98547-09V) is available for $75.
All items are available at your local Harley-Davidson dealer. For more information, visit Harley-Davidson.com.