Do you have a story to share? Please send it to us, but read these submission guidelines first.

It all started with the country song, Ive Been Everywhere (In Texas) by Brian Burns. I watched the YouTube video, listened to Burn's lyrics list many of the landmarks and cities in Texas and I thought, "How cool would that be to ride my black cherry 2006 Heritage Softail Classic, named Reveille, to those Texas cities?"
Women Riders Now E-Newsletter
Stay up-to-date on all things motorcycle! Latest gear, bikes and products reviews. Travel ideas, great product giveaways, and more.
Originally, I was planning on taking a picture of my motorcycle in front of each of the county signs, but that seemed boring—nothing but a green sign and my Harley. Then I realized that every county has a courthouse, so thats where I decided to take a picture of my motorcycle—in front of each of the 254 courthouses and in front of the state capitol in Austin.
The adventure began in March 2012. I could easily ride around my home county of Kendall and pass through Gillespie, Johnson, Bexar and the other neighboring counties in a days ride. However, the task became more difficult as I finished those counties close to home.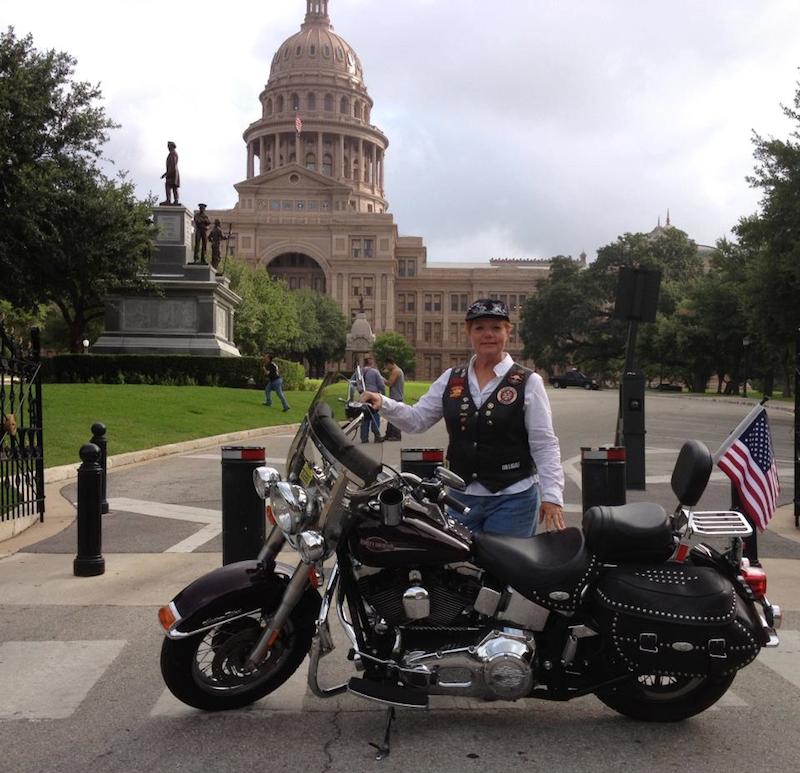 The day trips became overnights. My husband and I would zigzag through the Texas countryside for a day visiting such towns as Bryan, College Station, Austin, Abilene, Junction and Sweetwater. After a nights rest, we would move over to the next set of counties and meander our way back home.
The overnight excursions soon became three-day weekend trips to places like Houston, Galveston, Corpus Christi and Brownsville.Then it became four-day rides to get to areas not yet covered. Each trip took us one route out and another route back to get more courthouses. We spent a good deal of time mapping out the routes, arranging for hotels and meals and scouting for gas stops. Many county seats in Texas, we discovered, have no gas stations and no place to buy food and drinks.
The culminating ride was a six-day, five-night adventure through the Texas panhandle, which took us to 39 not yet visited county courthouses covering more than 2,000 miles. The mission was completed on July 5, 2013.
The adventures on those rides were fantastic! We met fellow riders from all over the world. While on old Route 66 we met a group from Europe who had rented Harley-Davidsons in Chicago to ride to Los Angeles and back. While in Muleshoe, we met up with the Muleshoe Roadriders and joined them in the Muleshoe Fourth of July parade.
The 16 months of riding added more than 20,000 miles to the odometer. The "Reveille" has now retired from touring, and was replaced with a 2012 red ember sun-glow Street Glide named "Clifford."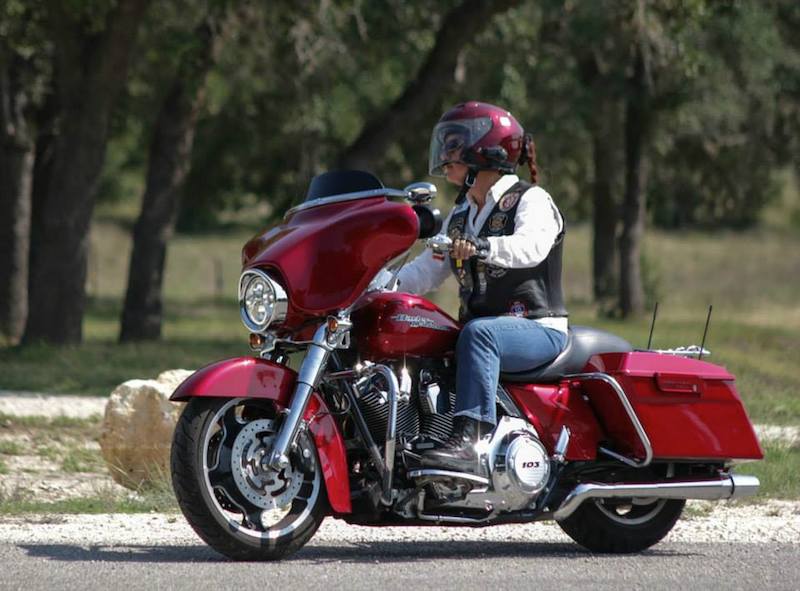 We are now preparing for the next item on our "Bike-It List," riding through every state in the United States! Another milestone reached during this epic quest was that I also became the fourth female road captain in our Harley Owners Group in which there are 34 men. Motorcycling has never been more challenging, or more fun, especially since I can now sing along to Burns song and really know how it feels to have "been everywhere, man."
Do you have a story to share? Please send it to us, but read these submission guidelines first.
Related Articles
The Alphabet Ride
Read More Reader Stories
Read More Touring and Adventure Stories