Every year, motorcycle manufacturers unveil their newest creations as well as updated models. At Women Riders Now, we're interested in new features and designs made with women in mind.
The manufacturers were featuring are BMW, Can-Am, Ducati, Harley-Davidson, Honda, Indian Motorcycle, Kawasaki, Polaris Slingshot, Royal Enfield, Triumph, and Yamaha. Take a look at our list, then post your comments on what bikes you love and why.
BMW
K 1600 BThis luxury touring motorcycle,WRN reviewed here, comes with a relaxed feet-forward position—perfect for long distance travel—and the extended windscreen gives the rider excellent weather protection. One of the features women will appreciate is the Shift Assist Pro allowing the rider to shift up and down without engaging the clutch. In addition, the low center of gravity makes it easy to comfortably handle the large motorcycle. The Grand America edition of this bike offers a few more details not found on the base model, including LED light integration in the top and side cases, optional passenger floorboards, and two new finishes.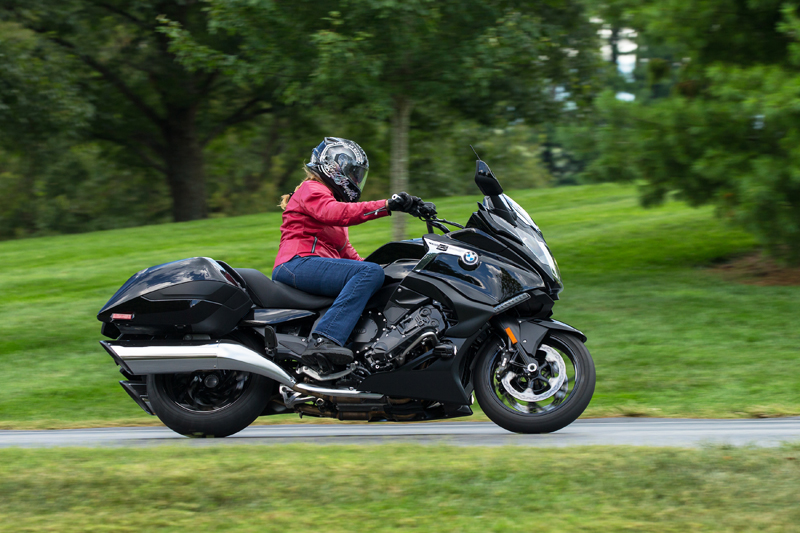 G 310 GS This sleek and compact brand new adventure motorcycle from BMW gives riders the opportunity to own a BMW for the affordable base price of $5,695. The relaxed seating position gives riders a comfortable experience across all types of terrain, and the bike's low weight of 374 pounds allows for easy maneuverability. This is a great option for riders new to dual-sport riding who want the time-tested reliability of a BMW GS motorcycle.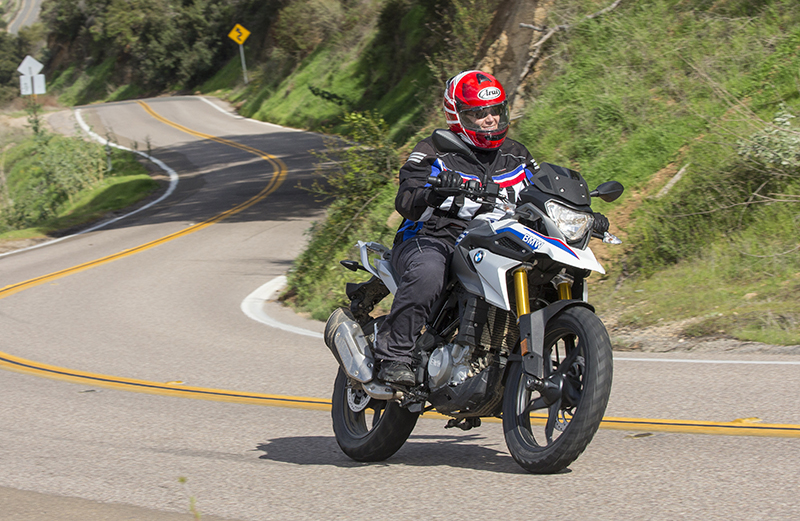 F 750 GS and F 850 GS Since their introduction in 2007, the GS models of the F series bikes have been popular with women who ride on the road and occasionally off road. The redesigned two-cylinder inline engine creates increased power and torque while helping to reduce fuel consumption. The addition of two new ride modes, Rain and Road, make for safe and enhanced riding no matter the conditions.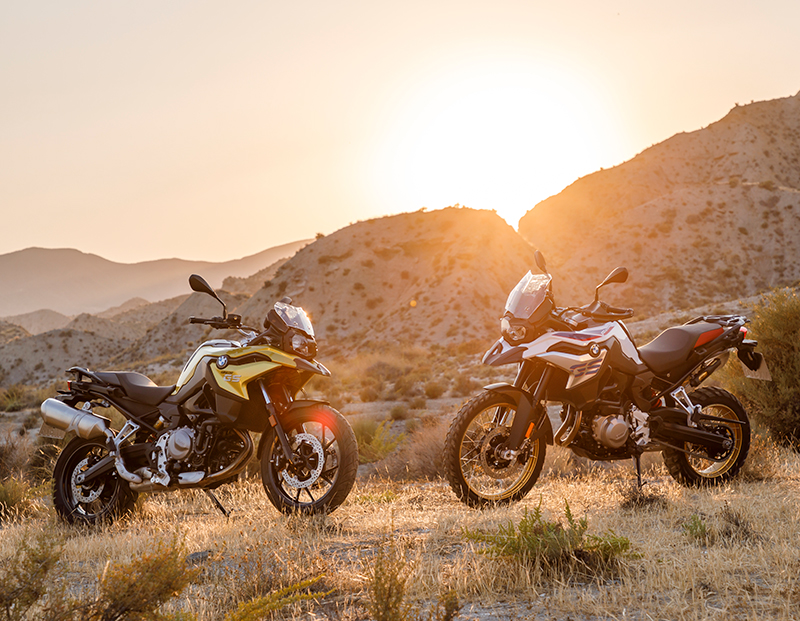 ---
Harley-Davidson
Sport Glide The Harley-Davidson Sport Glide is the ninth model based on the all-new H-D Softail platform. The sleek new motorcycle is lightweight allowing it to deliver agility and performance riders have come to expect from a Harley-Davidson cruiser. A low seat height of 26.5 inches and forward mounted foot controls make this bike a great fit for a broad range of riders. The icing on the cake includes a useful USB charging port, keyless ignition, and the Harley-Davidson Smart Security System, all of which come standard.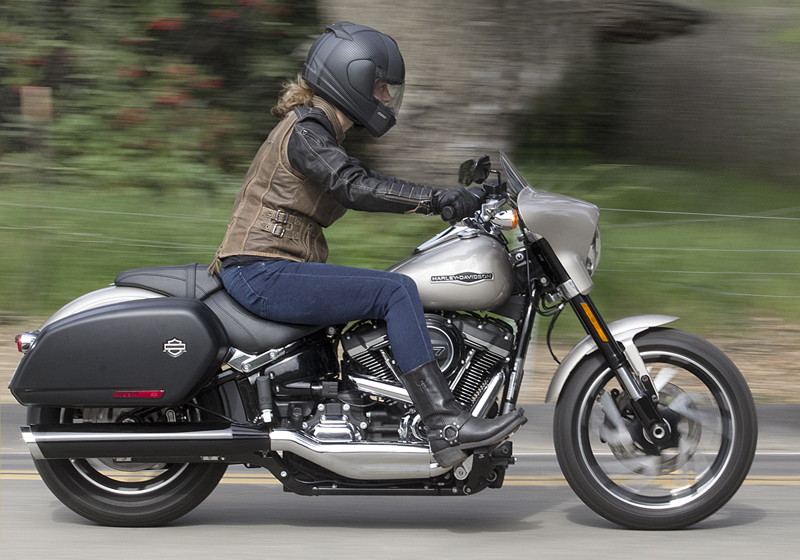 Street Glide Special One of the most popular touring modelsamong women, the Street Glide, just got even better. The 2018 Street Glide Special combines top-end touring technology with sleek style and a robust infotainment system. The blacked-out color scheme of the handlebars, front forks, and engine give this bike a modern look and pairs great with any of the five color options available. The responsive suspension has easily adjustable rear shocks giving the rider total control over the feel of the ride. Rounding out the package is the comprehensive infotainment system with full-color touchscreen display paired with hands-free mobile phone connectivity, GPS, and full range audio from the dashboard speakers.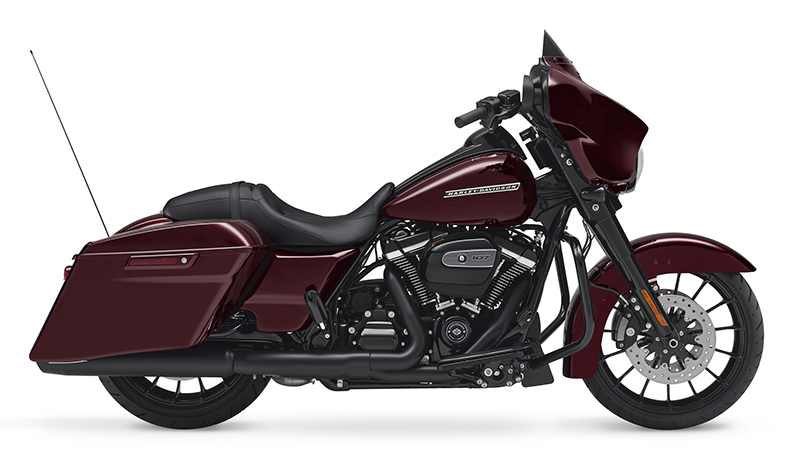 Softail — New Motorcycles Harley-Davidson is proud of its all-new Softail lineup,which WRN reviewed here. Besides the Sport Glide mentioned above, the eight other new Softails are the Street Bob, Low Rider, Slim, Fat Bob, Deluxe, Fat Boy, Heritage Classic, and Breakout. All these models are up to 35 pounds lighter and have a stiffer chassis for a more responsive ride with easier and better handling. H-D also splurged on new more powerful engines for the Softail lineup, giving each bike faster acceleration from 0 to 60mph, along with a smoother ride thanks to a counter-balance system that cancels out engine vibration while idling. These bikes aren't short on looks and any rider will be pleased to see the variety of styles available in the Softail family.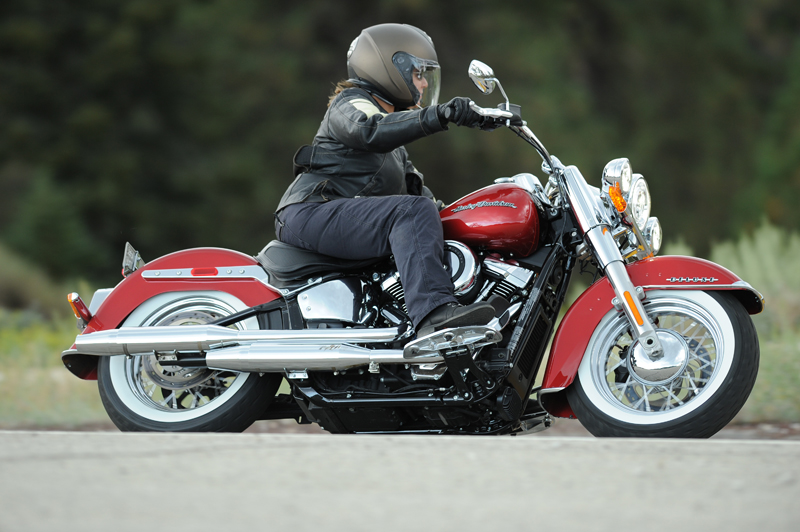 [page break]Page 2 of 4
Zero Motorcycles
Zero S Riders interested in dipping their toe into the electric motorcycle market will want to check out Zero. The battery range goes up to 233 miles, and when it runs out, the Charge Tank accessory helps it power up six times faster. Zero constantly updates its firmware to provide the latest in upgrades that riders can download and utilize through the Zero Motorcycles mobile app. All motorcycles that have the lighter weight ZF7.2 power pack offer 11 percent more rear wheel torque and provide max torque without sacrificing top speed.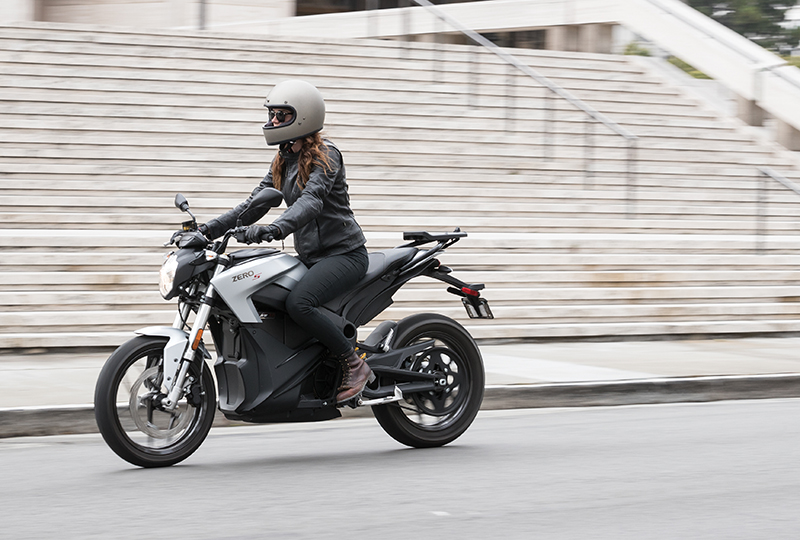 ---
Indian Motorcycle
Scout BobberThe new Scout Bobber from Indianthat WRN Founder Genevieve Schmitt reviewed here is a low-slung stripped down machine, but it's not being stripped of any power. It retains the same 69ci (1133cc) engine as its cousin, the Scout, but the ergonomics are different. The pegs have been moved 1.5 inches closer to the rider and the rear suspension has been lowered by 1 inch, making it an ideal motorcycle for shorter riders.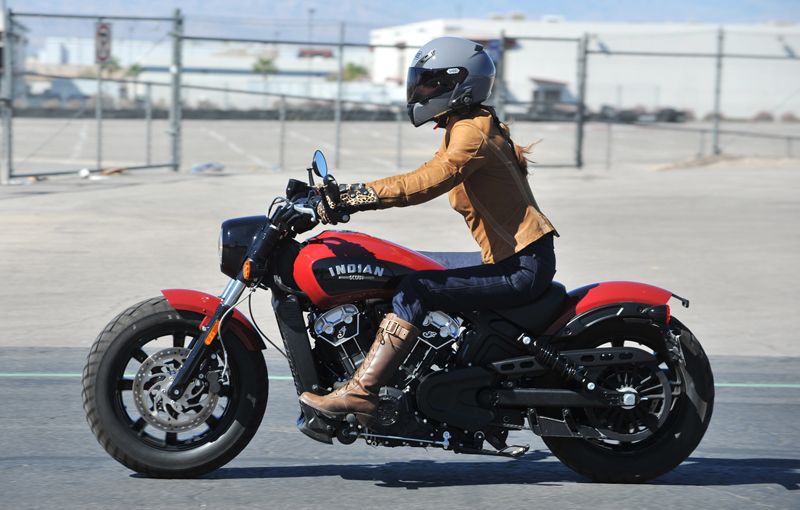 ---
Kawasaki
Ninja 400 This all-new 399cc offering from Kawasaki is the perfect balance of sport and street riding. It has the largest displacement engine in its class (a class dominated by 300cc machines) and the assist function provides a light clutch-pull women riders will appreciate. The tube-type steel frame contributes to the bike's low weight, coming in at just 366 pounds. This light weight and narrow profile makes the 30.9-inch seat height more manageable.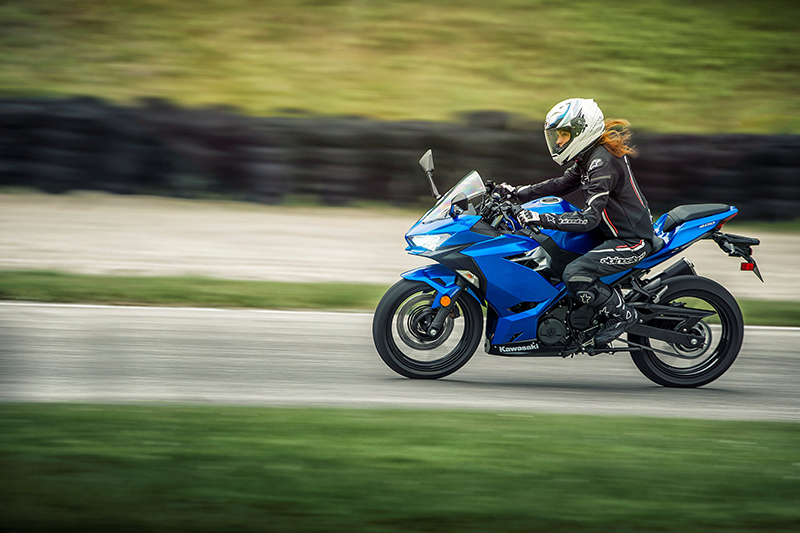 Z900RS Classically styled motorcycles are all the rage among entry level riders, so Kawasaki is fueling that trend with the fun Z900RS, where retro styling meets modern design. The bike pays homage to the 1973 Z1 900. These straight seats tend to be hard and uncomfortable so Kawasaki took that into consideration knowing riders may want to go longer distances on this 900cc motorcycle. Its been carefully crafted for road absorption to offer additional comfort on long rides. The inline-four motor delivers power and smooth acceleration for cruising at higher RPMs.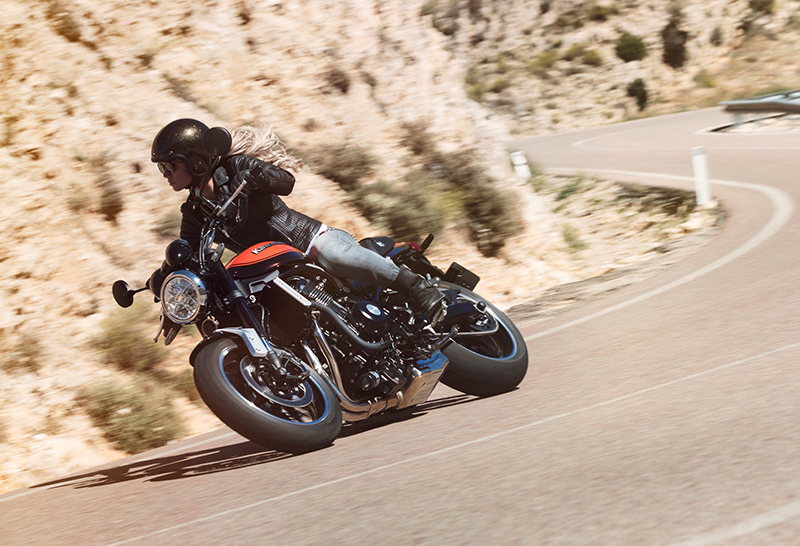 ---
Ducati
Monster 821 One of five new models Ducati is unveiling for the 2018 model year is an updated version of the Monster 821 to celebrate the 25th anniversary of the original Ducati 900 naked sport. The new 821 has a sleek, streamlined design, perfect for any rider looking to take their first spin on a Ducati. A full-color Thin Film Transistor (TFT) display also makes its debut on the 821. TFT technology, used widely on flat panel displays in consumer electronics, is now making its way to the motorcycle world. TFT displays benefit motorcyclists by reducing glare making the dash easier to read in the sunlight while the higher resolution produces a screen thats crystal clear and easy on the eyes. An optional accessory offered on the new Monster 821 is the Ducati Quick Shift up/down for easy shifting without using the clutch or closing the throttle when upshifting.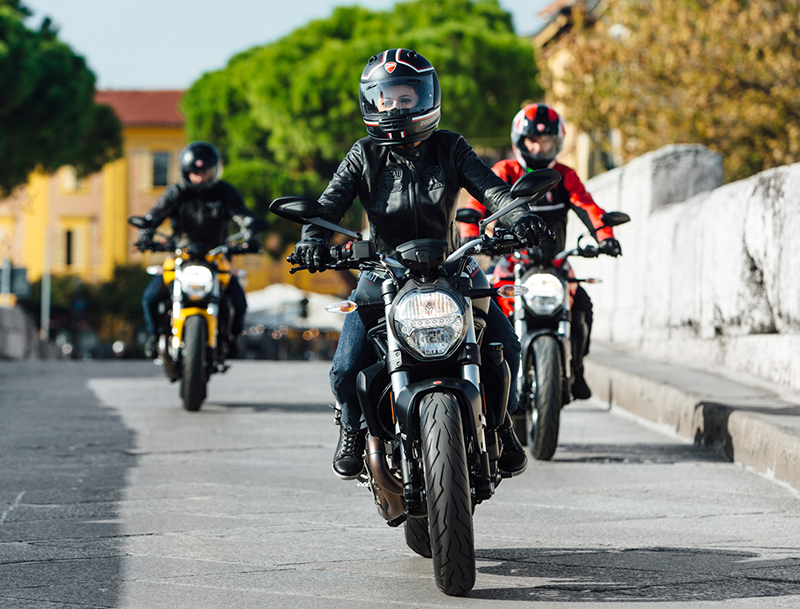 ---
Can-Am
Spyder F3 & RTWith these updated 2018 models, Can-Am has prioritized rider connectivity and tech integration for a brand new user experience. A new joystick mounted near the left handgrip gives riders access to real-time GPS and weather info without losing focus on the road ahead. Two available transmission options lets riders choose between a 6-speed manual with reverse, or a 6-speed semi-automatic with reverse. Vehicle stability systems with ABS, traction control, and stability control promise a smooth ride for all. There are two Spyder model families, each offering the stability and benefits of riding on three wheels, a Spyder F3 (cruiser touring) and Spyder RT (touring).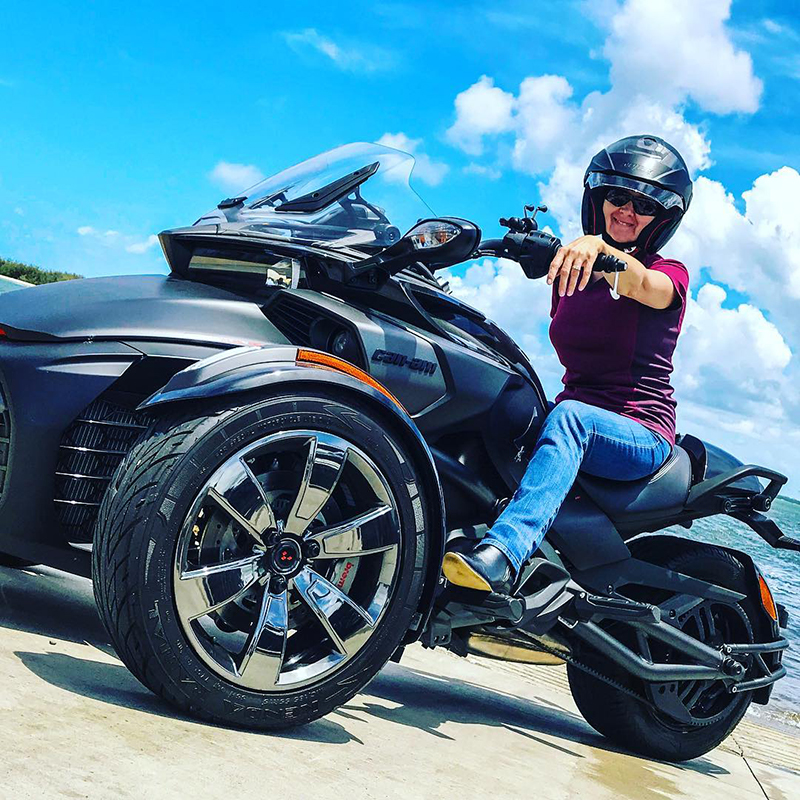 [page break]Page 3 of 4
Honda
Gold Wing This luxury tourer made our list of top touring motorcycles women love, so we're excited for the next generation Gold Wing to make its debut in 2018. An all-new 1833cc powerplant along with a massive 90-pound weight reduction are what make the 2018 Gold Wing so significant. Lighter and more powerful are what define the updated version of this classic tourer.
For the first time ever, Honda is offering an upgraded 7-speed DCT (Dual-Clutch Transmission) on all three Gold Wing versions, Gold Wing, Gold Wing Tour, and Gold Wing Tour Airbag. Six-speed manual is standard on the Gold Wing and Gold Wing Tour. Another exciting new addition is the Walking Mode featured on all Gold Wing DCT models. This mode lets you creep forward or backwards at a walking pace, making it easy to get in and out of tight or sloped parking spaces. Watch for WRN Assistant Editor Tricia Szulewski's review of the Honda Gold Wing coming soon.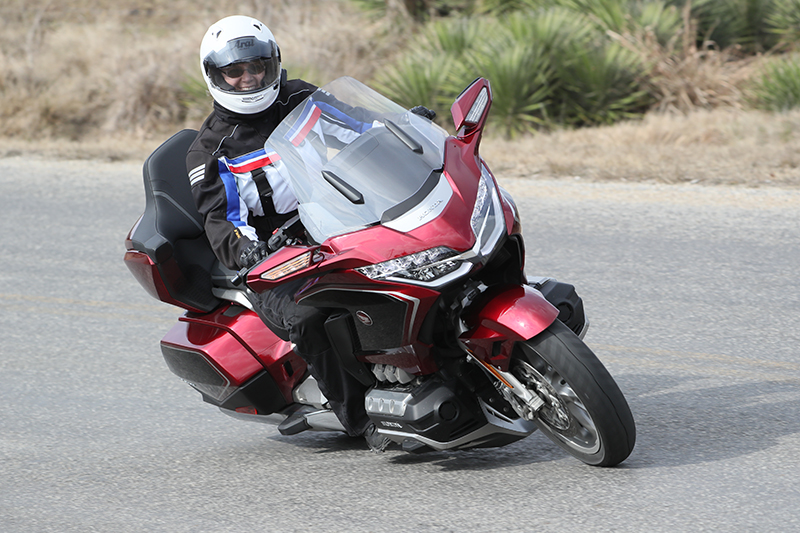 CB1000R You'll either love it or … well, not. We were intrigued by the new design of this classic sportbike from Honda. Available this summer, the four-cylinder Honda CB1000R has undergone quite a facelift to bridge the gap between performance and cafe-racer inspirations. Throttle-by-wire technology gives riders the option of four distinct ride modes, Standard, Sport, Rain, and the aptly named User, where a rider can customize their riding style—ideal for any weather conditions or rider preferences.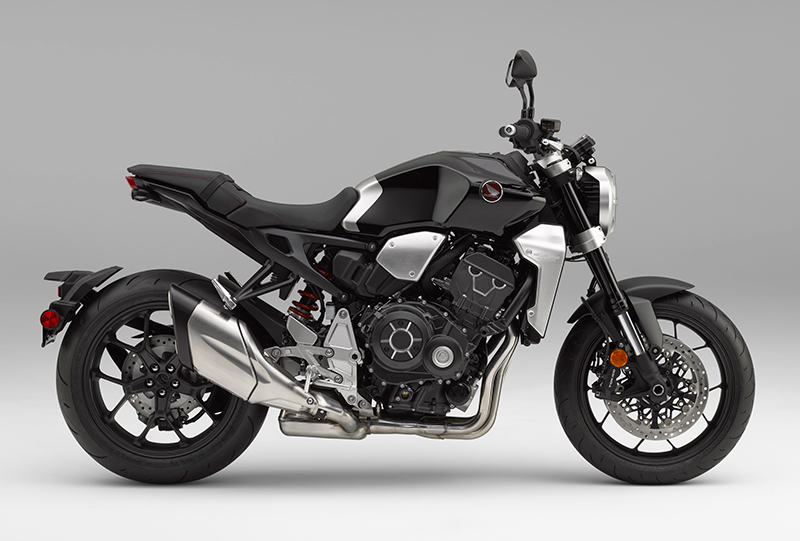 NC750X This model is filled to the brim with 2018 updates sure to please any rider. First and foremost is the addition of two-level Honda Selectable Torque Control (HSTC), also known as traction control. Honda has also added a boost of 75cc, from 670cc to 745cc. The 2018 NC750X gets a larger windscreen and more comfortable seat. The popular dual-clutch transmission will continue to be an option for the 2018 model, along with various customizable aspects including adjustable dash colors that can be changed on a whim.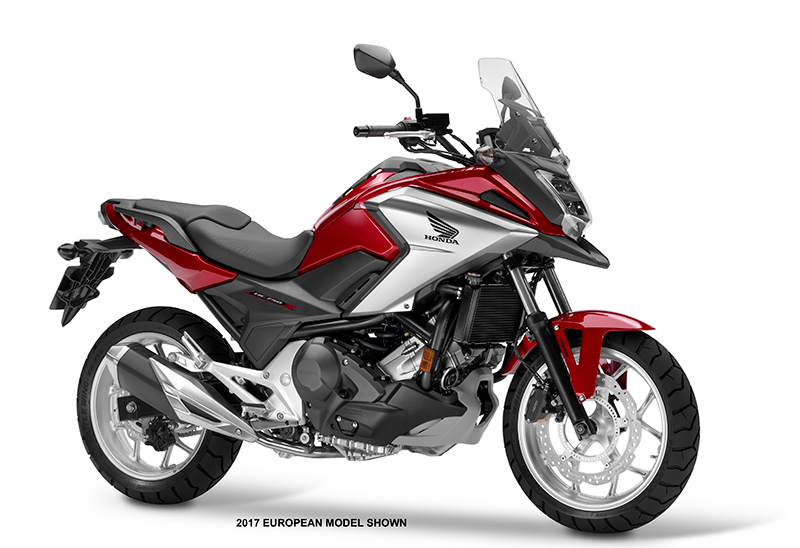 ---
Polaris
Slingshot The three-wheeled roadster Slingshot, reviewed here, has some high-tech upgrades for 2018. The Ride Command infotainment system is the first of its kind to offer user-friendly options for GPS navigation, audio, and Bluetooth connectivity. The Slingshot also offers a plethora of personalization accessories like quilted seats and rear fenders to fit the preferences of the rider.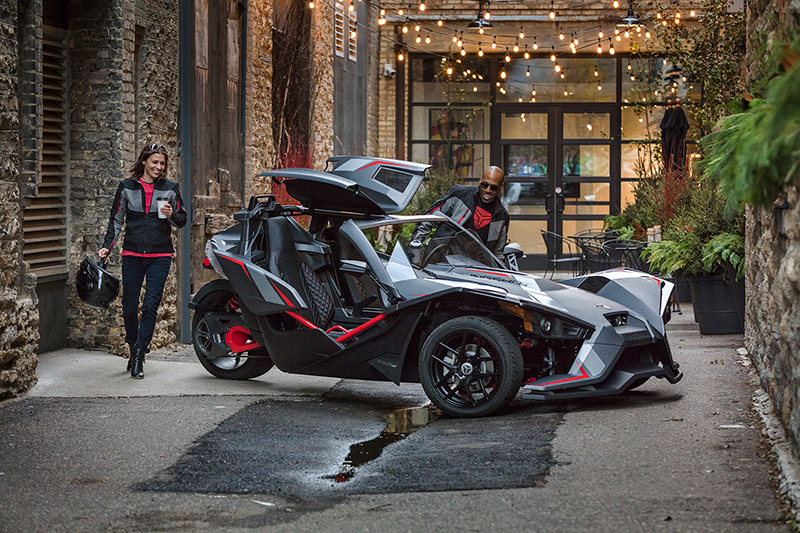 ---
Triumph
Tiger 800 Triumph's popular Tiger lineup hits 2018 with major updates to the off-road capability and the on-board technology. The Tiger 800s have a more responsive and optimized triple-cylinder engine, and a shorter ratio first gear gives the bike enhanced off-road traction and low-speed maneuverability. On the technology side, Triumph has updated the dash of all the 800s to a full color Thin Film Transistor (TFT) instrument panel, cruise control, and added the new Off-Road Pro riding mode.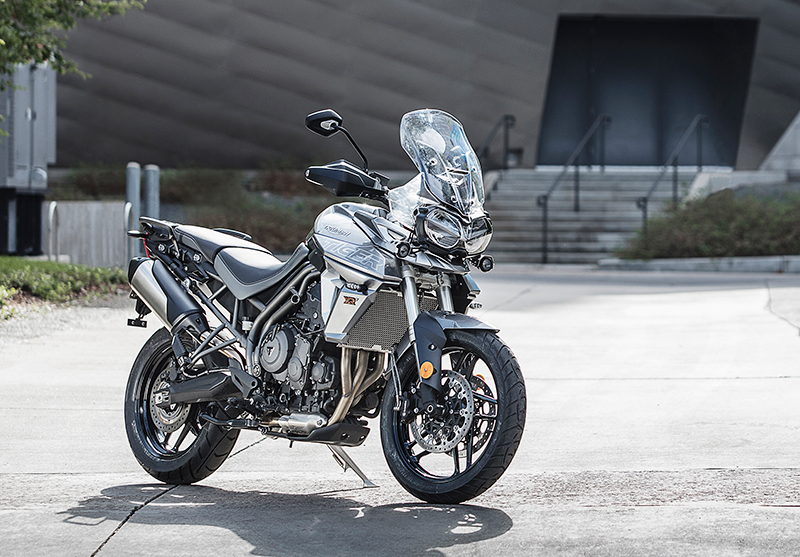 Bonneville Bobber Last year's model of the Bobber was the fastest selling motorcycle Triumph had seen in its 115-year history. Building on that success, Triumph has added some upgrades to make it even better for 2018. The original tire has been switched out in favor of one that's fatter, and two brake discs replace the one up front, which not only boosts braking power, but also boosts the bike's style. Cruise control is a welcome new feature to the 2018 model as well.
Bonneville Speedmaster You can think of the new Speedmaster as a more practical version of the Bobber mentioned above. It's a two-seater but can be adjusted to a single-seat look, and it also has a larger gas tank than the Bobber. It has a low seat and wide handlebars to give it a classic cruiser look. The Speedmaster matches all current Triumph bikes with the addition of throttle-by-wire, allowing for the addition of cruise control and traction control.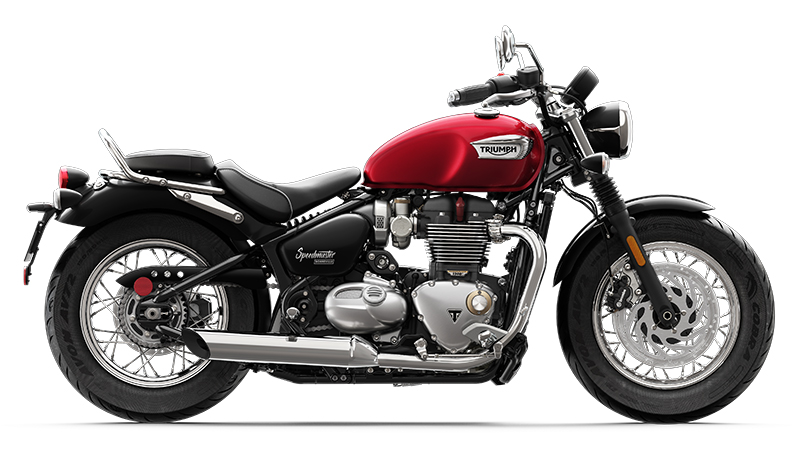 [page break]Page 4 of 4
Royal Enfield
Interceptor 650 and Continental Twin Both of these Royal Enfield models have a new 650cc parallel twin engine, while sharing the same frame, suspension and brakes. Where the two models differ is in appearance. The Interceptor is styled after its 1960s counterparts featuring an upright riding position. The Continental is modeled after cafe racers with a solo seat, clip-on handlebars, and vintage tank badging.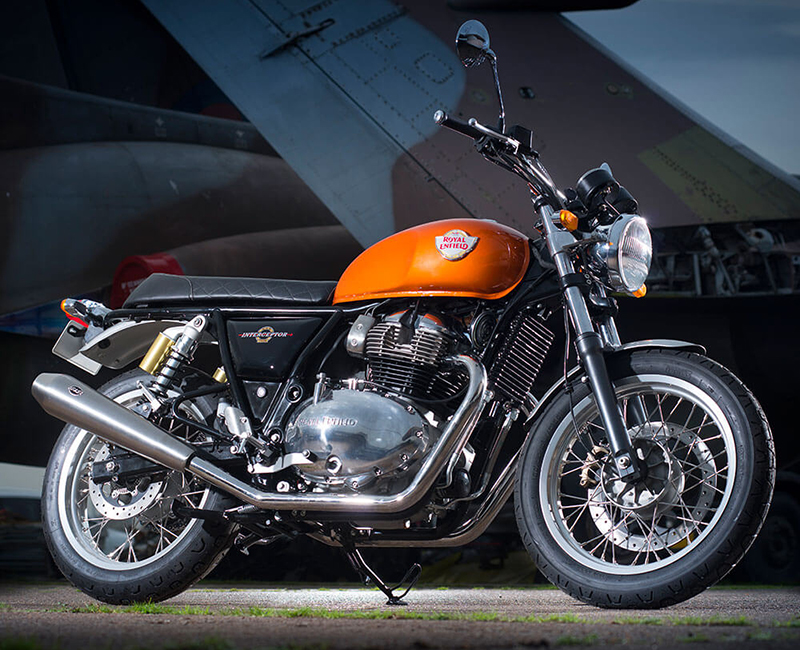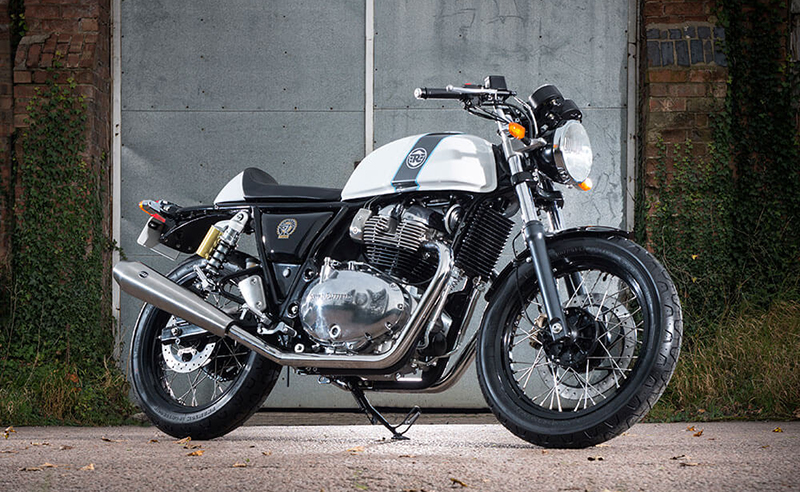 ---
Yamaha
XSR700 The narrow frame design and low weight of the XSR700 allows for light and nimble handling with plenty of power provided by the two-cylinder engine. Yamaha has introduced a vibration-reducing counterbalancer for a smoother ride. The electronic fuel injection system delivers consistent throttle response and also adds to the economical 58 miles per gallon.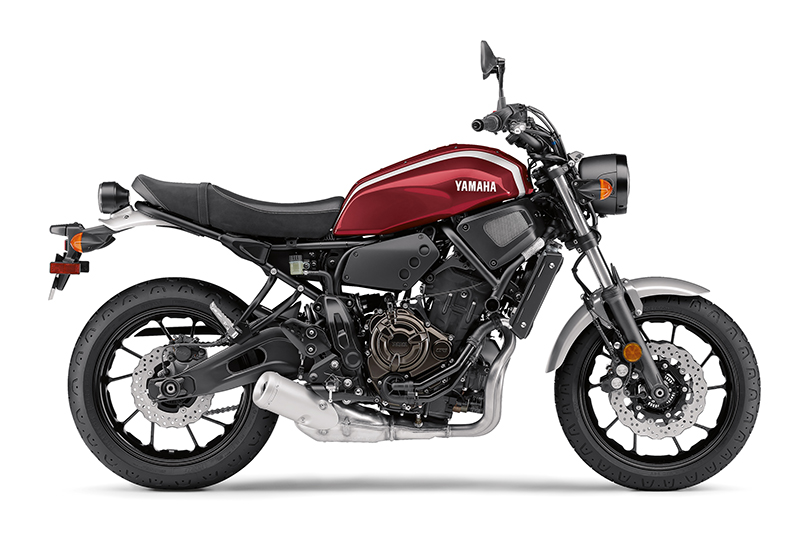 Star Venture/Star Eluder Both versions of this Yamaha touring motorcycle are designed with long-distance riders and passengers in mind. Heated seats for both occupants come standard, and the 27.4-inch seat and 27.6-inch seat on the Star Venture and Star Eluder respectfully allows the rider to comfortably mount and dismount. The V-twin engine delivers on torque for both models, and comes with traction control and selectable riding modes to fit rider preferences. The large-diameter forks are designed to soak up bumps while handling high speeds without losing any responsiveness. Additional features include generous storage space in the saddlebags, a "smart" ignition system, and a wide range of aftermarket accessories to showcase one's own personal style.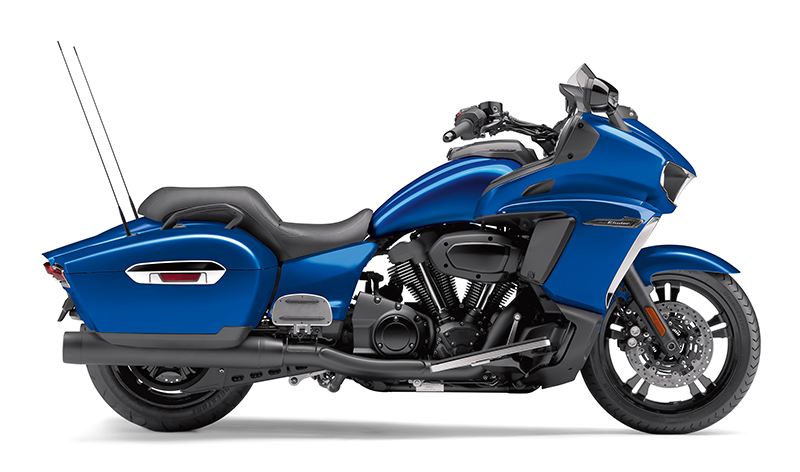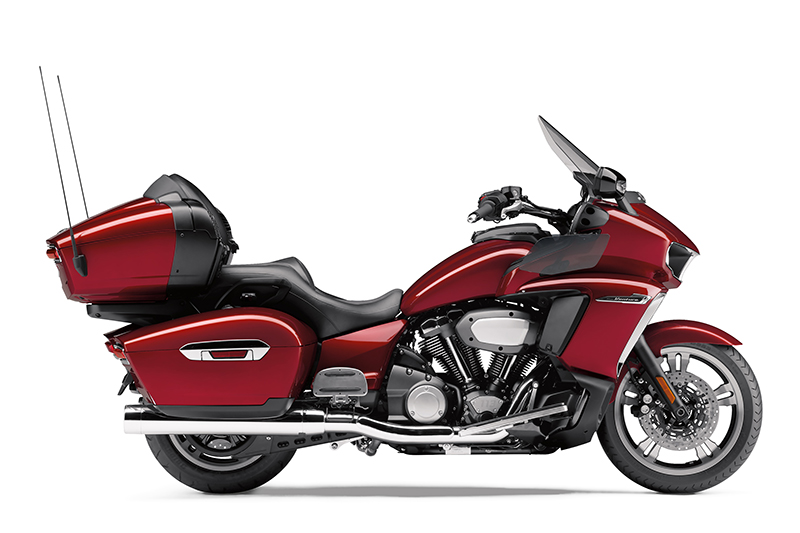 We'd love to hear from you on what new motorcycles excite you and why. Please post your comments below.
Related Articles
Review: BMW K 1600 B
Top 10 Motorcycles Women Ride