Ive been following Victory Motorcycles since the company started in 1998. Five years ago, Victory went through a management change with the new General Manager Mark Blackwell promising to introduce at least one new, significant motorcycle each year. Bikes like the Vegas and the Jackpot made huge waves when they came out winning awards for their styling, performance and handling.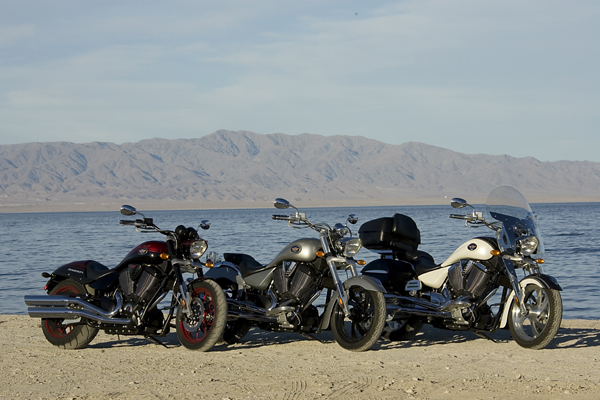 Now, in its ninth model year, the company billing itself as "The New American Motorcycle," comes full circle offering a variety of motorcycles to suit the needs of every cruising rider. Here are the 2007 motorcycles with a spotlight on the ones I tested.
New for 2007: Kingpin Tour Quick Review
The Kingpin, introduced in 2004, is one of my favorite motorcycles because its so easy to ride. It lifts effortlessly off the kickstand and feels and rides so much lighter than it is. Ergonomically, it fits my 5-feet 6.5-inch frame perfectly right out of the crate, thats why I like it so much.
The Kingpin Deluxe (no longer available) with its windshield, saddlebags, and floorboards made the Kingpin even more appealing because I require comfort when touring. Imagine my delight when I heard the Kingpin is now available in a long-haul touring version this year with the addition of a roomy top box (big enough to fit a full face and half helmet) giving me more reasons to take this bike on a long ride.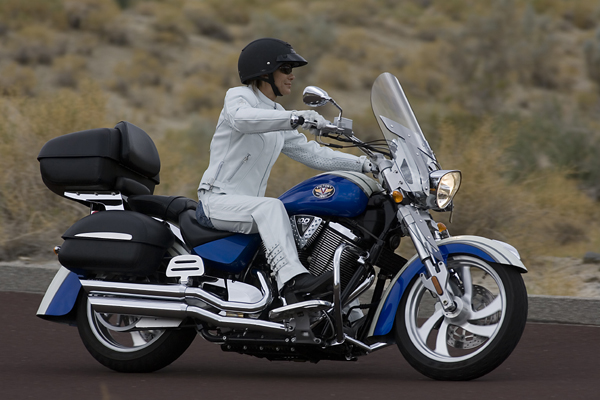 The first thing I wondered was how the extra weight of a rear top case (which is leather to match the saddlebags and both are lockable) would effect the low center of gravity feeling I love so much about the Kingpin. Would the bike feel top heavy now? It weighs a hefty 736 pounds. Uprighting it from the kickstand, the bike felt no different to me than the Kingpin Deluxe. I couldnt tell the top box was there.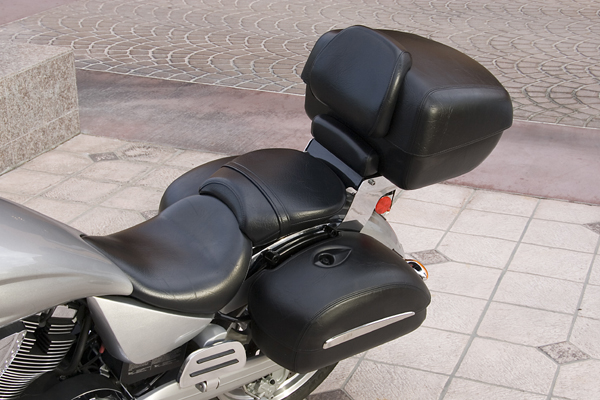 Out on the road as I leaned into the corners and swept through the twisties, the Kingpin Tour handled all of its weight with ease never rendering a feeling of uneven weight distribution. While this is one of the heaviest motorcycles Ive ridden, it feels the absolute lightest. For women, how a bikes weight feels is so important. Women dont want to muscle a bike around, on the road or in a parking lot. At slow speeds, they dont want to "feel" the weight of the bike. The Kingpin Tour feels just like its stripped down cousin a streamlined, low center-of-gravity motorcycle.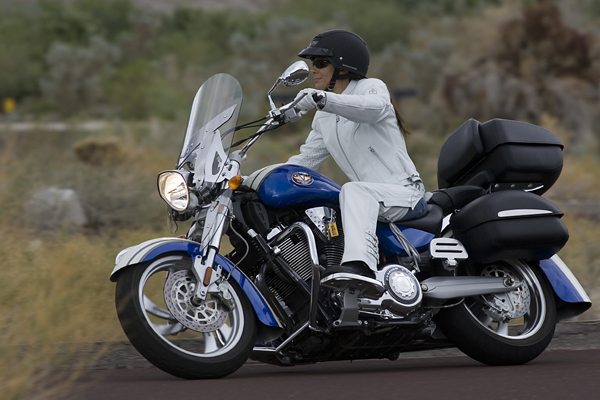 The Tour boasts an extremely low 26.5-inch seat height, low enough for riders with shorter inseams. The saddle is not too wide so you wont lose precious leg inches in the spread. The handlebars are angled in close to the rider thanks to two-inch risers. Large boot-length-sized floorboards offer plenty of resting area for the feet.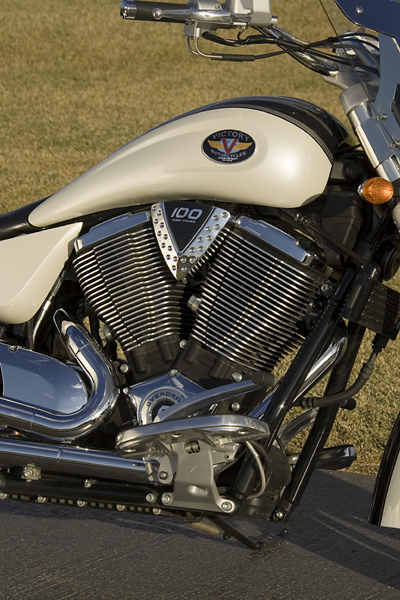 The bike is powered by Victorys Freedom V-Twin 100 cubic inch motor (thats 1634cc) with electronic fuel injection. There is a sixth gear overdrive, which is nice when youre riding up around 70 to 75 mph and want to lower the rpms by kicking up a gear. I would have liked a little more power at the bottom end of each gear. Not sure if all the weight has affected the get-up-and-go of the bike. I recall this same motor having plenty of zip off the line in Victorys slimmed down cruisers like the Vegas and the Hammer.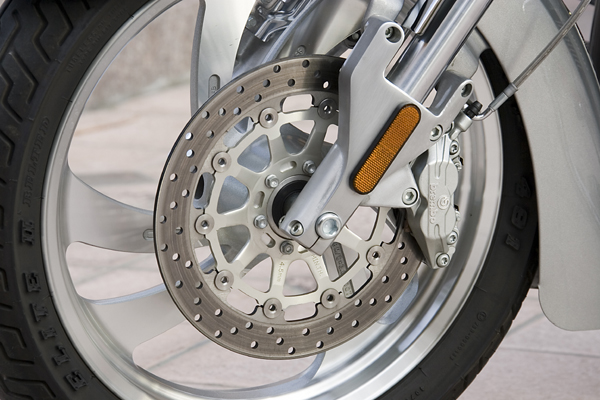 My seat time was limited on the Tour, (so many more features to evaluate) so Ive arranged to spend all summer on it and deliver a more complete report.
Specs at a Glance: 2007 Kingpin Tour
Displacement: 1634 cc
Seat Height: 26.5 inches
Fuel Capacity: 4.5 gallons
Dry Weight: 736 pounds
Colors: Solid Turbo Silver with Firemist Clear, Super Graphite/Pearl White, Pearl White/Boardwalk Blue, Solid Black
MSRP: $17,999
WRN Recommendation
Most touring bikes can be a lot of bike for the average woman to handle. The Kingpin Tour, while it provides similar storage capacity and engine power as most comparable touring cruisers, feels a lot lighter and is easier to handle than most. Any woman considering trading up to fully dressed motorcycle should spend some time looking at the Kingpin Tour. Better yet, take it for a test ride. Thats what sold us on the bike.
New for 2007: Hammer S Quick Review
Wow, what a powerful, muscle bike. Is there such a thing as a muscle bike? I rode the Hammer when it first came out in 2005. Strong, meaty, muscular is the only way I can describe it. The S version comes with a sporty, aggressive riding position feet forward, arms forward, but not too forward like drag bars. Theyre just more forward than the regular Hammer. It wears the same beefy 250mm tire as the Hammer, the largest size tire Im comfortable riding. Any bigger and youre fighting the bike around the corners. Its just no fun.
The Hammer S S standing for super sporty ? comes with striking red and black paint accented with a blacked out engine, bars, mirrors, and gauges; the Performance Machine custom wheels are powder-coated red. Seat height is a low 26.4 inches. The saddle is a bit wider to accommodate the fat rear tire, so you may lose about half an inch in leg length on either side.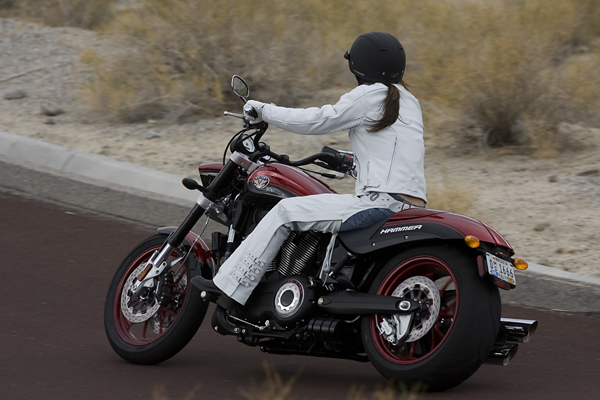 I enjoyed my short ride on the Hammer. A quick twist of the throttle and the bike takes off quickly and sharply. Despite the fat tire in the back, which can sometimes make a bike lumber though the turns, the Hammer S glides effortlessly, a testament to Victorys superb handling – something Ive found to be true for all Victory models.
Stopping is strong and exact thanks to a sportbike quality braking system. Two floating rotors up front with 4 pistons, and one rotor in the rear with two-pistons squeeze the bike to a stop. Its a fun bike to ride; its a lot of bike to ride, but fun none-the-less.
Specs at a Glance: 2007 Hammer S
Displacement: 1634cc
Seat Height: 26.4 inches
Fuel Capacity: 4.5 gallons
Dry Weight: 672 pounds
Colors: Solid Turbo Silver with Firemist Clear, Super Graphite/Pearl White, Pearl White/Boardwalk Blue, Solid Black
MSRP: $19,749
WRN Recommendation
The Hammer S is one of those motorcycles that will have people thinking you had custom bike built. Its striking and beautiful, plus, its a limited edition, so not everyone will have this motorcycle. If you want a bike that draws a crowd and you can handle riding a beefy motorcycle (i.e. youve got some experience under your belt) then this bike is worth checking out.
To read part two of this article outlining what we think of the other Victory models, click here.
Visit VictoryMotorcycles.com for more information.
Related Articles
Motorcycle Review: Victory Vision Tour/Street
2007 Victory Motorcycles Part 2: The Rest of the Lineup