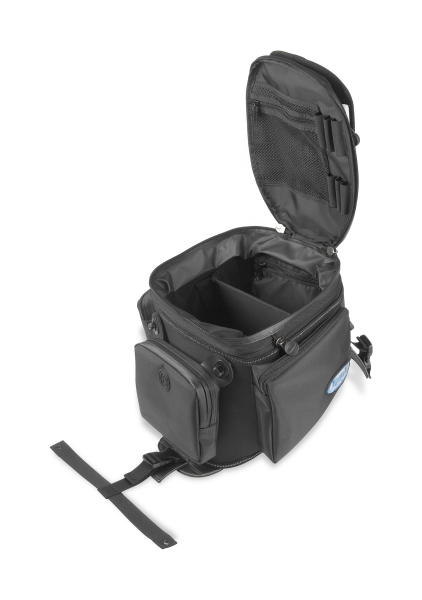 Buell introduces the new deluxe tank bag for Buell XB models. This new tank bag has removable side pockets and dividers for more packing versatility. It also includes a removable MP3 case.
The weather-resistant polyester fabric bag has waterproof zippers, and the rigid body which expands up to four inches for increased storage capacity maintains its shape whether empty or full.
A snap-buckle mounting system makes it easy to install and remove. A shoulder strap and a rain cover are included. MSRP $142.95.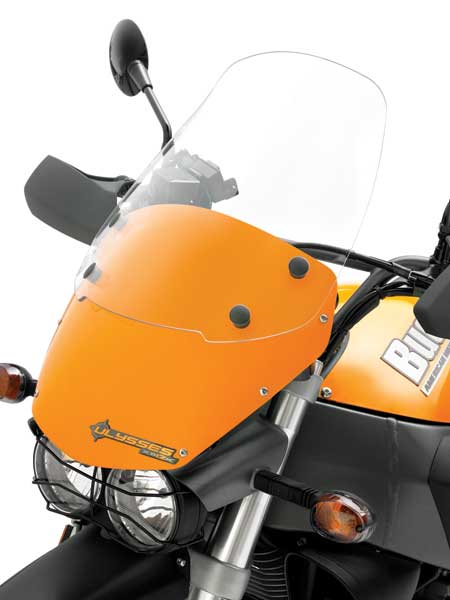 Buell also introduced a brand new tall windscreen, which fits 2006 and later XB12X models and is four inches taller than the standard windscreen. The company says this taller windscreen will help provide more rider coverage and weather protection.
The clear windscreen has a hard-coated surface to help resist scratching, and is mounted over an opaque flyscreen. A gap between the windscreen and flyscreen is purposely designed to direct a limited amount of air into the rider cockpit area, to help reduce turbulence for a more comfortable ride. MSRP $99.95.
Details can be obtained at your nearest Buell dealer, or visit the Buell Web site at buell.com. To find a dealer near you, call toll free at 800.443.2153 in the U.S.A. and Canada.