Well start off with the most accessible Victory in terms of price and size when it comes to fitting most women.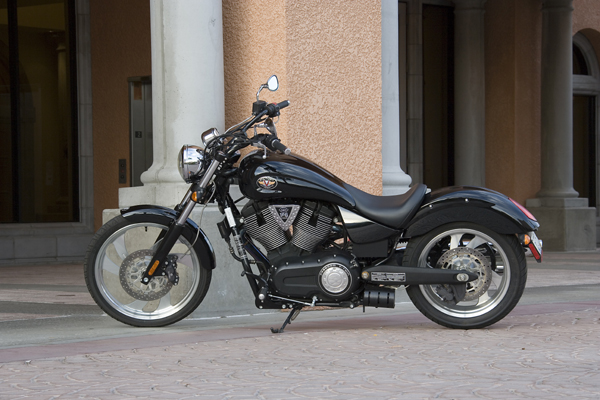 The Vegas 8-Ball, priced at $13,999, is a blacked out version of the Vegas, making it about $1,800 cheaper than the Vegas. It has a solo seat and minimalist styling. The 26.5-inch seat height accentuates the low center of gravity feeling of this motorcycle. Its a slim and nimble bike that zips around corners.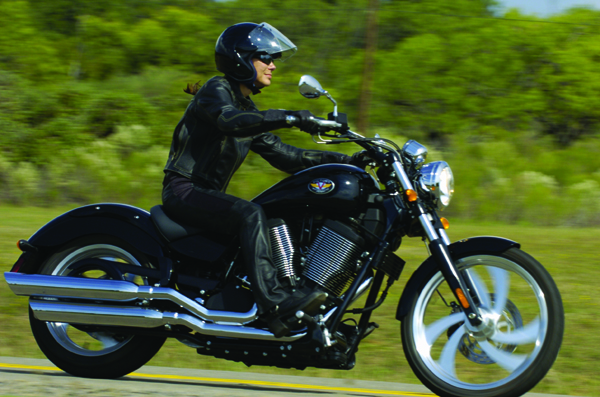 Ergonomics and performance are the same as the Vegas, but there is no sixth gear on the 8-Ball. The 100 cubic inch Freedom V-Twin motor with electronic fuel injection powers the bike. New features for 2007 include subtle changes like the swingarm and strut covers now have engine black paint, and black wheels are standard. Plus, there are 197 Vegas accessories that fit the 8-Ball.
Vegas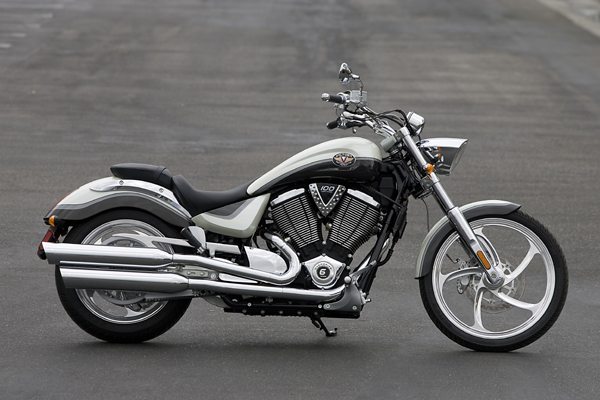 For $15,799 you get a solid cruiser loaded with custom accents. The Vegas provides a smooth ride powered by the 1634cc Freedom V-Twin motor with sixth gear overdrive. A lot of women love this motorcycle because it handles so easily without sacrificing power or style. You get it all with the Vegas. New features for 2007 include a custom-inspired headlight, and a swingarm thats been cast, not forged making it stronger and lighter.
Vegas Jackpot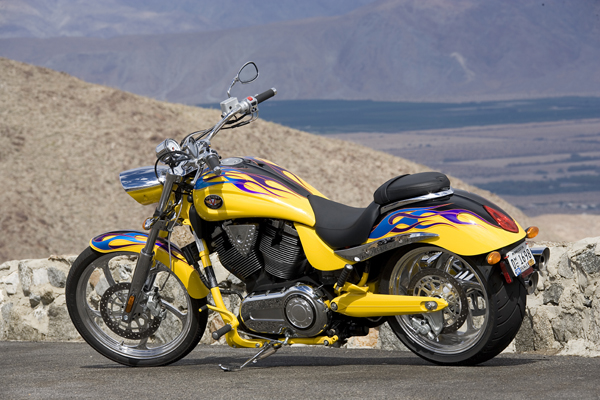 The mega, supped up version of the Vegas is the Jackpot boasting a fat 250mm tire, flashy graphics, and a raked front end. This is a visually stunning motorcycle, but that 250mm tire is not recommend for non-experienced riders. Its a lot of motorcycle to handle. It comes in six eye-catching color combinations and boasts 152 accessories including a two-up touring seat with backrest. Youll pay $17,499 for this beauty.
Kingpin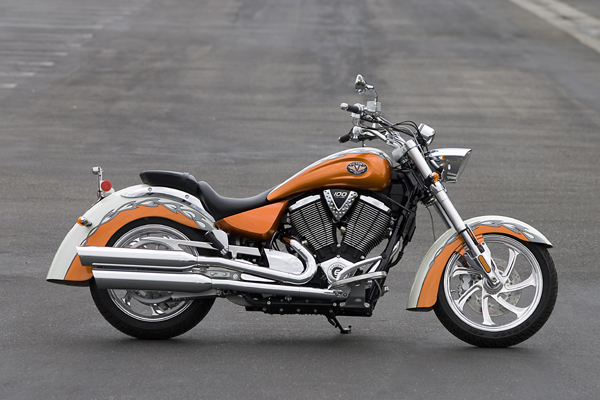 This is the most versatile model in Victorys lineup offering a smooth ride, great power and a large 130mm front tire wrapped around an 18 inch wheel. Pullback handlebars and floorboards give the rider a more relaxed ride than the Vegas. Low valanced fenders give the bike a laid-back cruiser look. If you dont like the new Kingpin Tour, buy this version and accessorize it yourself. A lot of women would rather pick the parts they want from a catalog to suit their style of riding. New features for 2007 include a custom-inspired headlight, and a swingarm thats cast not forged making it stronger and lighter. Two hundred eight accessories can be found for this bike in the 2007 catalog. Price: $15,999.
Hammer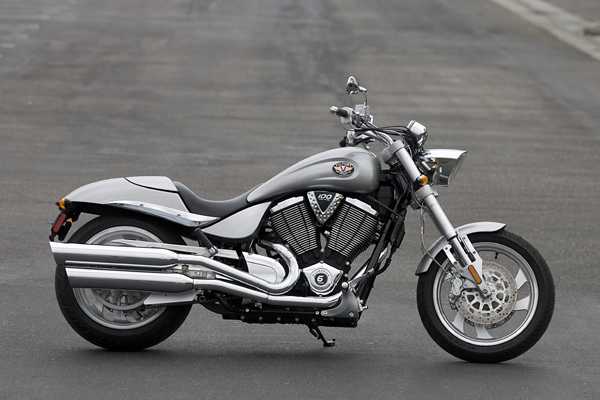 The Hammer is Victorys marriage of sport performance with cruiser style. Inverted cartridge type forks offer smooth handling, and sportbike quality braking come in the form of two 300mm rotors up front. The solo ride can be easily converted to two-up riding with the integrated tail that doubles as a passenger pad. Women used to a sporty ride who want to test the cruiser waters wont be let down by the performance and handling of the Hammer, but know that its a lot bike because of that big rear tire. New features for 2007 include a custom-inspired headlight and a swingarm that is cast not forged making it stronger and lighter. Price: $16,899.
Ness Signature Series Jackpot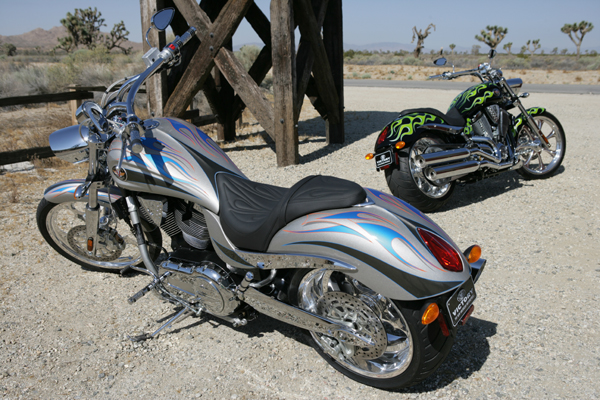 Arlen and Cory Ness have been part of the Victory design team for several years lending their custom touches to one or two motorcycles each year in a limited edition model. For 2007, the Jackpot gets a style makeover in two different versions: The Arlen Ness version and the Cory Ness version. Expect lots of chrome, billet, diamond-cut engine cylinder fins (that literally look like diamonds shimmering on the edges of the fins), striking paint colors, graphics, and accessories.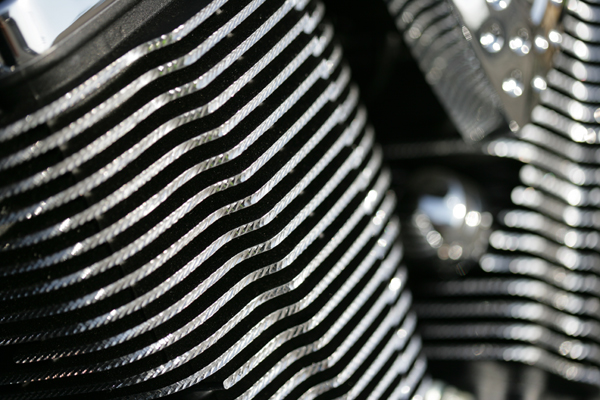 These models are only available for model year 2007. Both versions retail for $22,999. Perfect for the woman who wants the best, the top-of-the-line, the crème de la crème and has the bucks to buy it. Those shimmering "diamonds" cant be beat!
Visit VictoryMotorcycles.com for more information.
Related Articles
2007 Victory Motorcycles Part 1: The New Models