Have you customized your motorcycle a little … or a lot? No matter what you did, we want to show off your bike on WRN.Find out how to submit your bike photos here.
How did it all begin?
Well, it really was no miracle. What happened was just this:
The wind began to switch, the house pitch, and suddenly the hinges started to unhitch.
Just then the witch, to satisfy an itch, went flying on her broomstick, thumbing for a hitch.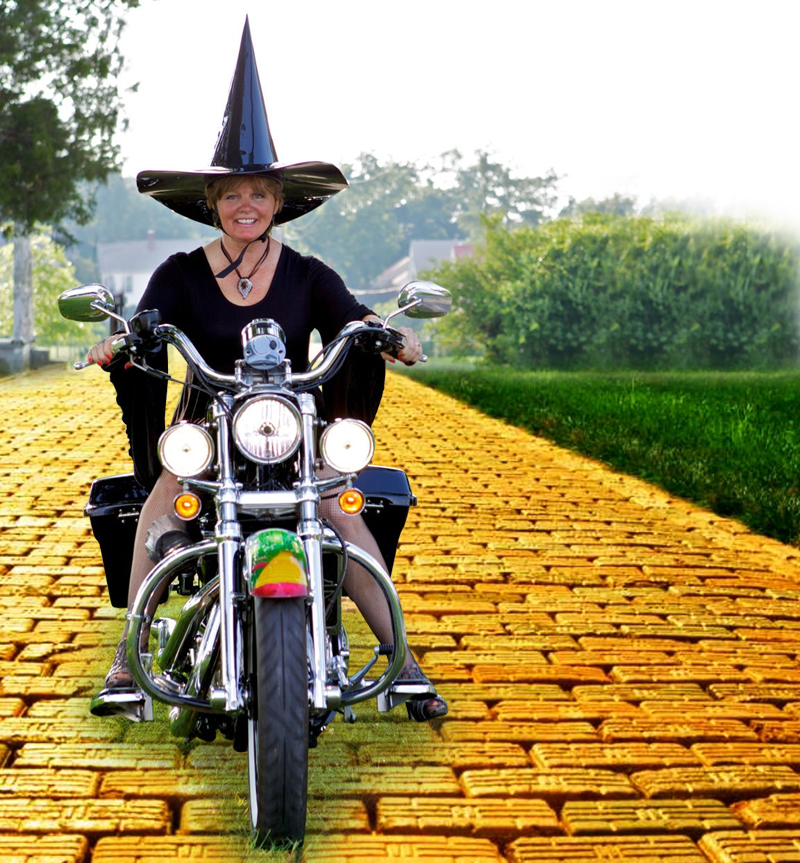 It all started when my youngest son, Matthew said he wanted to buy a motorcycle. I would never just say no without researching and gathering all the information I could to make a logical (unbiased) decision, which I was certain would be … no. However, the deeper I entered the world of all things motorcycle, I realized I wanted one too! I had just turned 50, retired, and what would be more perfect? Absolutely nothing!
After "trying on" many bikes for the right fit and feel, I bought what felt best, a brand new Harley-Davidson XL 883 Sportster. The color was White Gold Pearl, but what I really wanted was a horse of a different color. After all, buying a motorcycle is just the beginning. Next, was to make it mine.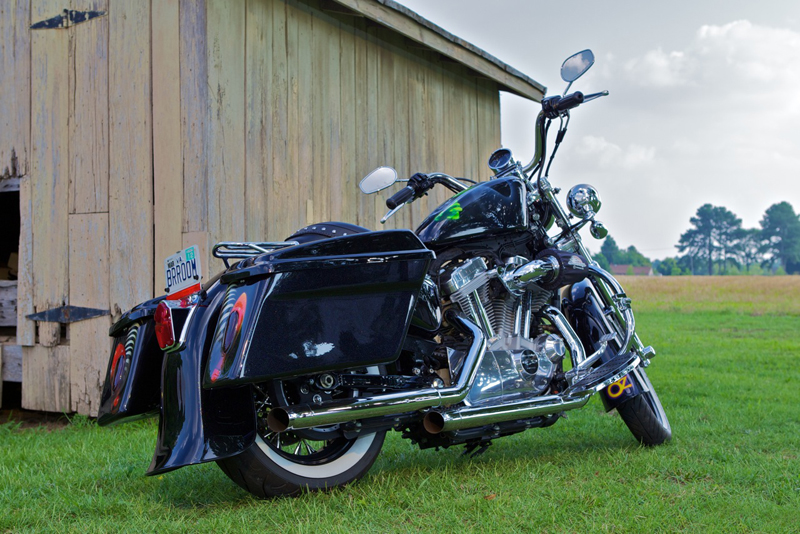 My trip down the Yellow Brick Road began with the base color. I chose a custom color called Black Rainbow which was painted by my friend, retired police officer Mike Smithley, whom I affectionately call "The Tinman." I hired Jon Wooten, who has painted the last three U.S. Olympic Luge Teams' helmets, to paint what I thought would be the only airbrush work—the Wicked Witch of the West and a flying monkey.
Like all projects, the image in my head continued to scream I wasn't done yet. The fenders were all wrong! Searching the Internet, I found Sumax's wonderfully long sweeper fenders (sweep/broom) that I knew would be absolutely perfect. But nothing is perfect; the stock seat wouldn't fit or look right with the new fenders. So a Mustang seat was in order, but modifications still had to be made for the seat to fit with the fenders. The folks at Mustang were more than helpful. They sent free rubber stanchions to provide a perfect fit. Of course, a Harley-Davidson Tombstone brake light belonged on these fenders. Then, I added whitewall tires and the Fat 40 Twisted (twister) spoke wheels from Landmark and Harley-Davidson's floating brake rotors.
She was starting to come to life now, but cackled for a set of full size saddlebags. No manufacturer had full size, big bike saddlebags that would fit on a Sportster. So there it was! I was not in Kansas anymore. I've never been afraid of doing anything myself. I told my husband what I wanted to do and he contacted his cousin who has a machine shop in his garage and we went to work on making brackets for my saddlebags.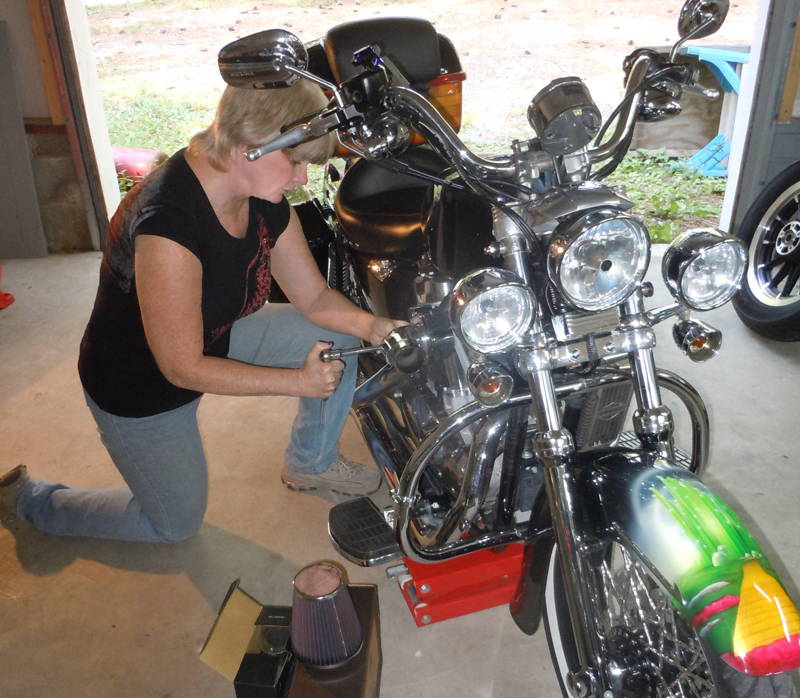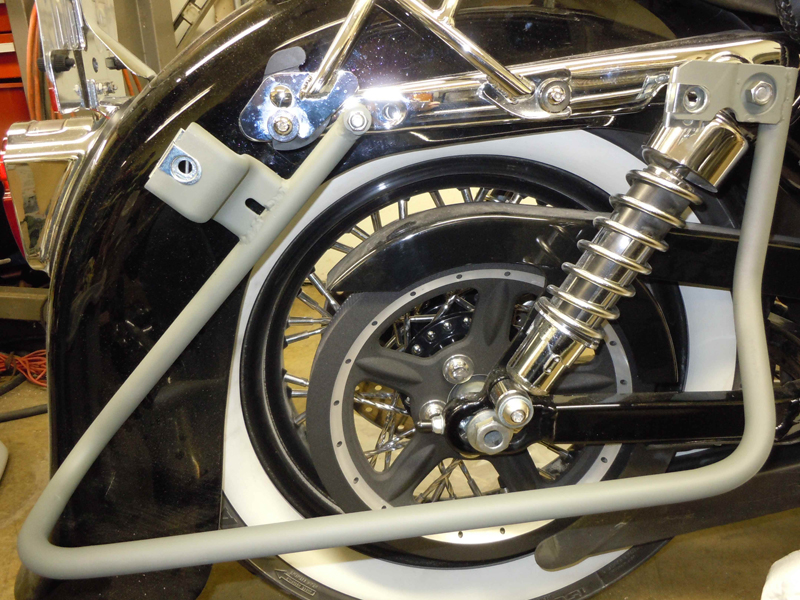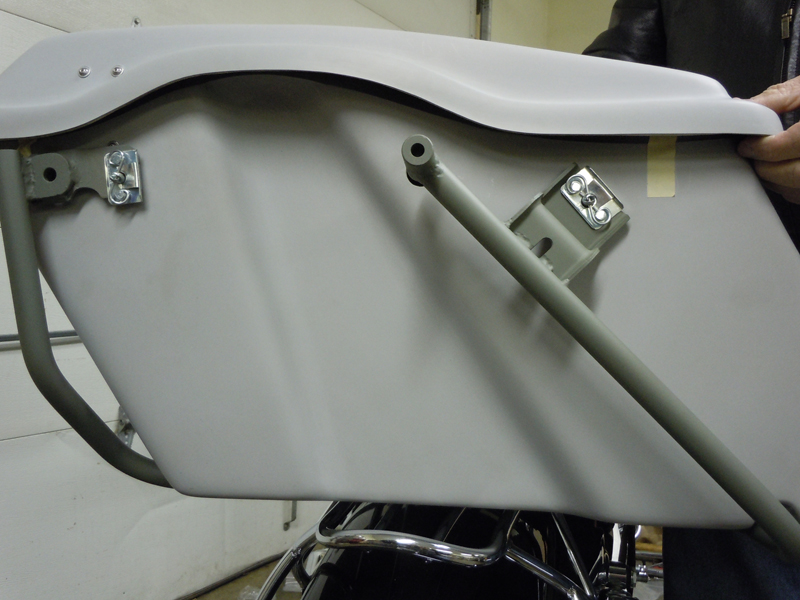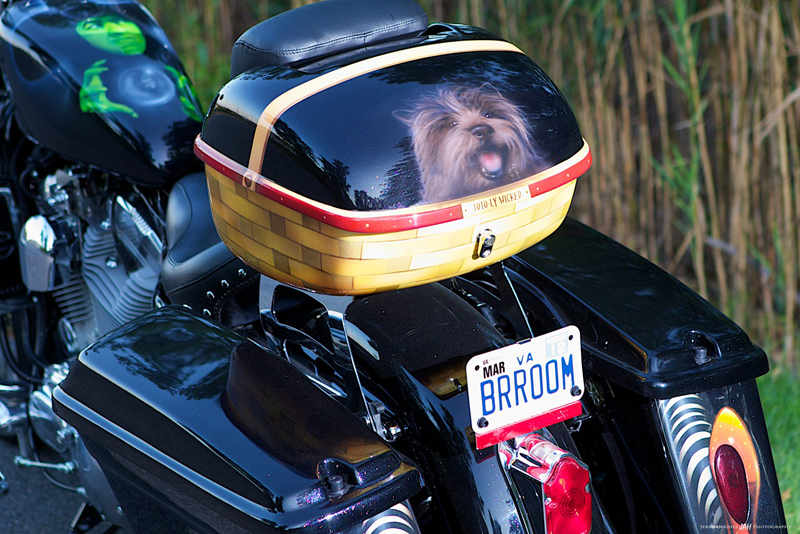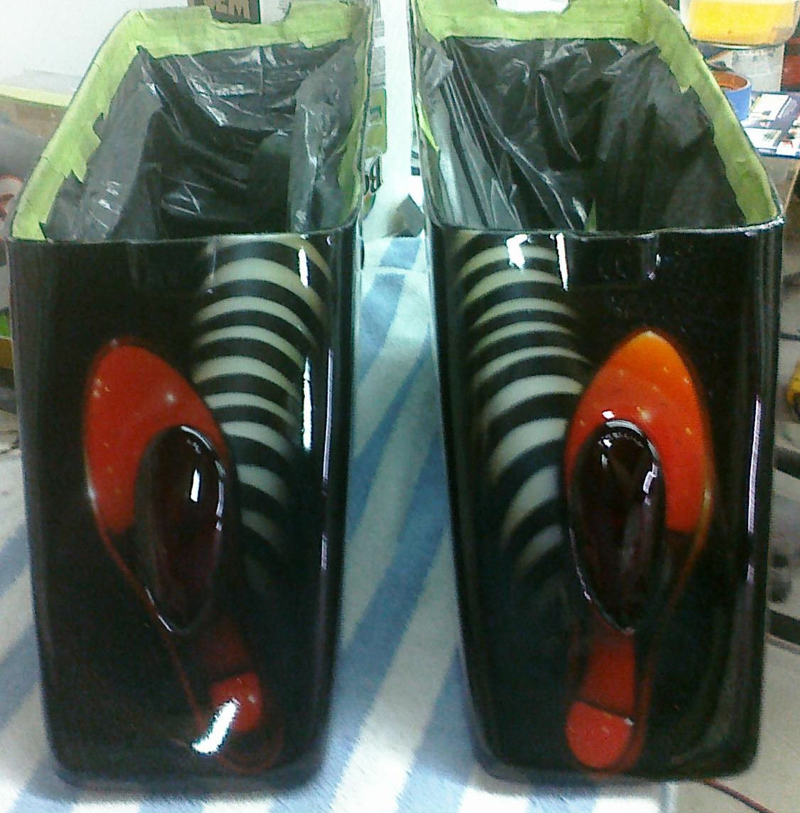 I added Harley-Davidson auxiliary lights and used the Harley-Davidson signal light relocation kit to place the signals under the aux lights. Then I added speakers from Cycle Sounds (which are shaped just like the Harley-Davidson turn signals) to the original turn signal location.
Riding the wicked Sportster, I've seen kids in passing cars hanging out the window to take pictures of me. Even their parents have taken pictures and many slow down to ride beside me while they get their photos. I have met dozens of people everywhere I go. From young to old, military members to Hells Angels MC members have given me thumbs up. And a lot of women just really love my license plate, which reads BRROOM. I only wish I hadn't waited so long before getting a motorcycle. The feeling of riding can't be described with words. The only people who understand this feeling are others who ride.
The Tin Man made me a witch's hat—complete with a real helmet underneath—painted black with Green Pearl. Sometimes I wear it when I read to schoolchildren that sit around the bike during "Real Riders Read" functions.
I plan on upgrading the 53.8 cubic inch cylinders and pistons to 90 cubic inches, which will make it larger than a Sportster 1200. I'd like to add black powder coat to the jugs [engine cylinders] and diamond-cut the fins.
I've been trying to figure out where to add LED lights and how to add some fog … perhaps I should ask the Scarecrow.
Have you customized your motorcycle a little … or a lot? No matter what you did, we want to show off your bike on WRN.Find out how to submit your bike photos here.
Related articles
Pink Motorcycles
More Readers Rides