Womenmake the majority of household purchasing decisions. That's a fact widely understood among savvy marketing and advertising agencies including the marketingspecialists at the Daytona Beach Area Convention and Visitors Bureau. They knowthat those purchasing decisions include family vacations and travel thatincludes motorcycle rallies.So atthis year's Daytona Bike Week, slated for March 6 to 15, organizers arereinforcing that notion with an advertising campaign that includes messagingspecifically for women riders.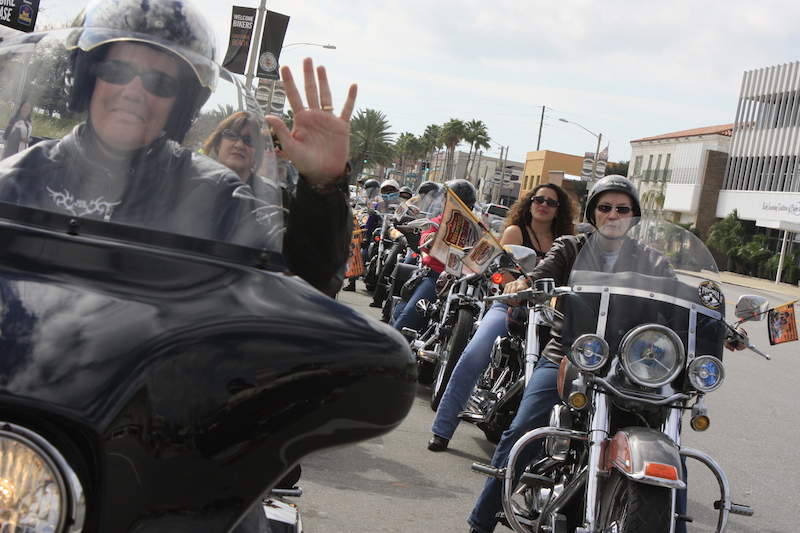 "Motorcycle eventsare huge economic generators in Daytona Beach, and women are a growing part ofthat mix," explains Daytona Beach Area Convention and Visitors Bureau MarketDevelopment Director Shawn Abbatessa. "We saw strong results last year from ourmarketing efforts to motorcycle groups, and this year we're increasing ourtotal marketing spend by 38 percent for both Bike Week and Biketoberfest, theCVB's October 15-18 motorcycle rally."
This year, 2015 marks the 74th Annual Bike Week andis expected to drawmore than 500,000 motorcycle enthusiasts, many of them women, to the DaytonaBeach and surrounding areas. Gas prices, which have reached their lowestlevel in years, are also expected to have a positive impact on the event.
"While we do reachwomen through our traditional biker publications and media outlets, we reallywanted to strengthen that focus," adds Abbatessa. "We refreshed our ads, integrating visuals of female ridersand images from our new Original American Beach campaign, and we doubled our marketingspend on sites like WomenRidersNow.com (WRN), all based on the results fromlast year's campaign."
"Statistics and website analytics showthat women as a market segment are the strongest and most influential consumeremerging in the bike event arena. We're confident that our marketing efforts will not only enhance ourmotorcycle events, but also pay big dividends for 2015 and beyond."
GenevieveSchmitt, founder and editor of WomenRidersNow.com, says, "The folks at theDaytona CVB get it! They have been marketing to women through WRN for the lastseveral years and consistently WRN has delivered large numbers of engagedfemale motorcycle enthusiasts—women who have time and money to spend—to the events'websites." WomenRidersNow.com is the longest running and most widely readinternational resource for and about women motorcycle riders.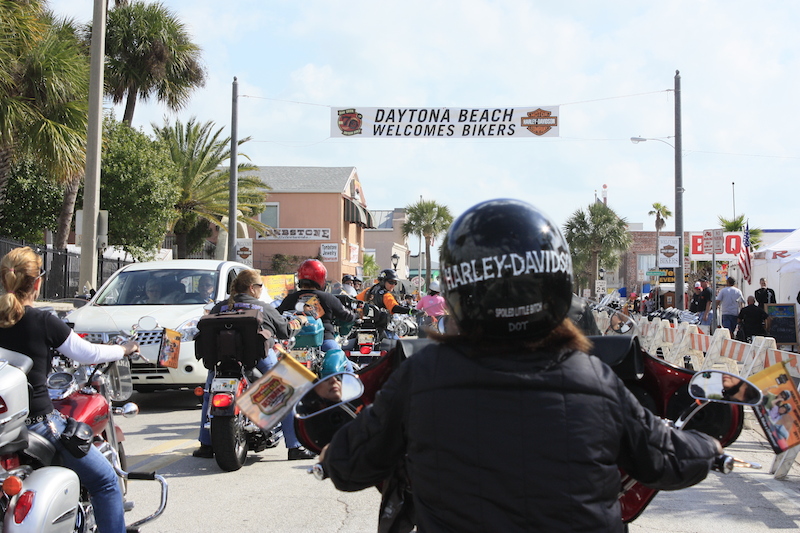 What to Expect at Bike Week This Year
Specifically for women riders, the MDA 2015 Harley-Davidson Womens Ride, now in its 8th year, is being held Tuesday, March 10, 2015 starting at the Daytona International Speedway. Registration begins at 8:00 a.m. at the Harley-Davidson display in the parking lot there. The ride will depart promptly at 10:00 a.m. and arrive at Destination Daytona in Ormond Beach at approximately 10:45 a.m. More details will be available very soon. You can read about coverage of last years MDA HD Womens Ride here on WRN, which covered the same route. For registration details, visit this page on the MDAs website.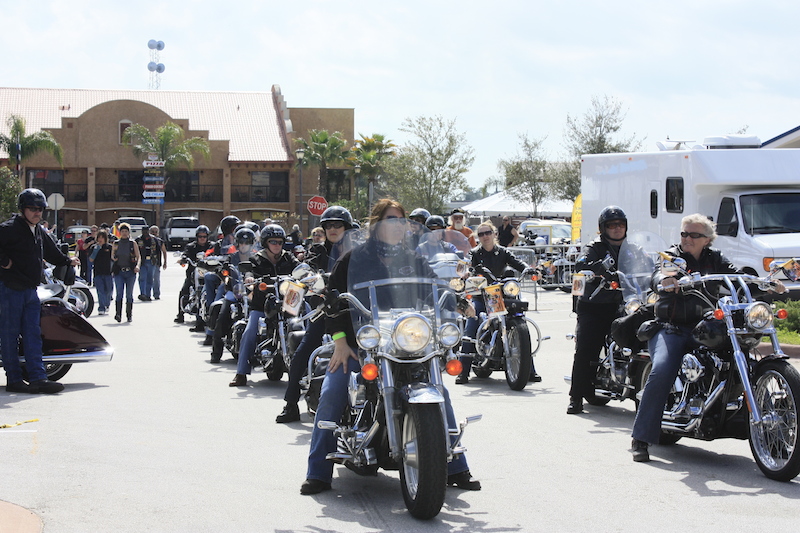 New to the locallandscape for Bike Week 2015 will be evidence of the $1 billion currently beingspent on upgrades to the area. Infrastructure improvements can be found at the intersections of Interstates4 and 95, and to International Speedway Blvd., as well as $400 million in renovationscurrently going on at Daytona International Speedway. New since October 2014 is the Indian Motorcycledealership on famous Beach Street, and the Cici and Hyatt Brown Museum of Artat Daytona Beach's Museum of Arts andSciences. Check out the Sand Blaster rollercoaster, a first forDaytona Beach, at the Daytona Beach Boardwalk amp; Pier, as well as lots of neweateries throughout the area.
This year'sfestival will include plenty of traditional action, too. Visitors will see live music inhundreds of local venues and watch the pros compete in DaytonaInternational Speedway's Motorcycle Races. For those wanting to get a taste ofthe event's history—and enjoy some funand sun on the Original American Beach—riders can take a 10 mph cruiseon the hard-packed beach in designated areas, just like rally-goers experiencedback in 1937, the year of the first beach race.
Bike Week events are scheduled throughoutDaytona Beach and surrounding areas, including key venues like world-famousDaytona International Speedway; Daytona Beach's Main Street, Riverfront Parkand Dr. Mary McLeod Bethune Boulevard; and Bruce Rossmeyer's DestinationDaytona, a year-round motorcycle complex that features DaytonaHarley-Davidson's 109,000 square foot showroom, retail and specialty shops,restaurants, a concert pavilion, and an on-site hotel. Each venue offers visitors a variety of delicious foods,live music, biker apparel, and more. Nearby DeLand and New Smyrna Beach also offer activities during thefestival.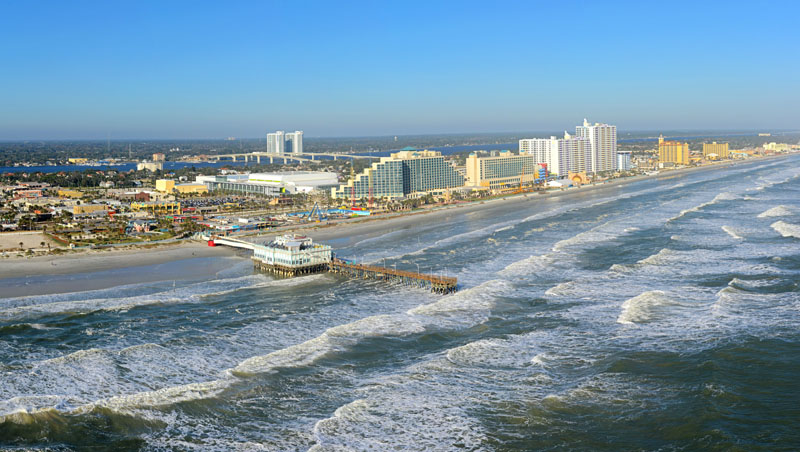 Where to Stay
Hotel accommodations are now available forBike Week 2015. Visitors canchoose from more than 15,000 rooms at 200 local properties. The destination offers options for alllifestyles and budgets including high-end resorts, Bamp;Bs, hotels, historicinns, campgrounds and RV parks, and everything in-between. Many properties offer trailer parkingas well.
VisitBikerBeach.com for thelatest information aboutBike Week 2015 happenings, as well as a current list of lodging options.
Related Articles
Biketoberfest: The Softer Side of Daytona Bike Week
<! EndFragment >