EDITORS NOTE, PLEASE READ: Since starting the Pin to Win contest on April 29th, Im finding that half of the enteries have not followed the rules. Please remember to include a link to your WRN Pin To Win board in your entry, along with your jacket size. And remember – youre only allowed to pin photos from WomenRidersNow.com. Please follow the instructions. Thanks! Genevieve Schmitt
We love when the month of May comes around every year because its Women Riders Month! To celebrate, the staff of Women Riders Now (WRN) has created a special online competition event with three amazing prize packages to give away.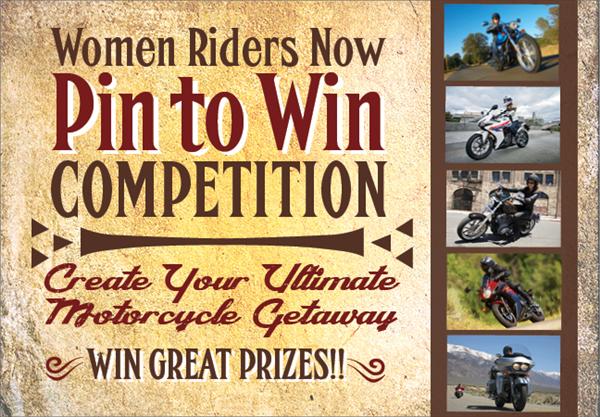 WRN "PIN TO WIN" COMPETITION
Create your ultimate motorcycle getaway!

Participants will put together a board on Pinterest that encompasses these four criteria to create their ultimate motorcycle getaway:
• What motorcycle would you ride?
• Where would you go? It can be one destination or multiples places.
• What motorcycle gear and clothing would you wear?
• What accessories would you have for you and your motorcycle?
Winners will be judged on the creativity of the items they put together, including the likelihood these items would be used together. For example, if your ultimate motorcycle vacation is to Seattle and you didnt pack rain gear, that would work against you. If youre taking a two-week trip across the country and all you have is this small tank bag for your sportbike, that would work against you because its highly unlikely a rider going on a two-week trip would take just a small tankbag.
However, if youre heading to Montanas Glacier National Park and you took this book with you and you grabbed heated gear from this pagethat would work for you. Or, if you were heading to Florida and you remembered to pack a bathing suit, and you could find one in a story we did on WomenRidersNow.com, that would really work for you.
We want you to dream big, but your getaway has to be realistic in terms of what a motorcyclist would actually have, use and do to accomplish this trip. Becreative! You can take as many items as you wish so long as you find everything on the pages of WomenRidersNow.com. Dig deep into the archives and have fun. Were excited to see what you put together!
How to enter:
Simply follow the steps below and youll be entered into the WRN Pin to Win contest.
1. Go to Pinterest.com/womenridersnow and follow us.
2. On your Pinterest page, create a new board called: WRN Pin to Win

3. Pin your dream motorcycle getaway items from photos on the pages of
WomenRidersNow.comonly. Pins from other sites are not allowed. Board
must contain a minimum of FOUR pins. Below are linksto the most popular
pages to find pins that match the ultimate getaway criteria, but feel free to
peruse the entire WomenRidersNow.com site to find photos that match our listed
criteria above. WRN has thousands of pages on the site going back to 2006! If you dont
already have the Pinterest button added to your web browser, click here for instructions.
Be sure to make notes below each pin explaining why you picked it for your
ultimate motorcycle getaway.
• Motorcycle Reviews
• Clothing Reviews
• Product Reviews
• Touring amp; Adventure
Suggested other pages to find items: