Motorcycle world loses a friend with the passing of Bob Illingworth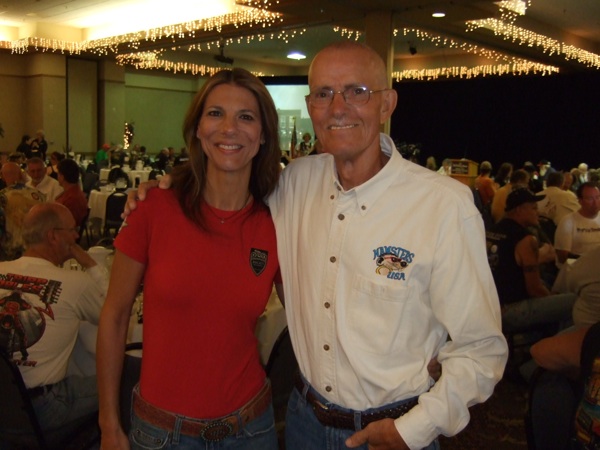 The motorcycle world lost a good friend when Bob Illingworth passed after living courageously with cancer#160;for almost four years.#160;Bob, 68, passed peacefully at home in Minneapolis, Minnesota, on the morning of March 24, 2009. I met Bob, (pictured with me at right during the Sturgis Museums Hall of Fame Induction ceremony in August 2008) when I was inducted into the Sturgis Museum Hall of Fame in 2001. He was on the Museums board of directors at the time. I will always remember Bob as a warm, likable guy who always made you feel good talking to him. In the motorcycling community, he was well-known as a guy with boundless energy who made things happen. His passion for life led him to the excitement of motorcycle racing in his early years, and later, his charisma made him successful as a motorcycle dealership owner. His path also brought him into the lives of young people struggling with alcohol and drug addictions during his years as a substance abuse counselor in Minnesota.
Bob is probably best known, however, for his motorcycle lobbying efforts. In an era when motorcycling was seen as a somewhat counter-culture activity, Bob bridged the gap between bikers and lawmakers, successfully fighting federal and state anti-cycling laws.#160;He was a founder of the Minnesota Motorcycle Riders Association (MMRA), which he directed for more 30 years. Bob was also a member of Hamsters, USA, where led charitable efforts for the organization, including fundraising projects for Children#8217;s Care Hospital amp; School of South Dakota, which he became involved with through Sturgis Motorcycle Rally connections. Bob was honored with the first Founders Award issued by the Sturgis Motorcycle Museum amp; Hall of Fame in recognition of his efforts to establish the museum. During the last Sturgis Rally, he was honored with a Hamsters USA Lifetime Achievement Award. In addition, he also received the Annual Chrome Heart Award from Children#8217;s Care Hospital amp; School, recognizing an individual in the motorcycle world whose philanthropic support and civic duty represents everything positive in the motorcycle industry. Bob had asked that memorials in his honor be directed to Childrens Care Hospital amp; School, 2501 West 26th Street, Sioux Falls, SD 57105. Memorials may also be made online by clicking on cchs.org/tribute.#160;Bob#8217;s family will determine a special memorial project for the funds.
Posted 3/25/09
Femmoto as We Know it Canceled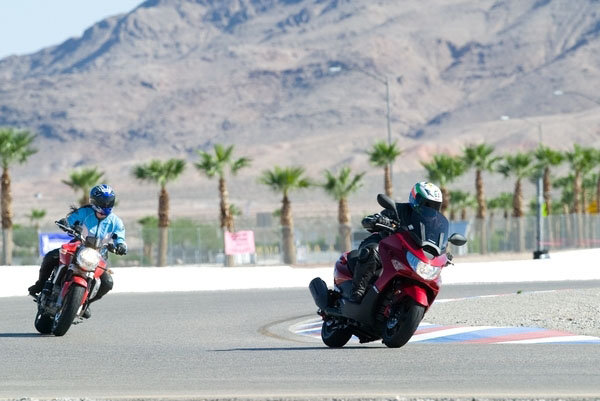 Due to waning attendance last year, organizers of Femmoto are having to restructure the event. Femmoto founder Bonnie Strawser, also co-owner of Sportbike Track Time, along with her husband Monte Lutz, is organizing a U.S. Women#8217;s Road Racing Series Championship with the final race taking place on October 3 – 4 at Barbar Motorsports Park, the same time frame that Femmoto was held each year for the last eight years.
The 2009 "U.S. Women#8217;s Road Racing Series Championship is being held in partnership with Michelin Tire Corporation, Championship Cup Series (CCS) and Western Eastern Roadracing Association (WERA) West. CCS will offer a womens class at all 63 CCS events, while WERA West will offer the same at eight events. In addition to serving as the sponsor, Michelin will offer contingency for the top five finishers at all 71 events. More information can be found atFemmoto.com. Congrats to Bonnie and Monte for continuing to support women motorcyclists through the organization of this championship. During 2009, Femmoto will continue to raise money to support the fight against womens cancer. Since the inception of Femmoto, more than $53,000 has been raised to benefit breast cancer. The charity for which they raise money, the Dr. Susan Love Research Foundation is the same charity Im raising money for in my upcoming dual sport ride. Visit FirstGiving.com/genevieveschmitt, to learn more.
Krista Marie to Lead Women#8217;s Ride in Milwaukee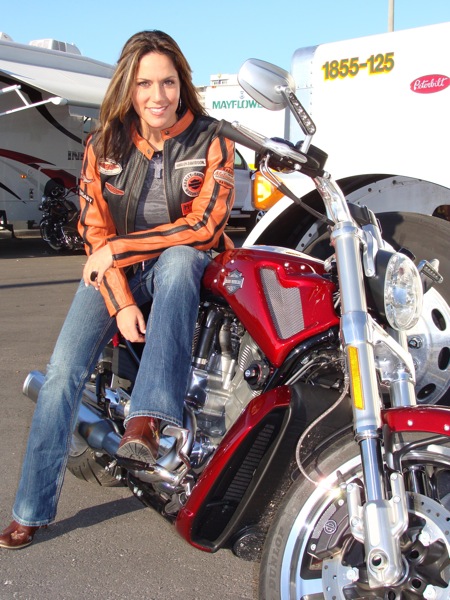 Recording artist and NHRA spokes-singer Krista Marie has connected with Harley-Davidson motorcycles and Screamin Eagle racing in support of Harley-Davidson#8217;s efforts to encourage women to ride. Krista will be riding her 2009 Harley-Davidson V-Rod Muscle when she participates in International Female Ride Day on May 1 in Milwaukee. "I am so excited to be a part of the team and the Harley-Davidson family," said Krista. "Riding and music are my life and I get to do both. Well, I guess you can say Im lucky enough to be living the dream!" The ride will kick off at Miller Park at 1:00 p.m. CDT, as riders rumble through the streets of Milwaukee on their way to continue the celebration at the Harley-Davidson Museum.
Krista Marie co-wrote and sang "Drive It Like I Stole It," which is the theme song for ESPNs coverage of NHRA drag racing#8217;s 2009 season. Fans can read her NHRA blog, view photos and videos and hear new music at KristaMarie.net.
The 3rd Annual International Female Ride Day is also being celebrated with a special ride on Friday, May 1, 2009, in New York City designed to celebrate the millions of women who have already grabbed life by the handlebars, as well as inspire more women to experience the freedom of the open road. Starting at Bergen County Harley-Davidson/Buell, in Rochelle Park, N.J., the New York City ride will be led by Karen Davidson, great-granddaughter of one of the Motor Company#8217;s founders. The ride, which will kick-off at 11:00 a.m. EDT, will roll across the George Washington Bridge before touring the sites of Manhattan. The celebration will continue after the ride with music, food, camaraderie and fun back at the dealership. Both rides are free and open to any female riders with a valid motorcycle license, but space is limited. To read WRNs story on this click here. Women can reserve their place in either ride by logging onto Harley-Davidson.com/womenriders.
Tax Deduction for Buying A Motorcycle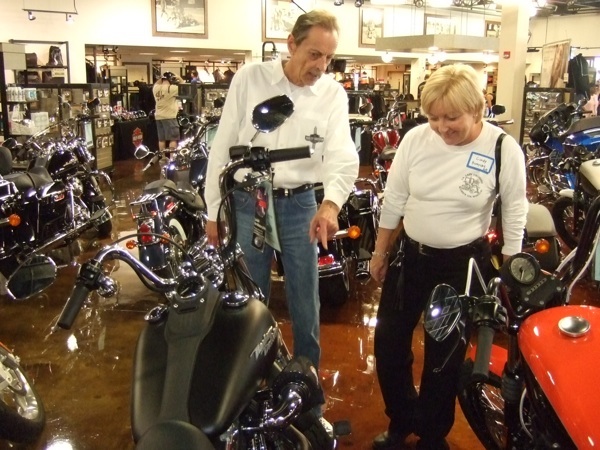 Vehicles eligible for the motorcycle tax deduction added to the American Recovery and Reinvestment Act are likely to include on-road and dual-sport motorcycles, as well as motorscooters and mopeds, according to the American Motorcyclist Association (AMA). The tax deduction first reported by the AMA on Feb. 14 was added at the eleventh hour to the landmark $787 billion stimulus package that President Barack Obama signed into law on Feb. 17. "While we are awaiting final language from the Treasury Department, we believe that many motorcycles and scooters will qualify," said Ed Moreland, AMA vice president for government relations. "We have AMA members to thank, because they responded to our appeal to contact their legislators to make sure that motorcycles were part of this inclusive and equitable solution." Moreland added that the efforts of Harley-Davidson, together with AMA, were instrumental in obtaining the same tax deduction that was provided in the stimulus plan for automobile, light truck and RV purchasers. The law also includes a 10 percent tax credit up to $2,500 for street-legal electric motorcycles purchased by December 2011.
The sales and excise tax deduction applies to motorcycles purchased between Feb. 17 and Dec. 31, 2009, with a GVWR (gross vehicle weight rating) less than an 8,500 lbs., and costing less than $49,500. Individuals can take the deduction if they make less than $125,000, or $250,000 for joint filers. The deduction is phased out for taxpayers with income between $125,000 and $135,000 ($250,000 to $260,000 for a joint return). Individuals do not have to itemize to claim the deduction. For more on this visit, AMA-Cycle.org.
Prepare for Ride To Work Day in June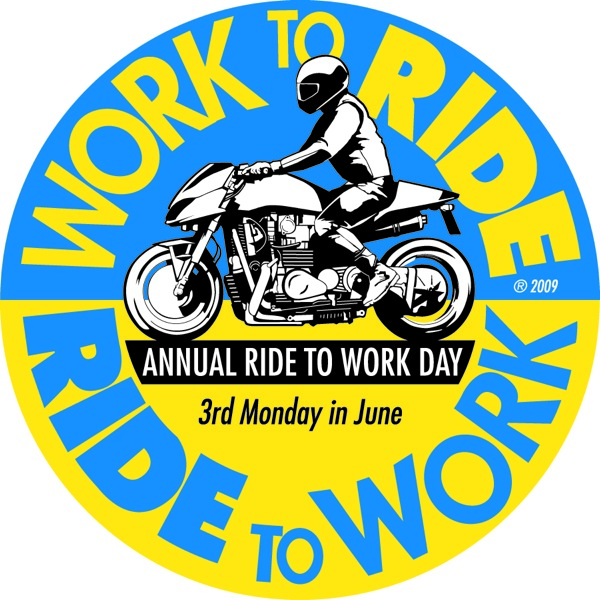 Ride To Work Day will happen on June 15 this year where the number of motorcycles and scooters on roads and highways is expected to more than double as many riders become two-wheeled commuters to help demonstrate that riding is an efficient, economical form of personal transportation. This year marks the eighteenth annual worldwide event, which involves riders of all ages occupations, and from all walks of life. "Motorcycles and scooters consume less resources per mile than automobiles, and they take up less space in parking areas and on roads," said Andy Goldfine, the program organizer. "Rider's seek employer support for this efficient form of transportation, and more government and public awareness about riding's many benefits."
Motorcycling and scootering clubs around the world encourage their members to ride to work on this annual day. According to the United States Census Bureau and the Department of Transportation, more 80 million cars and light trucks are used for daily commuting on American roads, and about 200,000 motorcycles and scooters are a regular part of this mix. On Ride To Work Day, the practical side of riding becomes more visible as a larger number of America's 8,000,000 cycles are ridden to work. Visit RideToWork.org.
Posted 3/21/09
What's great about about a blog is that I can share things that are on my mind I think would be of interest to you whether or not they're about motorcycling. An interesting thing happened to me the other day, and I promised the person I met that I'd write about him in my blog so you could be exposed to his incredible talent.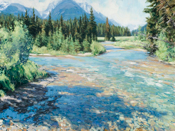 Recently, in Bozeman, Montana, near where I live there was a natural gas explosion behind some storefronts on Main Street in the historic downtown area The explosion demolished four stores including a gourmet restaurant, a high-end children's clothing boutique, and an art gallery called Montana Trails Gallery. Sadly, the manager of the gallery died in the explosion. Because the blast happened at 8:15 in the morning, there were no other injuries or deaths. Several artists lost a significant portion of their life's work in that art gallery. One of them is Joe Wayne, a Montana native, who lives in nearby Livingston, the town I call home. At right is one of his paintings. I never met Joe or even heard of him until I read his story that was written up in our local paper. As I read how he lost $40,000 worth of art in the explosion, I silently lifted him up to God in a prayer. I prayed that he would find peace in the situation — and that all affected by the tragic accident would find some comfort in their grief — and know that God works all things for good.
Later that day in a moment of divine intervention, I stumbled upon Joe Wayne painting in his art gallery as I was looking for a friend at her office, the office she had just vacated a few days before. I wasn't sure of her last day there, but I knocked on the door anyway only to be greeted by Joe Wayne, the face I saw on the front page of the newspaper that morning. Joe moved his art studio into my friend's old office. "Wow," I gasped as I was met by Joe at the door. I caught him painting. He asked me in and I shared that I read his story and said a prayer for him. How incredible that I could share this with him in person. After chatting about the tragedy of the situation, I told him I would do what I could in sharing his story to my little world — the Internet world I work in every day — to let others know about him and see his beautiful paintings. Maybe his art will touch you or someone you know so much that you just have to own one of his paintings or sculptures. His Web site is JoeWayneArt.com.
Posted 3/15/09
Seminars Announced for Women's Conference


We posted a new update this week to WRN's Conference Updates section outlining the seminars that will be held during August's conference. You may recall we posted a preliminary list of seminars a couple of months ago. This past week, the AMA issued the list with all the official titles and descriptions. Click on the link above to read that update. In addition, the AMA redesigned the conference Web site. The Conference Update as that information as well.
New Gadget for Touring Motorcycles
Chris Robson, the owner The Robson Company, a longtime advertiser of WRN, emailed me a link to his new online catalog of motorcycle gadgets. The Robson Co. is known for its "why-didn't-we-think-of-that" product called Thumbnail Extensions that has gotten nothing but rave reviews from our readers. The company also makes the Knurlly Pad, a non-slip brake predal that replaces stock rubber brake pedals that get slippery when wet or greasy.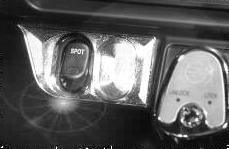 Chris, his wife, and their friends at The Robson Company are all motorcyclists. They are actually in the business of making plastic injection molding products and tooling products. In their spare time they make these "we-gotta-have-em" motorcycle gadgets — products they discover they need as they journey along in their motorcycling lives. The latest is Cateye Fairing Button Covers (shown at right) that add some bling to your bike. Thanks goodness for these problem solver ideas that are always brewing in the mind of the folks at Robson. Click on the link above for the catalog to learn more about the Cateye Covers. We'll have more in a future review.
New Helmet Check Web Site Launches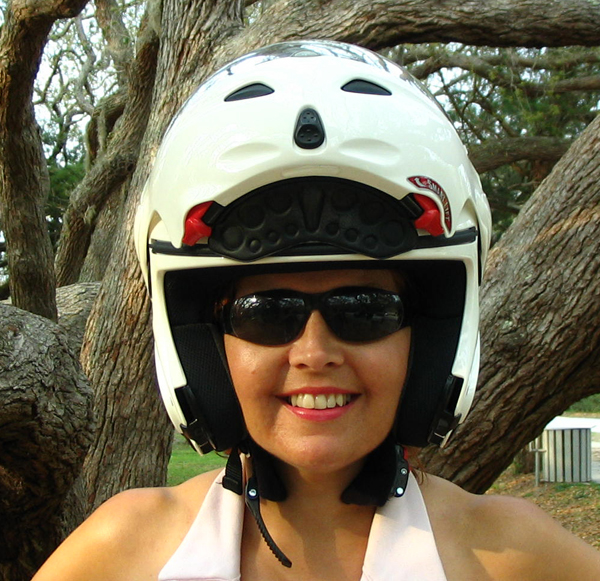 Want to know more about the helmet you own or are considering buying? How much can it actually protect you in an accident, and what are its ratings? HelmetCheck.org was developed by the Motorcycle Industry Council's (MIC) Helmet Task Force for riders to verify that a helmet they own, or are considering for purchase, complies with the U.S. Department of Transportation's safety standard. This new Web site allows consumers to find information on DOT-compliant helmets from any helmet manufacturer voluntarily participating in the database. Major helmet companies and distributors AFX, AGV, Arai, AXO, HJC, Icon, Scorpion, and Shoei have thus far provided the information on their full line of helmets to the site.
"The most important piece of safety equipment a rider can wear is a DOT-compliant helmet," said Eric Anderson, chairman of the MIC Helmet Task Force. "We hope to call attention to the DOT standard and let riders know that they can reliably identify and verify that the helmet they own, or are considering for purchase, is DOT-compliant."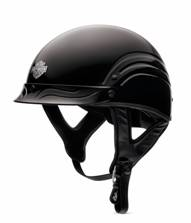 DOT-compliant helmets are marked with an identifying sticker on the back. A DOT-labeled helmet denotes that the manufacturer confirms it meets or exceeds the government standards for protection. To display a DOT certification symbol on helmets, manufacturers must adhere to standards that include impact absorbing capability and penetration resistance, and a retention system standard that ensures a helmet stays fastened in the event of a crash. "With hundreds of models available to choose from, and especially given the prevalence of counterfeit stickers, there is unfortunately a lot of confusion among consumers," Anderson said. "We are deeply appreciative of the cooperation of the manufacturers and distributors for providing their product information to the site for the benefit of all the riders. Given their participation, HelmetCheck.org will be a reliable way for riders and law enforcement agencies to verify that a specific helmet meets the DOT standard."
Watch this video, Then Do Your Part
Just got an interesting email from the AMA regarding the youth bike ban that is rearing it's ugly head on our industry. The AMA has produced a video public service announcement (PSA) regarding the current ban on the sale of youth off-highway vehicles (OHVs), which includes motorcycles and all-terrain vehicles, intended for kids 12 and under. The 54-second video features AMA President and CEO Rob Dingman discussing the ban and encourages viewers to contact their representatives in Congress and the Consumer Products Safety Commission to end the ban. The link to the PSA on Youtube is: youtube.com/watch?v=JKjGo5BWIOQ
POSTED 3/2/09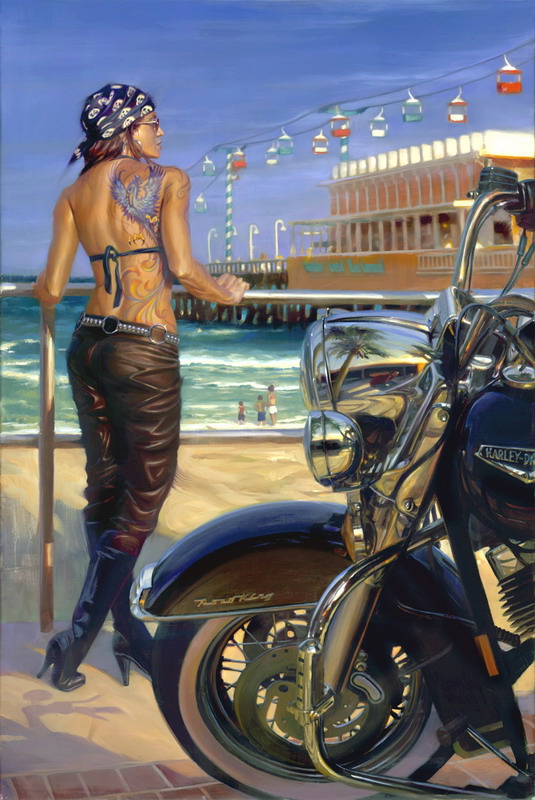 New David Uhl Daytona Painting Just Released
I'm a big fan of Harley-Davidson licensed fine artist David Uhl. I own two of his paintings. His latest release is special for Daytona Bike Week starting this week called "Daytona Ink." It's a departure from his archival type paintings featuring a modern look at the pier in Daytona and a stunning tattoo designed by Nick Pugh on a hot looking babe. The original painting measuring 27 inches x 40 inches and David's full gallery will be available for viewing at Bruce Rossmeyer's Destination Daytona in Ormond Beach from February 26 through March 7. For more information call Greg Rhodes at 303.913.4840, or email greg@uhlstudios.com.



Spots Left for Harley Women's Parade
There are still some spots left if you can ride over to Daytona Beach on Tuesday morning for the all-women's parade that's raising money for MDA. The goal is to have 500 women riders on Harleys parading through Daytona. For more information, visit Harley-Davidson.com/womenriders.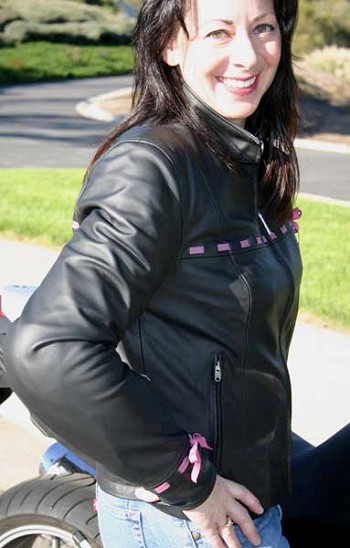 She-Moto Up for Sale
I'm sorry to hear that She-Moto is going out of business. Tiina Pertu contacted me saying the tough economy is making it difficult for her to stay in business producing her unique line of women's motorcycle apparel. Tiina is looking for a buyer if you know of anyone or are interested in it yourself. (Click here for the business sale listing.) We reviewed one of Tiina's unique motorcycle jackets here a couple of years ago. You can learn more about her company with a link to her Web site at that link also. We wish you all the best, Tiina.
New Suzuki Web Site
Suzuki has a new and improved Web site that showcases their motorcycle line-ups in a much user friendly fashion, I think. Visit SuzukiCycles.com.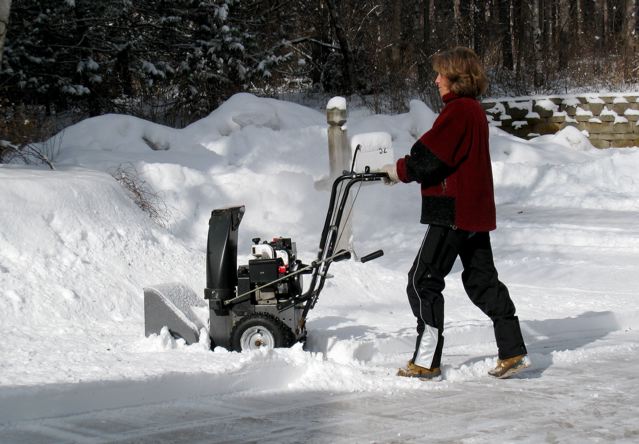 More than Riding Chaps
Shelly Reiner, owner of Girl Gear, one of our advertisers in the WRN Mall, sent us this photo of how her motorcycle riding chaps come in handy in the winter. Here's Shelly at right wearing her versatile textile chaps while snowblowing snow from a recent winter storm at her home in Minnesota. To read about Shelly's chaps and the cool jackets she has, click here.