Want to share your story? Click here to find out how.
It probably started when as a young girl; I clipped a baseball card with a clothespin to my bicycle spokes so it would make that "motorcycle noise." At 12 years old I got a minibike that made me the envy of the neighborhood boys. At 16 I went to the DMV and got my motorcycle learners permit. With no money for a motorcycle, the dream went on the back burner until I was 34 years old.
Like many women riders, horses filled the void for many years, but now the dream re-emerged with a vengeance. I got my first motorcycle, which was a 250cc Honda Nighthawk, and my then-husband begrudgingly gave me some rudimentary instruction in a parking lot. With my heart in my throat, I gradually worked my way from parking lot, to neighborhood, to highway over the course of about three months. After one season and 1200 miles, I traded in that little bike for a 600 Honda Shadow.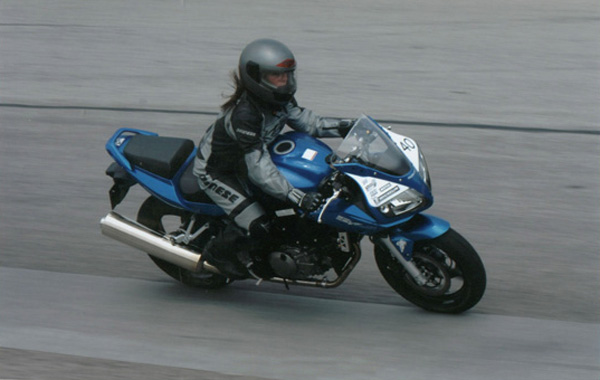 By that time a few years and 15,000 miles had elapsed, though I felt fairly confident in my riding, I still realized I had room for improvement. Common beginner problems such as making u-turns and cornering at road speeds were still not happening with the proficiency I felt I should have after all this riding. I flipped through the phone book, and found On the Road Again, a New York State Department of Motor Vehicles-licensed motorcycle school, and made an appointment. I had no idea how this would impact not only my riding, but my life.
After my one hour lesson with Steve Sorensen, the founder of the school, I felt the clouds had parted and the sun streamed down; all I needed was the angels singing! I learned the right way to use my brakes, some highly effective techniques for turning, and the cornerstone of riding the twisties, counter-steering. I also learned some concepts such as target fixation and mental motorcycling. From this point on, my riding and my life changed. A few years later, I went back for another lesson when I wanted assistance acclimating to a new motorcycle.
A few years later, when l was looking for a career change, I called Steve to inquire about becoming a motorcycle instructor. He said, "Come and work for me!" I was thrilled! I began my training in March of 2003. My first illustrious day, I managed to dump a school bike in a mud puddle. (I still think he only kept me on after that for his own amusement.)
Little by little I improved not only my riding, but my teaching. By being trained by other instructors, reading, watching instructional videos, attending skills workshops and by practicing on my own bike I became the instructor I wanted to be. By now I have trained hundreds of riders, both new and experienced, by using the program that has evolved and improved over the 15 years of On the Road Agains existence.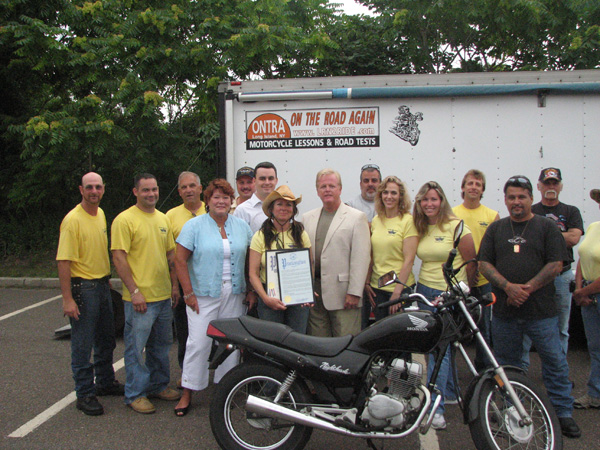 When Steve decided to move on to other projects and sell the school, I thought about it for a year and then decided to make the leap. In January of 2008 I became the proud new owner of On the Road Again.
At this point I have been riding for 15 years, have logged tens of thousands of miles in many states, and have ridden dozens of different motorcycles. I give presentations at motorcycle dealers events, and this year will be teaching continuing education classes for prospective motorcyclists. Im a junkie for learning, and a firm believer in the quote "the more you know, the better it gets." Sharing what Ive learned with new riders, especially other women, is my passion in life. Being part of getting a new rider started is like doing it again for the first time myself; the excitement and anticipation are now enhanced by my knowledge that its only going to continue to get more interesting and fulfilling as the new riders experience accumulates.
Although, this new "job" is 24/7, and requires a lot of un-sexy background work involving insurance, banking, scheduling, staffing, etc., I couldnt imagine doing anything else with my life right now. It took me until I was fifty to find out what I wanted to be when I grew up, but I finally found it at On the Road Again.
Want to share your story? Click here to find out how.