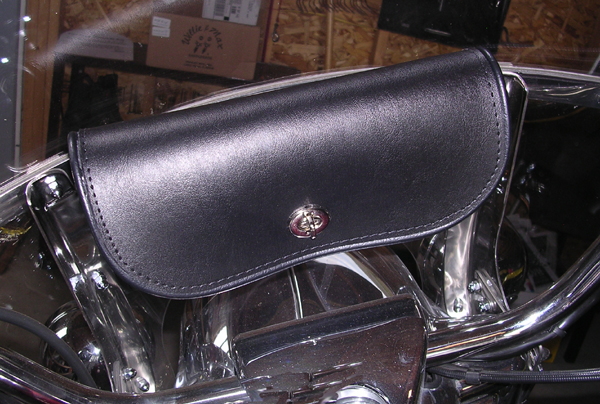 I always thought those windshield pouches were a pain in the neck to attach, having to take apart your windshield, or buy one that fits your windshield exactly, so I never considered purchasing one. I recently received two different windshield pouches to review from Willie amp; Max Saddlebags. One secures with a hook and loop closure (otherwise known by the trade name Velcro); the other closes with a metal turnbuckle. I tested both.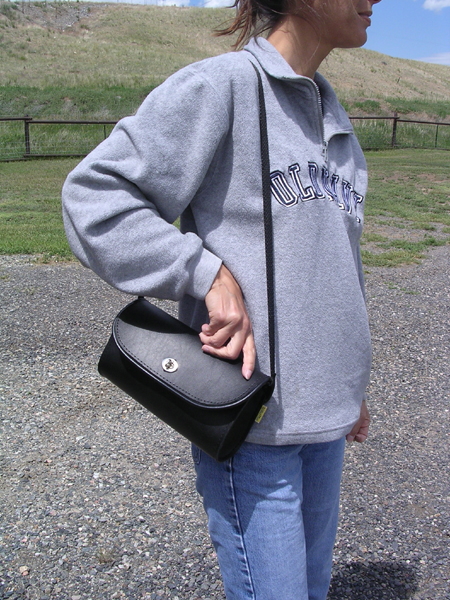 The pouch is called Take Along Windshield Bag because it detaches so you can take it along as a purse. Before that though, I wondered how easy it was to install it on my windshield. Turns out, all I had to do was loosen the center bolt on the metal strip across my Harley-Davidson windshield (the windshield won't fall apart when you do this) and attach the enclosed mounting bracket to it. That's all you do. It was just too simple. I'm told it's a universal mounting system that works with most windshields.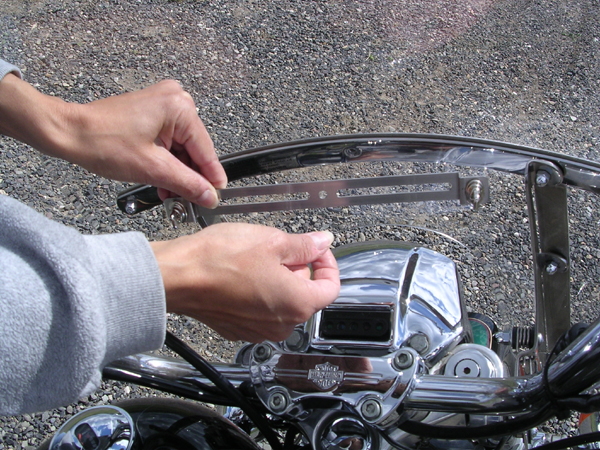 The pouch then attaches (and detaches) to the mounting bracket with two turnbuckles that slip into either side of the bag. When you want to carry the pouch around as a purse using the enclosed straps (that are also detachable), you reach inside the pouch and twist the turnbuckles to detach it. If you're confused, don't be. It's very simple and quite a nifty design.
Next, I wondered if the bags were functional. Both are made from a sturdy leather-like vinyl. Most of Willie amp; Max products are made with this material. The larger bag that closes with a turnbuckle can carry more stuff (extra gloves, pair of sunglasses, garage door opener), but might look too big on windshields on a mid-size cruiser like my Dyna. So, I attached that bag to the windshield of a Road King where it looked more at home. The smaller bag that secures with the hook and loop closure looked at home on the windshield of my Dyna Low Rider. You can't fit as much stuff in that one though. One pair of bulky cold riding gloves pretty much takes up all the space. It's meant to store keys, lipstick, credit cards small things.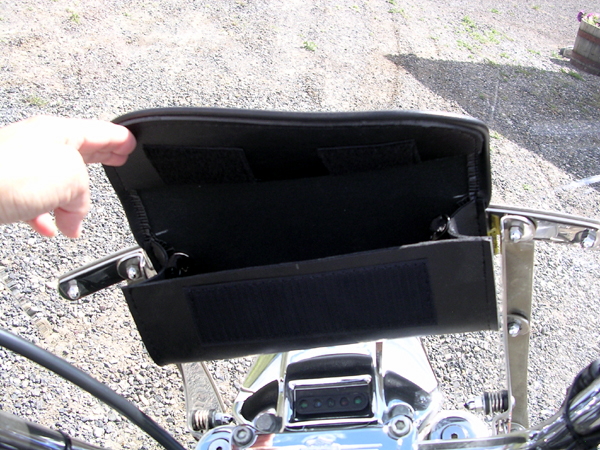 I preferred the bag with the turnbuckle closure rather than the hook and loop because the hook and loop patches have to match just right or the bag doesn't fully close. If you try to stuff a few extra things in there, it could force the hook and loop to come open. That won't happen with the turnbuckle closure. I felt like my things were more secure in the bag with the turnbuckle closure.
Both bags held up to long days of touring with lots of wind coming at the bike from all directions and stayed in place on the windshield. I never did actually use the bag as a purse. I already have a fanny pack and the smaller bag would never fit everything I need for it to double as a purse, although the larger one might.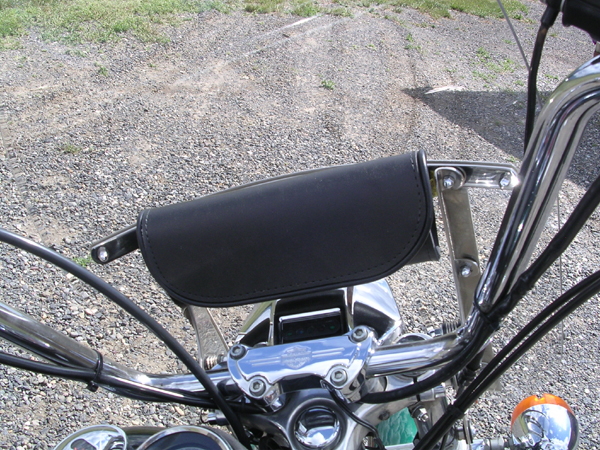 I found it convenient to have that extra storage space on my bike to store my riding glasses, thin summer gloves, and earplugs when I walked away from the bike. I can always use more storage space on my motorcycle. The Take Along Windshield Bag is inconspicuous and doesn't get in your line of sight when riding either.
The price is right for this type of convenience at $64 for the small bag, and $70.75 for the larger bag. Willie amp; Max products can be found at most dealers, but you can also order online at buywillieandmax.com. There are lots of other neat storage products on the site, too, including saddlebags which come in lots of different colors for those who want accessories to match their paint job. Willie and Max Saddlebags have been around a long time and they make quality products that last. You're sure to find something you like on their site!