Before intricately painted, slammed and raked, high pricetag choppers, before heated grips, clothing and seats, before triple-piston dual-calipers and 150-horsepower machines, there existed a time when motorcycling must have seemed, well simple. Two wheels, a handlebar, some gas and a rider could deem him- or herself "good to go."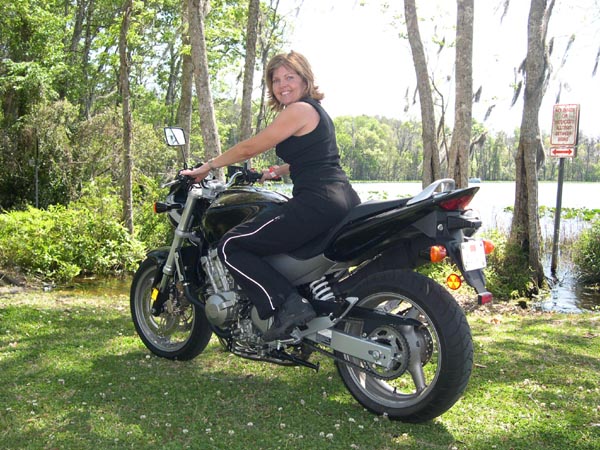 Hondas updated-for-2006 599 model hearkens to those simpler days, times before contemporary cultures clutter of gadgets and gizmos rudely intruded into motorcyclings mindset.
Two years ago, I enjoyed 600 miles riding the Tennessee and North Carolina highways and byways on the 2004 model, a four-cylinder, 599cc steed during the Honda Hoot. It created a four-day long grin I couldnt erase thanks to its grunty torque, thrill of whizzing acceleration, and general feeling of "whee!" during my travel time on its back.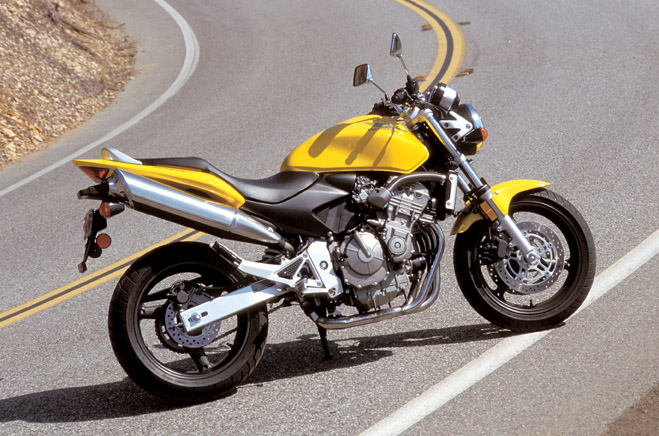 Fast-forward to 06s travel on the new 599 during Daytona Bike Week, and that feeling returned. The changes dont detract from the effortless responsiveness I remembered so fondly, and my smile returned as soon as I hit the start button.
The 599 (you say five-nine-nine) doesnt wear superfluous ornamentation or motorcycle bling. No fairing the 599 likes things naked, its skeleton frame and engine organs feeling the breeze as much as the rider. The huge right side muffler sweeps up and back, capping off a four-into-two-into-one exhaust. It wears its radiator for all the world to see, right up front, proudly exhibiting this body part often camouflaged on other bikes. The 599cc motor leaves nothing to the imagination.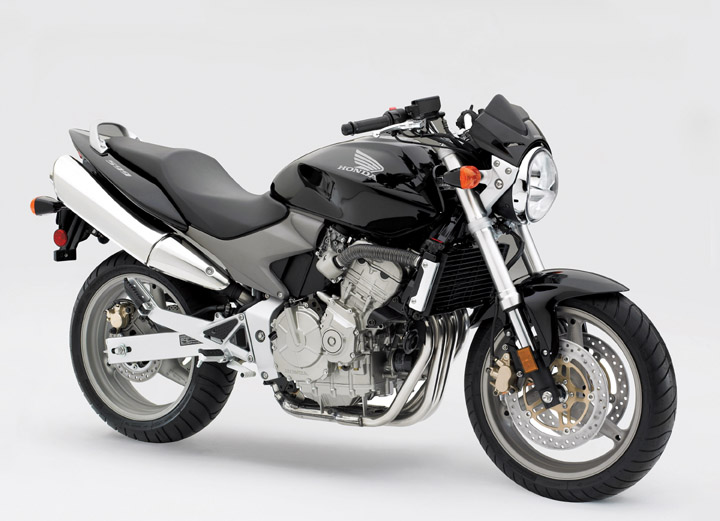 While extremely stable during high-speed highway riding, this bike handles curvy twists and turns with unadulterated joy. Precise handling, neutral steering, it goes where you wanted with no fuss or bother, just obedience, leaving the rider to concentrate on reading the road. This preciseness is due in part to the strong but light mono-backbone steel frame that works with the 41mm inverted forks offering 4.7 inches of travel, and a spring-preload adjustable single-shock rear suspension with 5 inches of travel.
Another important contributor to this bikes fun factor comes from its weight or lack of it. Honda lists dry weight as a light 404 pounds. So no hulking body drags down the playful crispness of its chassis; you lean and it complies immediately. Trust me 318 curves in the 11 miles of twisties known as Deals Gap that I rode it over in 2004 and I can vouch this machine handles.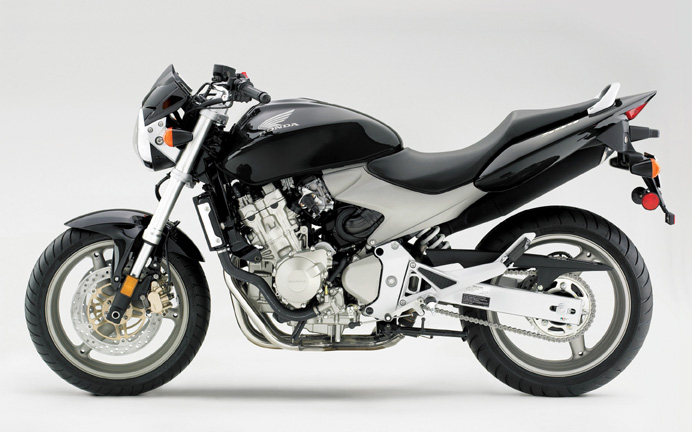 Throttle twisting also brings an immediate response rewarding a rider with exhilarating acceleration. The engines pedigree goes back to the championship-winning CBR600 powerplant with flat-slide CV carburetors and dual ignition maps designed to deliver performance whenever the throttle is cracked open. And that it does. Honda claims this "aggressively-tuned" version of that inline-four cylinder engine is especially designed to provide strong low- to mid-range performance.
Torque also abounds, making slow speed maneuvering an easy affair. Need to do a U-turn on slippery wet grass into a gravel parking lot (just as I did)? Not a problem. Shifting through its six gears garnered positive, easy clicks and the clutch doesnt require a Herculean effort. Ample stopping power comes courtesy of dual floating discs with two-piston calipers in the front and a single disc with single-piston caliper slowing the rear 180mm-width back rubber.
Though filling all the requirements to do its job (and do it very well) the 599 lacks one fairly common piece of technology fuel injection. However, a few minutes after warming up you can push back the handlebar mounted choke lever and not worry about fuel delivery the rest of the day.
Ergonomics
The 599 offers a very comfortable upright seating position. The handlebars provided just the right bend for my elbows and didnt require a stretch to the grips. The footpegs sit just to the rear of center on the bike. The seat proved comfortable even after long periods in the saddle. Stretch your legs and you notice the 31.1-inch seat height fine for many people but a little stretch for me at 5 feet 3 inches as I could only plant the balls of my feet on the ground.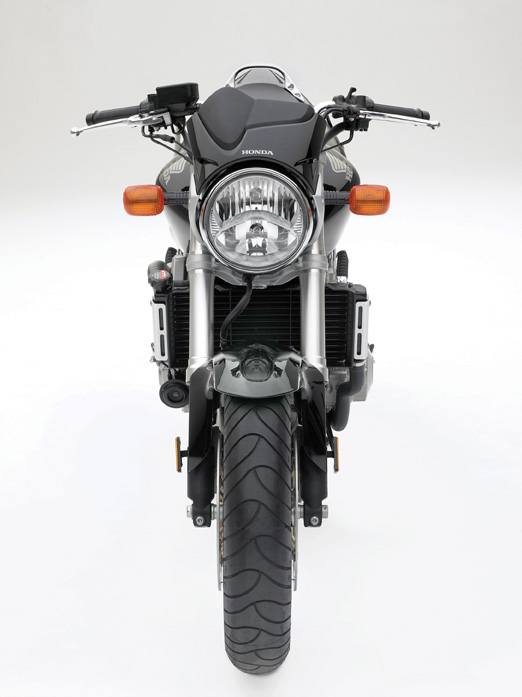 But out of this grew my extreme fondness for the 599; though taller than my usual rides, its light weight and abundant low-end torque made it simple to ride. It possesses that confidence-inspiring ease that makes it great for a relatively new rider, but an incredible fun-factor to keep a rider of any skill level happily satisfied.
The 4.5-gallon gas tank will take you far. Instrumentation and gauges on the 2006, like the rest of the 599, are simple and unfussy. No glinting chrome, no flashing LED displays, no stereos or GPS systems or sunglo custom paint. With the Honda 599 riding returns to its simplest roots. A rider, a road, and a bike and the tantalizing, true essence of motorcycle adventure awaiting the twist of a throttle. Long live simplicity.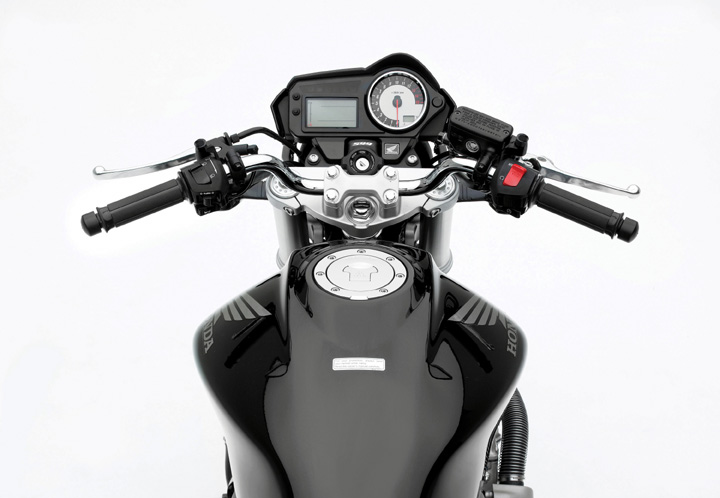 Specs at a Glance
2006 Honda 599
Displacement: 599cc
Seat Height: 31.1 inches
Fuel Capacity: 4.5 gallons
Dry Weight: 404 pounds
Colors: Metallic Black
MSRP: $7,399
WRN Recommendation
The Honda 599 satisfies in so many ways. Its light weight, agility, capable motor and excellent handling make it a confidence-inspiring motorcycle for newer riders with a few thousand miles under them with those same features making it a quality ride for experienced motorcyclists as well. The lack of fuel injection and a higher price point than comparable models in the 600cc naked category count as two strikes against it, and some would add its lack of eye candy to that list of pans. But all is forgotten when you twist the 599s throttle and remember what true motorcycling is really about. Visit HondaMotorcycles.com.