For a long time I've wanted to host a motorcycle tour where I could ride with like-minded motorcyclists in an amazing place on earth. This year felt like the right time for me to resurrect my Ladies First tours, a concept I created in 2001 when I hosted a motorcycle tour to Copper Canyon, Mexico, during my time as founding editor of Woman Rider magazine. "Ladies First" means a man can join the tour only when accompanied by a woman. It's a concept that works in many ways. For the inaugural WRN Ladies First Motorcycle Tour, I chose Italy because of all the reasons you'd guess, not the least of which is the amazing scenery and the culture.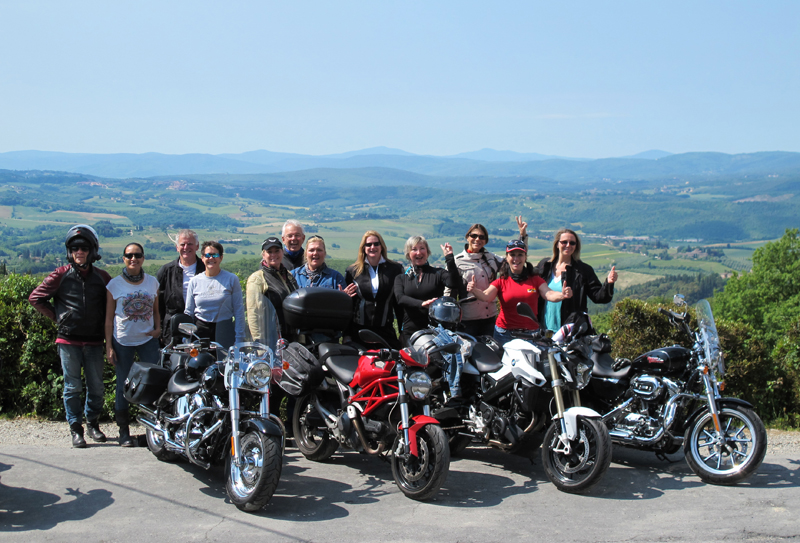 This past May, 10 women riders and one male rider (the significant other of one of the women) from the U.S. and Canada, joined me in Rome for the start of a nine-day adventure on rented motorcycles. I worked with Hear the Road Motorcycle Tours Italy to create a custom itinerary that had a balance of riding time with off-the-bike sightseeing and relaxation.
Italy Through the Eyes of a Motorcycle Rider
You've probably heard the expression "when you're in a car you're driving by the scenery, but when you're on a motorcycle, you are part of the scenery." No more was this true than when cruising through the Tuscany and Umbria countryside regions of central Italy, the focus of our tour. Italy exceeded my expectations on all levels: beauty, color, texture, and old world culture — and being on a motorcycle all my senses were heightened. During this tour, a Sena Prism Bluetooth Camera was attached to the right side of my Arai CT-Z 3/4 helmet recording all the scenery and roads, with a Sena 20S Bluetooth communication system on the left side of my helmet allowing me to narrate the video on the fly, and communicate with my colleague Tricia Szulewski, WRN's assistant editor, and staff writer with Motorcycle magazine, who was also on this ride. My review of the Sena camera and Bluetooth communicator can be found here on WRN.
This short video provides a teaser of the sights and smells that were everywhere on our tour. There's another, longer video at the end of the story, on page 3, with more detailed riding shots and narration, including what its like to ride in rush hour traffic in Rome.
Where We Went
Our tour started and ended in Rome at the small boutique Hotel Locarno Roma serving as our home base. The upside to commencing a motorcycle tour in this historical city is that you can arrive earlier then your start date to sightsee and check some of the world-famous must-see Italian attractions off your list. Tricia and I, and several of the other tour participants, walked to the Vatican Museum and the attached Sistine Chapel from our hotel while others took a shuttle over to the Roman Colosseum. Some of the ladies tacked on a few extra days at the end of the tour to see Rome as well.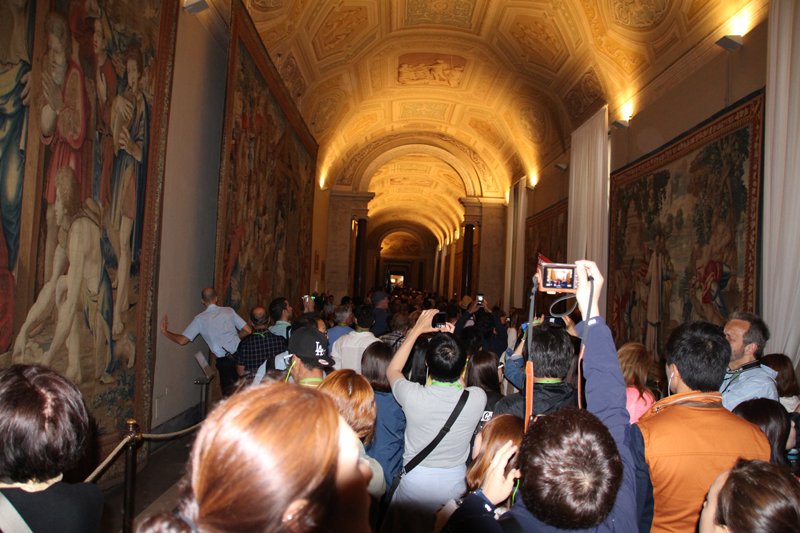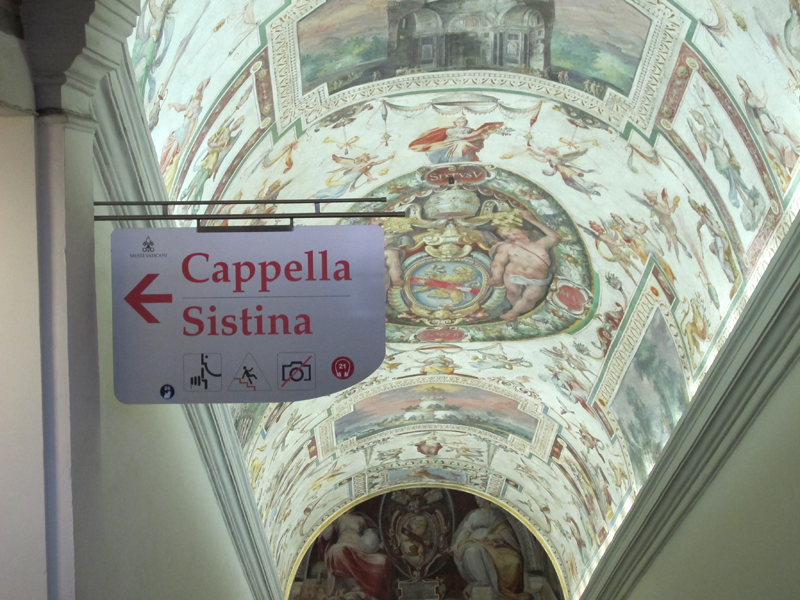 The downside to starting in Rome is navigating through the infamous Italian traffic on a motorcycle at the start and end of your tour. I had asked WRN Facebook fans before the tour what they wanted to know about riding a motorcycle in Italy. Most were interested in the traffic in Italy, with one fan saying she'd heard it was "horrendous." If you're a sharp rider and can negotiate moves quickly you shouldn't have any issues riding a motorcycle in the heavily-traveled-multi-lane metro areas of Rome. The craziness for us happened when trying to keep 13 motorcycles together on a Friday in rush-hour traffic on our last day. A lot of Italian drivers drift out of their lane for no reason. They rarely use turn signals, and they expect that you see them, not the other way around. This can cause tenuous moments if you're not acutely aware of your surroundings while riding very defensively. A no-passing zone seems to mean nothing to Italian drivers. Several times we were on a narrow two-lane road with a solid white line and a very short distance to pass and every type of a vehicle from a large box truck and an eco-friendly auto to a sportbike-riding motorcyclist attempted to pass our whole spaced-out group while playing Russian Roulette with the oncoming driver. The passing vehicle, realizing a little too late he was not going to overtake our group, squeezed into our lane at the very last minute. Italian drivers take far more risks in their cars than we do in the U.S. and that's saying a lot considering how Americans drive! Scooter riders are everywhere — way more than motorcyclists — and anything goes with two-wheelers navigating through traffic. Lane splitting? That's a tame move in Italy!
5 Things You Need to Know About Riding a Motorcycle In Italy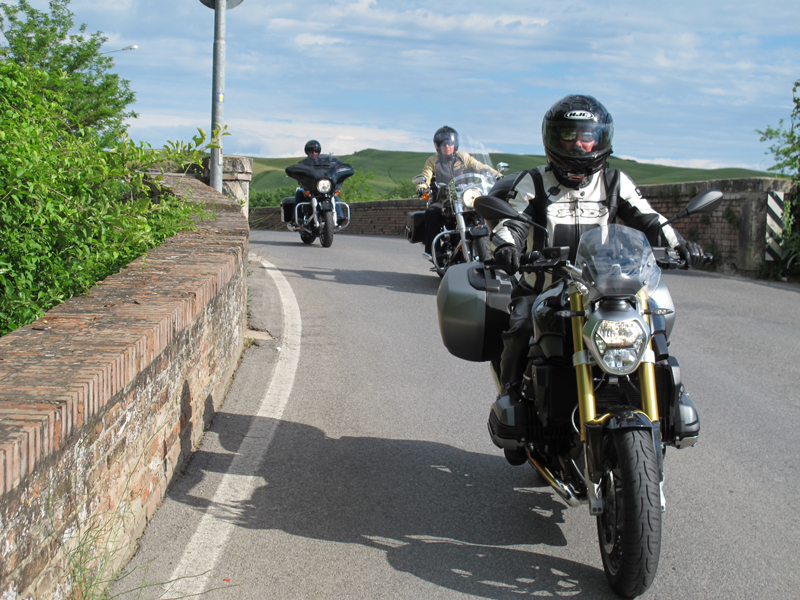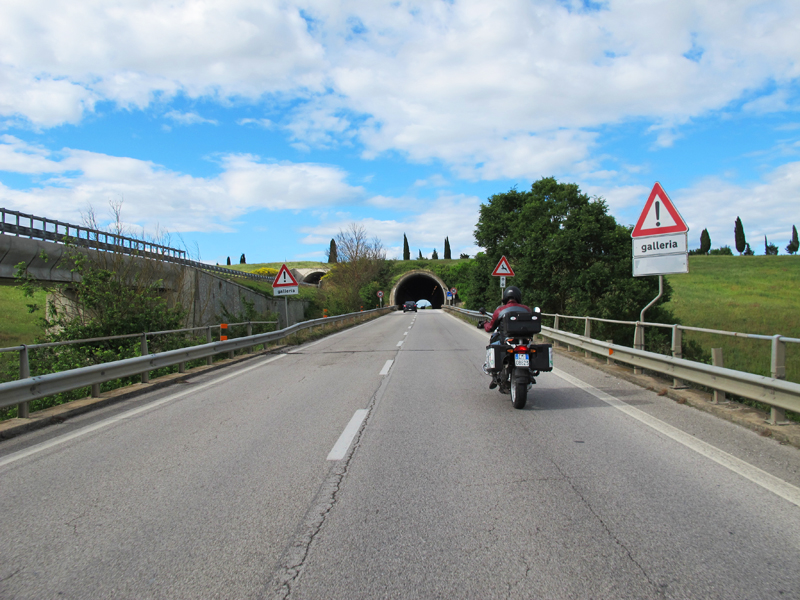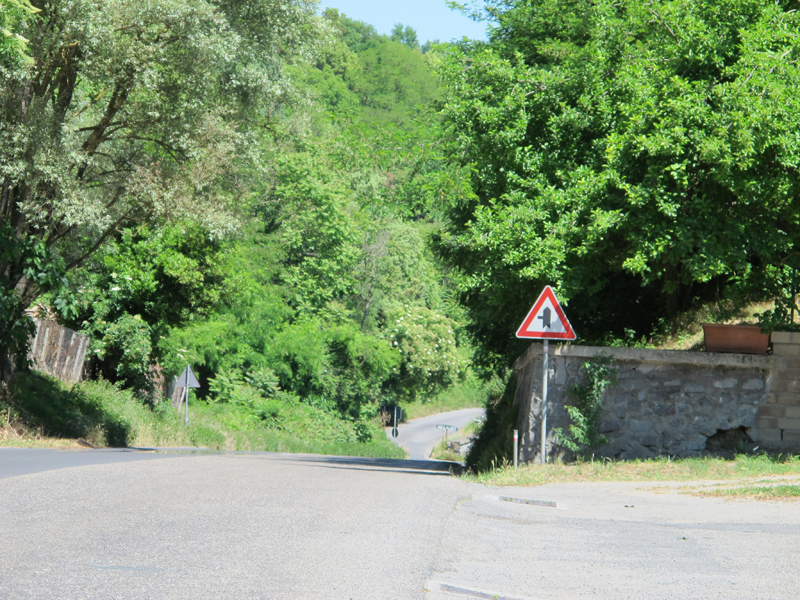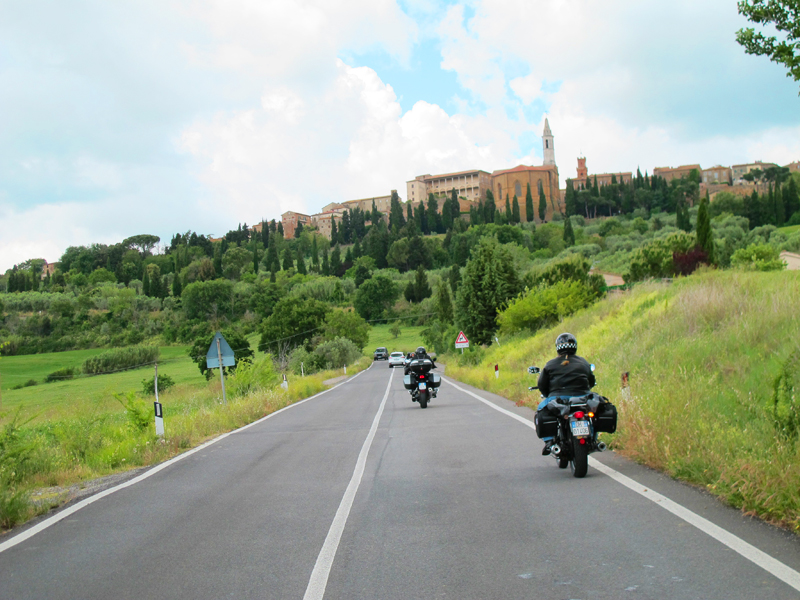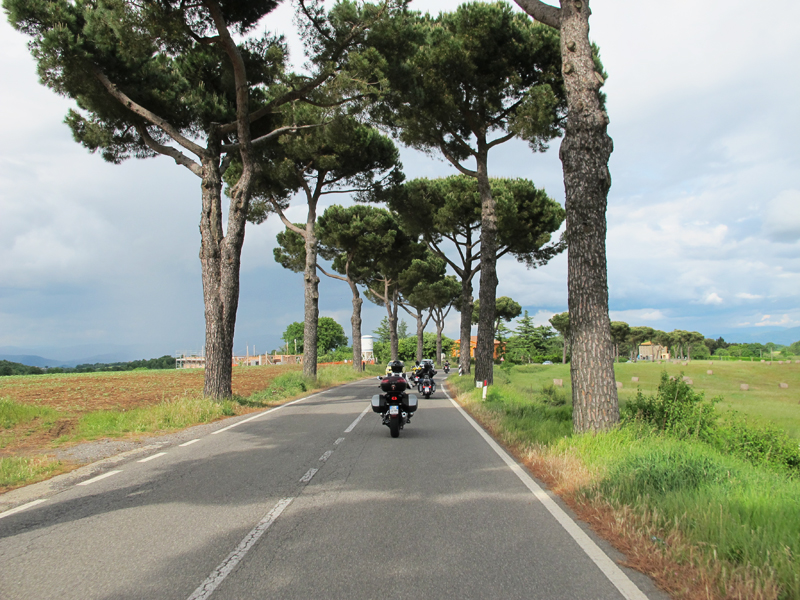 There are medieval castles and ancient forts in so many of the towns. People live and do business in these centuries-old structures. It's nothing for them to call a 15th century building their home. I joked that if they preserved every old building and designated it as a piece of history, there'd be nowhere to live or set up a shop.
I asked a 21-year-old taxi driver who was picking me up in the medieval walled city of Siena after dinner one night to return me to my hotel what he thought of living among such ancient buildings. As I suspected, that concept was lost on him. "It's all I've ever known," he responded.   Which leads me to my biggest take away from riding a motorcycle in Italy: being amidst the rich and deep history for which Italy is known. Rolling into these small villages on two wheels (instead of the cocoon of a car), the energy of bygone days is almost palpable.   Off the bike, I closed my eyes while standing on the worn and weathered brick foundation of an 11th century abbey we visited and marveled that my body is in the exact same place humans stood more than 900 years ago. You don't have that in America. Settlements in the U.S. didn't start until the 1600s, and even then how many buildings from that era are left standing?
Our Route
Our custom itinerary had us leaving Rome and riding north 90 miles to Orvieto, a city in the Umbria region of Italy. We stayed at the Altarocca Wine Resort, a 5-star all-inclusive spa hotel that had all of us wishing we'd lingered there longer than the one night. The next day we pointed our bikes north and rode 100 twisty roller coaster miles to Siena, and took a step back in time to medieval Tuscany. There is so much antiquity to be experienced and explored in this region so we spent four nights here using the Podere La Strega B&B, a quaint farmhouse on the outskirts of the city, as our home base for our one rest day, and our three scheduled days of riding the area. Click on images to view larger in a slideshow.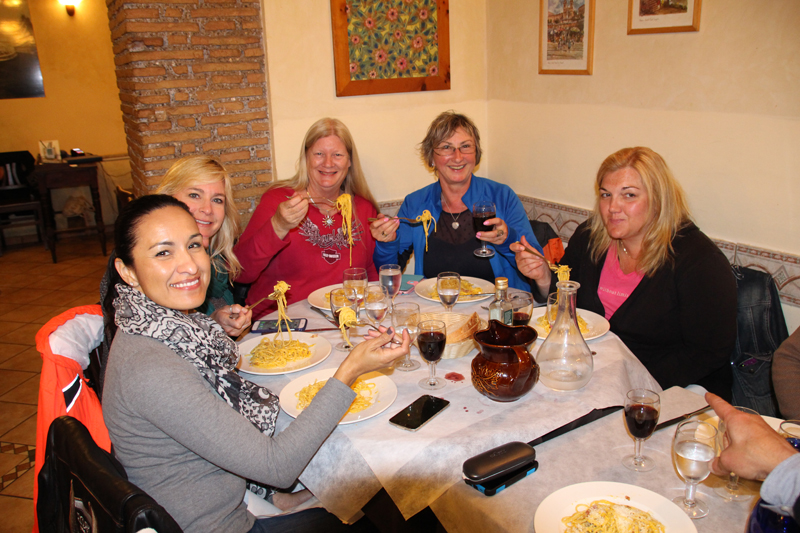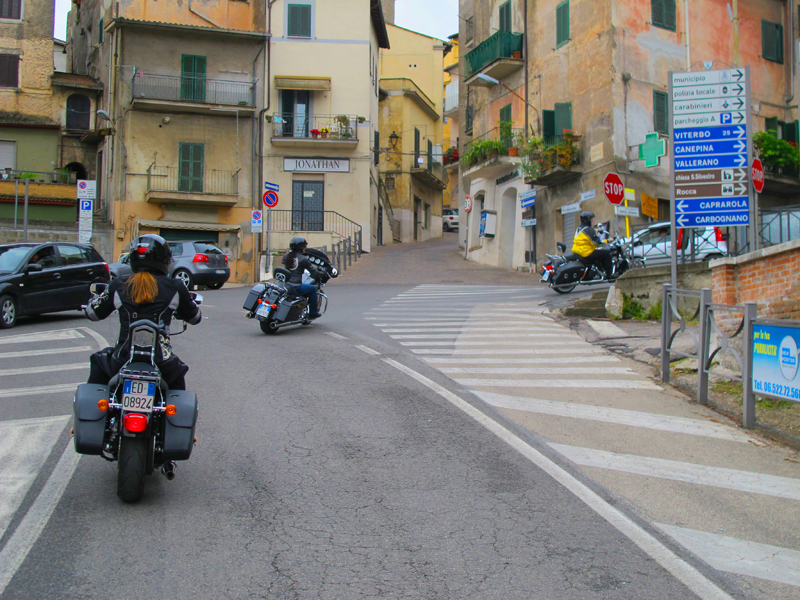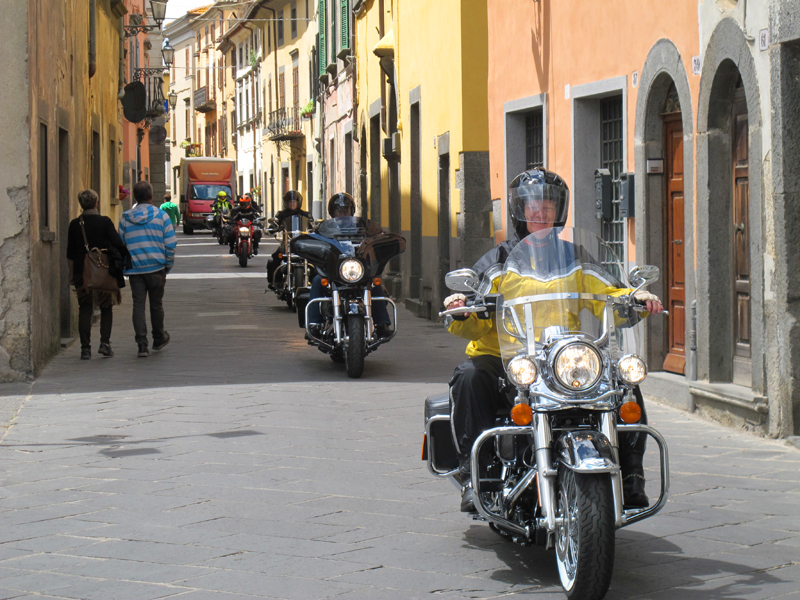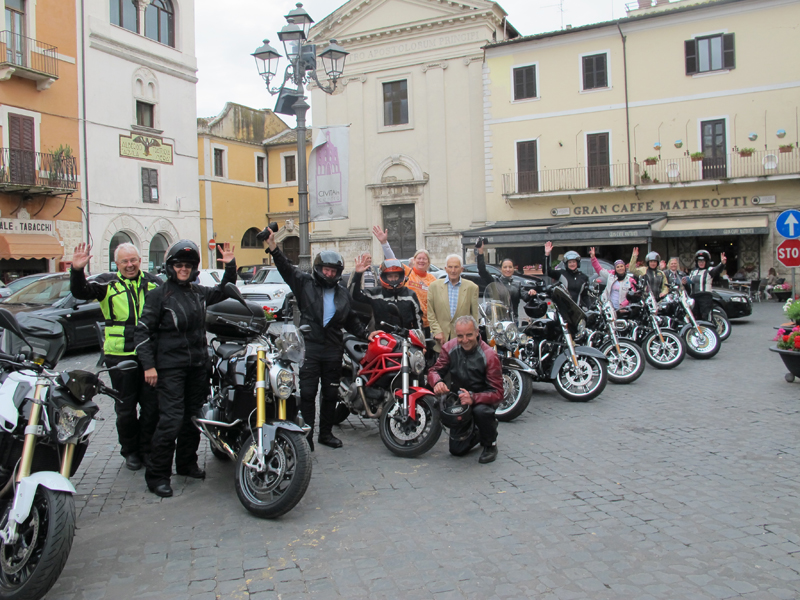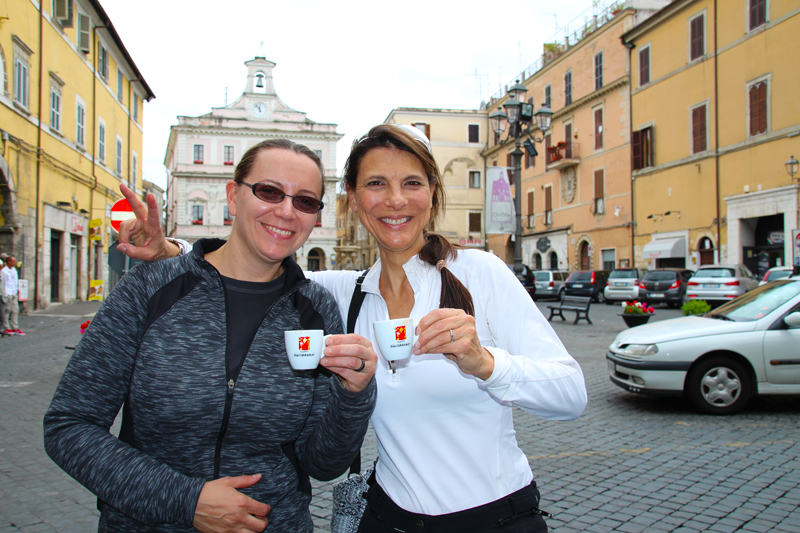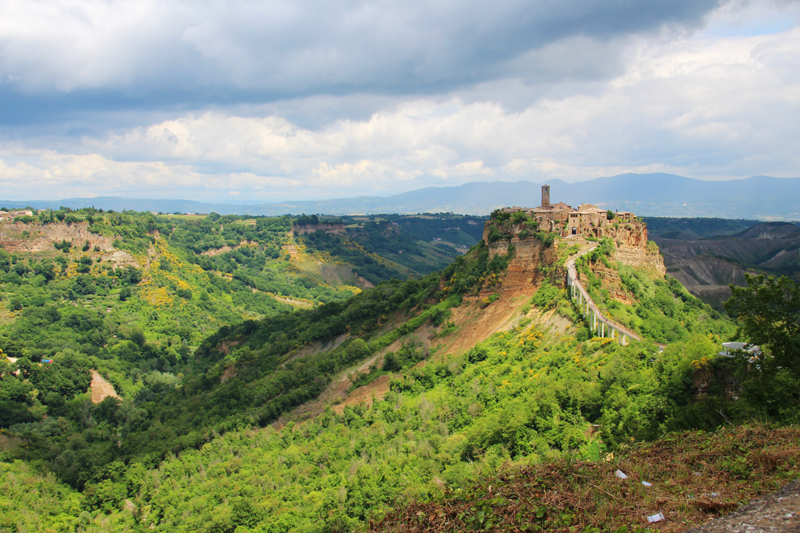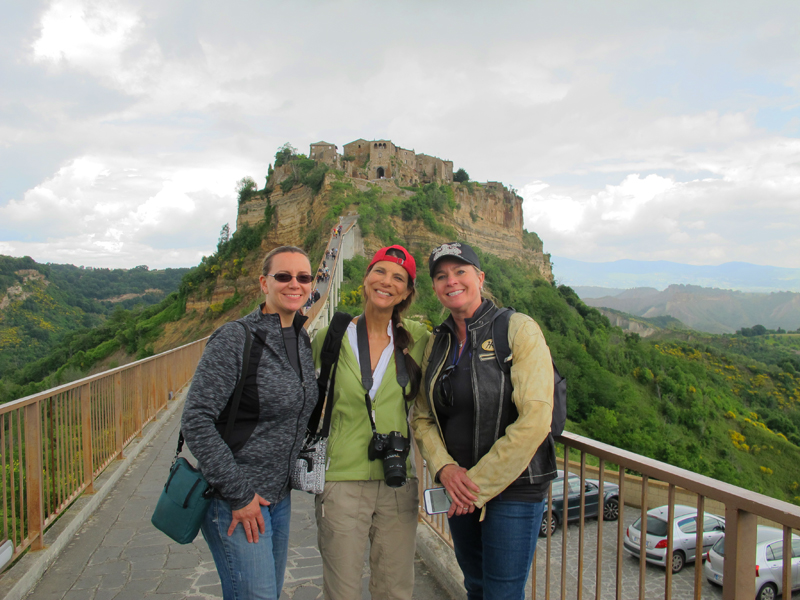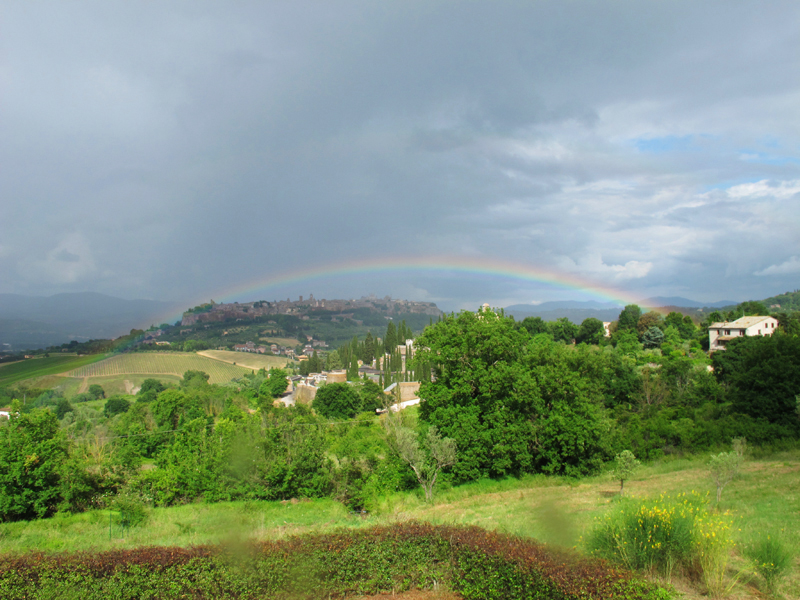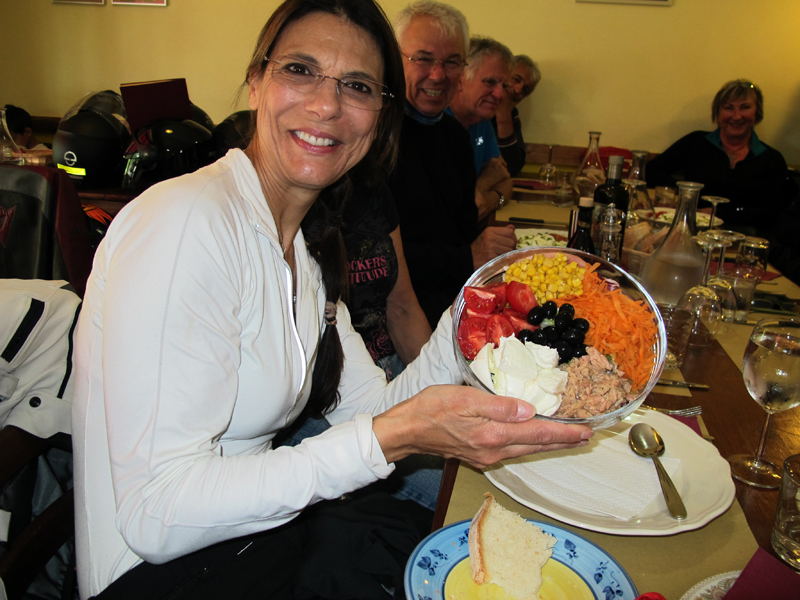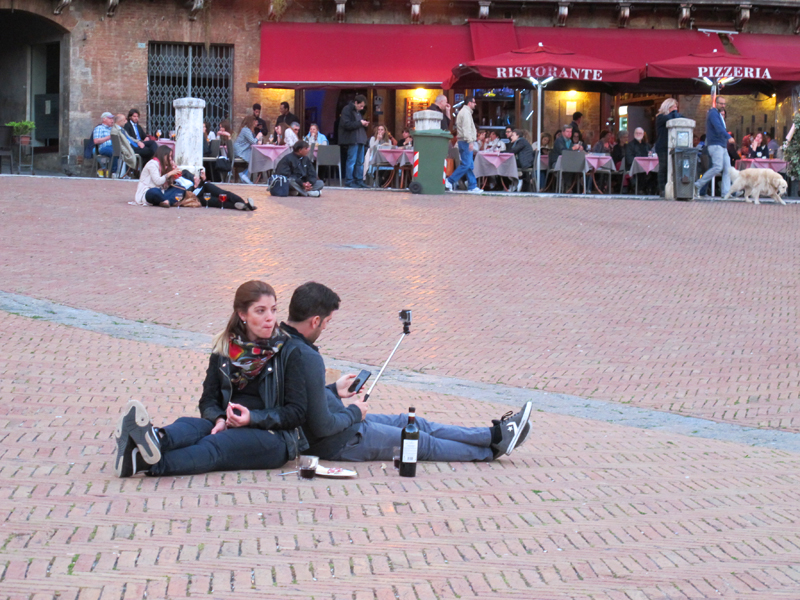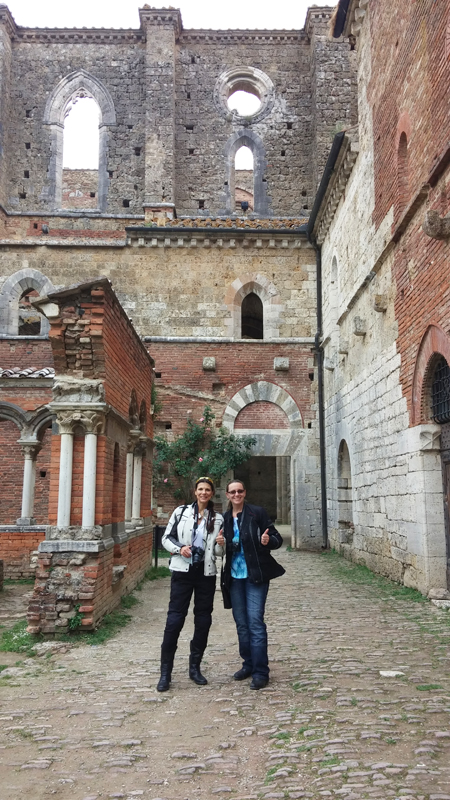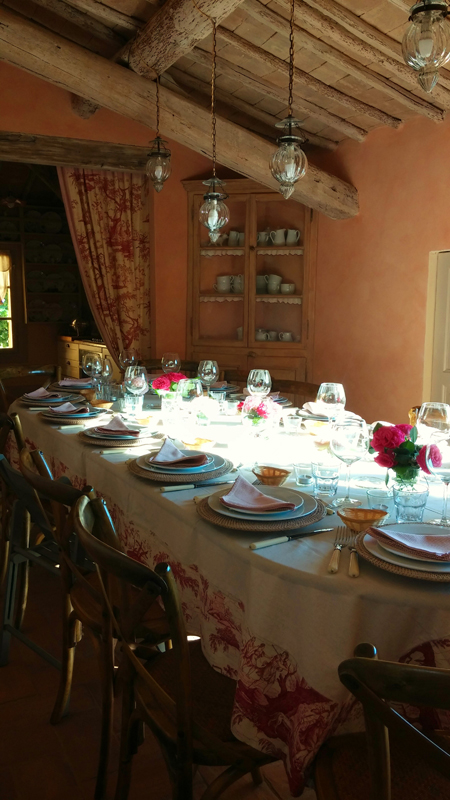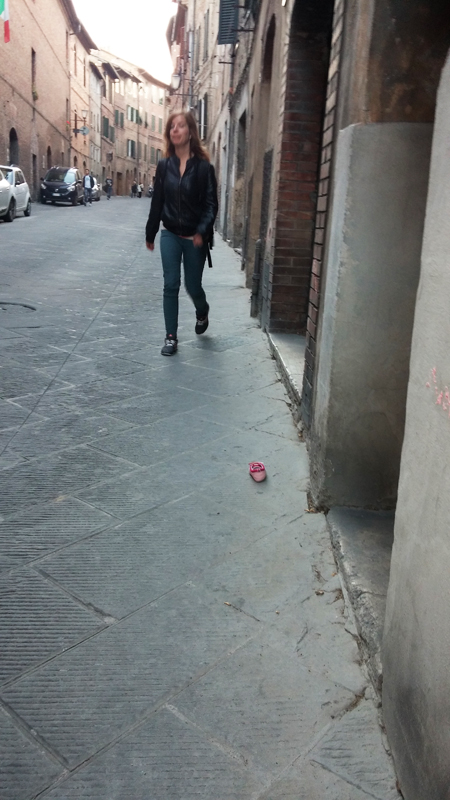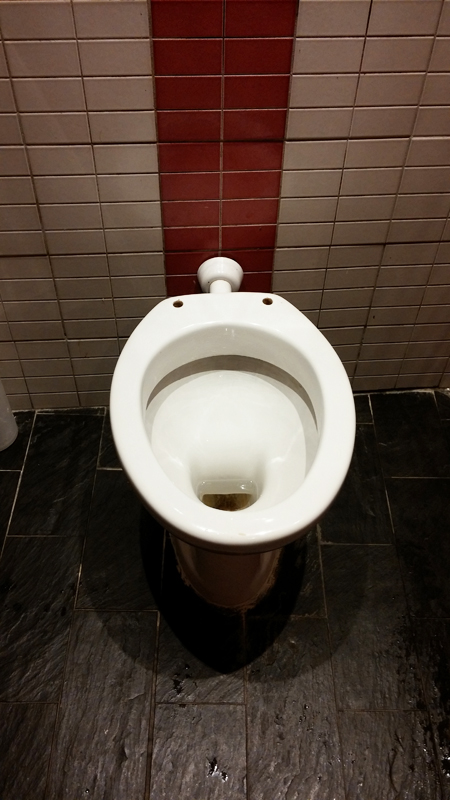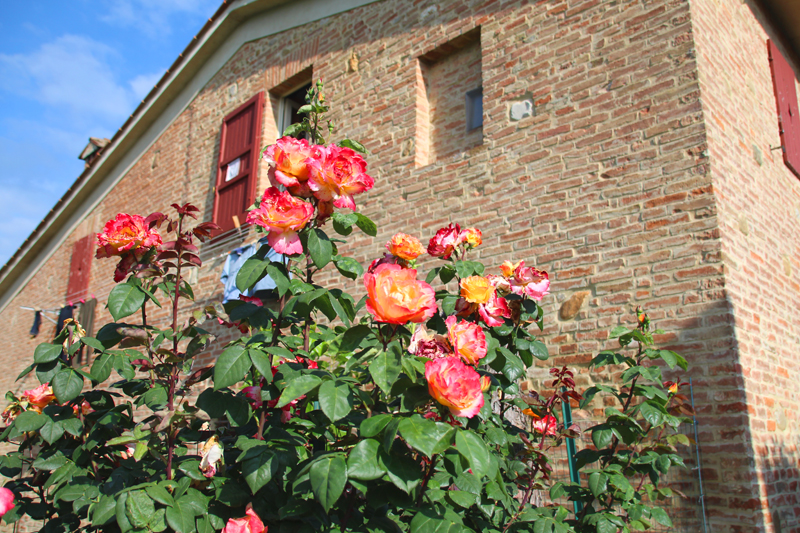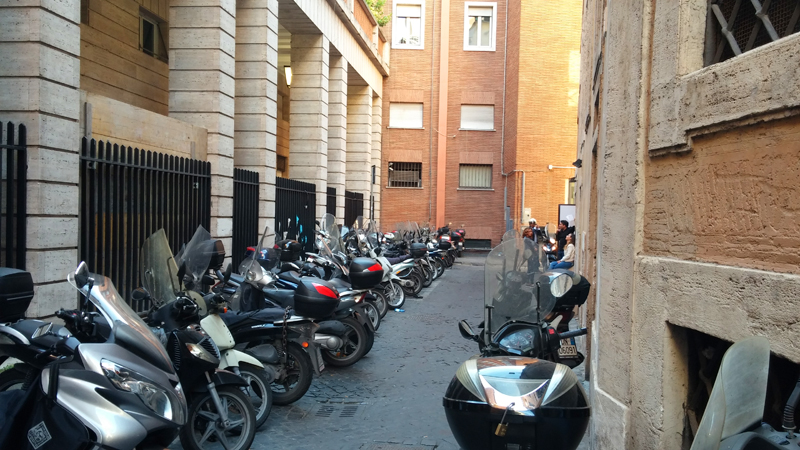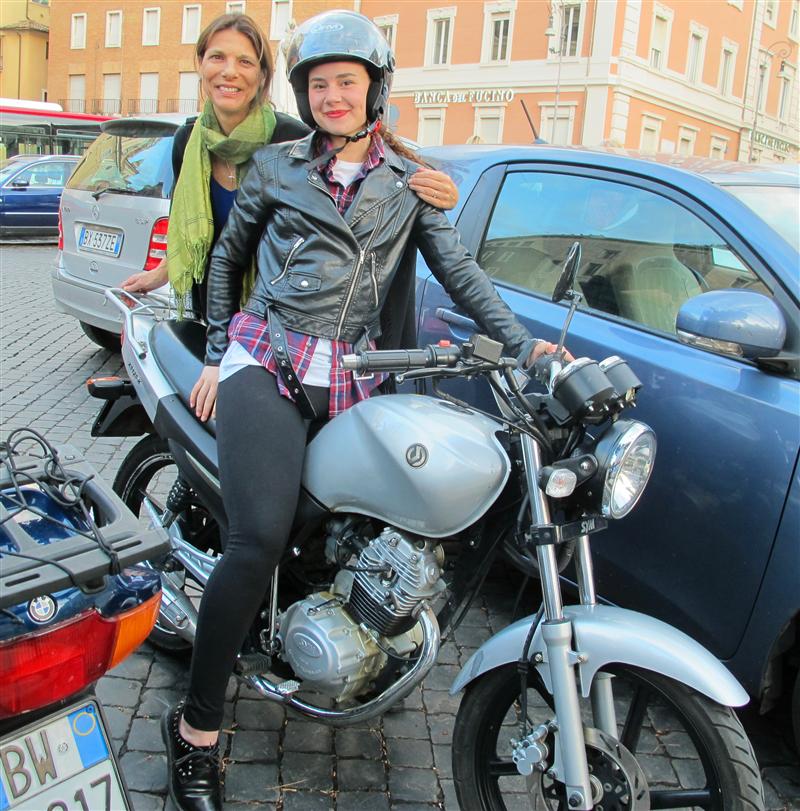 Future Tours with Women Riders Now
At the time of writing this article, ideas for a second WRN "Ladies First" motorcycle tour are still being bounced around, but there are no plans in place yet. This tour of Italy that WRN hosted with Hear the Road Motorcycle Tours Italy was a one-time opportunity. I am taking what I learned to organize a future tour at a different, but no less amazing destination. If you wish to tour Italy on a motorcycle, you can rent a bike and map your own route, or hire a tour company like we did. You should expect a tour company to go beyond finding the best roads and booking the best hotels. We all could do that on our own.
Important Questions to Ask a Tour Operator
What is the pace of the tour? Fast, slow, a more wanderers pace? While experienced tour operators will tell you the ride captain goes only as fast as the slowest person, you never want to feel like you're the slow poke holding up the group. So, it's important the ride pace is communicated to you ahead of time.
What are the roads like that you'll be riding? Most likely they will be twisties of all kind since that is so much of what makes motorcycle touring exciting. We had our fair share of curvy roads that made the experienced riders excited, but the less experienced ones a little skittish. I recommend at least 10,000 miles under your belt riding on all kinds of roadways and in all weather conditions before thinking of riding in a group of other riders you don't know.
How long has the tour operator been in business and how many tours has he or she and their ride captain / tour guides done? Obviously longevity indicates experience. The more experienced they are, the better your experience will be and the better they'll be at anticipating your needs. I find women appreciate this more than men.
What is the tour company's policy on drinking alcohol during riding hours? I say this because in Italy, wine is considered an acceptable beverage at lunch because of its minimal alcohol content. If riding with folks who've indulged during lunch bothers you, you should know ahead of time. I put together a list of more questions to ask after I went on another tour in 2010. You can read that story here.
More Suggestions if You Travel to Italy
Bring more Euros than you think you'll need. In some of the smaller towns, credit cards are not accepted everywhere.
Bring several credit cards in case you lose one, or one gets stolen while you're on vacation. The couple on our tour was notified by their credit card company that their card number was being used fraudulently so subsequently that card was no good the rest of the tour. Fortunately, they had another one with them.
When choosing the motorcycle you will rent from the tour company, choose one smaller than you're used to riding. Italy, with its narrow roads, off-camber turns, and tiny parking spaces is not a place to test ride a bigger model you're thinking of buying, as one of our participants did. We should have advised her otherwise. There are enough "foreign" variables to deal with when riding in Italy or any foreign country for that matter. Handling and maneuvering your motorcycle should be easy and stress-free.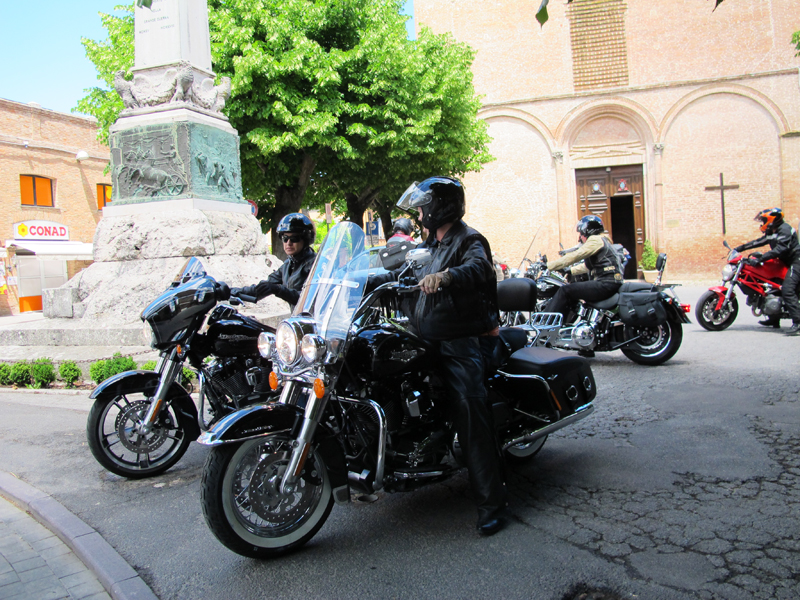 What kind of insurance coverage is there on the motorcycle you'll be renting? Make sure you read the contract inside and out and know exactly what you're signing should something happen to the motorcycle, even if it gets a scratch while you have it.
Pack light. While we had a chase vehicle that carried our luggage, I wish I didn't bring as much as much gear as I did. Motorcycle outerwear is bulky and takes up a lot of space in your suitcase leaving little room left for your regular clothes. Do your best to pair down to the minimal essentials. I probably didn't need two pairs of gloves. I had an extra pair in case I lost a glove.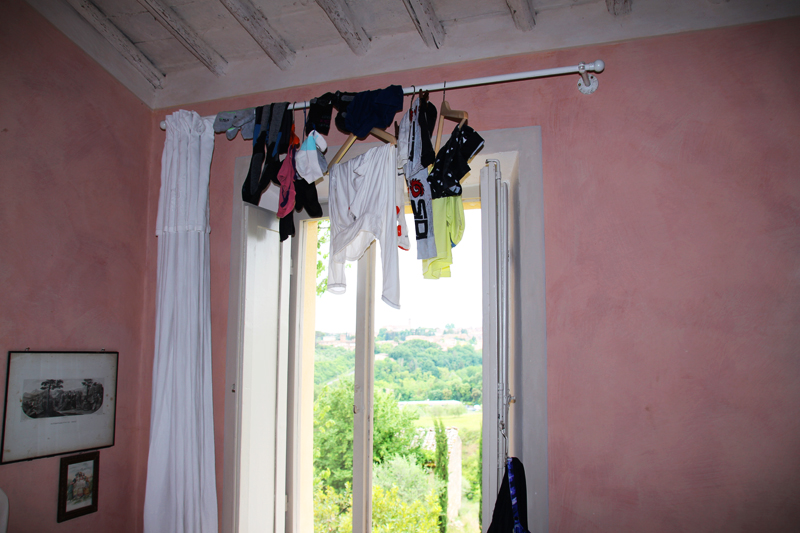 There is so much more I could share about my tour and touring in Italy in general, but this is a good guide to get you started. If you're seriously considering riding a motorcycle Italy or using the tour company we went with, please feel free to contact me in person at gschmitt@womenridersnow.com and I can answer any questions you may have.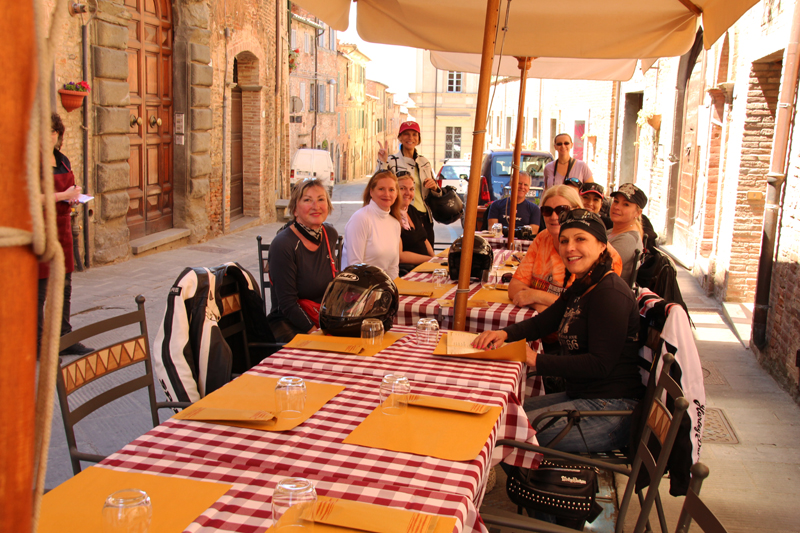 To see more photos, visit my Postcards from Italy: Preview of Inaugural Trip story I posted as a teaser when I first returned.
Further research:
HearTheRoadItaly.com
HotelLocarno.com
AltaroccaWineResort.com
PoderelaStrega.com  
Related Articles
Postcards from Italy: Preview of Inaugural Trip
Women's Cross Country Ride Scheduled for July 2016
Thinking of Going on an Organized Motorcycle Tour? Read this first.
All Touring and Adventure Articles on WRN