If you keep up with the leather and textile jacket offerings from Harley-Davidson, youve heard of the FXRG line, the Motor Companys functional riding gear (thats what FXRG stand for). Ive worn both the FXRG leather jacket and pants and the textile riding outfit when they first came out and found them to be top notch in protection and comfort. We have a link to our full review of the textile outfit at the end of this article.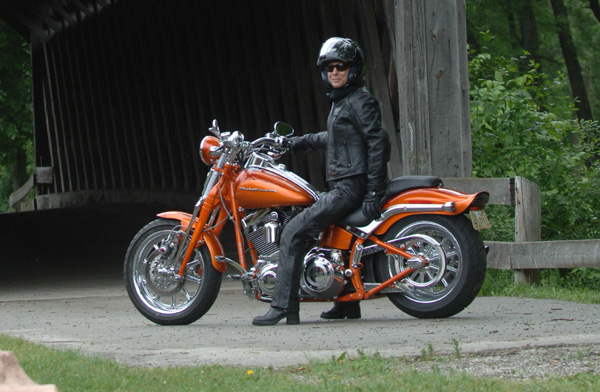 For 2009, Harley-Davidson greatly improved both the leather and textile versions with a host of new features that, I think, make it worth the expensive price tag. I wore earlier versions of the FXRG so I cant really call this article a full review as Ive not truly tested the attributes of the newer versions.
Waterproof Leather Jacket
The womens FXRG leather jacket is a sturdy midweight quality leather that is waterproof and windproof. I tested the waterproofing of my earlier version in a light rain and indeed found it to resist the wet stuff. I didnt have the opportunity to test the waterproofing in a downpour, but leather, in general, resists rain up to a point. Adding waterproofing abilities to the leather will certainly help the cowhide stand up to Mother Natures showers.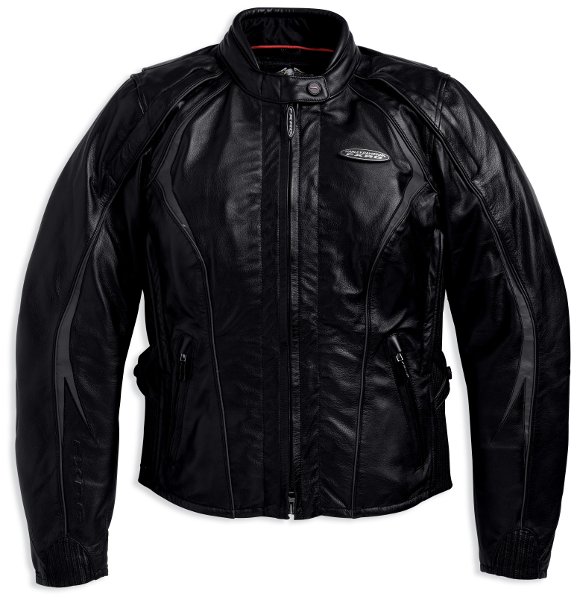 The leather jacket features wind and waterproof change membrane technology from Schoeller, which reacts to body temperature changes and moisture levels to ensure an optimum body climate. This is a good thing because leather, which is not breathable, can become stuffy and hot, especially in a hot summer rain. The high-end leather has been treated with this membrane allowing the leather to breathe. Dont ask me how it does this. The earlier version of the jacket I tested did not have this feature.
The leather jacket alone is pretty warm, but if you need added warmth there is a removable, lightweight and breathable PrimaLoft warmth liner. Good thing about this liner is that it can be worn separately as a light jacket.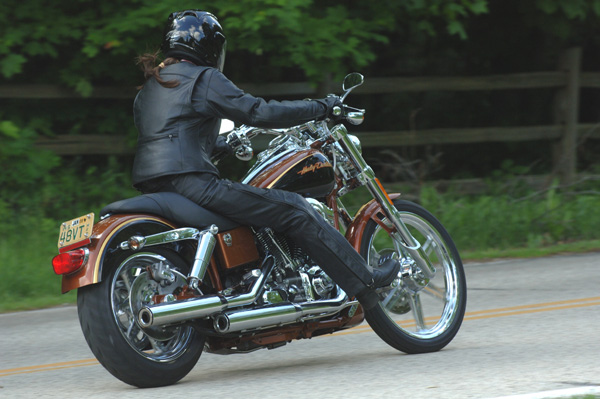 There are plenty of vents including two vertical ones on the back, the shoulder area and the sides. For added protection there is removable lightweight body armor at elbows, shoulders and back. Harley-Davidson uses soft, flexible armor in its FXRG line that is much more comfortable that the stiff armor found in most protective riding jackets. Sizes: XS-XL, $650; sizes: 1W-2W-3W, $660.
Textile Jacket
FXRG Textile Jacket is a lightweight, Air Guard nylon version of the standout leather jacket that is both water and windproof. Air Guard fabric is 20 percent lighter than nylon and 50 percent lighter than polyester typically used in jackets with increased abrasion and tear-resistance.
| | |
| --- | --- |
| The textile jacket also has the feminine silhouette and stylish piping. | The back of the jacket has the FXRG logo at the shoulders and piping that flatters the waist area. |
It offers that same climate change wind and waterproof membrane, and the CoolMax lining keeps temperature and moisture levels low to ensure an optimum body climate. The removable, lightweight PrimaLoft liner can also be worn separately as a light jacket. The interior pocket system includes two zipper pockets, a cargo MP3 player pocket, and eyewear pocket with lens wipe. Lots of venting and it comes with CE-approved lightweight armor. This jacket also has a removable kidney belt, precurved sleeves and reflective piping Sizes: XS-XL, $500; Sizes: 1W-2W-3W, $510.
Leather amp; Textile Pant
Back when Harley-Davidson first introduced the FXRG line there was an all textile pant and matching jacket and an all leather pant and matching jacket. For 2009, they combined the two fabrics to make one pant. The FXRG Leather amp; Textile Pant offers riders all the attritutes and benefits found in the jackets that share the same name:
waterproof leather combined with strategically placed stretch Cordura panels formaximum comfort and reduced garment weight
wind and waterproof change membrane with CoolMax lining that keeps bodytemperature and moisture levels stable
| | |
| --- | --- |
| The FXRG leather pants have greatly improved with stylish lines and stretchy panels for a better fit. | The back features a subtle FXRG logo. |
These pants also offer:
angled thigh vents and removable, lightweight body armor at knees and back hip
zips in the front and has adjustable waist tabs for a secure fit
zippered leg openings with gussets
zippered waist attaches to all FXRG jackets
two front jean style pockets with reflective material piping
Price $375, sizes regular and tall 2-18.
A sidenote: BMW is the only one other company Im aware of making a quality high-end waterproof leather outfit. That jacket alone costs nearly $1,000, with the pants running $800. I never had the opportunity to test them, but Ive spoken to a couple of male journalists who tested the BMW waterproof leathers who swear by them wearing them all the time in all kinds of weather.
I say this so you have a comparison in price. To make leather truly waterproof costs a bit of money. Sure, the cost of buying rain gear and a leather jacket is nearly half the price of this waterproof jacket, but you dont get the convenience of having just one garment. My buddies with the BMW leathers wear them all the time and have had them for years. The older leather gets, the better.
Related Articles:
REVIEW: Harley-Davidson 2006 FXRG Riding Suit