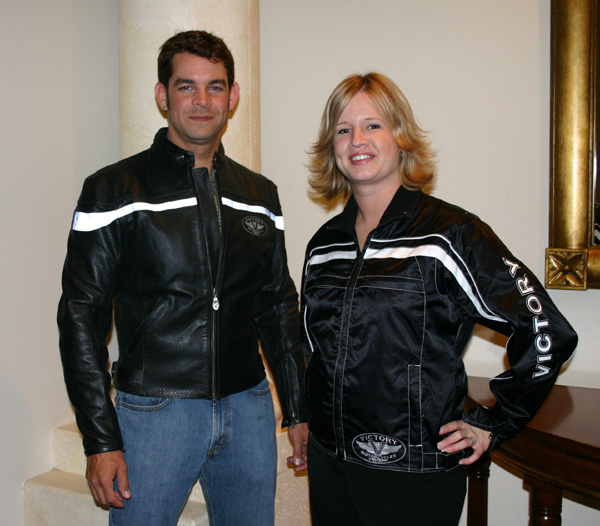 Victory Motorcycles is a force to be reckoned with in the motorcycle arena; now the company is making its mark with motorcycle riding apparel.
Victory has a limited, but quality selection of garments for both men and women. We photographed two womens and one mens jacket to give you an idea of the offerings. The first is the Nylon Shimmer jacket. Its lightweight and stylish great for warmer weather when you like a layer of protection while riding. The jacket has a nylon outer shell with a fleece collar. Zippered vents on the back and front allow for air flow. This fitted jacket has an adjustable waist to accommodate for different waist sizes, and the cuffs have zippers on them. There is one pocket inside and two outside.
The Nylon Shimmer jacket is soft to the touch and easy to wear making it ideal for wearing after the ride. Sizes: S – XL $99.99; 2XL-2XL $199.99.
The mens jacket shown is the Perforated Victory Performance jacket. It features perforated leather for warm weather riding and is soft and easy to wear. It also has padding in the back and elbows for a little extra protection. The waist is adjustable and there are zippers on the cuffs. One inside pocket and two outside pockets let you stash a few things.
There is a gray reflective stripe across the chest, highlighted by our cameras flash. Size S – XL $329.99; XL Tall to XXXL $362.99. The part number is 2855302 in case you want to order it. The jacket, introduced in 2006, was inadvertently left out of the 2007 catalog, but is still available.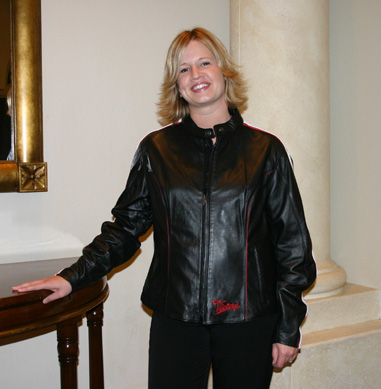 The other womens garment shown is the After-The-Ride jacket. Its made of drum dyed lightweight leather stylish enough to be worn after the ride as well as on the ride. We really like the flattering fit and eye-catching graphics. The red piping is a nice touch. The jacket has a nylon lining, a 2-way zipper (zips up from the waist to give space when sitting down), the cuffs have zippers and there are two inside and two outside pockets. The leather is soft and easy-to-wear, not stiff. Sizes: S – XL $199.99; 2XL $290.00.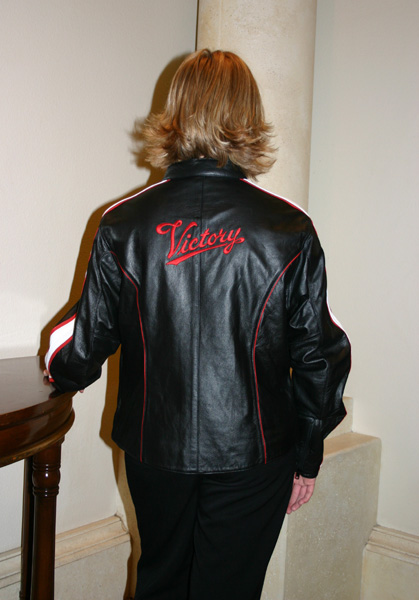 Victory has a few other really nice women's and men's jackets that are worth checking out at your local Victory dealer or by logging on to VictoryMotorcycles.com.