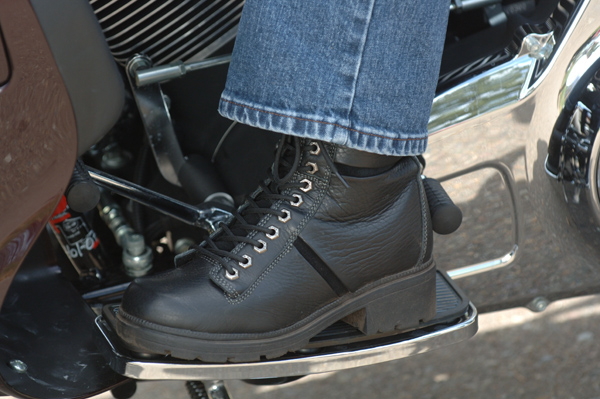 Harley-Davidson Tonya Boots
As much as I try to look cool and stylish on my motorcycle, when it comes to long distance riding, its all about comfort. My gear has to work for me and be durable enough to withstand hours of wind, sun, and dirt.
I bought two pairs of riding boots this season: a fashionable pair by Roper high-heeled rubber soled brown suede cowboy boots and my functional pair, the black leather lace-up Tonya boot by Harley-Davidson. I got hooked on over-the-ankle lace-ups a few years ago when Harley sent me a pair of its Cruise Control boots. I found during the hot days of summer, particularly when attending rallies, I needed a comfortable boot that was also cool to wear cool in the cold sense. Over-the-calf boots can be very hot during summer months. My Cruise Control boots are very worn having been through several summers of wind, dirt, and rain. This summer I chose the same basic style, but with a few different features.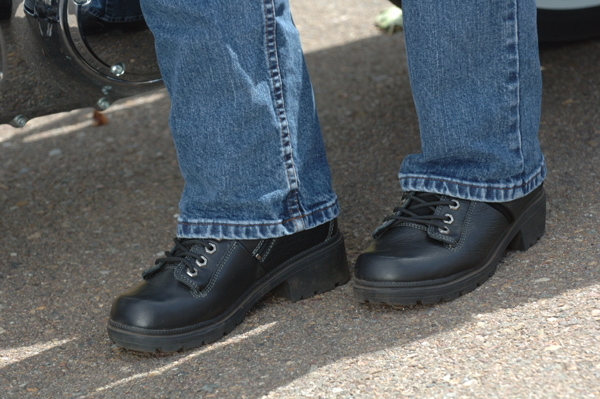 Walking on Cushion
The Tonya boots are very comfortable. Just touching the soft cushion lining inside with your hand youll know your foot is going to love it in there. The lining is made of a breathable wicking material so my feet were never hot and sweaty. I wore these boots with Tech Sox, an amazing pair of technical socks that are highly breathable and cushy, so all day I felt like I was walking on air. (Review of Tech Sox to follow.) You might think Im exaggerating, but the combination of these great socks and these comfy shoes made all the difference in my exhaustion factor when I was wearing them running around Sturgis recently attending press events and browsing vendors. I could go the extra mile because my feet werent tired.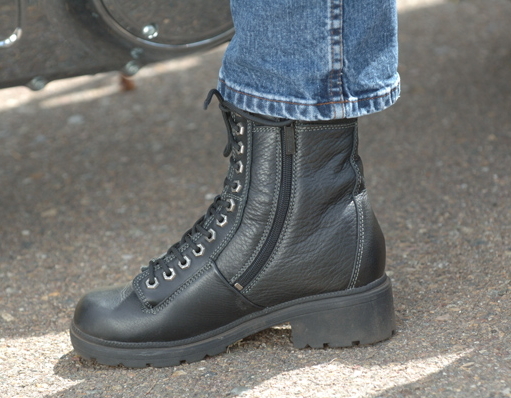 The only negative is the Tonya boots are not waterproof. Fortunately, I didnt hit any rain while wearing them in Sturgis, but I can tell you my older Cruise Control boots, which are similar to these, have been through a lot of rain and I found they can only take so much water before it starts seeping in at the seams. Thats why those boots wore out so fast. Because rain might happen, I always treat all my leathers with a leather water-repellent. Spray it on your leather gloves and jacket while youre at it. There are times you might get caught without your rain gear and the repellent extends the time your leathers can get wet before water soaks through.
Theres a small metal Harley-Davidson logo attached to the outside of both boots above the ankle. For those who dont care for labels, your pant leg will hide it. I believe its smart to have at least one sturdy, durable pair of riding boots in your closet. The Tonyas are mine. Comes in black only. MSRP: $102. For more information, visit your local Harley dealer or log on to harley-davidson.com.
Tech Sox
Socks with a 12,000-mile warranty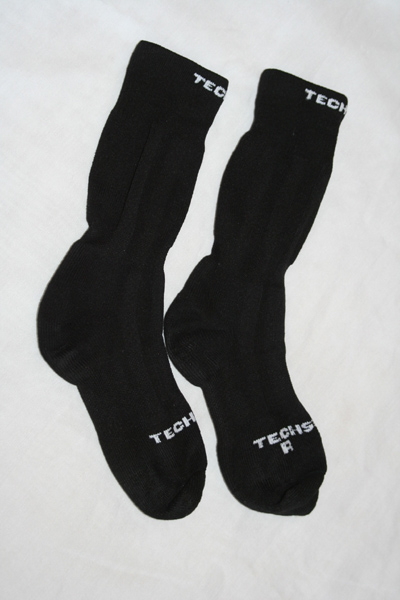 Apparently, these socks were introduced to the motorcycle market a few years ago. Im bummed I didnt know about them sooner. Im a fanatic for comfortable socks. I saw a booth selling Tech Sox at the Americade rally this past June and was anxious to try them after the sales pitch: A right and left sock; channels to redirect sweat, toe vents, no need to wash for several days. It was either a bunch of high-tech mumbo jumbo that has no business invading the sock market or these could really work making feet more comfortable in motorcycle boots.
I found the latter to be true. Tech Sox has been part of the sportswear market for years. In 2002, it invaded the motorcycle market. Im glad it did. First of all, there are no seams in the toe. Right there, you dont have to deal with that annoying seam that bunches up between your big or little toe and the interior of the boot. Second, the whole sock is made of a high impact cushy combination off 70 percent polypropylene, 20 percent nylon and 10 percent elastic.
If you turn the sock inside out, youll see a pattern of cooling vents that actually channels heat away from your feet. There are even channels for your toes necessitating the need for a right and left sock. Each one is marked appropriately. Youll even notice a pattern that supports the arch.
All this high tech stuff translates to one comfortable sock that cushions your feet all day. Plus, as hot as it got walking around in Sturgis wearing these, my feet never felt hot and sticky. I wore the boot cut style, which comes below the calf. There is also a high cut style, which stretches to just below the knee. My boot cuts stayed in place; they didnt keep falling down on my calf like some socks do.
I could go on and on about these socks, but I think just the fact Im writing about them should be reason enough for you to check them out on your own. Theyre pricey for a pair of socks. My boot cuts are $16.95, but youll have them for a long time, as they seem to be pretty durable for a sock. The comfort factor is worth it to me. Tech Sox warranties them for one year or 12,000 miles.
When you wash the socks, dont put them in the dryer like I did. I missed that instruction on the label. The heat shrinks them a bit, but nothing your foot cant stretch back out. Just let them hang dry. For more information, or to place an order visit techsox.com.