Do you have a story to share? Please send it to us, but read these submission guidelines first.

You know that sheer thrill when you feel the wind in your hair and hear the rumble of a Harley-Davidson as you take it on the open road? I first felt it at just 12 years old. My uncle took me on his Harley-Davidson Softail to the Oyster Run in Washington, and during that ride I knew I had found my passion in life.
Women Riders Now E-Newsletter
Stay up-to-date on all things motorcycle! Latest gear, bikes and products reviews. Travel ideas, great product giveaways, and more.
Just a year later, and despite my mother's objections, I bought my first motorcycle, a 2008 Yamaha YZF-R6.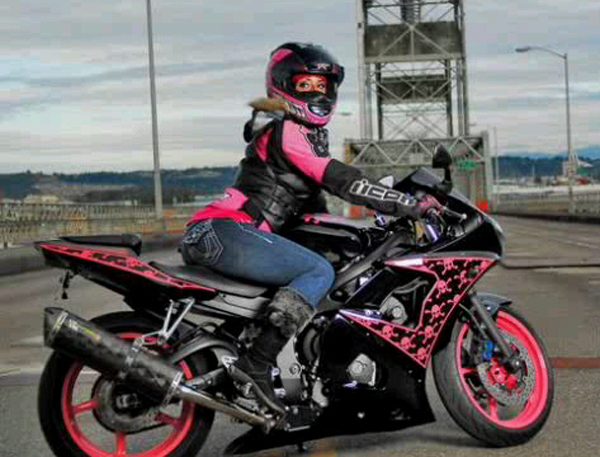 That pink and black sportbike gave me a sense of freedom and confidence. It also led me to the sportbike community. As an outlet for my motorcycle obsession, I joined a stunt team and traveled through California and Washington performing in various shows. My West Coast Connection team made me a much better rider and helped me really understand how a motorcycle works. Working shows meant I'd need to take it apart and put it back together, flush fluids and change oil, often in my living room.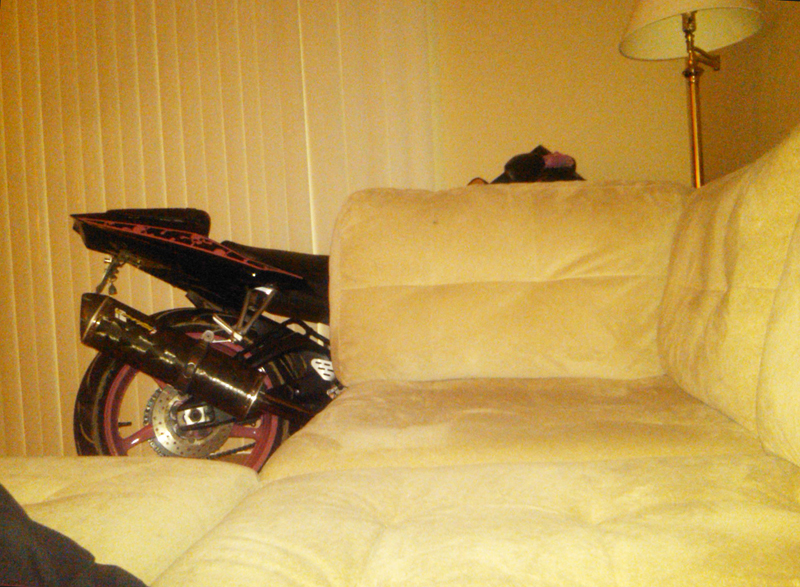 I wholeheartedly believe I was born with an inherent love of motorcycles. I wasn't a stranger to getting my hands dirty. I grew up with a dad who was a typical, old-school technician. While most kids were busy playing with blocks, I was helping him rebuild the engine of a 1955 Chevy Bel-Air at 3 years old. My love for motorcycles only grew and by the age of 5, I was racing go-carts against the toughest, fastest boys around—never running into the tires or losing a race. Engines are just in my blood.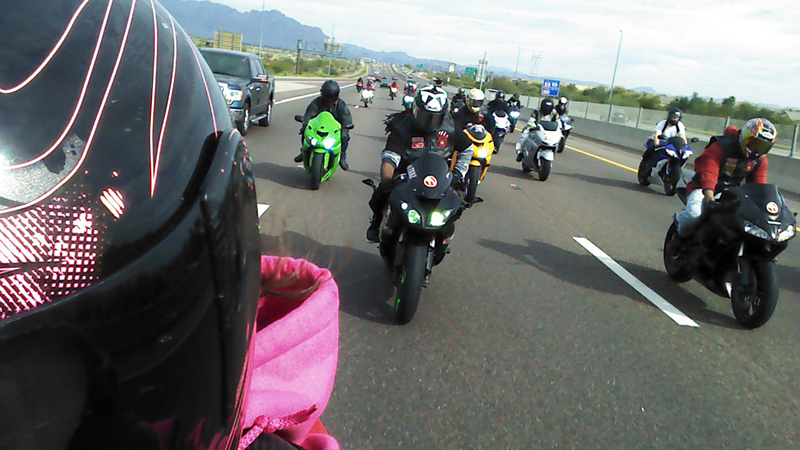 As I got older, I realized that I wanted to turn my hobby into a career. I spent a year researching schools to become a motorcycle technician and what it would take to pursue an education in the field. With some guidance from an influential counselor, I sold my treasured R6, left my family, and moved to Phoenix to attend Motorcycle Mechanics Institute (MMI).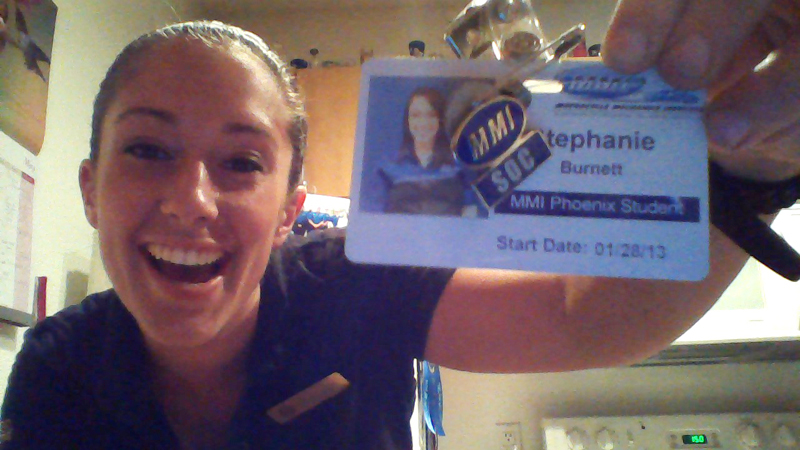 During that time I ate, slept and breathed motorcycle engines. Never willing to sit idle, I worked two jobs while attending classes full-time. Nothing could deter me from the classroom. On my days off I'd go to school to study more, work on engines, and watch how-to curriculum videos. I needed to prove to myself that I could do this. But I also needed to prove it to my friends, family and teammates.
It was my hard-driving ambition and steadfast belief in what I was doing that drove my mother, sister, niece, and nephew to realize that MMI was putting me on the fast track to success. The more I spoke about it, the more they wanted to embrace my passion as their own. They were in awe of what I was learning and decided to move from Seattle to Phoenix. Despite my mom's initial misgivings about my love for riding and motorcycles, she is now 100-percent supportive of my career aspirations and riding as a hobby.
| | |
| --- | --- |
| Stephanies enthusiasm for motorcycles could probably power this V-Rod just as well as the engine she removed from it! | Hard work pays off! Stephanie graduated from MMI in September 2014 at the top of her class. |
All my hard work was worth it. I learned so much. I learned not to pay attention to what other people are doing, and if you can't do something, keep trying until you can. That doesn't just apply to school or riding, but to life in general. If it's your dream, pursue it without regret.
I made the Director's Honor List for receiving a 90 percent or better and for having perfect attendance in three consecutive courses, as well as receiving an award for being an outstanding student in each course (Student of the Course) with perfect attendance. It might sound silly, but the perfect attendance was the achievement I was most proud of. I realized that if I'm not around to learn something, I'll miss it—and I don't want to miss a thing.
Now, I don't just have a hobby, but soon, a career in an industry I love. I've set my sights on becoming a master technician. I know the skills I learned in school have put me on the path to achieve this next big goal. And it's what drives me to go back where it all started and work with my dad to restore an old Harley Shovelhead together. I'm living my dream in every way possible, and it's been the ride of my life.
Feel free to share or pin this inspirational quote.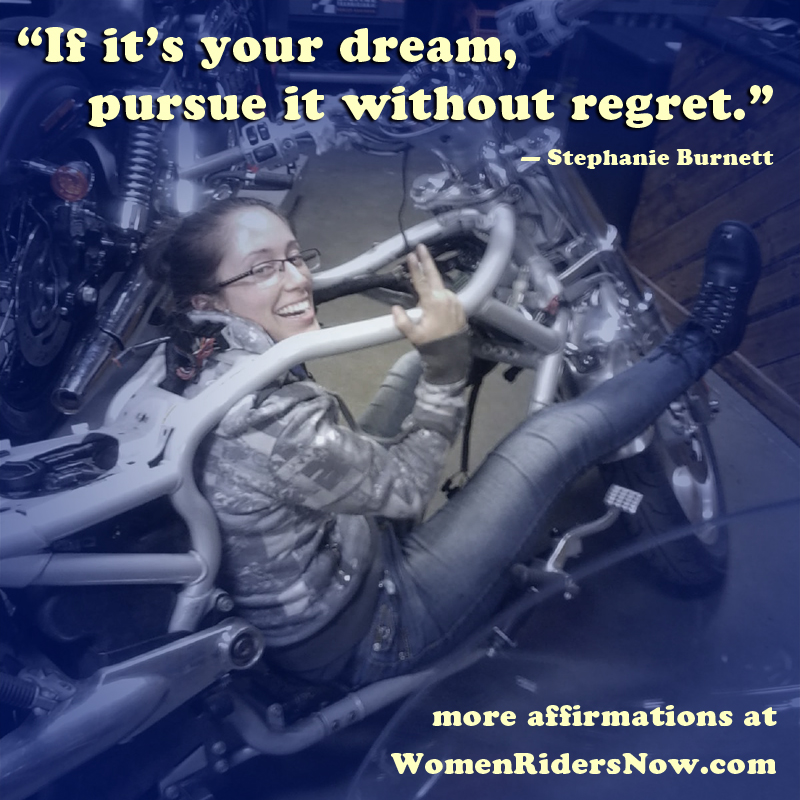 Editor's Note: Since this story originally published, Stephanie has accepted a job doing what she loves at Lawless Harley Davidson in Renton, Washington. Good luck, Stephanie!
Do you have a story to share? Please send it to us, but read these submission guidelines first.


Related Articles
Reader Story: Finding My Calling in Motorcycles
Way To Go, Girl! Female Mechanics Rock!
Your Motorcycles
Pink Motorcycles
Profile: Sarah Irvin, CCS and WERA Racer
More Reader Stories