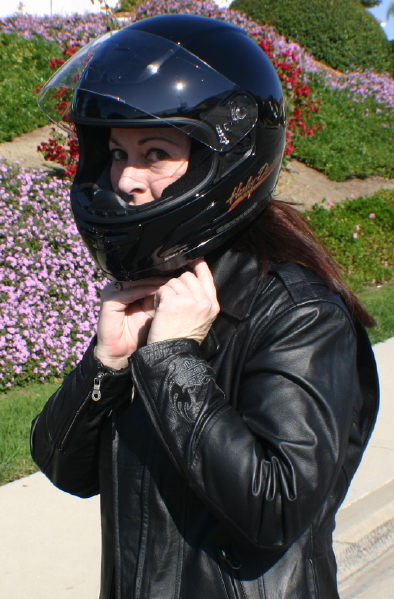 When it comes to selecting a helmet there are many styles and manufacturers to choose from. There are shorty helmets (or half-helmets), open face helmets (or three-quarter helmets), and full-face helmets to name a few. Each type of helmet has its advantages and disadvantages, and a lot will depend on the type of riding you will be doing. Although, not all states require you to wear a helmet it can be one of the most important pieces of motorcycle gear you will ever own. So, the way it feels and fits is crucial to both your comfort and safety.
As a seasoned rider, my tastes have changed significantly from when I first started riding. While I used to wear a shorty helmet most of the time, I now prefer to wear a full-face helmet being that I spend more time on the freeway. For those who are mildly claustrophobic a full-face helmet can seem a little intimidating, but as with most things they take a little getting used to.
When I test rode Harley-Davidsons Laguna II full-face helmet I was very impressed by the overall comfort and fit. It didnt feel like I had a bowling ball on my head like other helmets Ive tried, and my neck wasnt stiff or sore after riding all day. I also noticed there was hardly any wind noise while traveling on the freeway and through winding backroads at varying speeds, and the visor opened and closed easily. I also liked the sleek and simple styling of the Laguna II helmet.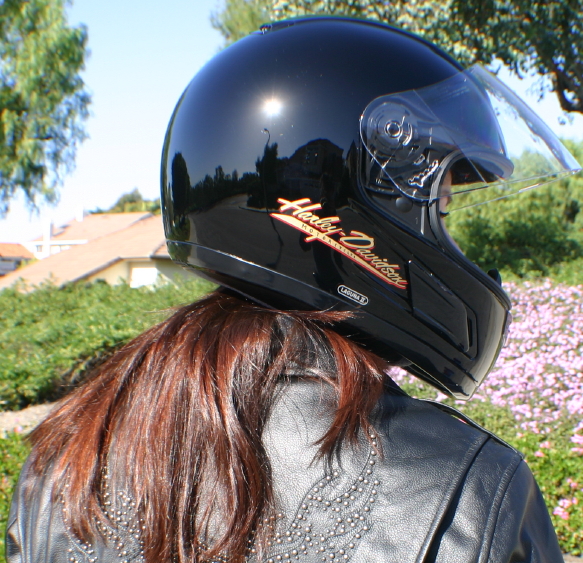 Something else to consider when selecting a full-face helmet is the size and shape of your head. Is your head oval, round or square? Some manufacturers cater to specific head shapes, so obviously these will not be suitable for everyone. And not all brands will fit the same way, so you almost always need to try them on for size.
Here are a few helpful hints when shopping for your full-face helmet:
1. Consult a sales person before trying on a helmet so they can take a measurement and properly instruct you in how to put on and remove the helmet.
2. Try on a variety of styles from different manufacturers to find the best fit.
3. Make sure the helmet fits squarely on your head and isnt tilting backward or forward.
4. With the helmet securely fastened try moving your head from side to side and front to back. If there is excessive sliding then a smaller size may be necessary.
5. Once you find a helmet you feel fits well, wear it around the store for 10-15 minutes. Sometimes a helmet may feel fine at first, but become uncomfortable after a few minutes time.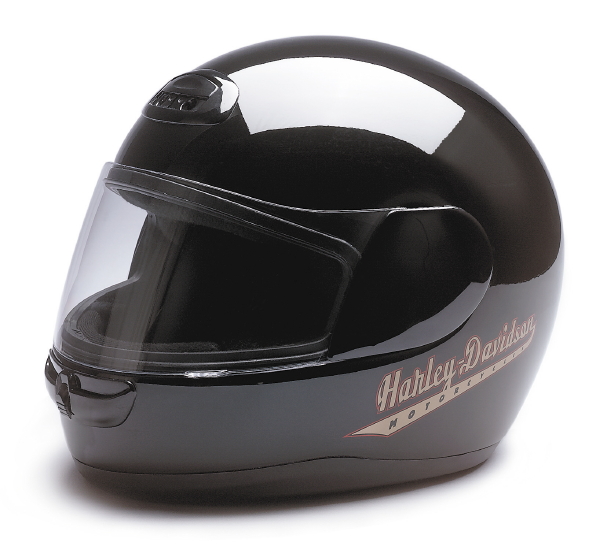 The Laguna II helmet is shatterproof, scratch-resistant and comes with a quick-release face shield. The light-weight aerodynamic shell reduces the heaviness associated with other helmets Ive worn. Wind noise was nearly non-existent thanks to the removable chin guard. Fogging is further reduced by a removable breath deflector. Meets DOT requirements, and SNELL approved.
Available in Gloss Black only, sizes XS-XXL (for both men and women). Helmet bag included. Retail price $175.00. Visit harley-davidson.com.