For the last two years, BUB Racing has been putting on AMA/FIM sanctioned land speed races at the famed Bonneville Salt Flats in Utah. Now, in an effort to encourage more women to participate in the September 3-7, 2006 International Motorcycle Speed Trials, BUB Racing is offering special prize money to a female competitor.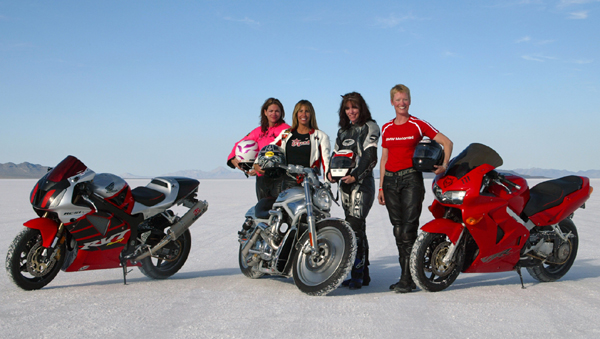 The $1,000 Womens Spirit Award will be given to one woman participant who best embodies the spirit of Bonneville, that is, passion, teamwork, skill, and camaraderie. An additional $1,000 will be awarded to the person she identifies as her source of encouragement. The award is open to all participants in the competition who meet the requirements. The individual nominated as the source of encouragement by the winner must be present at the event.
"As you know women in motorcycling is becoming a huge industry, and we want to encourage the participation of women at our event," said Event Manager Delvene Manning. "Last year we had five women competing in various categories (of about 70 competitors total), and this year we have a sponsor, Potter Lumber, for the womens prize money award."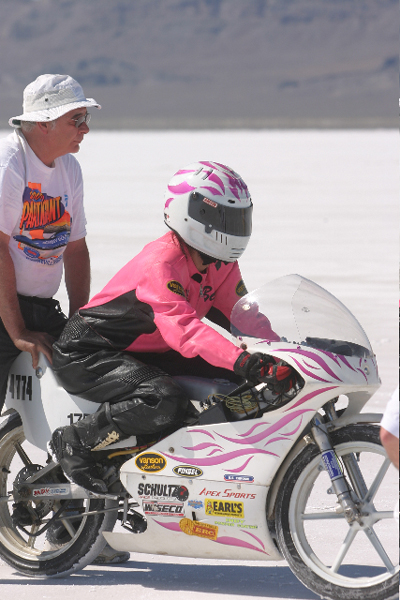 The Womens Spirit Award is not based on the fastest time as many of the other awards are, but is designed to focus on the woman who best encapsulates the Bonneville spirit.
More than $26,000 will be awarded in prizes with three major Top Time of the Meet awards for $5,000 each. BUB Enterprises, an exhaust manufacturer and company of BUB Racing event promoter, Denis Manning, will once again sponsor the Top time of the Meet award. As with most prizes awarded, participants do not have to set records, just have the fasted one way pass measured over a mile. The other two top time awards, for a "Sit-on" and "Open" (no fairings) are sponsored by Pingel Enterprises and Drag Specialties respectively at $5,000 each.
Once again, the Best Engineered motorcycle will be voted on by participants for a prize of $1,000, and a range of V-twin awards will again be up for grabs for $1,000 a piece. Included in the mix are U.S. V-Twin, U.S. V-Twin Pushrod Gas, and Japanese and European V-Twin all sponsored by NHRS V-Twin Performance, Bennetts Performance and BUB Enterprises. For more information visit speedtrialsbybub.com, or call Delvene Manning at 530.477.7490 ext: 209.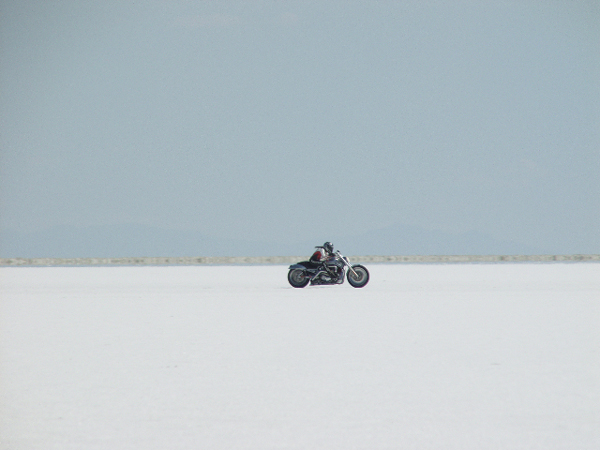 A Bit of History
Two years ago, BUB Racing made history by offering motorcyclists an opportunity to attempt land speed records with their own event tailored to the needs of motorcyclists. An unprecedented eight world records and 22 national records were set at the premiere event. Both the Federation Internationale de Motocyclisme (FIM) and the American Motorcyclist Association (AMA) sanctioned the event and participated in the officiating of the world and national records.
In 2005 at the second BUB Speed Trials, participation increased, more records where broken, and participants were determined to go even faster. Staggering new speeds redefined the record books with 14 new world records and 32 national records broken. "We had 50cc motorcycles going nearly 100mph, and streamliners exceeding 330mph," said Manning. "Individuals have ridden stock motorcycles and machines theyve built from the ground up, and they all do it for one reason speed! The quest to have their names etched in the record books, to go faster than anyone before them keeps them coming back for more."
Land speed racing is a unique sport held in a landscape so alien that there are only a handful of places on the planet able to provide the conditions needed to attempt these types of records. Bonneville has historically been the proving ground for these machines.
This event provides the opportunity for individuals to run their street legal bikes on the salt as well for that coveted timing slip and to get a little taste of the salt. This racing category had the biggest increase of participants between 2004 and 2005 (more than 45 percent increase).
In 2006, the event is expected to grow further. More international entries are anticipated as well as an expanded variety of homegrown talent. More participants are crossing the bridge from other racing disciplines such as drag racing, speedway and flat track to tackle one of the most historical racing surfaces on earth.