The Honda Red Rider Ranch along with Etnies Girls Get on Board is offering a unique introduction to off-road motorcycling on October 7, 2006 at the Red Rider Ranch in Colton, Calif. The dirt bike school is ideal for beginning students and has proven to be useful for advanced students as well.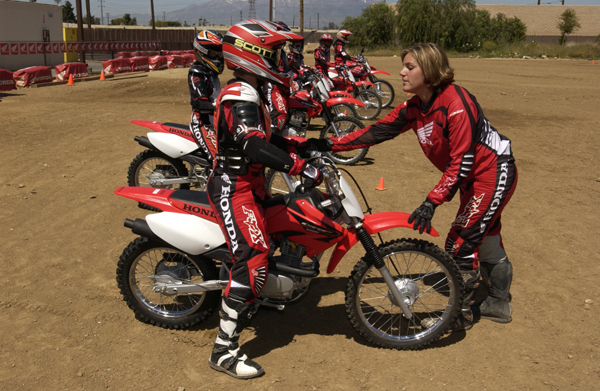 Empowering females through one-on-one interaction and hands-on training is at the core of the Etnies Girls Get on Board program. The organizaton encourages girls to try action sports and sponsors action sports clinics in motocross, BMX, skateboarding and surfing. Launched in 2006, the program seeks to provide females of all ages the basic skills and confidence needed to participate in action sports.
The Motocross Clinic will be about a 3- to 4-hour course covering the basic fundamentals of riding an off-road motorcycle. Students will learn where the controls of the motorcycle are and how to use them. They will also master how to start, stop, shift gears, riding posture, cornering, and standing. All coaches are certified MSF, experienced off-road and motocross riders and are very enthusiastic.
The Honda Rider Education Center supplies 2006 Honda CRF dirt bikes, as well as protective Fox riding gear including: helmets, gloves, goggles, jerseys, knee and elbow pads, chest protector, moto-x pants and boots. To sign up log onto etniesgirls.com, scroll down to Features and click on "Girls Get on Board." That will direct you to info the MX clinic and how to sign up.